Fenton Art Glass Presents . . . "Pre-Black Friday" Specials!
SPECIAL NOTE: Watch for more Black Friday Specials in next week's e-Newsletter. . .
Scheduled for Wednesday, November 22nd!
Gear up for holiday shopping with gift ideas from Fenton Art Glass. Items from the categories shown below must be ordered via our web site: www.fentonartglass.com to receive the online discount.
Check out these Online Specials. . .
---

Red, White & Blue Assorted Cornerstone & Impression Beads, Buy Now!


Assorted Colors Cornerstone & Impression Beads, Buy Now!

NEW! Cornerstone & Impression
Uncored Bead Assortment


You'll receive a "five" bead uncored assortment from Fenton Art Glass larger-sized beads in either Red, White and Blue solid colors or assorted colors for just $28, including shipping! An uncored bead does not have the sterling silver core embossed Fenton USA, but were handcrafted at the Fenton Art Glass factory in Williamstown.


Each group includes two lmpression Beads and
three Cornerstone Beads. Sorry, we can not honor requests for specific colors. Impression Beads are approximately 1" to 1-1/4" wide and tall. Cornerstone Beads are approximately 5/8" tall. Because of the handmade process, the bead size may vary.
---
NEW Limited Editions from Fenton Gift Shop. . .
We are pleased to offer these new Limited Edition selections for pre-orders. Each piece features a hand painted design and will be signed, numbered and dated by one of our talented designers. These Limited Edition pieces are handcrafted in Opal Satin by Mosser Glass, using Fenton moulds, exclusively for the Fenton Gift Shop.
PLEASE NOTE: To give our staff a Thanksgiving break, there will not be a Limited Edition offering with pre-orders due by November 27 and 29. Our regular Limited Edition offerings will resume with the December 1 newsletter. We can not guarantee delivery by Christmas. We suggest you print out the photo and give that "in place of" the actual piece.
This 10.75" Vase provides a great canvas for Michelle Kibbe's hand painted "Wild Leaf Floral" design. Michelle created a different look for the flower stems and leaves. The delicate petals of blue and white flowers are attached to striking brown stems with leaves that are "wild" with brown and black stripes and spots resembling tiger and leopard prints. Golden trim and petite dot accents around the top and a sponge pattern in the background complete the elegant look for this vase. Each Wild Leaf Floral Vase is $150.


The Angel is a symbol of peace, love and guidance. Michelle Kibbe re-interprets this theme with her design featuring hand painted flowers, stars and delicate feathery wings.

Michelle created pastel blue and white flowers for the border and used blue-purple hues for the wings. She even added a soft feather pattern to the wings.

Note the hand painted details on the face and the golden stars and curlique accents on the gown. You'll want to add this beautiful 6-3/8" Opal Satin Angel Girl figurine to your collection. Each Star Angel Girl Figurine is $95.

Michelle Kibbe's hand painted design on this little fella is sure to warm your heart! She airbrushed the 3.75" tall Opal Satin figurine in soft brown hues for a natural look, and created those big blue eyes with the long eyelashes.

Note the "pawprint" on the figurine's left leg! This "Blue Bandana Bear" figurine is wearing a bright blue bandana with white polka dots along with a blue bow on top of the head.
Each Blue Bandana Bear Figurine is $75.
Pre-orders for the Wild Leaf Floral Vase, Star Angel Girl Figurine, and the Blue Bandana Bear Figurine will be accepted until midnight (ET) on Monday, November 20, 2017. To place your pre-order for any of these Limited Editions, please call the Fenton Gift Shop: 1-800-319-7793, ext. 342 or send us an email: purchasing@fentongiftshop.com and include the names of the items you want to purchase in the subject line, as well as your full name and daytime phone number so we may follow-up on your order. You may also request that we add your name to our mailing list to receive news about future Limited Edition offerings.
Our popular 6.75" Bridesmaid Doll Figurine features a fun seasonal design by Michelle Kibbe that we call "Snowman Family". This hand painted scene includes four snowmen all decked out in the winter scarves and caps. Each one has a present and they are posing by stylized holiday trees... perhaps they are having a gift exchange? Each Snowman Family Doll Figurine is $150 and is limited to 13 figurines.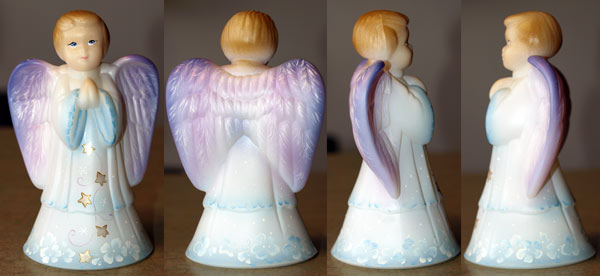 The perfect companion for our "Star" Girl Angel Figurine is this matching "Star" Boy Angel!


Michelle Kibbe used the same design on this figurine. . . delicate blue and white flowers, golden stars and meticulously hand painted feathers on this 6" Opal Satin figurine.
Each Star Boy Angel Figurine is $115.


This adorable 3.75" Opal Satin Sitting Cat Figurine is dressed in holiday finery. . . from the holly sprigs and red berries, golden snowflakes and dot accents to the lovely red Christmas Cape adorned with white stars and a Christmas Tree. Note those beautiful sky blue eyes! Each Caper Sitting Cat Figurine is $75.
Pre-orders for the Blue Bandana Bear Figurine, Star Boy Angel Figurine and the Caper Sitting Cat Figurine will be accepted until midnight (ET) on Wednesday, November 22, 2017. To place your pre-order, please call the Fenton Gift Shop: 1-800-319-7793, ext. 342 or email: purchasing@fentongiftshop.com and include the names of the items you want to purchase in the subject line as well as your full name and daytime phone number.
---
Shop "Black Friday" at Fenton Gift Shop. . . Unique Gifts & Limited Edition Glass!
Stop by and see the latest selections of unique gifts and glass! We'll have in-store specials, including our handcrafted jewelry! OR. . . give a Fenton Gift Shop Gift Certificate to someone special!

A very limited quantity of the items shown at right will be available for purchase at Fenton Gift Shop on Black Friday. Fenton Gift Shop will open at 9 a.m. (ET). These selections will not be numbered. Each piece will be signed and dated by the artist who designed it.

Shown front row, l-r: Frosty Friends Snow Couple, $140/pair; Not A Creature Was Stirring Mouse, $75; Cobalt Ornaments Paperweight, $80. Back row, l-r: Canaan Valley Alley Cat by Robin Spindler, $240; Red/White Striped Lighthouse Fairy Light, $125; and the Cobalt Snow Couple Paperweight, $125. Shown below the "OPEN at 9 a.m." text is the Chickadee Crystal Iceberg Paperweight, $80 each. Details on each of these items will be in the November 22 newsletter.

These "Black Friday" items will be available for "pre-orders" beginning on Saturday, November 25th. All pre-orders are due by midnight on Friday, December 1. WE CAN NOT TAKE ADVANCE PRE-ORDERS ON THE BLACK FRIDAY ITEMS.

To pre-order any of these items, please contact Fenton Gift Shop: 1-800-319-7793, ext. 342 or send an email: purchasing@fentongiftshop.com and include the names of the items you want to purchase in the subject line as well as your full name and daytime phone number. We can not guarantee delivery by Christmas on "pre-orders". We suggest you print out the photo and give that "in place" of the actual piece.
---
Daisy & Button Opal Ringholders. . .
Great gift idea or treat yourself with our handcrafted Opal Satin 3" diameter Ringholder in the Daisy & Button pattern. Handcrafted for Fenton Gift Shop, using the Fenton mould, at Mosser Glass. The Fenton logo is on the underside. The outside is a shiny Opal and the inside has been satin finished. Michelle Kibbe's design features hand painted delicate rosebuds in a lovely blush pink or hyacinth (bluish-purple) color. Michelle's initials are also on each Ringholder.

Each Ringholder is $37 postage paid with shipping via USPS. Make check payable to Fenton Gift Shop, 2242 Williams Hwy., #108, Williamstown, WV 26187 or stop by the Fenton Gift Shop in Boaz and pay $30 for in-store pickup!


Fenton Art Glass Mould Information. . . New Pricing Discounts!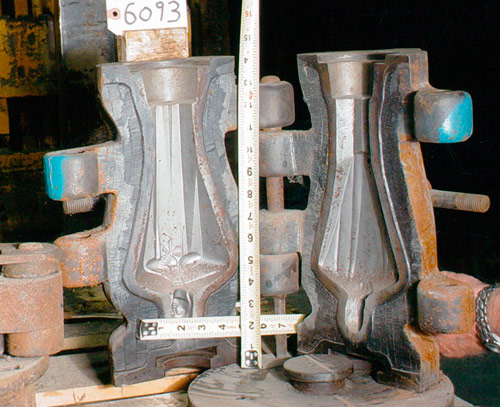 New pricing discounts have been introduced for moulds. As we approach demolition of the building we have added discounts starting at 50% off the listed price for 1-9 purchases and increasing up to 90% for over 100 moulds purchased.
The link below will take you to an Excel spreadsheet that lists all of the moulds in numerical order from the Fenton record system. The spreadsheet lists the moulds in numerical order (column A) as recorded in the Fenton system. Information in other columns will help you. Columns D and K provide brief descriptions of each mould. When known, the previous owner of a mould is listed in column Q. Fenton historian James Measell traced the histories of many moulds, and his comments are in columns S and T. The current status of any moulds sold (or promised) to a particular purchaser is noted in column U. The prices for moulds are in column M. This Excel file is "searchable" so you can use your search terms to try to find particular moulds. See spreadsheet at https://spaces.hightail.com/space/OUw8ImK2Kc

The links below will take you to files with the Fenton mould pictures including crimps and optic moulds.
These color photos of the moulds are in the same numerical order as column A in the Excel spreadsheet. View these photos on your computer and keep the Excel spreadsheet at hand simultaneously. Please note: the Excel spreadsheet will be updated from time to time as moulds are sold or promised to purchasers.
---
Fenton Art Glass eBay Auctions. . .

Here's an opportunity to own a beautiful
"one-of-a-kind" art glass creation or items from the history of Fenton Art Glass through our weekly eBay auctions. This auction ends at noon (ET) on Wednesday, November 22. Items featured this week. . .

Top: The wonderful one-of-a-kind Christmas ornament (3.25" d.) by Fenton artist Michelle Kibbe is a treat to see! The iridescent Opal glass is the perfect complement to Michelle's meticulously detailed, hand painted scene which depicts Santa placing a golden star on top of the Christmas tree. The back of this ornament has an embossed snowflake design. Glitter accents on the tree provide extra sparkle. This ornament comes with a silver ribbon for hanging and is dated "2017" and signed "M. Kibbe" and identified as "OOAK".

Middle: These glassmaking tools, called "pincers" by those who work with glass, are used to grasp hot glass items, usually when the item is taken out of a mould or off the blowpipe or when it is ready to be placed in an annealing lehr or kiln. These pincers are made of spring steel and are ready to be used in glassmaking. The jaws of the pinchers are covered with heat-resistant Kevlar so that the metal of the tool will not mar the hot glass item. There are 5 different pinchers in this group, and we have measured both the approximate length of each pincer and width of the jaws at the widest area. (1) length 19" jaws 5.5" wide; (2) length 18" jaws 5.75" wide; (3) length 17.25" jaws 5" wide; (4) length 15" jaws 5,75" wide; (5) length 17" jaws 5.75" and 4.75" wide (two sections). All of these pincers were used in glassmaking operations at the Fenton Art Glass Company in Williamstown, West Virginia. These tools will be shipped via FedExGround.


Above: These five pieces of glass came from our glass chemist's lab, and there is a story behind them. These pieces are from our Patriot Red color, made for the Bicentennial in 1975-76. This glass color was extraordinarily sensitive to changes in temperature, so the desired opaque brick red hue often morphed into lighter shades of red with orange and/or yellow mixed in. These pieces were taken from a Fenton Art Glass melting unit. Fenton employee Jim Stage (now associated with the Williamstown Antique Mall) polished each piece to a smooth surface. The photo above shows the approximate size for each piece. Total weight of the 5 pieces is 1 oz. These curiosities will make a great addition to your Fenton collection.
---