Fenton Art Glass Presents . . .
50% Discount on Handcrafted Collegiate Jewelry!
Here's an excellent opportunity to show your fan spirit and start your holiday shopping for someone special with our handcrafted Collegiate Jewelry. Our remaining inventory is available at 50% discount until 8 p.m. (ET) on November 14th! Click on each image shown below or click here to view all Collegiate Jewelry. The photos may show more than one view of each piece. These Collegiate Jewelry items must be ordered via our web site: www.fentonartglass.com to receive the 50% discount.
Check out these other Online Specials. . .
---

Courage - Originally $35
$14 each! Buy Now!

60% Fenton Flash Sale Discount on Courage Bead!

Receive a 60% discount on this beautiful handcrafted Fenton Art Glass bead during our "Fenton Flash Sale" this weekend! This sale ends at 8 p.m. (ET) on Sunday, November 12. Remaining inventory is very limited! This bead must be ordered via www.fentonartglass.com.


Courage features the word Courage and a lovely floral design by Truda ''TJ'' Mendenhall. The photo shows both sides of this single bead. The story behind the design: Courage - Inner strength. . . self confidence. Because of the handmade process, bead size may vary from 1/2'' to 5/8'' in diameter. Each bead has a sterling silver core embossed Fenton USA and is initialed by the artist who completed it.
---
NEW Limited Editions from Fenton Gift Shop. . .
We are pleased to offer these new Limited Edition selections for pre-orders. Each piece features a hand painted design and will be signed, numbered and dated by one of our talented designers. These Limited Edition pieces were handcrafted
in Opal Satin by Mosser Glass, using Fenton moulds, exclusively for the Fenton Gift Shop.
This elegant 9.75" Vase provides a great canvas for Michelle Kibbe's hand painted winter scene that includes a frequent visitor to many bird feeders. . . the colorful male Cardinal perched on a pine branch. She added wintry blues and lush greenery for the background. A snow covered landscape and pines and thin golden band accents encircle the vase to complete the piece. Each Winter Visitor Vase is $145.
| | |
| --- | --- |
| | Robin Spindler's "Cardinal and Pine Cones" 5.5" Owl Figurine is the perfect companion piece to display with the "Winter Visitor' Vase shown above! Robin's design includes several pine boughs, with snow-tipped pine cones. There's even one on top of the owl's head! She added a vibrant Cardinal on the front as well as using natural brown tones for the eyes and base. Each Cardinal and Pine Cones Owl Figurine is $95. |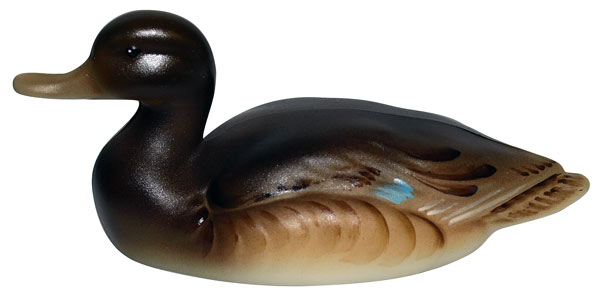 A great addition to any Fenton collection is our 5" Duck Figurine, handcrafted in Opal Satin. Michelle Kibbe has transformed this figurine into a dark brown duck with bright teal feather accents (one on each side). Each Stylized Duck Figurine is $75.
Pre-orders for the Winter Visitor Vase, Cardinal and Pine Cones Owl Figurine and the Stylized Duck Figurine will be accepted until midnight (ET) on Monday, November 13, 2017.
To place your pre-order for any of these
Limited Editions, please call the Fenton Gift Shop: 1-800-319-7793, ext. 342 or email: purchasing@fentongiftshop.com and include the names of the items you want to purchase in the subject line, as well as your full name and daytime phone number so we may follow-up on your order. You may also request that we add your name to our mailing list to receive news about future Limited Edition offerings.
Our popular 8" Chessie Cat Covered Box features a lovely design by Robin Spindler that she calls "Winter Pines". Her hand painted scene includes a cabin nestled in the wintry landscape amongst green and blue snow-covered pines. Note the warm glow of the cabin lights and the smoke curling out from the chimney. A golden moon shines over the landscape. Robin created a napping kitten on the front and added lush greenery and pine cones for the lid. Each Winter Pines Chessie Cat Covered Box is $150.
This popular 5.75" Ghost figurine debuted in our 2003 Christmas Supplement, joining our Witch and Scaredy Cat figurines as fun additions to holiday decorating. They soon become seasonal favorites of collectors.

Michelle Kibbe created this heartwarming scene on our Opal Satin Ghost figurine. A large stocking filled with seasonal greenery is hung by the fireplace, where a bright fire casts a welcome glow. Michelle added a black bottom border with wide black vertical stripe accents.

Michelle decked this figurine out in winter garb, including a checkered scarf, toboggan and polka dotted mittens. Note the little brown mouse "peeking" out of the stocking and don't forget his friend "sneaking" a peek on the backside of this figurine! Different views are shown below, so you may see all of Michelle's wonderful hand painted details. Each Peek 'n Sneak Mice Ghost Figurine is $115.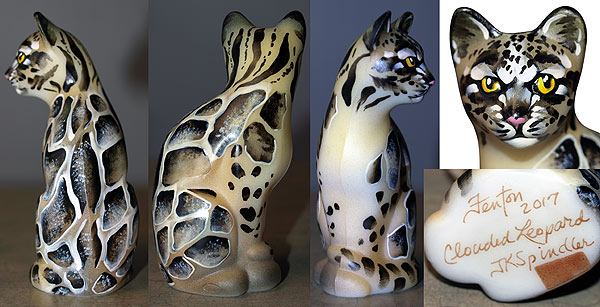 Above and Left: Robin Spindler continues her amazing wild cat series with a Clouded Leopard design on our 5" Stylized Cat figurine. Her hand painted details are true to life and meticulously executed. The photos above show several splendid views, and we believe this figurine is sure to start many a conversation! Note the golden eyes on this figurine. . . mesmerizing! Robin will hand paint, number and sign and also include the name of this Limited Edition piece on each figurine. Former Fenton Art Glass Sculptor Jon Saffell designed this Cat figurine, known as the Stylized Cat, in 1999, much to the delight of cat fanciers!

Did you know. . . Currently listed as "vulnerable" on the Endangered Species list as a result of deforestation and poaching, the Clouded Leopard gets its name from the large cloud-shaped spots, (outlined in black with a yellow-brown or grey background) that cover its body.

The average Clouded Leopard can weigh between 25-35 pounds and will grow to around 35 inches long, not including its tail, which can be as long as their body. Each Clouded Leopard Cat Figurine is $100.

Pre-orders for the Winter Pine Chessie Cat Covered Box, Stocking Mouse Ghost Figurine and the Clouded Leopard Figurine will be accepted until midnight (ET) on Wednesday, November 15, 2017. To place your pre-order, please call the Fenton Gift Shop: 1-800-319-7793, ext. 342 or email: purchasing@fentongiftshop.com and include the names of the items you want to purchase in the subject line as well as your full name and daytime phone number.
---
Now available from Fenton Gift Shop!
Stop by and see our latest offerings!
Open Tuesday-Saturday 10-4 (ET).
Fenton Gift Shop is located on Route 14 in Boaz
at 2242 Williams Highway, Suite 108.

Info: 304-375-7772 or 800-319-7793


Watch for our Black Friday Specials!
---
Daisy & Button Opal Ringholders. . .
Great gift idea or treat yourself with our handcrafted Opal Satin 3" diameter Ringholder in the Daisy & Button pattern. Handcrafted for Fenton Gift Shop, using the Fenton mould, at Mosser Glass. The Fenton logo is on the underside. The outside is a shiny Opal and the inside has been satin finished.

Michelle Kibbe's design features hand painted delicate rosebuds in a lovely blush pink or hyacinth (bluish-purple) color. Michelle's initials are also on each Ringholder.

Each Ringholder is $37 postage paid with shipping via USPS.
Make check payable to Fenton Gift Shop, 2242 Williams Hwy., #108, Williamstown, WV 26187 or stop by the Fenton Gift Shop in Boaz and pay $30 for in-store pickup!
Fenton Art Glass Mould Information. . . New Pricing Discounts!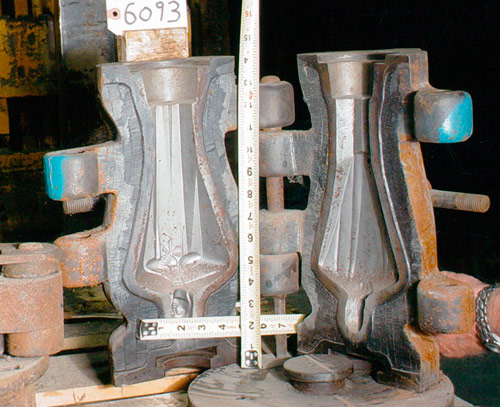 New pricing discounts have been introduced for moulds. As we approach demolition of the building we have added discounts starting at 50% off the listed price for 1-9 purchases and increasing up to 90% for over 100 moulds purchased.
The link below will take you to an Excel spreadsheet that lists all of the moulds in numerical order from the Fenton record system. The spreadsheet lists the moulds in numerical order (column A) as recorded in the Fenton system. Information in other columns will help you. Columns D and K provide brief descriptions of each mould. When known, the previous owner of a mould is listed in column Q. Fenton historian James Measell traced the histories of many moulds, and his comments are in columns S and T. The current status of any moulds sold (or promised) to a particular purchaser is noted in column U. The prices for moulds are in column M. This Excel file is "searchable" so you can use your search terms to try to find particular moulds. See spreadsheet at https://spaces.hightail.com/space/OUw8ImK2Kc

The links below will take you to files with the Fenton mould pictures including crimps and optic moulds.
These color photos of the moulds are in the same numerical order as column A in the Excel spreadsheet. View these photos on your computer and keep the Excel spreadsheet at hand simultaneously. Please note: the Excel spreadsheet will be updated from time to time as moulds are sold or promised to purchasers.
---
Fenton Art Glass eBay Auctions. . .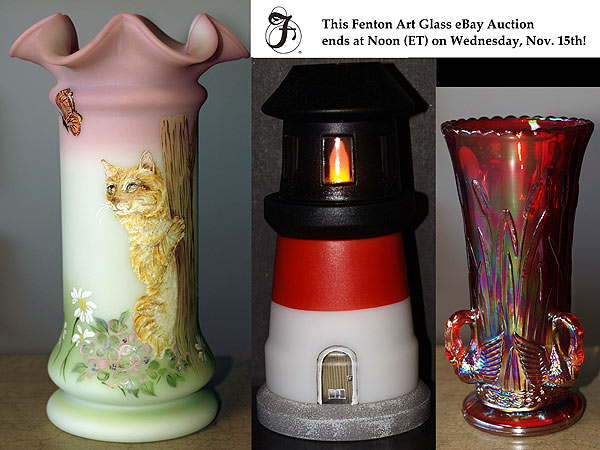 Here's an opportunity to own a beautiful "one-of-a-kind" art glass creation or an item from Fenton's history through our weekly eBay auctions. This auction ends at noon (ET) on Wednesday, November 15. Items featured this week. . .
With Lotus Mist Burmese glass for her canvas, Fenton artist Michelle Kibbe designed and hand painted this wonderful, one-of-a-kind scene of an alert yellow tabby cat that seems mesmerized by a butterfly! You can follow the cat's eyes as it gazes upwards at the colorful butterfly, and we wonder just what will happen when the other butterfly comes into view. This stately vase stands 9" tall, and all the hand painted details are meticulous and perfect. A classic Fenton color, Lotus Mist Burmese was first developed about 2000 and unlike any other art glass color in recorded glass history. The glass batch contains pure gold. Special reheating techniques create the distinctive pink blush.

Made in the 1980s by Fenton Art Glass with a mould that originated at Westmoreland Glass, this Red Carnival glass Swan swung vase is a real stunner! Fenton pioneered iridescent red glass about 100 years ago, and collectors prize all of these products, no matter when they were produced. The Westmoreland Swan vase mould was inspired by similar moulds that originated at Sowerby in the Northwest of England in the 1880s, so this swung vase (6.25" tall) really reflects a great deal of glass history.

Award-winning Fenton designer Robin Spindler has captured the silent majesty of the Nauset lighthouse ... perfectly ... in this wonderful one-of-a-kind fairy light. The Nauset Beach Light (its official name) is in Eastham, Mass., on the Cape Cod National Seashore. Robin's hand painted colors are absolutely authentic, and the details (note the windows and doors) are simply splendid. This fairy light consists of two pieces as shown in one of the photos, and it comes with a battery-powered tea light that glows beautifully. This splendid piece was made in Opal Satin glass with Fenton moulds that were not used for production before glassmaking halted at Fenton in 2011. It is 8" tall when assembled (5" base, 3" top). This one-of-a-kind fairy light is identified, signed and dated on the underside: "OOAK Nauset Lighthouse Fenton 2017 hand painted by J. K. Spindler". This auction ends at noon (ET) on Wednesday, November 15.
---