Fenton Art Glass Presents . . . 30% OFF Handcrafted Earrings!
Here's an excellent opportunity to start your holiday shopping for someone special with our unique handcrafted earrings in a variety of styles. Our remaining inventory is available at 30% discount and we've added some additional designs. Click on each earring pair shown below or click here to view all available earrings. Earrings must be ordered via our web site: www.fentonartglass.com to receive the 30% discount.
Check out these other Online Specials. . .
---

Fenton Art Glass Product Catalogs. . .

While Supplies Last!

We've discovered more original Fenton product catalogs! We have replenished our inventory and are pleased to make these available on a first come, first served basis while supplies last.

Many of these catalogs are in pristine condition, while others may have slight wear and tear from use and there may be some handwritten notes. Check out these updated catalog listings, including vintage issues.


Click here to shop Fenton Catalogs.
---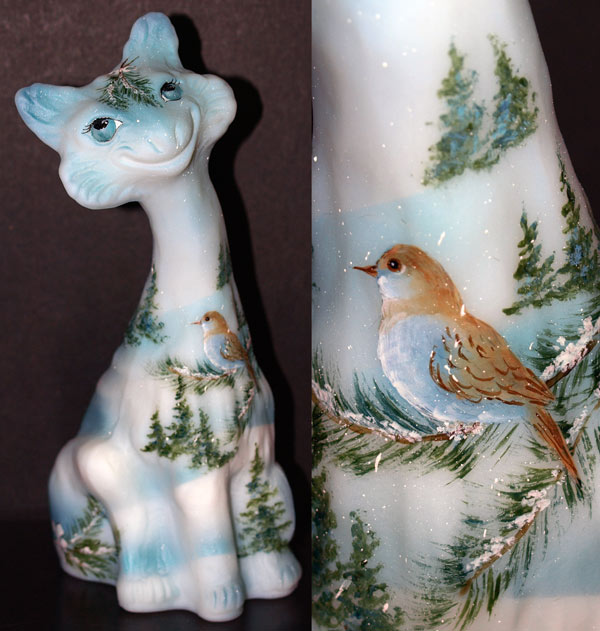 NEW Limited Editions
from Fenton Gift Shop. . .
We are pleased to offer these new Limited Edition selections for pre-orders. Each piece features a hand painted design and will be signed, numbered and dated by one of our talented designers.

These Limited Edition pieces were handcrafted in Opal Satin by Mosser Glass, using Fenton moulds, exclusively for the Fenton Gift Shop.

Our 11" Alley Cat provides a wonderful canvas for Michelle Kibbe's hand painted "Nightingale" design. She added wintry blue stripes and lush greenery for the background. Michelle added more greenery as accents all around this figurine to complete the piece. Note the pine sprig on the head and that expressive face with the blue eyes! Each Nightingale Alley Cat is $215.
Did you know. . . This migratory species is found in European forests and in southwest Asia. The Nightingale winters in sub-Saharan Africa. The term "Nightingale" means "night songstress". It is believed that a male looking for a mate will sing throughout the night in order to attract that special partner. This sounds like a romantic serenade to us!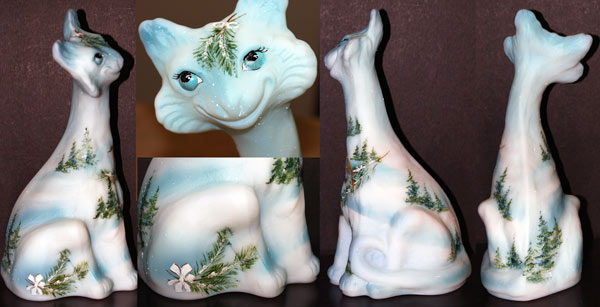 Left: Michelle Kibbe created a colorful seasonal design on this nearly 4" tall Snowman and Snowlady pair using vivid hues of red, gold and black and added large snowflake accents. Note the checkered scarf, cape and hat band in complementary colors. The Snowlady also has a matching purse and hat. Michelle created an expressive face on each figurine, including carrot noses, coal black smiles and black eyes. Each Mr. and Mrs. Checkers Snowman and Snowlady Figurine Pair is $140.

Below: Our popular Scaredy Cat figurine has a rather bemused expression on its face thanks to Kim Barley's whimsical style and creativity! The perfect winter accent. . . this 4" Opal Satin figurine is sure to bring lots of smiles to all who view it! A cardinal sits outside a snow-covered birdhouse. Note the large "LET IT SNOW!" hand lettered sign (perhaps the cause of this cat's expression!). Kim added a bright green ribbon collar and golden star and heart accents on the head. Kim's hand painted winter landscape encircles the figurine. Each "LET IT SNOW" Scaredy Cat Figurine is $80.
Pre-orders for the Nightingale Vase, Mr. and Mrs. Checkers Snowman and Snowlady Figurine Pair and the Let It Snow Scaredy Cat Figurine will be accepted until midnight (ET) on Monday, November 6, 2017. To place your pre-order, please call the Fenton Gift Shop: 1-800-319-7793, ext. 342 or email: purchasing@fentongiftshop.com and include the names of the items you want to purchase in the subject line, as well as your full name and daytime phone number so we may follow-up on your order. You may also request that we add your name to our mailing list to receive news about future Limited Edition offerings.


Robin Spindler's hand painted motif on this 10.25" Opal Satin Vase showcases the impressive Impala. Her design follows the style of her recent creations, including Elephants and Zebras, with zebra stripes and leopard spots used as framing accents. Robin's design features the impressive male Impala on the front and the female with her young on the back side. The meticulous hand painted details pay tribute to Robin's talent and skill. Each Vase will be signed with the name of the piece "Impala" as well as Robin's signature and dated 2017. Did you know. . . One of the most common and graceful of all Africa's antelopes. the Impala is a slender, agile creature that can clear formidable obstacles and run at speeds faster than 37 mph. Male impalas have Lyre-shaped and ringed horns, up to about 30 inches. Each Impala Vase is $200.


Above: Our 5.5" Owl Figurine has a beautiful winter landscape scene created by Michelle Kibbe. A red barn and a house with smoke curling up from the chimney are framed within the green pines and birch trees. A snowman bundled in a red cap and green scarf appears to be watching the house from afar. Michelle created a lovely blue background and added reddish-pink with golden highlights on the eyes. Each House in Winter Owl Figurine is $90.


Here's a wonderful "first piece of Fenton" to start a figurine collection! This hand painted Sitting Bear Figurine features a wonderful "Pink Tutu" Ballerina design by Michelle Kibbe. She created delicate lacey ballet slippers and a tutu adorned with flowers. Michelle added a pink ribbon on the head. Note those expressive big brown eyes and long eyelashes! Each Pink Tutu Sitting Bear Figurine is $75.
Pre-orders for the Impala Vase, House in Winter Owl Figurine and the Pink Tutu Sitting Bear Figurine will be accepted until midnight (ET) on Wednesday, November 8, 2017. To place your pre-order, please call the Fenton Gift Shop: 1-800-319-7793, ext. 342 or email: purchasing@fentongiftshop.com and include the names of the items you want to purchase in the subject line as well as your full name and daytime phone number.
---
Now available from Fenton Gift Shop!
Stop by and see our latest offerings!
Open Tuesday-Saturday 10-4 (ET).
Fenton Gift Shop is located on Route 14 in Boaz
at 2242 Williams Highway, Suite 108.

Info: 304-375-7772 or 800-319-7793
---
Daisy & Button Opal Ringholders. . .
Great gift idea or treat yourself with our handcrafted Opal Satin 3" diameter Ringholder in the Daisy & Button pattern. Handcrafted for Fenton Gift Shop, using the Fenton mould, at Mosser Glass. The Fenton logo is on the underside. The outside is a shiny Opal and the inside has been satin finished.

Michelle Kibbe's design features hand painted delicate rosebuds in a lovely blush pink or hyacinth (bluish-purple) color. Michelle's initials are also on each Ringholder.

Each Ringholder is $37 postage paid with shipping via USPS.
Make check payable to Fenton Gift Shop, 2242 Williams Hwy., #108, Williamstown, WV 26187 or stop by the Fenton Gift Shop in Boaz and pay $30 for in-store pickup!
Fenton Art Glass Mould Information. . . New Pricing Discounts!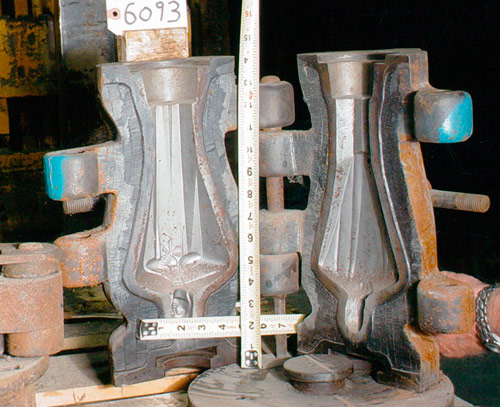 New pricing discounts have been introduced for moulds. As we approach demolition of the building we have added discounts starting at 50% off the listed price for 1-9 purchases and increasing up to 90% for over 100 moulds purchased.
The link below will take you to an Excel spreadsheet that lists all of the moulds in numerical order from the Fenton record system. The spreadsheet lists the moulds in numerical order (column A) as recorded in the Fenton system. Information in other columns will help you. Columns D and K provide brief descriptions of each mould. When known, the previous owner of a mould is listed in column Q. Fenton historian James Measell traced the histories of many moulds, and his comments are in columns S and T. The current status of any moulds sold (or promised) to a particular purchaser is noted in column U. The prices for moulds are in column M. This Excel file is "searchable" so you can use your search terms to try to find particular moulds. See spreadsheet at https://spaces.hightail.com/space/OUw8ImK2Kc

The links below will take you to files with the Fenton mould pictures including crimps and optic moulds.
These color photos of the moulds are in the same numerical order as column A in the Excel spreadsheet. View these photos on your computer and keep the Excel spreadsheet at hand simultaneously. Please note: the Excel spreadsheet will be updated from time to time as moulds are sold or promised to purchasers.
---
Fenton Art Glass eBay Auctions. . .
Here's an opportunity to own a beautiful "one-of-a-kind" art glass creation or an item from Fenton's history through our weekly eBay auctions. This auction ends at noon (ET) on Wednesday, November 8. Items featured this week. . .
Welcome Thanksgiving with this wonderful one-of-a-kind Alley Cat (10.75" tall) designed and hand painted by award-winning Fenton artist Robin Spindler. Made of Opal Satin glass, this delightful Alley Cat figurine has been delicately airbrushed with subtle gray tones for a gorgeous result. Note those blue eyes ... expressive, as always! The special Thanksgiving decoration developed by Robin features two Turkey gobblers (including a very colorful "Tom") and a cornucopia of Fall fare.
Purchased by Frank M. Fenton in 1976, the Aqua Carnival glass Stag and Holly bowl was displayed in the Fenton Museum as a great example of Fenton "iridescent ware" c. 1910-1912. This bowl is about 9" in diameter and stands 4.75" tall. The iridescence is a dark marigold hue, and the aqua base glass is not often seen in examples of Fenton Carnival glass in the marketplace. Note the eight-point crimp style and the three scroll feet (originally called "toes" in the glass tableware industry). This bowl has the Fenton Museum acquisition number on its underside.
Everyone knows the story about the Toad that became a Prince, and this one-of-a-kind hand painted Toad figurine by award-winning Fenton designer Robin Spindler calls that story to mind. Made by Fenton in Chocolate glass for the collector club FAGCA in 2006 (note logo on underside), this 3.5" "Toad" figurine turned up in a storage area. Robin's new hand painting is wonderfully realistic in its coloration and attitude. After her superb hand painting, Robin added lots and lots of colorful gemstones, so this Toad has really become a Prince! There is a bit more to the story: years ago, we made our first mould for a "frog" figurine, but we decided later that it really looked more like a "toad," so redesigning took place. This auction ends at noon (ET) on Wednesday, November 8.
---