Fenton Art Glass Presents . . . 50% OFF "Faith Blooms" Necklace!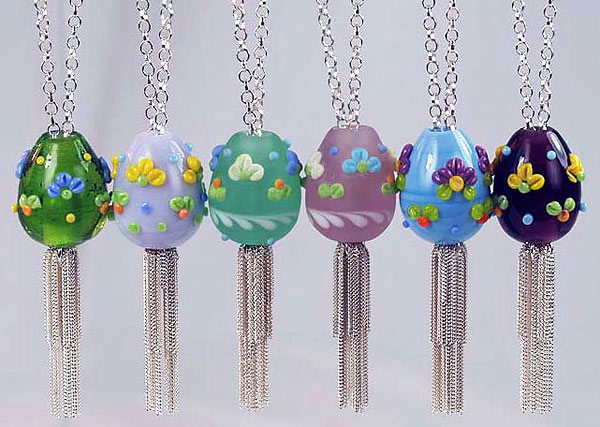 Here's an excellent opportunity to add a unique one-of-a-kind necklace to your collection at a greatly reduced price!

Our remaining inventory of these handcrafted "Faith Blooms" Necklaces
is available for a
50% discount for a limited time. . .
Now $87.25 each!

Each necklace includes a one-of-a-kind Fenton Art Glass Pendant with a sterling silver tassel necklace.

Designed by Jena Lane Blair, the larger sized "Faith Blooms" bead features vibrant three-dimensional flower blooms on a glass canvas. Jena said this design reminded her of "Blossom time for the soul, a new beginning." The versatile Tassel Necklace is 33" long and the bead slips easily onto the chain. Create a new look by simply removing this bead and adding different Fenton Art Glass beads to match your personal style for any occasion! These Faith Blooms Necklaces must be ordered via our web site: www.fentonartglass.com. Please click on each image to order.
One-of-a-kind
Designer Sample Pendant


Left: Blue Bubbles Pendant
This versatile 2-1/8" long pendant has a sterling silver bail for ease of use on chains and necklaces with the glass portion approximately 1-1/4'' long.

This pendant was designed by Jena Lane Blair who used reactive glass to create the marvelous swirls of color.

10A16 Blue Bubbles Pendant
$85.00, Now 50% off - $42.50 Buy Now!
NEW Limited Editions from Fenton Gift Shop. . .
We are pleased to offer new Limited Edition selections for pre-orders. Each piece features a hand painted design and will be signed, numbered and dated by one of our talented designers. These Limited Edition pieces were handcrafted by Mosser Glass, using Fenton moulds, exclusively for the Fenton Gift Shop.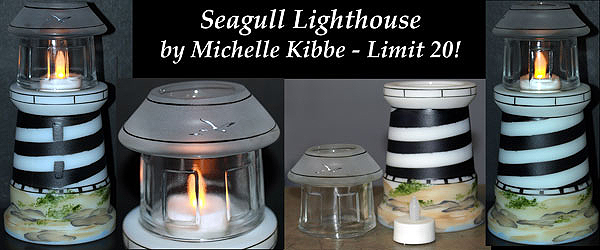 Cast a soft, warm light in any room with our Fairy Light Lighthouse. This Lighthouse was handcrafted at Fenton Collectibles using the Fenton Art Glass mould. It has a 5" tall Opal Satin bottom and a 2-7/8" tall crystal top. You'll also receive a battery operated tea light with each "Seagull Lighthouse" that fits perfectly on the top of the base in a recessed area measuring approximately 1-1/5" diameter. Michelle Kibbe created the hand painted lighthouse design featuring bold black and white stripes and a rocky shoreline. She added flying seagulls on the lid and delicate pinstripe accents. Each Seagull Lighthouse is $125 and is limited to 20 sets.

Kim Barley's hand painted design on our 6-3/4" Opal Satin Witch figurine is sure to bring a smile! Get inspired in the kitchen with Kim's whimsical "Kitchen Witch". The hand painted details are many and marvelous! Note the utensils hanging from the apron and all the kitchen implements depicted on the bottom of the dress. The hand lettering on the base reads: "Cackle, Create, Stir Some Magic, Cook". The witch is holding a bag (perhaps filled with secret ingredients?) adorned with the face of a black cat and the words "Kitchen Witch". Each Kitchen Witch Figurine is $115.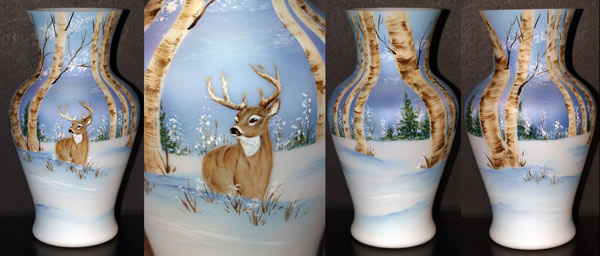 Handcrafted in Opal Satin, this approximately 10.25" Vase features a lovely "Buck in Winter" design by Michelle Kibbe. The winter landscape includes tall trees mixed with pines. The watchful Buck stands silently in a snow drift. Michelle's hand painted details are exquisite, and meticulously executed. Each Buck in Winter Opal Satin Vase is $180.

Pre-orders for the Seagull Lighthouse Set, Kitchen Witch Figurine and the Buck in Winter Opal Satin Vase will be accepted until midnight (ET) on Monday, October 30, 2017. To place your pre-order, please call the Fenton Gift Shop: 1-800-319-7793, ext. 342 or email: purchasing@fentongiftshop.com and include the names of the items you want to purchase in the subject line, as well as your full name and daytime phone number so we may follow-up on your order. You may also request that we add your name to our mailing list to receive news about future Limited Edition offerings.

Cameo carving is a painstaking process. After the glass has been annealed, a special mask is taped to the surface of the glass. Using an advanced "vignetting" technique, each piece is carefully sand carved, by hand, using aluminum oxide crystals under pressure to take away some of the surface. Great skill and experience are needed to control this operation, as many distinct stages of successive cameo carving are required to create the remarkable depth and the intricate details.




This magnificent 6" Flip Vase is handcrafted in Marigold Carnival glass. The Marigold finish is reminiscent of Fenton's first Carnival glass in 1907-1908. The marigold color is created using a complex combination of tin and iron metallic salts that are sprayed in succession on the piece while it is red hot and then the piece is reheated a second time to achieve the soft satin patina of this historic color.


The cameo carved Lily of the Valley design was created by Cathy Mackey. Petite Lily of the Valley bells hang daintily under the protection of a beautiful Daylily. This vase was handcrafted at the Fenton factory during 2009-2011. Each Vase is signed on the bottom: Cathy Mackey and T K Fenton (son of Frank M. Fenton). Each Lily of the Valley Marigold Carnival Cameo Carved Flip Vase is $295 and limited to nine vases.
Our Mallard Figurine in Opal Satin sports a large hand painted pinecone on each side and a heart and star necklace.
Kim Barley created the design using pastel hues of aqua-blue and beige. She added a white band around the neck and darker brown on the beak to complete the look on this 5" Mallard figurine. Each Heart Star Mallard Figurine is $80.

This wonderful crystal iceberg paperweight (5″ wide, 4.25″ tall) features a hand painted scene by Fenton artist Michelle Kibbe of a ruby-throated hummingbird hovering near beautiful purple irises. The crystal glass creates an interesting sense of depth to the scene, and the details are simply exquisite. Michelle hand painted the design on the satin finished back and it shows beautifully through on the crystal side. Michelle's signature appears on one of the green leaves and each iceberg will also be dated and numbered on the bottom. Each Hummingbird and Irises Iceberg Paperweight is $80 and limited to 20.
Pre-orders for the Lily of the Valley Marigold Carnival Cameo Carved Flip Vase, Heart Star Mallard Figurine and the Hummingbird and Iris Iceberg Paperweight will be accepted until midnight (ET) on Wednesday, November 1, 2017. To place your pre-order, please call the Fenton Gift Shop: 1-800-319-7793, ext. 342 or email: purchasing@fentongiftshop.com and include the names of the items you want to purchase in the subject line as well as your full name and daytime phone number.
---
Now available from Fenton Gift Shop!
Stop by and see our latest offerings
at Fenton Gift Shop!
Open Tuesday-Saturday 10-4 (ET).

Fenton Gift Shop is located in a small strip mall on Route 14
in Boaz, just five minutes from Williamstown at 2242 Williams Highway, Suite 108. Info: 304-375-7772 or 800-319-7793.
Daisy & Button Opal Ringholders. . .
Great gift idea or treat yourself with our handcrafted Opal Satin 3" diameter Ringholder in the Daisy & Button pattern. Handcrafted for Fenton Gift Shop, using the Fenton mould, at Mosser Glass. The Fenton logo is on the underside. The outside is a shiny Opal and the inside has been satin finished.

Michelle Kibbe's design features hand painted delicate rosebuds in a lovely blush pink or hyacinth (bluish-purple) color. Michelle's initials are also on each Ringholder.

Each Ringholder is $37 postage paid with shipping via USPS. Make check payable to Fenton Gift Shop, 2242 Williams Hwy., #108, Williamstown, WV 26187 or stop by the Fenton Gift Shop in Boaz and pay $30 for in-store pickup!
Fenton Art Glass Mould Information. . .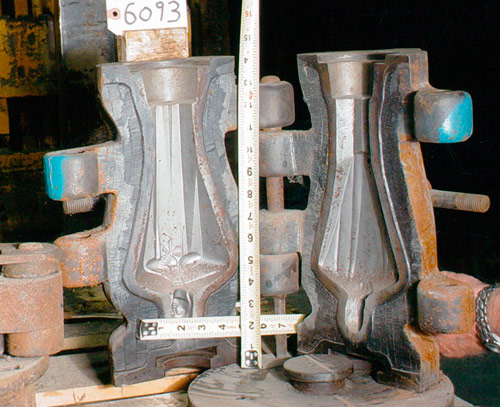 As mentioned in previous newsletters, the Fenton Gift Shop has offered about 10,000 moulds for sale. The link below will take you to an Excel spreadsheet that lists all of the moulds in numerical order from the Fenton record system. The spreadsheet lists the moulds in numerical order (column A) as recorded in the Fenton system. Information in other columns will help you. Columns D and K provide brief descriptions of each mould. When known, the previous owner of a mould is listed in column Q. Fenton historian James Measell traced the histories of many moulds, and his comments are in columns S and T. The current status of any moulds sold (or promised) to a particular purchaser is noted in column U. The prices for moulds are in column M. This Excel file is "searchable" so you can use your search terms to try to find particular moulds. Link for Mould listing: https://spaces.hightail.com/space/OUw8ImK2Kc

The links below will take you to files with the Fenton mould pictures including crimps and optic moulds.
These color photos of the moulds are in the same numerical order as column A in the Excel spreadsheet. View these photos on your computer and keep the Excel spreadsheet at hand simultaneously. Please note: the Excel spreadsheet will be updated from time to time as moulds are sold or promised to purchasers.
---
Fenton Art Glass eBay Auctions. . .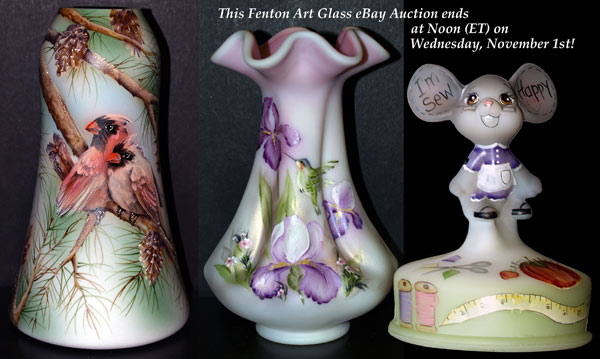 Here's an opportunity to own a beautiful "one-of-a-kind" art glass creation or an item from Fenton's history through our weekly eBay auctions.

This auction ends at noon (ET) on Wednesday, November 1.
Items featured this week. . .
The Cardinal is one of America's best-loved birds, and award winning Fenton designer Robin Spindler designed and hand painted this splendid one-of-a-kind depiction of Cardinals on lush pine boughs. This cased glass vase stands 10.75" tall, with an interior of black glass and an exterior of Opal Satin glass ... the perfect background for Robin's talents and skills. The vivid colors of the Cardinal pair and the details of the pine boughs really make a statement! Note the wonderful pine cones ... just perfect! This one-of-a-kind vase is identified, dated and signed on the underside: "Fenton 2017 American Cardinal OOAK hand painted by
J. K. Spindler".

Fenton artist Michelle Kibbe has created a wonderful one-of-a-kind hand painted vase.She designed and hand painted a magnificent scene of two hummingbirds sipping nectar from lush purple Iris flowers, and the scene completely encircles the vase. The handpainted details are simply remarkable. Rosalene glass is a classic Fenton color, and this one-of-a-kind 8.5" tall vase is a tribute to our glass chemists, glassworkers and artists alike. In the late 1960s Frank M. Fenton and Fenton chemist Charlie Goe wanted to duplicate an antique color called Pink Slag. This heat-sensitive glass was made in the early 1900s for a brief time by another glass company. By adding pure gold to an opaque glass batch and reheating the formed piece, the soft white glass became a wonderful soft pink. Frank M. Fenton named the new glass Rosalene. After some production difficulties and further experimentation, Fenton produced the first Rosalene grouping in 1976. Over the years Rosalene has adapted to a variety of shapes and treatments. Note the distinctive top crimp.

Fenton artist Kim Barley has this one-of-a-kind Opal Satin Mouse on fount figurine all ready for sewing! Fenton figurines on the fount as pressed are among the most popular collectibles, and this one will make a great addition to any collection. Kim created the hand painted "I'm Sew Happy" design them for the fount and then painted the Mouse itself. This little mouse with the big brown eyes is dressed in a purple outfit with white ruffles, a white apron, a purple dotted headband, glasses, a heart-shaped pink nose and black patent leather shoes! Note the hand lettered words "I'm Sew" on one ear and "Happy" on the other ear. Kim added stitchery details on the ears and a small heart-shaped stitching. The fount includes many popular sewing items (all hand painted!), including a large pincushion, needle and thread, scissors, a hand-pieced quilt, buttons, measuring tape, a pattern and a thimble full of flowers! This wonderful one-of-a-kind Mouse on fount stands 5" tall. This auction ends at noon (ET) on Wednesday, November 1.
---