Fenton Art Glass Presents . . .
Earrings Specials and More!
Be sure to check out our Teardrop Earrings Flash Sale. This is a great opportunity to shop early for the holidays! This weekend you'll receive
a 30% discount on the remaining inventory of these beautiful handcrafted Fenton Art Glass Earrings.

This Flash Sale begins at 8 a.m. on 10/19 and ends at 8 p.m. (ET) on Sunday, October 22. Remaining inventory is very limited! Earrings shown below must be ordered via our web site: www.fentonartglass.com. Please click on each image to order or click here to view all available earrings.

Right: Yahoo for Red, White & Blue Dangle Earrings, $45, Now $31.50, Three pair remain! Buy Now!


The Kiss of Spring
$35, Now $24.50 Buy Now!

FLASH SALE!


Poppy Time
$35, Now $24.50 Buy Now!

30% DISCOUNT


Banana Cream
$29.50, Now $20.65 Buy Now!

ON EARRINGS


Santa Fe Morning Frame Style
$38, Now $26.60 Buy Now!

ENDS 10/22!
One-of-a-kind
Designer Sample Pendants
designed by Jena Lane Blair.


Left: 3A16 - Buy Now!
This three-dimensional Floral Art Glass Pendant is a versatile 1-7/8" long pendant has a sterling silver bale for ease of use on chains and necklaces with the glass portion measuring approximately 3/4'' long.

The three-dimensional glass decoration was designed by
Jena Lane Blair.
$75.00, Now 35% off - $48.75
NEW Limited Editions from Fenton Gift Shop. . .
We are pleased to offer new Limited Edition selections for pre-orders. Each piece features a hand painted design and will be signed, numbered and dated by one of our talented designers. These Limited Edition pieces were handcrafted by Mosser Glass, using a Fenton mould, exclusively for the Fenton Gift Shop.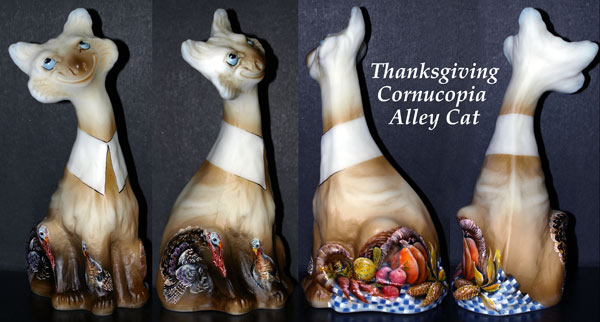 Welcome the Thanksgiving season in style with this impressive Opal Satin 11" Alley Cat Figurine! Designed and hand painted by J. L. "Robin" Spindler, her design includes many Thanksgiving favorites! Note the "Pilgrim" style neck collar, the tom and hen turkeys shown on the front. A wonderful cornucopia has colorful vegetables spilling out onto a blue and white checkered tablecloth. Robin will also add the title "Thanksgiving Cornucopia" to her signature on each figurine. Each Thanksgiving Cornucopia Alley Cat Figurine is $250.

Michelle Kibbe's hand painted "Cardinal in Winter" design perfectly suits our 10.75" tall Opal Satin Vase. Her stylized pine cones and branches encircle the vase and she added red banding and polka dot accents. Three vibrant red cardinals are depicted on this vase, with each one perched on a branch. Each Cardinal in Winter Vase is $150.


This puppy figurine is the perfect accent piece for your holiday display! Handcrafted in Opal Satin, this 3.5" figurine sports a delightful hand painted "Christmas Lights" design by Kim Barley. This playful puppy is tangled in strands of colorful holiday lights. Kim added a small black cat on one side that appears to be observing the puppy's predicament. Each Christmas Lights Puppy Figurine is $80.

Pre-orders for the Thanksgiving Cornucopia Alley Cat Figurine, Cardinal in Winter Vase and Christmas Lights Puppy Figurine will be accepted until midnight (ET) on Monday, October 23, 2017. To place your pre-order, please call the Fenton Gift Shop: 1-800-319-7793, ext. 342 or email: purchasing@fentongiftshop.com and include the names of the items you want to purchase in the subject line, as well as your full name and daytime phone number so we may follow-up on your order. You may also request that we add your name to our mailing list to receive news about future Limited Edition offerings.


Michelle Kibbe created a lovely design with curious cats observing butterflies. She hand painted the cats on the back in hues of violet. Michelle added a wide color band around the bottom with petite stylized white and yellow flower accents.

This design complements the color and white daisy-style flowers on the blanket of the sleeping orange tabby cat. A thin ring in violet encircles the top of the lid.

Photos below show more views of this 8" Chessie Cat Covered Box with details on the violet-hued cats and butterflies. Each Violet Kitties Chessie Cat Covered Box is $150.



Below: Our 4.25" Penguin Figurine in Opal Satin really shines with Michelle Kibbe's creativity! She airbrushed the figurine in vivid hues of blue and hand painted a trio of happy penguins, each one sporting a colored stocking caps. Swirling snow accents complete the look. Each Happy Penguin Trio Figurine is $80.


Designed and hand painted by Kim Barley, this 5.75" Opal Satin Ghost decked out in a black bow tie welcomes the coming season with outstretched arms and a message, framed in autumn leaves, to "give thanks". Kim added creative and whimsical details including a gray cat wearing a turkey feather while sitting in a pilgrim hat, a colorful plump turkey posing next to a large pumpkin and a delicious pumpkin pie topped with a dollop of whipped cream. Note the marvelous expression on the face and the hand lettered sign post with "good friends, family and EAT PIE!" messages. Each Give Thanks Ghost Figurine is $115.
Pre-orders for the Violet Kitties Chessie Cat Covered Box, Happy Penguin Trio and Give Thanks Ghost Figurines will be accepted until midnight (ET) on Wednesday, October 25, 2017. To place your pre-order, please call the Fenton Gift Shop: 1-800-319-7793, ext. 342 or email: purchasing@fentongiftshop.com and include the names of the items you want to purchase in the subject line as well as your full name and daytime phone number.
---
Now available from Fenton Gift Shop!

Fenton Gift Shop is located in a small strip mall on Route 14 in Boaz, just five minutes from Williamstown at 2242 Williams Highway, Suite 108. Info: 304-375-7772 or 800-319-7793.

Stop by and see our latest offerings at Fenton Gift Shop! Open Tuesday-Saturday 10-4 (ET).
Daisy & Button Opal Ringholders. . .
Great gift idea or treat yourself with our handcrafted Opal Satin 3" diameter Ringholder in the Daisy & Button pattern. Handcrafted for Fenton Gift Shop, using the Fenton mould, at Mosser Glass. The Fenton logo is on the underside. The outside is a shiny Opal and the inside has been satin finished.

Michelle Kibbe's design features hand painted delicate rosebuds in a lovely blush pink or hyacinth (bluish-purple) color. Michelle's initials are also on each Ringholder.

Each Ringholder is $37 postage paid with shipping via USPS. Make check payable to Fenton Gift Shop, 2242 Williams Hwy., #108, Williamstown, WV 26187 or stop by the Fenton Gift Shop in Boaz and pay $30 for in-store pickup!
Fenton Art Glass Mould Information. . .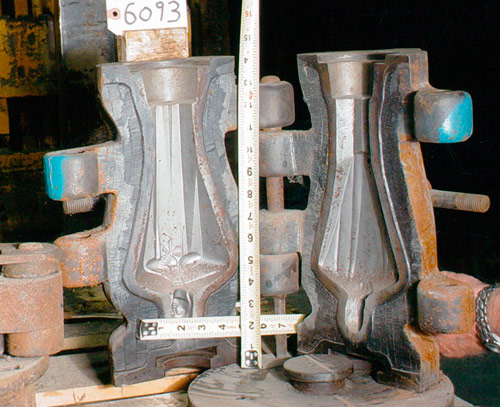 As mentioned in previous newsletters, the Fenton Gift Shop has offered about 10,000 moulds for sale. The link below will take you to an Excel spreadsheet that lists all of the moulds in numerical order from the Fenton record system. The spreadsheet lists the moulds in numerical order (column A) as recorded in the Fenton system. Information in other columns will help you. Columns D and K provide brief descriptions of each mould. When known, the previous owner of a mould is listed in column Q. Fenton historian James Measell traced the histories of many moulds, and his comments are in columns S and T. The current status of any moulds sold (or promised) to a particular purchaser is noted in column U. The prices for moulds are in column M. This Excel file is "searchable" so you can use your search terms to try to find particular moulds. Link for Mould listing: https://spaces.hightail.com/space/OUw8ImK2Kc

The links below will take you to files with the Fenton mould pictures including crimps and optic moulds.
These color photos of the moulds are in the same numerical order as column A in the Excel spreadsheet. View these photos on your computer and keep the Excel spreadsheet at hand simultaneously. Please note: the Excel spreadsheet will be updated from time to time as moulds are sold or promised to purchasers.
---
Fenton Art Glass eBay Auctions. . .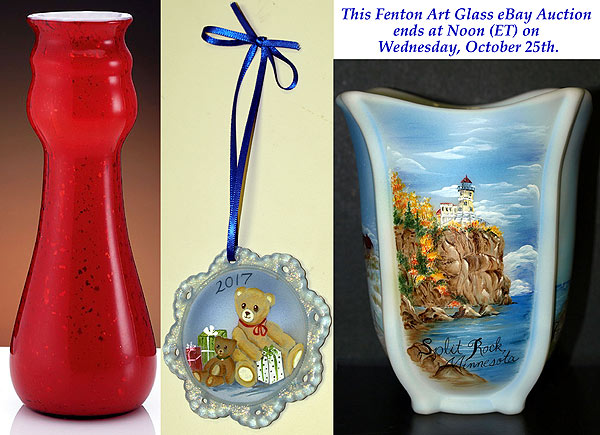 Here's an opportunity to own a beautiful "one-of-a-kind" art glass creation or an item from Fenton's history through our weekly eBay auctions. This auction ends at noon (ET) on Wednesday, October 25.
Items featured this week. . .
This lovely 11.75" Vase is called "Red Sparkle" and was included in the 2007 Fenton Art Glass product line. Handcrafted in Milk Glass, mica and Ruby glass, this vase is contemporary in shape with a hint of retro style. Flecks of mirror-like mica are trapped between layers of white and ruby red glass...sure to make a statement. This vase is signed on the underside by Fenton Gift Shop president "Randy Fenton 7-18-17". A perfect addition to any Fenton Art Glass Collection.

This wonderful one-of-a-kind Christmas ornament (3.25" d.) by Fenton artist Michelle Kibbe is a treat to see! The iridescent crystal glass is the perfect complement to Michelle's meticulously detailed, hand painted scene. The back of this ornament has an embossed snowflake design. A blue background provides the background for her Teddy Bears and gifts scene. Glitter accents around the edges provide extra sparkle. This ornament comes complete with a blue ribbon for hanging and is dated "2017" on the front and identified and signed on the back: "M. Kibbe OOAK".

Fenton artist Michelle Kibbe loves to create hand painted designs that feature lighthouses, and this gorgeous one-of-a-kind vase (7.25" tall) displays all of her talents and skills to perfection! This Fenton Art Glass Opal Satin vase (outside satin, inside shiny) has four tall panels, and Michelle has designed and hand painted four different unique lighthouses, depicting them in the four seasons of the year: winter, spring, summer and fall. Each lighthouse is perfectly executed and remarkably detailed. Perfect for the collector of lighthouse themed collectibles. The individual lighthouses are identified by name of their location and state: Pemaquid Point, Maine; Thomas Point, Maryland; Split Rock, Minnesota; and Fire Island, New York. The Pemaquid Point Lighthouse stands only 38' tall and is located on the west side entrance of Muscongus Bay. Located above Thomas Point Shoal in Annapolis, this was the last manual lighthouse on Chesapeake Bay and one of the most photographed in the area. The Split Rock lighthouse sits on a cliff 124' above Lake Superior. Fire Island's Lighthouse is also known as the "Winking Woman" and stands 167' tall within Fire Island National Seashore. This wonderful one-of-a-kind vase is identified, signed and dated on the underside: "hand painted by M. Kibbe 2017 OOAK". This auction ends at noon (ET) on Wednesday, October 25.
---