Fenton Art Glass Presents . . .
Friday the 13th FLASH SALE! 70% OFF
Be sure to check out these Friday the 13th Flash Sale Bead Specials! This weekend you'll receive a 70% discount on the remaining inventory of each of these beautiful handcrafted Fenton Art Glass beads. This sale begins at 8 p.m. on 10/12 and ends at 8 p.m. (ET) on Sunday, October 15. Remaining inventory is very limited! Beads must be ordered via www.fentonartglass.com. Please click on each image or item# to place your order.

10422
Last Rose of Summer
$45, Now $13.50


10382
Sparkling Dewdrops
$49.50, Now $14.85


10301
Garden Encore
$35, Now $10.50

70% Discount
on four handcrafted
Fenton Art Glass beads!

This Friday the 13th
Flash Sale ends
at 8 p.m. on Sunday,
October 15th!


10083
Jitterbuggin' Dragonfly
$85, Now $25.50
One-of-a-kind Designer Sample Pendants designed by Jena Lane Blair.


Left: 32A16 - Buy Now!
Pottery Floral Art Glass Pendant
The rich tones of red, yellow and blue in this design reminded Jena of the glazed pottery from Poland.
$75.00, Now 45% off - $41.25

Right: 10A16 - Buy Now!
Blue Bubbles Art Glass Pendant
Reactive glass created the
swirls of color.
$85.00, Now 45% off - $46.75
NEW Limited Editions from Fenton Gift Shop. . .
We are pleased to offer new Limited Edition selections for pre-orders. Each piece features a hand painted design and will be signed, numbered and dated by one of our talented designers. These Limited Edition pieces were handcrafted by Mosser Glass, using a Fenton mould, exclusively for the Fenton Gift Shop.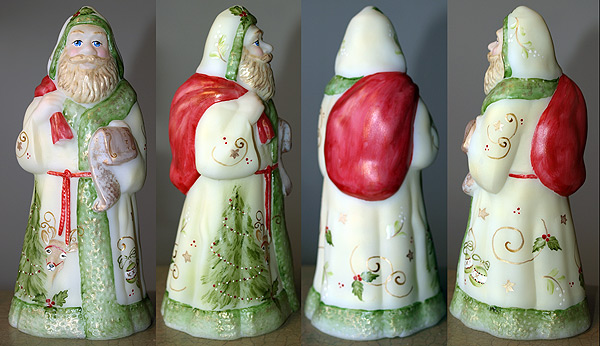 Welcome the holiday season with this Opal Satin 8" Santa Figurine!

Designed by Michelle Kibbe, this figurine has a marvelous "greenery" theme with the cloak adorned in green fur with golden accents, sprigs of holly, lush red berries and golden scroll accents. Michelle added a trimmed holiday tree and ornament. Santa's face features brilliant blue eyes. Don't forget that reindeer peeking out from behind the tree!

Each Santa's Reindeer Figurine is $125 and limited to just ten figurines, so don't delay placing your order!

Fenton Art Glass partnered with glass artisan Ron Hinkle to develop marvelous blown ornaments. A native of Buckhannon, West Virginia, Ron is fascinated by the movement and flow of molten glass. His work has been featured on the West Virginia Governor's Christmas Tree. Ron used his glassmaking skills to create the classic Christmas tree ball shape, finished with a delicate loop of applied glass. The images above (courtesy of Kitty Vickers) show Ron at work creating a Burmese ornament for Fenton Art Glass (this ornament is no longer available).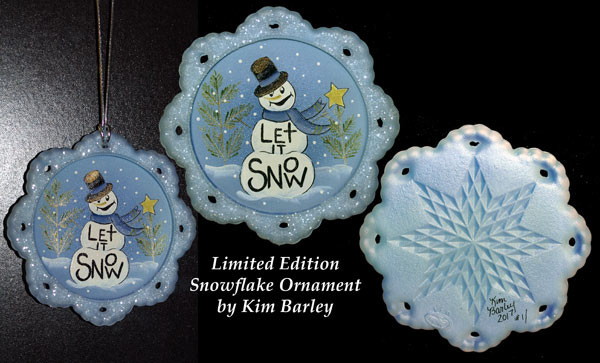 We are pleased to offer the remaining inventory of this 3-3.5" diameter ornament handcrafted in Crystal by Ron Hinkle. He rolled it in Milk Glass frit and then it was blown to give it a mottled pattern. Finally, it was lightly sandblasted for a soft satin finish. The ornament comes with a 7" gold plated display stand and features a "Let It Snow" design by Kim Barley. Note Kim's smiling snowman and the whimsical hand lettering. She added snowflakes with glitter accents for extra sparkle. Each ornament will be signed, dated and numbered by Kim. Each "Let It Snow" Ornament is $75 and limited to 20 (includes stand).

Michelle Kibbe hand painted this 5.75" Opal Satin Stylized Cat figurine with a wonderful winter scene of snow-covered colorful pines. She added a lustrous black scarf decorated with white snowflakes. Note the marvelous details on the eyes and hint of blush on each cheek! Each Winter Stylized Cat Figurine is $90.
Pre-orders for the Santa's Reindeer Figurine, Let It Snow Blown Ornament and Winter Stylized Cat Figurine will be accepted until midnight (ET) on Monday, October 16, 2017. To place your pre-order, please call the Fenton Gift Shop: 1-800-319-7793, ext. 342 or email: purchasing@fentongiftshop.com and include the names of the items you want to purchase in the subject line, as well as your full name and daytime phone number so we may follow-up on your order. You may also request that we add your name to our mailing list to receive news about future Limited Edition offerings.

We think you'll agree that Kim Barley's design on this 3.5" Opal Satin Duckling Figurine is simply adorable! "Buttercup" the Duckling will make a wonderful addition to any figurine collection and would be an excellent piece for a "beginner" collection. Kim's use of soft strokes of the brush create the delicate feathers. She added natural tones for the eyes, beak and webbed feet.


Did you know. . . the webbed foot found in ducks and other aquatic birds are known as palmate, meaning that three toes are completely webbed, enabling propulsion in water. However, only the front toes are connected, while the toe at the back is separate. Each Buttercup Duckling Figurine is $75.
Left: Our 5.5" Owl Figurine in Opal Satin features Kim Barley's hand painted winter scene that we call "Shining Stars". White stars adorn the front and a nice winter scene with green pines and snowflakes falling against a blue sky encircles the base. Kim added whimsical designs on the wings.
A colorful striped scarf and matching toboggan cap with a golden star accent complete the wintry look on this figurine. Note those large, mesmerizing eyes! Each Shining Stars Owl Figurine is $95.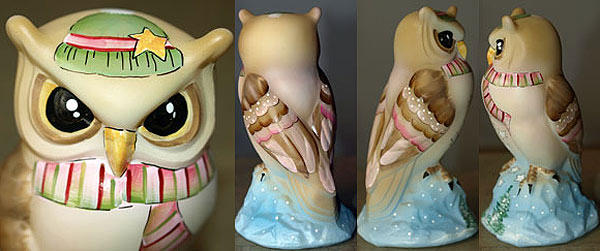 To place your pre-order, please call the Fenton Gift Shop: 1-800-319-7793, ext. 342 or email: purchasing@fentongiftshop.com and include the names of the items you want to purchase in the subject line as well as your full name and daytime phone number.

Our 5" long Mallard Figurine provides the perfect canvas for Michelle Kibbe's "Cardinal on Pine" winter landscape scene. A single bright red Cardinal rests on the branches of a lush green pine. The scene is hand painted on each side of this Opal Satin figurine.

Both sides are shown in the photo (see inset photo). Each Cardinal on Pine Mallard Figurine is $75.

Pre-orders for the Buttercup Duckling, Shining Stars Owl and Cardinal on Pine Mallard Figurines will be accepted until midnight (ET) on Wednesday, October 18, 2017.
---
Now available from Fenton Gift Shop!
| | |
| --- | --- |
| Fenton Gift Shop is located in a small strip mall on Route 14 in Boaz, just five minutes from Williamstown at 2242 Williams Highway, Suite 108. Info: 304-375-7772 or 800-319-7793. Stop by and see what's new at Fenton Gift Shop! Open Tuesday-Saturday 10-4 (ET). | |
Daisy & Button Opal Ringholders. . .
Great gift idea or treat yourself with our handcrafted Opal Satin 3" diameter Ringholder in the Daisy & Button pattern. Handcrafted for Fenton Gift Shop, using the Fenton mould, at Mosser Glass. The Fenton logo is on the underside. The outside is a shiny Opal and the inside has been satin finished.

Michelle Kibbe's design features hand painted delicate rosebuds in a lovely blush pink or hyacinth (bluish-purple) color. Michelle's initials are also on each Ringholder.

Each Ringholder is $37 postage paid with shipping via USPS. Make check payable to Fenton Gift Shop, 2242 Williams Hwy., #108, Williamstown, WV 26187 or stop by the Fenton Gift Shop in Boaz and pay $30 for in-store pickup!
Fenton Art Glass Mould Information. . .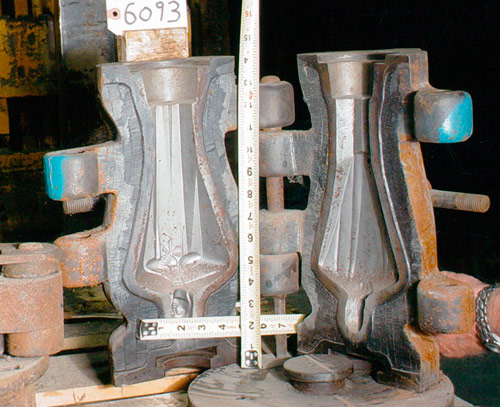 As mentioned in previous newsletters, the Fenton Gift Shop has offered about 10,000 moulds for sale. The link below will take you to an Excel spreadsheet that lists all of the moulds in numerical order from the Fenton record system. The spreadsheet lists the moulds in numerical order (column A) as recorded in the Fenton system. Information in other columns will help you. Columns D and K provide brief descriptions of each mould. When known, the previous owner of a mould is listed in column Q. Fenton historian James Measell traced the histories of many moulds, and his comments are in columns S and T. The current status of any moulds sold (or promised) to a particular purchaser is noted in column U. The prices for moulds are in column M. This Excel file is "searchable" so you can use your search terms to try to find particular moulds. Link for Mould listing: https://spaces.hightail.com/space/OUw8ImK2Kc

The links below will take you to files with the Fenton mould pictures including crimps and optic moulds.
These color photos of the moulds are in the same numerical order as column A in the Excel spreadsheet. View these photos on your computer and keep the Excel spreadsheet at hand simultaneously. Please note: the Excel spreadsheet will be updated from time to time as moulds are sold or promised to purchasers.
---
Fenton Art Glass eBay Auctions. . .
Here's an opportunity to own a beautiful "one-of-a-kind" art glass creation or an item from Fenton's history through our weekly eBay auctions. This auction ends at noon (ET) on Wednesday, October 18. Items featured this week. . .
Made by Fenton Art Glass as a special order for Weil Ceramics in the late 1940s and early 1950s, this Blue Overlay glass vase stands 8.75" tall. This vase is cased glass, having an inner layer of opaque white glass that is very thin and an exterior layer of delicate powder blue glass. In catalogs issued by the Weil firm, this glass vase was designated #4516. Note the distinctive double crimp style, a characteristic of Fenton Art Glass for many years. Production of this vase is well documented in Fenton records, as Weil Ceramics maintained a good relationship with Fenton Art Glass for several years.

This wonderful one-of-a-kind Christmas ornament (3.25" d.) by Fenton artist Michelle Kibbe is a treat to see! The iridescent crystal glass is the perfect complement to Michelle's hand painted scene that features Santa in his sleigh being pulled by a reindeer. Santa's sleigh is filled with presents and snowflakes glitter against the night sky. Glitter accents provide extra sparkle! This ornament comes complete with a blue ribbon for hanging and is dated "2017" on the front and identified and signed on the back: "M. Kibbe OOAK".

Made by Fenton about 1997, this fabulous Cranberry Opalescent Coin Dot pitcher stands 6.5" tall (measured to the very top of the handle). Note the especially rich cranberry color on the interior of the pitcher and the extraordinarily graceful shape of the ribbed opalescent handle. The "saddle crimp" style is a real tribute to the skills of Fenton glassworkers. The Coin Dot pattern was first developed by Fenton Art Glass in the 1940s, and Cranberry Opalescent examples of Coin Dot soon became favorites among collectors nationwide. This zinc metal printing plate is mounted on a wood block that measures about 7" long and 3.5" wide. We think this printing plate was used for an advertisement in a national magazine in the late 1940s or early 1950s. A Coin Dot pitcher and tumbler are depicted. The text reads as follows: "Everlastingly lovely ... the beverage set in Coin Dot ... handmade in America ... by Fenton". We show both views in the photos. What a great piece of history to display with a Coin Dot item! You'll receive both the Cranberry Opalescent Coin Dot pitcher and the zinc metal printing plate. This auction ends at noon (ET) on Wednesday, October 18.
---