Fenton "Uncored" Bead Online Specials:

1AS2017 - 25 Bead Assortment

1HP2017 Decorated Five Beads Grab Bag


1PL2017 Solid Color Five Beads Grab Bag

1GT2017 Glass Treatments Five Beads Grab Bag
---
NEW Limited Editions from Fenton Gift Shop. . .
We are pleased to offer new Limited Edition selections for pre-orders. Each piece features a hand painted design and will be signed, numbered and dated by one of our talented designers. These Limited Edition pieces were handcrafted by Mosser Glass, using a Fenton mould, exclusively for the Fenton Gift Shop.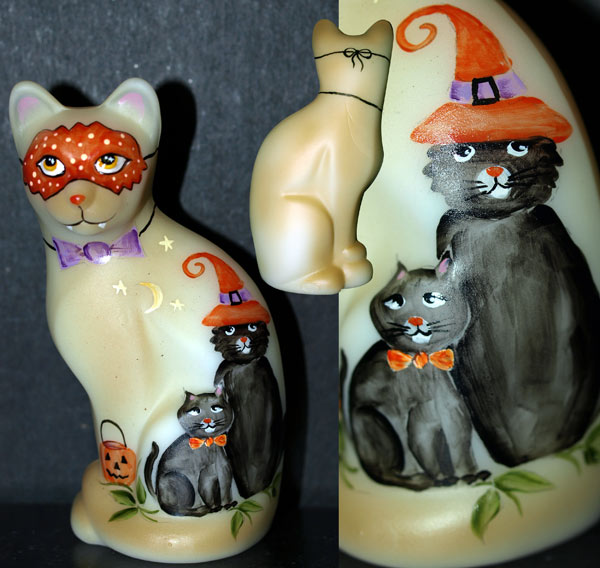 The Autumn season has arrived in several areas of the country, but you'll be thinking "Spring is in the air" with this lovely "Chickadee on Thistle" hand painted design by Michelle Kibbe on our 11" Opal Satin Alley Cat. Michelle created a soft pastel lavender background with beautifully detailed floral accents. A purple Thistle, Black-eyed Susan and Primrose adorn the back side of this figurine. The front design includes a chickadee perched on a thistle and a rosebud garland encircles the figurine. Each Chickadee on Thistle Alley Cat is $225.

Michelle Kibbe created a cute "Vampire" design for the face of this 5" Opal Satin Stylized Cat. Note the polka dotted orange face mask, pink toned ears, purple bowtie and white "fangs"! Michelle added two black kitty cat companions, moon and star accents and a smiling pumpkin for Halloween cat treats! Each Trick or Treat Vampire Stylized Cat Figurine is $90.
Below: This 6.75" Opal Satin Witch figurine sports a cute "Friendly Ghost" on the front of her gown with a border featuring haunted houses, scraggly trees and pumpkins with a toothy grin. Designed by Michelle Kibbe, this is a "must have" for Halloween enthusiasts! Each Friendly Ghost Witch Figurine is $120.

Pre-orders for the Chickadee on Thistle Alley Cat, Trick or Treat Vampire Stylized Cat Figurine and The Friendly Ghost Witch Figurine will be accepted until midnight (ET) on Monday, October 2, 2017. To place your pre-order for any of these limited editions, please call the Fenton Gift Shop: 1-800-319-7793, ext. 342 or send us an email: purchasing@fentongiftshop.com and include the names of the items you want to purchase in the subject line as well as your full name and daytime phone number so we may follow-up on your order. You may also request that we add your name to our mailing list to receive news about future Limited Edition offerings.
Robin Spindler's "Flying High" design on this 10.75" Opal Satin Vase is sure to bring back memories of a favorite childhood pastime. Robin's hand painted design features a young girl flying a colorful kite with her faithful puppy companion following closely behind. Each Flying High Vase is $150.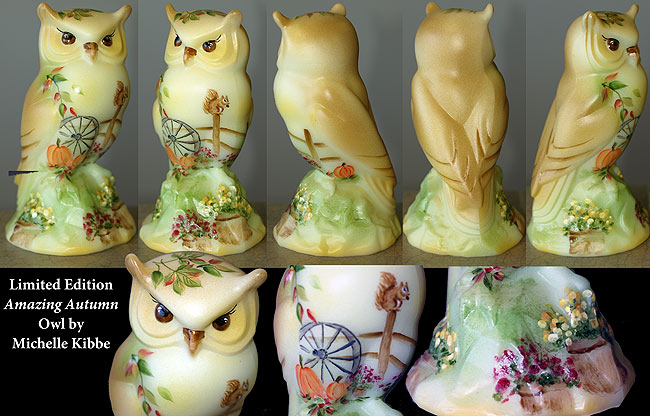 The front of this 5.5" tall Opal Satin Owl Figurine provided an ideal canvas for Michelle Kibbe's "Amazing Autumn" hand painted design. She created a colorful Autumn landscape with seasonal flowers and leaves, wagon wheel, pumpkins, and a brown squirrel perched on a fencepost holding a prized treat. Note the expressive eyes! Each Amazing Autumn Owl Figurine is $95.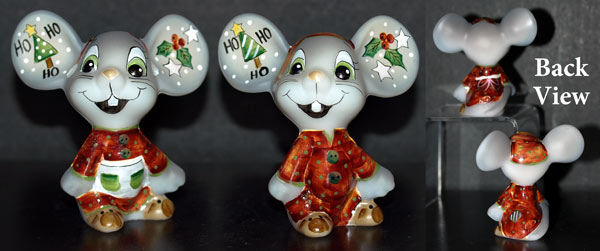 Dressed in their holiday finery, this pair of "Ho Ho Ho" Mice is ready to celebrate Christmas! Kim Barley's hand painted whimsical details for each 2.5" Opal Satin figurine are delightful. . . from the Christmas Tree and hand lettered Ho Ho Ho on the ears to the brown puppy slippers and the adorable toothy grins! Each Ho Ho Ho Mice Figurine Pair is $140.
Pre-orders for the Limited Edition Flying High Vase, Amazing Autumn Owl Figurine and Ho Ho Ho Mice Figurine Pair will be accepted until midnight (ET) on Wednesday, October 4, 2017. To place your pre-order, please call the Fenton Gift Shop: 1-800-319-7793, ext. 342 or email: purchasing@fentongiftshop.com and include the names of the items you want to purchase in the subject line as well as your full name and daytime phone number.
---
Now available from Fenton Gift Shop!

Fenton Gift Shop is located in a small strip mall on Route 14 in Boaz, just five minutes from Williamstown at 2242 Williams Highway, Suite 108. Info: 304-375-7772 or 800-319-7793
Open Tuesday-Saturday 10 a.m. - 4 p.m. (ET)


Stop by and see what's new at Fenton Gift Shop!

NOW AVAILABLE! Great gift idea or treat yourself with our handcrafted Opal Satin 3" diameter Ringholder in the Daisy & Button pattern. Michelle Kibbe's design features hand painted delicate pink rosebuds and she will initial each Ringholder. This Ringholder is $37 postage paid with shipping via USPS. Make check payable to Fenton Gift Shop, 2242 Williams Hwy., #108, Williamstown, WV 26187 or stop by the Fenton Gift Shop in Boaz and pay $30 for in-store pickup!
Fenton Art Glass Mould Information. . .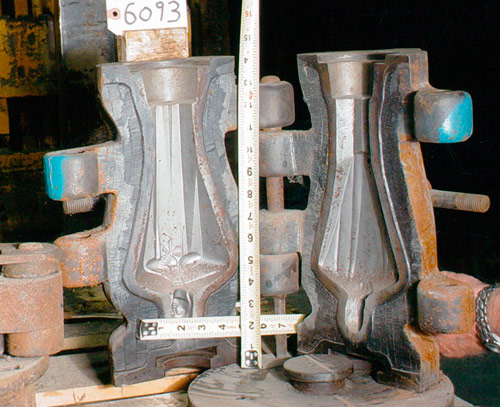 As mentioned in previous newsletters, the Fenton Gift Shop has offered about 10,000 moulds for sale. The link below will take you to an Excel spreadsheet that lists all of the moulds in numerical order from the Fenton record system. The spreadsheet lists the moulds in numerical order (column A) as recorded in the Fenton system. Information in other columns will help you. Columns D and K provide brief descriptions of each mould. When known, the previous owner of a mould is listed in column Q. Fenton historian James Measell traced the histories of many moulds, and his comments are in columns S and T. The current status of any moulds sold (or promised) to a particular purchaser is noted in column U. The prices for moulds are in column M. This Excel file is "searchable" so you can use your search terms to try to find particular moulds. Link for Mould listing: https://spaces.hightail.com/space/OUw8ImK2Kc

The links below will take you to files with the Fenton mould pictures including crimps and optic moulds.
These color photos of the moulds are in the same numerical order as column A in the Excel spreadsheet. View these photos on your computer and keep the Excel spreadsheet at hand simultaneously. Please note: the Excel spreadsheet will be updated from time to time as moulds are sold or promised to purchasers.
---
Fenton Art Glass eBay Auctions. . .
Here's an opportunity to own a beautiful "one-of-a-kind" art glass creation or an item from Fenton's history through our weekly eBay auctions. This auction ends at noon (ET) on Wednesday, October 4. Items featured this week. . .
With classic Fenton Burmese glass for her canvas, Fenton artist Michelle Kibbe designed and hand painted this splendid one-of-a-kind vase (8.5" tall). The graceful shape of the vase provided ample room for "1, 2, 3 ... count them … 5 adorable sleepy kitties! Each kitten is colorful and perfectly detailed, as Michelle's extraordinary hand painting talents and skills are shown to perfection. Note the "paw prints" that encircle the vase at top and bottom. Burmese glass contains pure gold, and careful reheating techniques by Fenton glassworkers create the distinctive pink blush that collectors love.

Here's a great opportunity to acquire a rainbow of Fenton Art Glass colors. These 17 glass objects (2.5" diameter) are "color test disks." When molten glass is being readied for a day's work or a new color is being made, Fenton chemists would gather just the right amount of glass and employ this metal former (8.5" long) or a similar tool to create a color test disk. The procedure was often carried out in the early morning hours so that adjustments could be made as needed. The light green disk in this assortment is dated 1962, and most of the rest of the disks have paper stickers or writing in black marker (some of these are quite legible but others are not). You'll see various shades of blue as well as green, orange, pink, ruby, etc. etc. Insofar as we can tell, these glass disks come from the 1960s-1990s time frame. One disk is dated 3-15-07. These color glass disks were stored in our glass technology research area, and we're please to make this assortment available.

Made by Fenton about 1997, this fabulous Cranberry Opalescent Coin Dot pitcher stands 9.75" tall (measured to the very top of the handle). Note the especially rich cranberry color on the interior of the pitcher and the extraordinarily graceful shape of the ribbed opalescent handle. The "saddle crimp" style is a real tribute to the skills of Fenton glassworkers. The Coin Dot pattern was first developed by Fenton Art Glass in the 1940s, and Cranberry Opalescent examples of Coin Dot soon became favorites among collectors nationwide. This copper printing plate was used in the printing of a Fenton catalog more than half a century ago! The copper plate measures 5.25" x 6.5" and the wood block is 7.5" x 7.75". The Coin Dot pieces depicted were in the Fenton line about 1947 to 1952. The copper plate has been cleaned, but it does have some light scratches on its surface. This auction ends at noon (ET) on Wednesday, October 4.
---