Fenton Art Glass Presents. . . September Specials!
50% Discount
FLASH SALE!
Enjoy a 50% Discount on the remaining selections in our Creative Spirit jewelry collection. Use YOUR creative spirit and make your personal fashion statement with Fenton USA Jewelry! Create it. . . Wear it. . . Love it!
Click here to view our remaining Creative Spirit inventory.
This Creative Spirit 50% Discount Flash Sale begins at 8 p.m. (ET) on September 7 and ends at 8 p.m. (ET) on Monday, September 11. All orders must be placed via www.fentonartglass.com. Please click on each image below for details and to place your order. Don't delay as inventory is very limited!
Included in the Creative Spirit Collection are the handcrafted Art Glass Pendants shown below. These versatile pendants have lobster clasps at each end for ease of use on chains, necklaces and leather bracelets. Each pendant size is approx. 1-1/4'' in length.
Shown below are "Clasp 'n Go" Leather Cord Bracelets, which feature our most popular colors and designs with coordinating colored leather bands and accents. The bead is measure approximately 1.25" long. Each bracelet includes a coordinating leather band with extender chains to accommodate most wrist sizes. Handcrafted with quality and tested for durability, these bracelets are perfect for stacking with your own bangles or worn alone. Make your personal style statement with Creative Spirit jewelry!

"Webster" Leather Cord Bracelet
$49.50 NOW $$29.70
Ends 8 p.m. Monday, 9/11/17! Buy Now!

Fenton "uncored" bead online specials:

1AS2017 - 25 Bead Assortment

1HP2017 - Decorated Five Beads Grab Bag

1PL2017 - Solid Color Five Beads Grab Bag

1BNG2017 Blue 'n Gold Bead Assortment

1GT2017 - Glass Treatments Five Beads Grab Bag

---
NEW Limited Editions from Fenton Gift Shop. . .
We are pleased to offer new Limited Edition selections for pre-orders. Each piece features a hand painted design and will be signed, numbered and dated by one of our talented designers. These Limited Edition pieces were handcrafted by Mosser Glass, using a Fenton mould, exclusively for the Fenton Gift Shop.
Robin Spindler's talent for nature and animals shines on this 10.25" Opal Satin Vase. Robin hand painted a tender scene of a female Elephant with two youngsters. She titled her design "More to Love" and this name will be hand painted on the bottom of each vase, along with her signature, Fenton 2017 and the number of the Limited Edition. The natural habitat details are amazing and Robin added zebra stripes that make perfect "framing" accents. Did you know. . . Elephants are highly sensitive and caring animals. For example, if a baby elephant complains, the entire family will go over to touch and caress it. An elephant rarely has more than four children throughout her lifetime. An elephant calf weighs about 230 lbs. at birth! Each More to Love Vase is $215.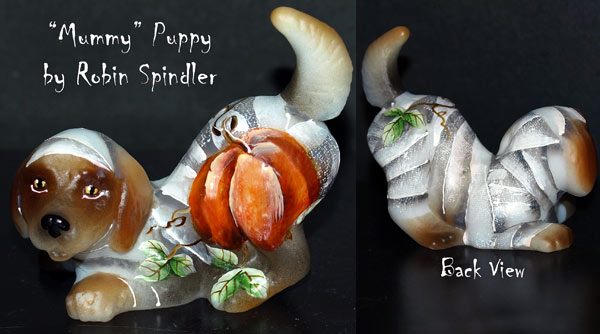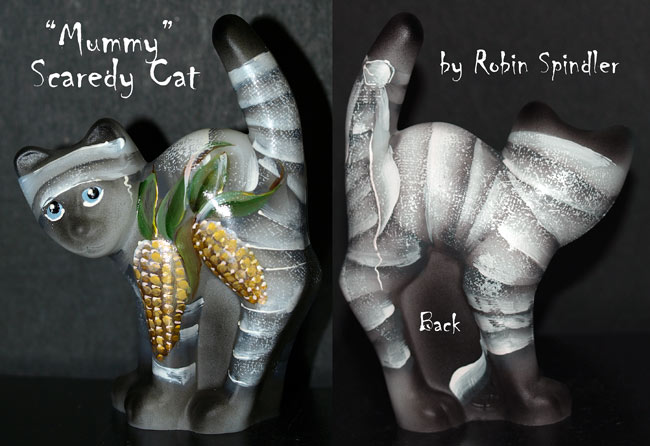 'Tis the season for preparing for your Halloween decorating! Robin Spindler created a delightful "Mummy" design on our Opal Satin 3.25" tall Puppy and 4" tall Cat figurines. Robin created natural tones for each figurine's background, then added gray and white bandage wraps. Colorful Fall accents ─ a vibrant orange pumpkin with green vines on the Puppy and corn cobs on the Cat ─ complete each figurine. The expressions are fabulous. Each Mummy Puppy Figurine is $80. Each Mummy Scaredy Cat Figurine is $80. SPECIAL OFFER: You can own both figurines for $150 - a $10 savings!
Pre-orders for the More to Love Vase, Mummy Puppy and Mummy Scaredy Cat Figurines will be accepted until midnight (ET) on Monday, September 11, 2017. To place your pre-order for any of these limited editions, please call the Fenton Gift Shop: 1-800-319-7793, ext. 342 or email: purchasing@fentongiftshop.com and include the names of the items you want to purchase in the subject line. You may also request that we add your name to our mailing list to receive news about future Limited Edition offerings.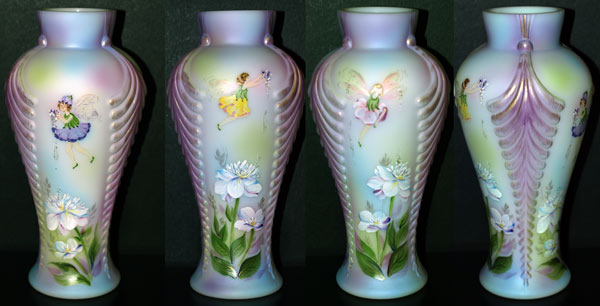 Michelle Kibbe's "Fairies Three" design on our 10.5" Feather Vase is beautiful to behold. A challenge to capture with the camera and available lighting, each hand painted panel of this Opal Satin Vase features a different fairy (see close-up photos above). Michelle created delicate brushstrokes on the wings and on each flower petal dress. She applied glitter as the "fairy dust" being applied to the lush blooms encircling the vase. One fairy is adorned in vibrant violet, another in sunny yellow and the third fairy is dressed in a pastel pink. The lovely hand painted details are meticulous. Each Fairies Three Feather Vase is $155.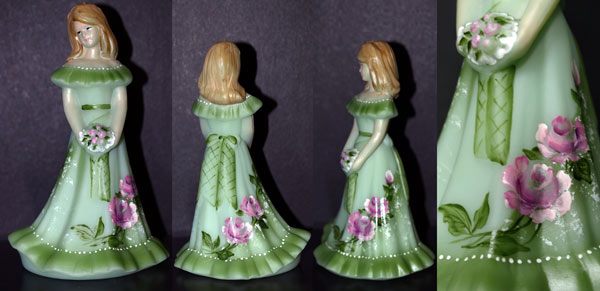 Jadeite Glass provides a lovely canvas for Michelle Kibbe's design of lush pink roses on the dress of this 6.75" Bridesmaid Doll Figurine. Beautiful hand painted large pink roses adorn the front, side and back of this figurine. Michelle added white polka dot accents on the ruffle as well as a lace pattern to the bow and the ribbon on the bouquet. Each Pink Roses Bridesmaid Doll Figurine is $115 and limited to 12 figurines.
Kim Barley created a marvelous "ghoulish" Halloween scene on this 6.75" Opal Satin Witch figurine. From a scraggly tree, gnarly cane, patches on the dress and crystal ball adorning the skirt to the spider webs, cat bearing its fangs and a bagful of eyeballs, this figurine will become a seasonal favorite! Note the warts and toothy grin of the witch and the small pouch of "Eye of Newt" hanging from the witch's belt! Each Eye of Newt Witch Figurine is $120.

Pre-orders for the Fairies Three Feather Vase, Pink Roses Bridesmaid Doll and Eye of Newt Witch Figurines will be accepted until midnight (ET) on Wednesday, September 13, 2017. To place your pre-order, please call the Fenton Gift Shop: 1-800-319-7793, ext. 342 or send us an email: purchasing@fentongiftshop.com and include the names of the items you want to purchase in the subject line. You may also request that we add your name to our mailing list to receive news about future Limited Edition offerings.
---
Now available from Fenton Gift Shop!
Perfect gift for someone special or for holiday gift giving, this lovely handcrafted Opal Satin Daisy & Button Ringholder is just $23 with FREE shipping via USPS!


Call 800-319-7793,
ext. 342 or stop in at our shop location at 2242 Williams Hwy., Williamstown, WV 26187. Our store is located in a small strip mall on Route 14 in Boaz - just five minutes from Williamstown.
Fenton Art Glass Mould Information. . .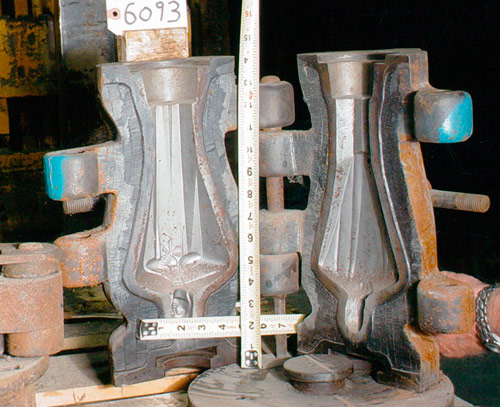 As mentioned in previous newsletters, the Fenton Gift Shop has offered about 10,000 moulds for sale. The link below will take you to an Excel spreadsheet that lists all of the moulds in numerical order from the Fenton record system. The spreadsheet lists the moulds in numerical order (column A) as recorded in the Fenton system. Information in other columns will help you. Columns D and K provide brief descriptions of each mould. When known, the previous owner of a mould is listed in column Q. Fenton historian James Measell traced the histories of many moulds, and his comments are in columns S and T. The current status of any moulds sold (or promised) to a particular purchaser is noted in column U. The prices for moulds are in column M. This Excel file is "searchable" so you can use your search terms to try to find particular moulds. Link for Mould listing: https://spaces.hightail.com/space/OUw8ImK2Kc

The links below will take you to files with the Fenton mould pictures including crimps and optic moulds.
These color photos of the moulds are in the same numerical order as column A in the Excel spreadsheet. View these photos on your computer and keep the Excel spreadsheet at hand simultaneously. Please note: the Excel spreadsheet will be updated from time to time as moulds are sold or promised to purchasers.
---
Fenton Art Glass eBay Auctions. . .
Here's an opportunity to own a beautiful "one-of-a-kind" art glass creation or an item from Fenton's history through our weekly eBay auctions. This auction ends at noon (ET) on Wednesday, September 13. Items featured this week. . .
This 8'' Melon Vase, ''Lavender Lady'' was offered in the Summer of 2008 as a Limited Edition Family Signature Piece. Designed by Michelle Kibbe and hand painted by Sue Jackson, this vase includes the signatures of nine Fenton family members. Limited to 750 pieces, this vase is number 23/750. Michelle's hand painted violets with gold scroll and cross hatch accents adorn the graceful Aubergine Overlay vase. For more than half a century, overlay colors were produced by Fenton. A core of Aubergine Glass was gathered and shaped by a skilled glassworker called a Blocker. Then, a layer of Milk glass was gathered over the Aubergine Glass. Fenton's glass technologists assured that the two layers of glass matched perfectly, expanding and contracting at the same rate.

With September now here, Halloween is soon to come! This one-of-a-kind doll figurine by Fenton artist Kim Barley is "GOTH" in capital letters for sure! The airbrushed tones on this orange doll of yellow and black on the dress are traditional Halloween colors, and Kim's hand painted black cat and spider web will catch your eye. Elsewhere, the hand painted details are amazing. Note the necklace and the makeup colors on the doll's face (including the red heart!) ... as well as those "haunting" blue eyes with heavy mascara that seem to follow your every move!

Fenton artist Michelle Kibbe had Winter on her mind when she created and hand painted this splendid one-of-a-kind scene on a satin-finished cased glass piece (5" tall with 3.5" opening). The rich ruby background contrasts beautifully with the vivid glittering white of the snow-covered church and adjacent pine trees. Subtle touches of blue and glitter highlights on the trees add brilliance and depth to the hand painted scene. This auction ends at noon (ET) on Wednesday, September 13.
---