Fenton Art Glass Presents. . . Labor Day Specials!
Each morning sees some task begin, Each evening sees it close;
Something attempted, something done; Has earned a nightís repose.
─ Henry Wadsworth Longfellow

The artist is nothing without the gift, but the gift is nothing without work.
─ …mile Zola
We salute and wish a Happy Labor Day to all! Below are a few images of Fenton Art Glass employees whose creativity, talent, hard work and skills helped create Fenton Art Glass. Click here to learn more about the history of Fenton Art Glass.

Left to right: Fenton Art Glass Decorating Room (early 1900s); Louise Piper (1970s); and J. K. "Robin" Spindler (recent). Designers Robin Spindler, Kim Barley and Michelle Kibbe continue to create beautiful designs at Fenton Gift Shop's new location in Boaz. These designs include Fenton Gift Shop Limited Edition offerings and one-of-a-kind selections for our weekly Fenton Art Glass eBay auctions.


Here's some photos
of a few of the
skilled glassworkers
(handlers and finishers) who have worked at
Fenton Art Glass.

Left to right:
Delmer Stowasser,
Butch Wright and
Brian Greene.


Last Glassmaking
Press Shop at
Fenton Art Glass factory in Williamstown, WV.
Fall 2011.

Left to right:
Al Uppole,
Charlie Porter,
Keith Science,
Sonny Burdette,
and Chris Uppole.
Fenton "uncored" bead online specials:

1AS2017 - 25 Bead Assortment

1HP2017 - Decorated Five Beads Grab Bag

1PL2017 - Solid Color Five Beads Grab Bag

1BNG2017 Blue 'n Gold Bead Assortment

1GT2017 - Glass Treatments Five Beads Grab Bag
---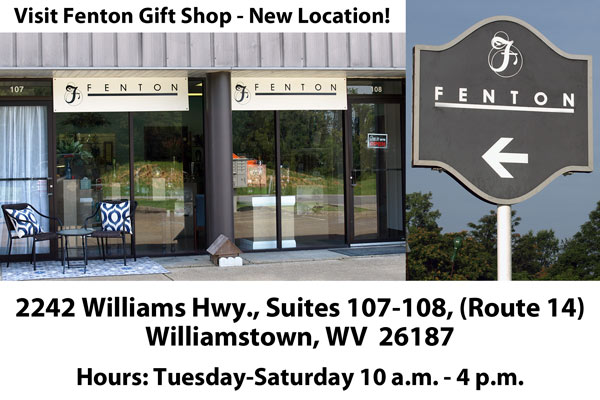 NEW Limited Editions
from Fenton Gift Shop. . .
We are pleased to offer new Limited Edition selections for pre-orders. Each piece features a hand painted design and will be signed, numbered and dated by one of our talented designers. These Limited Edition pieces were handcrafted in Opal Satin and Cobalt Satin glass exclusively for the Fenton Gift Shop by Mosser Glass, using a Fenton mould.
Visit us at our NEW location at 2242 Williams Highway, Williamstown, WV 26187. Even though our mailing address is Williamstown, our store is located in a small strip mall on Route 14 in Boaz - just 5 minutes from Williamstown. Look for our Fenton sign (see photo)! We have a nice selection of handcrafted Fenton Art Glass, vintage and new, as well as jewelry. . . perfect gifts or treat yourself!
Below: Robin Spindler has transformed our popular 8" Chessie Cat Covered Box into a pumpkin patch complete with golden yellow blooms on the lid! She titled this Limited Edition set "Hide 'n Seek" with a brown tabby on the front and another tabby cat hiding in the pumpkin patch on the back. Each Hide 'n Seek Chessie Cat Covered Box is $160

Robin created a matching brown Tabby Cat design on the 4.5" Scaredy Cat Figurine. Place the figurine next to the design on the Chessie Box and you have a "Hide 'n Seek" theme! Front and back views of each Limited Edition are shown in the photo. The colorful and meticulous hand painted details are sure to make these two pieces family favorites! Each Brown Tabby Cat Figurine is $80.
Michelle Kibbe continues the "professions" design theme (begun by Kim Barley) on our popular 3" Mouse figurine with a "Painter" design. Splashes of red, blue and yellow adorn the ears and clothes. A colorful beanie cap adorns the head on this mouse. Note the yellow paint dripping from a paintbrush. As always, the face is wonderfully expressive! Each Painter Mouse Figurine is $80.

Pre-orders for the Hide 'n Seek Chessie Cat Covered Box, Brown Tabby Cat and Painter Mouse Figurines will be accepted until midnight (ET) on Monday, September 4, 2017. To place your pre-order for any of these limited editions, please call the Fenton Gift Shop: 1-800-319-7793, ext. 342 or send us an email: purchasing@fentongiftshop.com and include the names of the items you want to purchase in the subject line. You may also request that we add your name to our mailing list to receive news about future Limited Edition offerings.


Satin finished Cobalt glass provides the perfect canvas for Michelle Kibbe's "Snow People" design on this 11" Alley Cat figurine. The hand painted scene encircles the base of the cat. Snow people in colorful winter attire smile at the falling snow. Michelle's whimsical hand painted details on these smiling carrot-nosed snow people is sure to bring a smile to the young and young-at-heart! Each Snow People Alley Cat Figurine is $230.

Michelle Kibbe's hand painted "Pumpkin Kitty" design on our 3.25" Sitting Cat figurine will make a purr-fect addition to any Halloween display. It is also a perfect gift for figurine collectors or cat enthusiasts. Michelle created the cat's "white" paws so they appear to be resting on the edge of the smiling pumpkin. She added lush green pumpkin vines as accents. Each Pumpkin Kitty Cat Figurine is $75.

Kim Barley's talent for whimsical design shines on this 5.75" Opal Satin Ghost figurine! You'll delight in the fun hand painted details... from a black "vampire" cat with a "Book of Spells" nearby, a grinning pumpkin with star-shaped eyes and witch's hat... to the "Bat Wing" and "Lock of Hair" ingredients for the next batch of brew! Note the broomstick and black cat with the hour glass on the back of this figurine.

As always, Kim added a toothy grin to the face
of this friendly ghost.
Kim hand painted "Come
Sit A Spell" across a delicate spider web.


This figurine is sure to become a favorite Halloween decoration! Each Come Sit A Spell Ghost Figurine is $115.

Pre-orders for the Snow People Alley Cat, Pumpkin Kitty Cat Figurine and Come Sit A Spell Ghost Figurine will be accepted until midnight (ET) on Wednesday, September 6, 2017. To place your pre-order for any of these limited editions, please call the Fenton Gift Shop: 1-800-319-7793, ext. 342 or send us an email: purchasing@fentongiftshop.com and include the names of all items you want to purchase in the subject line.
Fenton Art Glass Mould Information. . .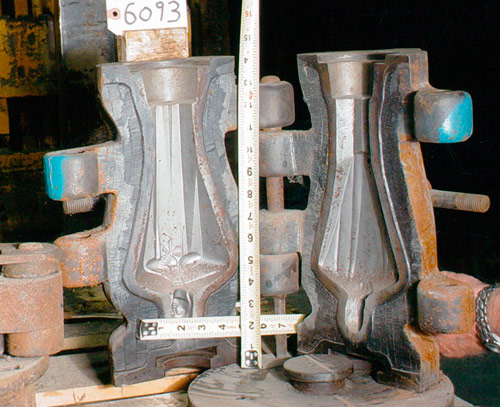 As mentioned in previous newsletters, the Fenton Gift Shop has offered about 10,000 moulds for sale. The link below will take you to an Excel spreadsheet that lists all of the moulds in numerical order from the Fenton record system. The spreadsheet lists the moulds in numerical order (column A) as recorded in the Fenton system. Information in other columns will help you. Columns D and K provide brief descriptions of each mould. When known, the previous owner of a mould is listed in column Q. Fenton historian James Measell traced the histories of many moulds, and his comments are in columns S and T. The current status of any moulds sold (or promised) to a particular purchaser is noted in column U. The prices for moulds are in column M. This Excel file is "searchable" so you can use your search terms to try to find particular moulds. Link for Mould listing: https://spaces.hightail.com/space/OUw8ImK2Kc

The links below will take you to files with the Fenton mould pictures including crimps and optic moulds.
These color photos of the moulds are in the same numerical order as column A in the Excel spreadsheet. View these photos on your computer and keep the Excel spreadsheet at hand simultaneously. Please note: the Excel spreadsheet will be updated from time to time as moulds are sold or promised to purchasers.
---
Fenton Art Glass eBay Auctions. . .
Here's an opportunity to own a beautiful "one-of-a-kind" art glass creation or an item from Fenton's history through our weekly eBay auctions. This auction ends at noon (ET) on Wednesday, September 6. Items featured this week. . .
Fenton artist Michelle Kibbe designed and hand painted this splendid one of-a-kind basket (10.5" tall). Made of Ivory Satin glass, this basket has a fine rib twisted handle and a distinctive crimp style that is called "lily crimp" by Fenton's skilled glassworkers. Michelle's lush hand painted floral is a delight to the eye with its depictions of flowers in many different colors and meticulous details. Her innovative "sponge" decorative technique on the interior and the foot of the basket makes for a dramatic contrast.

The Ring-Neck Pheasant is a distinctive bird, and Fenton artist Michelle Kibbe designed and hand painted this wonderful one-of-a-kind depiction of a pair of pheasants on a cased glass vase ─ shiny Milk Glass interior with Robinís Egg Blue outside (9.5" tall). For more than half a century, overlay colors were produced by Fenton. Typically, a core of Milk Glass is gathered and shaped by a skilled glassworker called a Blocker. Then, a layer of colored glass is gathered over the Milk Glass. Fenton's glass technologists assured that the two layers of glass matched perfectly, expanding and contracting at the same rate. The background tones in blue are a perfect contrast to the plumage of the pheasant pair, and the details of the fencepost make us think of so many places in America when pheasants can be found.

Here's a rare chance to acquire an original Fenton Art Glass Co. catalog from years past. This 30-page catalog was issued in 1950, so you'll see lots of pieces of Hobnail, Coin Dot or Silver Crest as well as the new "Ivy" line and items in the short-lived Priscilla line that debuted in mid-1950. The Diamond Lace line (designed by the late Frank L. Fenton, who passed away in 1948) is also featured. Items pictured are captioned with line numbers because this catalog was done before four-digit ware numbers and two-character color codes were instituted. Don't miss this chance to acquire a vintage, original Fenton catalog. This auction ends at noon (ET) on Wednesday, September 6.
---