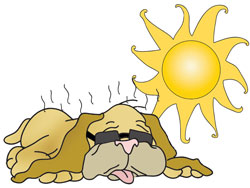 Fenton Art Glass Presents. . .
Dog Days of August Deals Ending Soon!

Our "Dog Days of August" Online Specials on remaining inventory of handcrafted jewelry, accessories, reference materials, and more is ending soon! Quantities are very limited on these remaining items. All "Dog Days of August" items must be purchased from the www.fentonartglass.com web site.
Check out the remaining Production Sample selections (just one of each available) Fenton Production Sample Beads or choose from the selections shown below.
Enjoy A 60% Fenton Flash Sale Discount on Piccadilly!
You'll receive a 60% discount on this beautiful handcrafted Fenton Art Glass bead during our "Fenton Flash Sale" this weekend! This sale ends at 8 p.m. (ET) on Sunday, August 27. Remaining inventory is very limited! This bead must be ordered via www.fentonartglass.com.

Piccadilly was designed by Jena Lane Blair and reminded her of a garland of flowers...
a pure delight. Because of the handmade process, bead size may vary from 1/2'' to 5/8'' in diameter. Each bead has a sterling silver core embossed Fenton USA.

Piccadilly - Originally $45 - Flash Sale $18 each + Free shipping! Buy Now!
NEW Limited Editions from Fenton Gift Shop. . .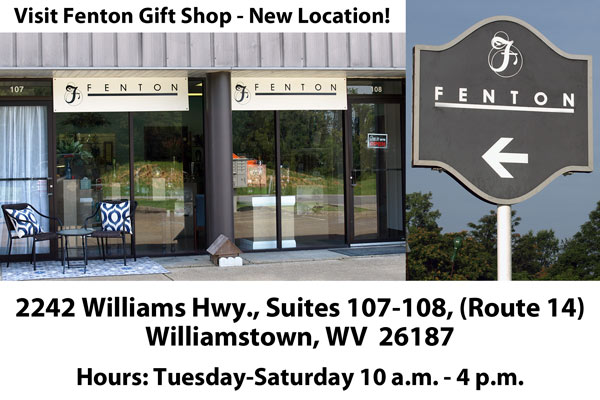 We are pleased to offer new Limited Edition selections for pre-orders. Each piece features a hand painted design and will be signed, numbered and dated by one of our talented designers. These Limited Edition pieces were handcrafted exclusively for the Fenton Gift Shop by Mosser Glass, using a Fenton mould.
Visit us at our NEW location at 2242 Williams Highway, Williamstown, WV 26187. Even though our mailing address is Williamstown, our store is located in a small strip mall on Route 14 in Boaz - just 5 minutes from Williamstown. Look for our Fenton sign (see photo)! We have a nice selection of handcrafted Fenton Art Glass, vintage and new, as well as jewelry. . . perfect gifts or treat yourself!
Panda fans will want to add these two fabulous glass creations to their collection. Designed by Michelle Kibbe, the 11" Opal Satin Vase features a wonderful hand painted scene of a Giant Panda reclining amongst the Bamboo with China's Great Wall in the background. The 3.5" Opal Satin Giant Panda Bear Figurine is simply adorable, especially the expression on that face! Note the foliage accents on the ears!
Did you know. . . Pandas can eat for 12 hours, consuming more than 26 pounds of bamboo. Baby pandas are born pink and measure about 6 inches – that's about the size of a pencil! They are also born blind and only open their eyes six to eight weeks after birth. Each Bamboo Panda Vase is $160. Each Bamboo Panda Bear Figurine is $75.
| | |
| --- | --- |
| | |
Figurine collectors will be delighted with this latest Mouse figurine from Kim Barley. Kim created a lovely hand painted "hello fall" design for our 2.75" Opal Satin Mouse figurine. Dotted floral accents adorn the ears with a flower pot on the back side.

This "girl mouse" has ruffles around the neck and a smiling pumpkin on the front of her dress. Note those long eyelashes and toothy grin! Each Hello Fall Mouse Figurine is $80.

Pre-orders for the Bamboo Panda Vase, Bamboo Panda Figurine and Hello Fall Mouse Figurine will be accepted until midnight (ET) on Monday, August 28, 2017.

To place your pre-order for any of these limited editions, call the Fenton Gift Shop:
1-800-319-7793, ext. 342 or email: purchasing@fentongiftshop.com. Include the items you want to purchase in the subject line.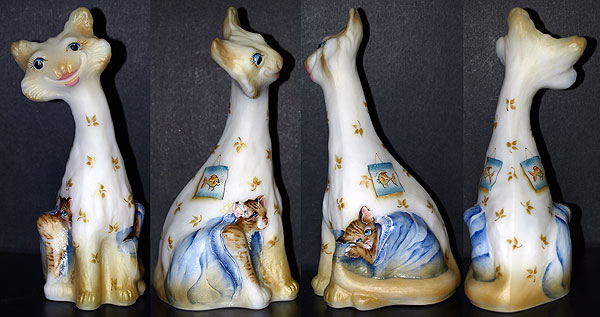 Robin Spindler continues the popular "Chessie Cat" design theme with this hand painted motif on our 11" Opal Satin Alley Cat Figurine.

The Alley Cat figurine represents the "Mama" cat to two tabby "Chessie" kittens, each one snuggled in a blue blankie.

Robin added framed fish prints and leaf accents to complete this piece. Note the bright blue eyes with long lashes and the pink lips! Each Chessie Cats' Mama Alley Cat Figurine is $230.
This 11" Opal Satin Vase provides a wonderful canvas for Michelle Kibbe's scene of an "Elk in Winter". Michelle's hand painted panoramic winter landscape includes a rustic barn, fence and bare trees with blue skies and mountains in the distance. A majestic "Bull" Elk stands atop a rock observing his winter feeding grounds. Michelle's hand painted details are true to life and this vase will make a dramatic statement.
Did you know. . . Elk are also called wapiti, a Native American word meaning "light-colored deer." Larger than most of their deer relatives, a bull (male) elk's antlers may reach 4 feet above its head, so that the animal stands 9 feet tall. Bull elk lose their antlers each March and begin to grow them back in May in preparation for the late-summer breeding season. In the winter, elk gather into larger herds, with males and females remaining separate. Herds return to lower valley pastures where they spend the season pawing through snow to browse on grass or settling for shrubs that stand clear of the snow cover. Each Elk in Winter Vase is $190.
Kim Barley's delightful "Pine Tree" Penguin is sure to bring a smile to the young and young-at-heart! Great gift for the figurine collector, too!

Kim hand painted a green and light yellow striped sweater with a red heart on the right side. A green snow-covered pine tree also adorns the lower front of this 4-3/8" figurine. Each Pine Tree Penguin Figurine is $80.

Pre-orders for the Chessie Cats' Mama Alley Cat, Elk in Winter Vase and Pine Tree Penguin Figurine will be accepted until midnight (ET) on Wednesday, August 30, 2017.

To place your pre-order for any of these limited editions, call the Fenton Gift Shop: 1-800-319-7793, ext. 342 or send us an email: purchasing@fentongiftshop.com and include the name of each item you want to purchase in the subject line.

You may also request that we add your name to our mailing list to receive news about future Limited Edition offerings!
Fenton Art Glass Mould Information. . .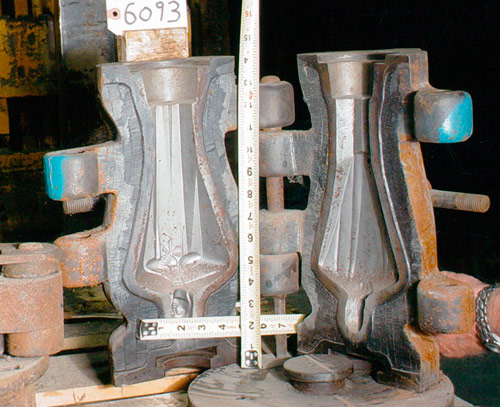 As mentioned in previous newsletters, the Fenton Gift Shop has offered about 10,000 moulds for sale.
The link below will take you to an Excel spreadsheet that lists all of the moulds in numerical order from the Fenton record system. The spreadsheet lists the moulds in numerical order (column A) as recorded in the Fenton system. Information in other columns will help you. Columns D and K provide brief descriptions of each mould. When known, the previous owner of a mould is listed in column Q. Fenton historian James Measell traced the histories of many moulds, and his comments are in columns S and T. The current status of any moulds sold (or promised) to a particular purchaser is noted in column U. The prices for moulds are in column M. This Excel file is "searchable" so you can use your search terms to try to find particular moulds.
Link for Mould listing: https://spaces.hightail.com/space/OUw8ImK2Kc

The links below will take you to files with the Fenton mould pictures including crimps and optic moulds.
These color photos of the moulds are in the same numerical order as column A in the Excel spreadsheet. View these photos on your computer and keep the Excel spreadsheet at hand simultaneously. Please note: the Excel spreadsheet will be updated from time to time as moulds are sold or promised to purchasers.
---
Fenton Art Glass eBay Auctions. . .
Here's an opportunity to own a beautiful "one-of-a-kind" art glass creation or piece of Fenton history through our weekly eBay auctions.
This auction ends at noon (ET) on Wednesday, August 30.
Rosalene glass is a classic Fenton color, and this one-of-a-kind 8.75" tall vase is a tribute to our glass chemists, glassworkers and artists alike. The vase is satin finished. Note the distinctive top crimp. Artist Michelle Kibbe created and hand painted a magnificent scene of two hummingbirds sipping nectar from pink trumpet-shaped flowers. The scene encircles the vase. Her hand painted details are simply remarkable.

If you like lighthouses, you'll love this wonderful one-of-a-kind vase (7.25" tall) that was created and hand painted by Fenton artist Michelle Kibbe. The Opal Satin glass (made by Mosser using the Fenton mould) is the perfect canvas for her depictions of four different lighthouses and their respective surroundings. All the details are meticulously executed, and the colors are vivid and vibrant. No matter which of the four panels you see, you'll enjoy a view of a lighthouse!

What kind of Duck is this? Award-winning Fenton designer J. K. "Robin" Spindler smiled and said "It's a mystery duck" when we asked her! Actually, it's a one-of-a-kind Duck in Opal Satin glass, made by Mosser Glass, using the Fenton mould. Designed and hand painted by Robin, you'll like the airbrushed brown tones, and the hand painted scrolling and "feathers" are just delightful. As always, the eyes are remarkably expressive.

Here's a great opportunity to acquire a unique piece of Fenton history. When our 12-pot furnace was shut down for repairs in July 1980, small lumps of glass in various colors remained in the bottoms of some pots. Some of this glass was ground and polished by Fenton employee Jim Stage, who was then foreman of the Finishing Department (Jim is now associated with the Williamstown Antique Mall). This opaque Patriot Red piece measures 4-3/8" at its widest point
and is 1-3/4" tall. It has color swirls of reddish black color as well as smooth indentation on one side. This glass weighs about 1.5 pounds and will make a nice paperweight or accent piece to display with a Fenton collection. This opaque Patriot Red piece has been personally signed by company President George Fenton.
---