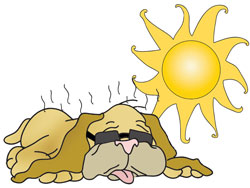 Fenton Art Glass Presents. . .
Dog Days of August Deals Continue!

We're pleased to continue our "Dog Days of August" Online Specials with special discounts on our remaining inventory of handcrafted jewelry, accessories, reference materials, and more. Quantities are limited on these remaining items. All "Dog Days of August" items must be purchased from the www.fentonartglass.com web site.
Uncored Bead Assortments:
1AS2017 - 25 Bead Assortment

1HP2017 - Decorated Five Beads Grab Bag

1PL2017 - Solid Color Five Beads Grab Bag

1BNG2017 Blue 'n Gold Bead Assortment

1GT2017 - Glass Treatments Five Beads Grab Bag
---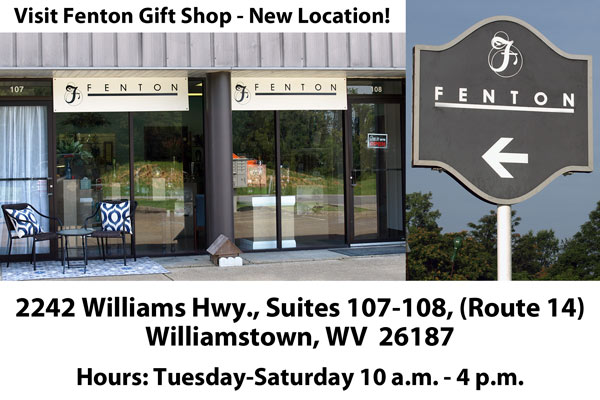 NEW Limited Edition Designs
from Fenton Gift Shop. . .
We are pleased to offer new Limited Edition selections for pre-orders. Each piece features a hand painted design and will be signed, numbered and dated by one of our talented designers. These Limited Edition pieces were handcrafted exclusively for the Fenton Gift Shop by Mosser Glass, using a Fenton mould.
Visit us at our NEW location at 2242 Williams Highway, Williamstown, WV 26187. Even though our mailing address is Williamstown, our store is located in a small strip mall on Route 14 in Boaz - just 5 minutes from Williamstown. Look for our Fenton sign (see photo)! We have a nice selection of handcrafted Fenton Art Glass, vintage and new, as well as jewelry. . . perfect gifts or treat yourself!

Robin Spindler continues her safari theme (see July 21 newsletter for a coordinating vase) on this 10.75" Opal Satin Vase. She hand painted colorful cheetah spots and vertical tiger stripes and added delicate white bands to help frame this tender scene of a mother Zebra with her young. The back of the vase features the landscape of their native habitat.
Did you know... Zebras have been called "striped horses." Similar to horses, female zebras are known as mares; male zebras are stallions and babies are foals. Each Safe Vase is $190.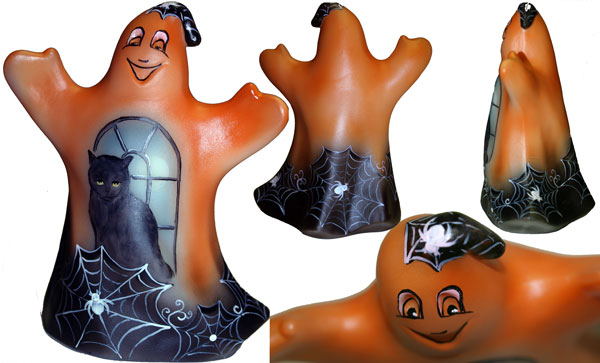 Michelle Kibbe has transformed this 5.75" figurine into a pumpkin-orange ghost adorned with spider-filled webs. She added a leaded glass style window covering a hazy full moon.
A black cat (Le chat noir in French) with golden eyes is perched on the windowsill. Note the white spider on
the cap and that wonderful expression on the face.
This figurine will make a great addition to any Halloween display.
Each Le Chat Noir Ghost Figurine is $115.
Figurine collectors will be delighted with this latest creation from Michelle Kibbe. She created a lovely hand painted floral design for this 3.5" Duckling figurine. Pretty stylized pink blooms adorn this piece, (there are even blossoms on top of the head), along with colorful greenery. Several views are shown in the photo at right. Note the "blush" added to each cheek!
Each Flora Duckling Figurine is $75.

Pre-orders for the Safe (Zebras) Vase,
Le Chat Noir Ghost and Flora Duckling Figurines will be accepted until midnight (ET) on Monday, August 21, 2017.

To place your pre-order for any of these limited editions, call the Fenton Gift Shop: 1-800-319-7793, ext. 342 or send us an email: purchasing@fentongiftshop.com and include the items you want to purchase in the subject line.

You may also request that we add your name to our mailing list to receive news about future Limited Edition offerings!

Our elegant Opal Satin Vase and Fox figurine provide the perfect canvas for Michelle Kibbe's Covered Bridge design. This pair will look wonderful when displayed in your home! Michelle airbrushed each piece to create the landscape and sky, then added her wonderful scene on each piece.

Two geese swim in the water near the covered bridge on the 10.75" vase. Michelle hand painted lush greenery in the background. She used polka dot accents around the base to complete the look.

We show more views of these two items below so you may see the completed design on each piece.

Each Covered Bridge Vase is $185.

The 4.25" tall Opal Satin Fox figurine goes nicely with the vase as Michelle created a similar scene on the figurine. A lone goose glides across the water.

Michelle airbrushed this Opal Satin Fox figurine in natural tones and added a wonderful realistic expression to the face.

Each Covered Bridge Fox Figurine is $85.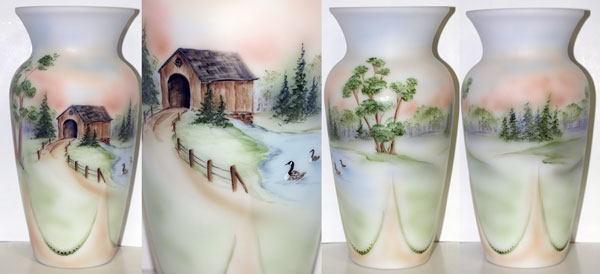 Perfect for your Halloween display and sure to become a favorite among your Fenton collection! You'll delight at all of the colorful and whimsical hand painted details created by Kim Barley for this 5.5" Opal Satin Owl Figurine.

A close-up of the head shows Kim's use of vibrant hues of teal and purple and the gold accents around the eyes. She's added all the popular Halloween symbols on this figurine... from a scraggly tree, golden stars and spider web to a haunted house, witch with her broomstick and a black cat. All views of this fabulous figurine are shown below. Each Bewitched Owl Figurine is $95.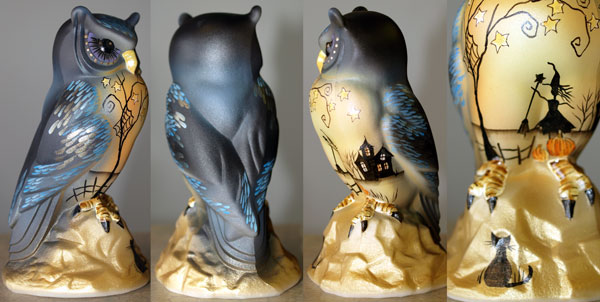 Pre-orders for the Covered Bridge Vase, matching Fox Figurine and Bewitched Owl Figurine will be accepted until midnight (ET) on Wednesday, August 23, 2017.
To place your pre-order for any of these limited editions, call the Fenton Gift Shop: 1-800-319-7793, ext. 342 or send us an email: purchasing@fentongiftshop.com and include the name of each item you want to purchase in the subject line.
Fenton Art Glass Mould Information. . .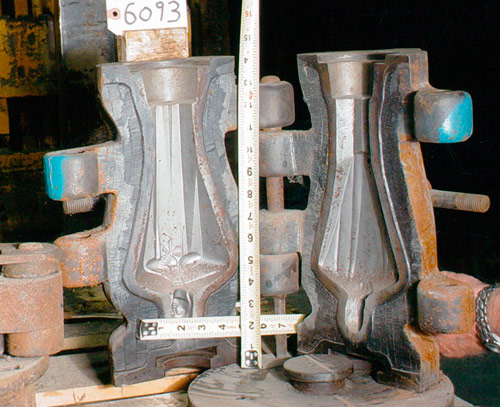 As mentioned in previous newsletters, the Fenton Gift Shop has offered about 10,000 moulds for sale.
The link below will take you to an Excel spreadsheet that lists all of the moulds in numerical order from the Fenton record system. The spreadsheet lists the moulds in numerical order (column A) as recorded in the Fenton system. Information in other columns will help you. Columns D and K provide brief descriptions of each mould. When known, the previous owner of a mould is listed in column Q. Fenton historian James Measell traced the histories of many moulds, and his comments are in columns S and T. The current status of any moulds sold (or promised) to a particular purchaser is noted in column U. The prices for moulds are in column M. This Excel file is "searchable" so you can use your search terms to try to find particular moulds.
Link for Mould listing: https://spaces.hightail.com/space/OUw8ImK2Kc

The links below will take you to files with the Fenton mould pictures including crimps and optic moulds.
These color photos of the moulds are in the same numerical order as column A in the Excel spreadsheet. View these photos on your computer and keep the Excel spreadsheet at hand simultaneously. Please note: the Excel spreadsheet will be updated from time to time as moulds are sold or promised to purchasers.
---
Fenton Art Glass eBay Auctions. . .

Here's an opportunity to own a beautiful "one-of-a-kind" art glass creation through our weekly eBay auctions. This auction ends at noon (ET) on Wednesday, August 23. Items featured this week.

Here's a one-in-a-lifetime opportunity to acquire the #1 SAMPLE of a wonderful item designed and hand painted by award-winning Fenton artist Robin Spindler. Made of lustrous black glass, this Ginger Jar stands 8.25" tall, including its base and cap. NOTE: It was a challenge to capture the true beauty of this piece with photography. Robin's design features lush jungle foliage, but the most remarkable aspect of this piece is her meticulously hand painted depiction of the Leopard. This majestic animal seems to come to life as a result of Robin's amazing talents and skills. This unique piece was also personally signed by company President George Fenton and by director of design Nancy Fenton. The outside bottom also carries this lettering: "Designed by J. K. Spindler sample 1/4 hand painted by J. K. Spindler".

Wow, talk about understated elegance! This one-of-a-kind Aubergine Satin trumpet vase (7.5" tall) created and hand painted by Fenton artist Michelle Kibbe features a remarkably delicate, highly-detailed floral motif that contrasts beautifully with the glass. Note the graceful foliage amidst the flowers and the meticulous beading ... all hand painted!

Burmese glass is a classic Fenton color, and this one-of-a-kind 6" tall vase is a tribute to our glass chemists and artists alike. Fenton Artist Michelle Kibbe created and hand painted the lush foliage and floral motif featuring purple Hydrangeas and delicate butterflies, and all the details are simply remarkable.

Here's a great opportunity to acquire a unique piece of Fenton history. When our 12-pot furnace was shut down for repairs in July 1980, small lumps of glass in various colors remained in the bottoms of some pots. Some of this glass was ground and polished by Fenton employee Jim Stage, who was then foreman of the Finishing Department (Jim is now associated with the Williamstown Antique Mall). This crystal piece measures 4" by 3-3/8", and it will make a nice paperweight or accent piece to display with a Fenton collection. There will be some tiny nicks or other blemishes in this unique item. This crystal piece has been personally signed by company President George Fenton.
---