Fenton Art Glass Presents. . . Dog Days of August Deals Continue!
We're pleased to continue our "Dog Days of August" Online Specials. Included in these specials are our "Grab Bag Assortments" of uncored made in USA Fenton Art Glass beads.

These beads are the remaining inventory from the Fenton Art Glass factory. Sorry, we can not honor requests for specific colors, treatments or designs for any of these assortments.
Our 25-Bead Assortment (samples shown at right)
is $100 and includes uncored beads from each of the three categories listed below.

1AS2017 - 25 Bead Assortment, $100 + Free Shipping!
Available Five-Bead "Grab Bag" Assortments:
The "Five Beads Grab Bag Assortment" includes assorted colors and designs. Shown below are some of the unique handcrafted styles. This "Grab Bag" Online Special applies only to all orders placed via www.fentonartglass.com.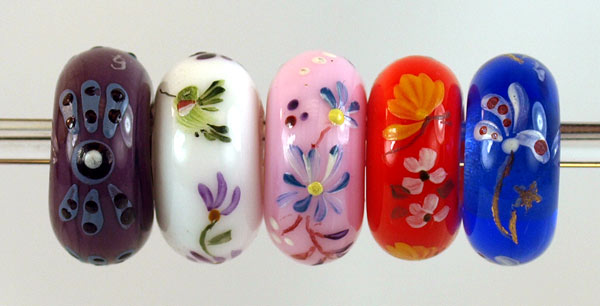 Decorated beads include hand applied designs by our talented artisans. Designs range from butterflies and hummingbirds to florals and stylized designs.
1HP2017 - Decorated Five Beads Grab Bag, $25 + Free Shipping!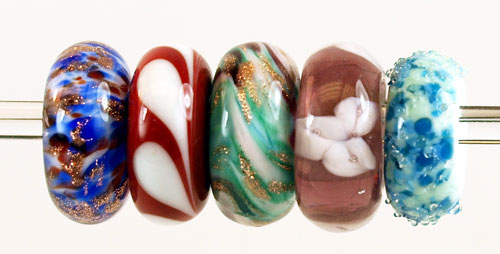 Glass Treatment beads include many traditional Fenton Art Glass treatments, such as Vasa Murrhina, Aurora, Pulled Feather, Encased, as well as treatments developed by our talented design team.
1GT2017 - Glass Treatments Five Beads Grab Bag, $25 + Free Shipping!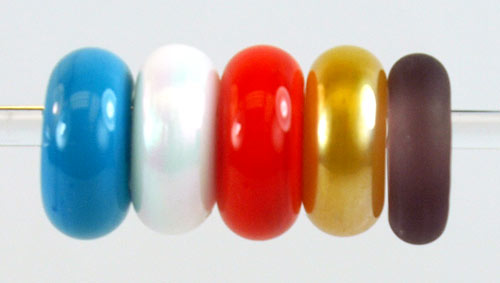 Solid Color beads have no decoration and may have either a shiny or a matte finish.
1PL2017 - Solid Color Five Beads Grab Bag, $25 + Free Shipping!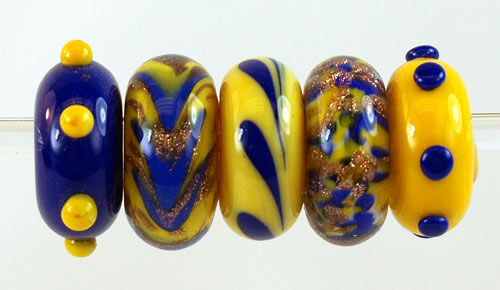 Show Fan Spirit with Blue 'n Gold:
These colorful beads are handcrafted in a variety of glass treatments from Three Dimensional and Pulled Feather to Vasa Murrhina, Aurora and Solid Color beads. No set will be exactly alike! Great gift idea for fans of sports teams with the "Blue 'n Gold" color theme or treat yourself!

1BNG2017 Blue 'n Gold Bead Assortment, $30 + Free Shipping!
Be sure and check out our other online specials listed below!
All "Dog Days of August" items must be purchased from the www.fentonartglass.com web site.
---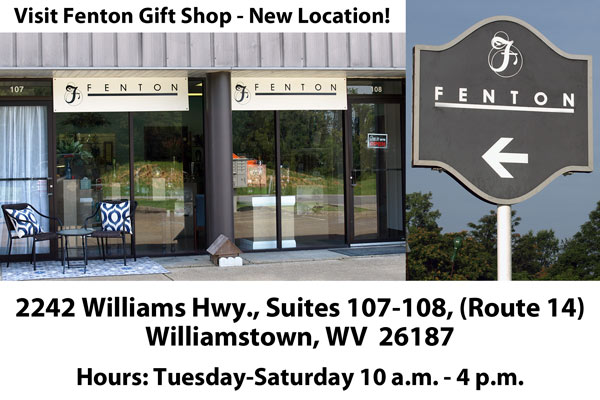 NEW Limited Edition Designs
from Fenton Gift Shop. . .
We are pleased to offer new Limited Edition selections for pre-orders. Each piece features a hand painted design and will be signed, numbered and dated by one of our talented designers. All of these Limited Edition pieces were handcrafted exclusively for the Fenton Gift Shop by Mosser Glass, using a Fenton mould.
Be sure to stop by our NEW location at 2242 Williams Hwy., Williamstown, WV 26187. Even though our mailing address is Williamstown, our store is located in a small strip mall on Route 14 in Boaz - just 5 minutes from Williamstown. We have a nice selection of handcrafted Fenton Art Glass, vintage and new, as well as jewelry. . . perfect gifts or treat yourself!
Michelle Kibbe created a
fabulous Fall-themed design
on a trio of popular shapes. We've named Michelle's design "Sunflower Crow". For this trio, you will pre-order each piece separately.

Choose from a 10" Vase, a
5.5" Owl and a 6.5" Witch, each piece handcrafted in Opal Satin glass. OR... order all three for a fabulous tabletop display! Front and back views of these pieces are shown above in the
group photos.
The 10" Sunflower Crow Vase also has a smiling scarecrow dressed in a patchwork shirt guarding the pumpkin patch. He appears to be "eyeing" that crow perched on its arm. Hand painted sunflowers encircle
the vase. Polka dot and color bands accent this vase. Each Sunflower Crow Vase is $150.

You'll be mesmerized by the large black and orange eyes on this Owl figurine! Michelle did a marvelous job incorporating her "Sunflower Crow" theme on this 5.5" figurine.She hand painted the figurine in natural tones and added the black crow and sunflowers motif. Each Sunflower Crow Owl Figurine is $90.
The "Sunflower Crow Witch" figurine completes this Fall trio. Michelle adorned this figurine in a patchwork hat and cloak and added bright orange hair. The witch is holding a bag, perhaps filled with secret ingredients for her next "witch's brew". Each Sunflower Crow Witch Figurine is $115.
Pre-orders for the the Sunflower Crow Owl and Witch Figurines and Vase will be accepted until midnight (ET) on Monday, August 14, 2017. To place your pre-order for any of these limited editions, call the Fenton Gift Shop: 1-800-319-7793, ext. 342 or email: purchasing@fentongiftshop.com and include the items you want to purchase in the subject line. You may also request that we add your name to our mailing list to receive news about future Limited Edition offerings!
Meet "Pete 'n Patti Pumpkin", our latest figurine couple featuring a hand painted design by Kim Barley. This fun loving couple is ready to go trick or treating in style! Pete 'n Patti are dressed in festive Halloween attire. Each figurine sports a toothy grin, as do the pumpkins!

Pete sports an orange and black striped scarf along with a vine covered hat that has a purple spider accessory. A black cat face adorns Pete's gloves and another cat is the clasp on Patti's purse. Patti also sports a vine-covered hat with an orange and black trim.

Did you notice that the purple and black buttons on each figurine spell out the word "Boo"!

Kim completes this Halloween design with golden stars, purple curliques and black polka dot accents. On the back of each 4" tall figurine, Kim added a spider dangling from a large web. See the photo below for views from all sides of this delightful pair.

These figurines are perfect for your seasonal display and are sure to become family favorites! Each Pete 'n Patti Pumpkin Figurine Pair is $150.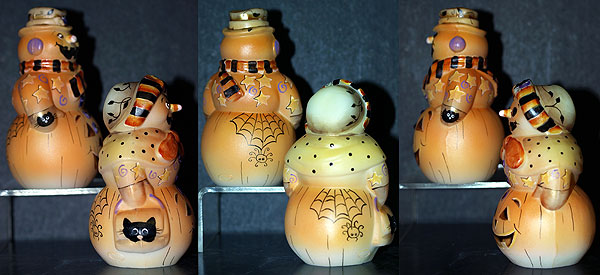 Kim Barley was thinking about Thanksgiving and thought outside the creative box to create a whimsical "TurKat" design for our 11" tall Opal Satin Alley Cat figurine. Kim's hand painted design is part turkey and part Alley Cat. She added subtle Tabby Cat stripes and adorned this figurine in a bright blue jacket vest with basket weave pockets and red apple buttons. She added a polka dotted bowtie as well as a sunflower, pumpkins and basketful of apples in vibrant seasonal hues. That mischievous grin has been transformed into a grinning turkey face. Note the feathers above the eyes. Each TurKat Alley Cat Figurine is $220.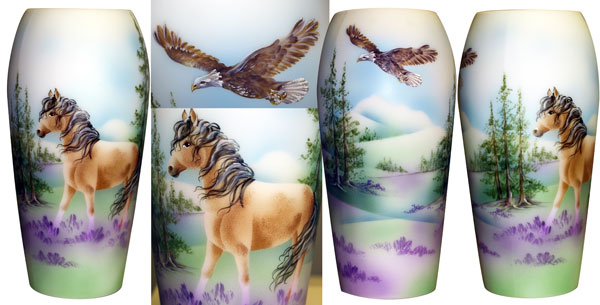 Robin Spindler has captured the beauty of nature with her magnificent design on this 11.5" Opal Satin Vase. An eagle soars overhead as a lone horse (could it be a wild Mustang?) stands majestically amongst the lush landscape. Robin incorporated a rainbow of colors in the dark green pines, snow-topped mountain peaks and purple and green foliage. Her hand painted details on the horse and on the eagle are meticulous and true to life. This vase makes an impressive statement. Each Nature's Majesty Vase is $245.
Pre-orders for the Pete 'n Patti Pumpkin Figurine Pair, TurKat Alley Cat Figurine and Nature's Majesty Vase will be accepted until midnight (ET) on Wednesday, August 16, 2017. To place your pre-order, please call the Fenton Gift Shop: 1-800-319-7793, ext. 342 or send us an email: purchasing@fentongiftshop.com and include the items you want to purchase in the subject line.
Fenton Art Glass Mould Information. . .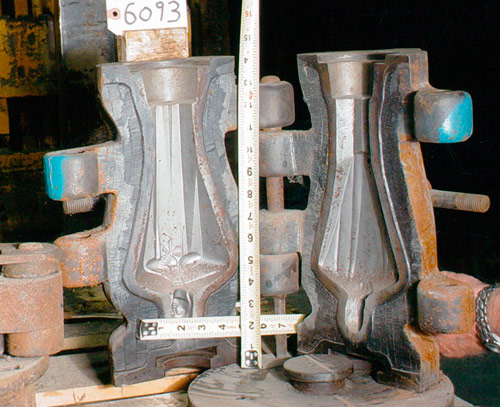 As mentioned in last week's newsletter, the Fenton Gift Shop has offered about 10,000 moulds for sale.
The link below will take you to an Excel spreadsheet that lists all of the moulds in numerical order from the Fenton record system. The spreadsheet lists the moulds in numerical order (column A) as recorded in the Fenton system. Information in other columns will help you. Columns D and K provide brief descriptions of each mould. When known, the previous owner of a mould is listed in column Q. Fenton historian James Measell traced the histories of many moulds, and his comments are in columns S and T. The current status of any moulds sold (or promised) to a particular purchaser is noted in column U. The prices for moulds are in column M. This Excel file is "searchable" so you can use your search terms to try to find particular moulds.
Link for Mould listing: https://spaces.hightail.com/space/OUw8ImK2Kc

The links below will take you to files with the Fenton mould pictures including crimps and optic moulds.
These color photos of the moulds are in the same numerical order as column A in the Excel spreadsheet. View these photos on your computer and keep the Excel spreadsheet at hand simultaneously. Please note: the Excel spreadsheet will be updated from time to time as moulds are sold or promised to purchasers.
---
Fenton Art Glass eBay Auctions. . .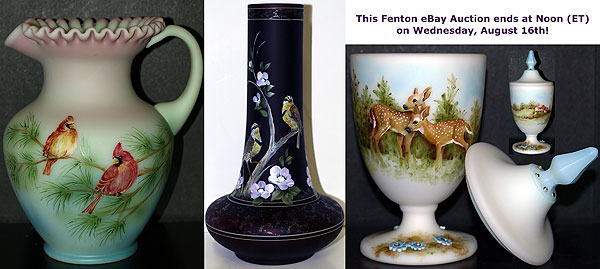 Here's an opportunity to own a beautiful "one-of-a-kind" art glass creation through our weekly eBay auctions. This auction ends at noon (ET) on Wednesday, August 16th. Items featured this week.

The colorful Cardinal loves to perch in pine boughs, and Fenton artist Michelle Kibbe created and hand painted this remarkable depiction of this pair of America's best loved birds. This Lotus Mist Burmese pitcher stands 8.5" tall and has an applied fine rib handle; note the distinctive crimp style and the lip, both tributes to the skills of Fenton glassworkers.

This Opal Satin candy jar measures 9.5" tall to the very top of the cover, and Fenton designer Robin Spindler has worked her magic to create and hand paint this delightful scene. Twin fawns pause for their portrait while frolicking in a meadow, and a red-roofed farmhouse is depicted in the background. Note the delicate hand painted flowers and the applied gemstones on the base and cover, too!

The Meadowlark is among the best-loved birds in America, and Michelle Kibbe has captured all of its charm on this stately, one-of-a-kind 10.25" tall vase in Fenton's Aubergine glass. We can almost hear the Meadowlark's distinctive, flutelike call ... a real tribute to Michelle's talents and skills. Note the colorful flowers, sponge technique with antique gold paint and the graceful banding.
---