Fenton Art Glass Presents. . . Dog Days of August Deals!
August has arrived and so has the muggy weather that we refer to here as the "Dog Days of August". So we're offering some "Dog Days of August" Online Specials! Items must be purchased from the www.fentonartglass.com web site.
---
Fenton Flash Sale 50% Discount on Select Sterling Silver Accessories!
Enjoy a 50% Discount and Free Shipping via USPS on our 33" Tassel Necklace and Woven Spacer Bead, each especially handcrafted for Fenton Art Glass! Make your fashion statement with these sterling silver jewelry accessories.


Tassel Necklace: Simply slide the bead(s) and spacer(s) you wish to wear onto the necklace and slip it over your head! Buy Now!

Woven Spacer Bead: The perfect jewelry accessory to complement our handcrafted glass beads. Buy Now!


Available while supplies last at a 50% discount
with free shipping until 8 p.m. (ET) on August 6th!

30072 Woven Spacer Bead
Originally $29.50
Now $14.75 each
Fenton Art Glass Mould Information. . .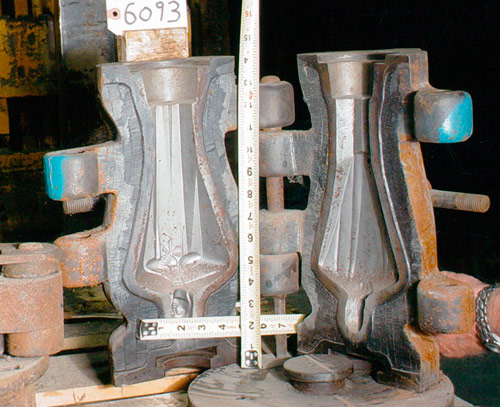 As mentioned in last week's newsletter, the Fenton Gift Shop has offered about 10,000 moulds for sale.
The link below will take you to an Excel spreadsheet that lists all of the moulds in numerical order from the Fenton record system. The spreadsheet lists the moulds in numerical order (column A) as recorded in the Fenton system. Information in other columns will help you. Columns D and K provide brief descriptions of each mould. When known, the previous owner of a mould is listed in column Q. Fenton historian James Measell traced the histories of many moulds, and his comments are in columns S and T. The current status of any moulds sold (or promised) to a particular purchaser is noted in column U. The prices for moulds are in column M. This Excel file is "searchable" so you can use your search terms to try to find particular moulds.
Link for Mould listing: https://spaces.hightail.com/space/OUw8ImK2Kc

The links below will take you to files with the Fenton mould pictures including crimps and optic moulds.
These color photos of the moulds are in the same numerical order as column A in the Excel spreadsheet. View these photos on your computer and keep the Excel spreadsheet at hand simultaneously. Please note: the Excel spreadsheet will be updated from time to time as moulds are sold or promised to purchasers.
---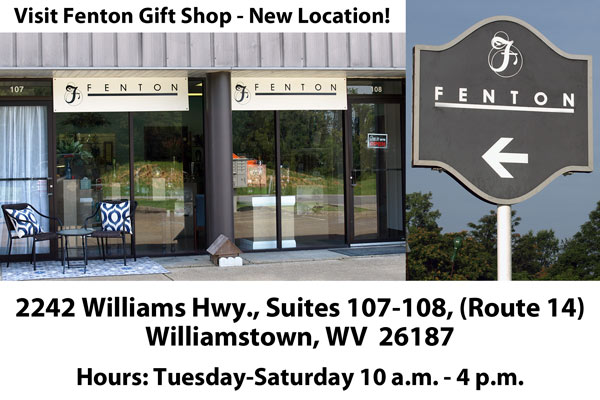 NEW Limited Edition Designs
from Fenton Gift Shop. . .
We are pleased to offer these new Limited Edition selections for pre-orders. Each piece features a hand painted design and will be signed, numbered and dated by one of our talented designers.
All of these Limited Edition pieces were handcrafted exclusively for the Fenton Gift Shop by Mosser Glass, using a Fenton mould.
Below: Our impressive 11" tall Opal Satin Vase provides the perfect canvas for Robin Spindler's hand painted scene of a rustic red barn and silo with twin fawns watching from a nearby field. Robin created a background blue sky, then added meticulous details on the barn and fawns. Each Fawn Twins Vase is $195.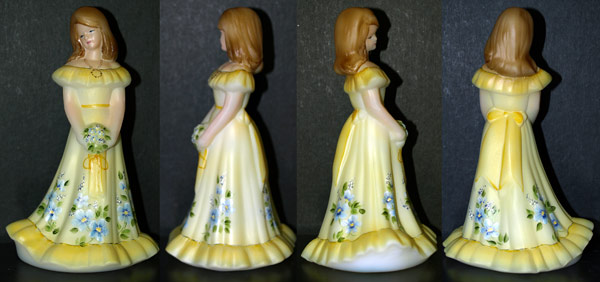 Our 6.75" Bridesmaid Doll figurine will make a great addition to any figurine collection. Michelle Kibbe adorned the figurine in a pastel yellow-gold dress with delicate blue and white flowers around the bottom. She added blue flowers to the bouquet and a gold necklace completes the look. Each Blue Bouquet Bridesmaid Doll Figurine is $115.

Here's another wonderful Mouse figurine representing a "profession" from Kim Barley. Some of you may already have the Rosie the Riveter, Aviator, Doctor and Nurse figurines in your collection. This perfect companion piece is a Dentist!
You'll love the hand painted details
on the ears. . . from the smiling tooth holding a toothbrush and floss to
the dental implements. Note the wristwatch and "Brush" reminder on the arms! As always, Kim added a wonderful expression using the facial mask and large eyes... as if this Dentist Mouse Figurine is saying "Open Wide!" Each Dentist Mouse Figurine is $75.
Pre-orders for the Fawn Twins Vase, Blue Bouquet Bridesmaid Doll and Dentist Mouse Figurines Vase will be accepted until midnight (ET) on Monday, August 7, 2017. To place your pre-order for any of these limited editions, call the Fenton Gift Shop: 1-800-319-7793, ext. 342 or email: purchasing@fentongiftshop.com. Include the items you want to purchase in the subject line. You may also request that we add your email address to our mailing list for news on upcoming Limited Edition offerings.


Right: This adorable "Snow Couple" figurine pair will brighten up your seasonal display! Designed by Michelle Kibbe, each Opal Satin figurine has been airbrushed and Michelle added vibrant red and green hues for her hand painted design. See the photo below for all views of this figurine couple. Note all the color coordinating design elements from the purse, bow, scarf, and hat to the earmuffs, gloves and festive holiday wreaths! Michelle even added holly accents on the hats. Each Ornament Wreath Snow Couple Figurine Pair is $150.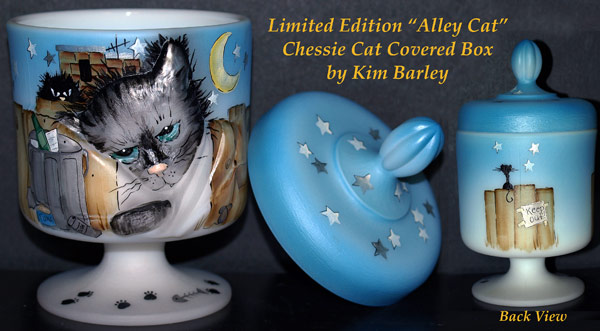 Kim Barley has carried her popular "Alley Cat" design theme to our Opal Satin Chessie Cat Covered Box. She has transformed the sleeping cat into a scruffy Alley Cat sporting a "don't mess with me" attitude. This cat is trying to catch some zzzzz's but perhaps senses that there is a black cat peeking above the fence behind him! Kim's hand painted details are marvelous. Note the stars adorning the lid and box and the paw prints and fish scales on on base. The back view of this box has another black cat perched on a fence that has a hand-lettered "Keep Out!" sign posted.
Each Alley Cat Chessie Cat Covered Box is $160.
Michelle Kibbe created a wonderful "Daisies in the dark" design for this Cobalt Satin Alley Cat figurine. Bright white daisies with golden yellow centers adorn all sides of this 11" Alley Cat. Michelle added delicate black scroll details around the flowers. Each Daisies in the Dark Alley Cat Figurine is $195.
Pre-orders for the Ornament Wreath Snow Couple Figurine Pair, Alley Cat Chessie Cat Covered Box and Daisy in the Dark Alley Cat Figurine will be accepted until midnight (ET) on Wednesday, August 9, 2017. To place your pre-order, please call the Fenton Gift Shop: 1-800-319-7793, ext. 342 or send us an email: purchasing@fentongiftshop.com and include the items you want to purchase in the subject line.
---
Fenton Art Glass eBay Auctions. . .
Here's an opportunity to own a beautiful "one-of-a-kind" art glass creation or a piece of Fenton history through our weekly eBay auctions. This auction ends at noon (ET) on Wednesday, August 9th. Items featured this week.

This one-of-a-kind satin-finished hand painted Feather vase (10.25" tall)
in Opal Satin glass was created and hand painted by award-winning Fenton designer Robin Spindler. The vase was made by Mosser Glass, using the Fenton Art Glass mould, exclusively for Fenton. You'll love the lush floral motif and foliage that frame the bird nest, where two eager fledglings are chirping and eager for a meal brought to them by a parent. Note the delicate airbrushing and the applied butterfly with gilded wings accent.

Rosalene glass is a classic Fenton color, and this one-of-a-kind (9" tall) basket is a tribute to our glass chemists, glassworkers and artists alike. The basket is lightly iridized inside and satin finished on the exterior. Note the distinctive lily-style crimp. Fenton designer Michelle Kibbe created and hand painted the lush floral motif and foliage, and the details are simply remarkable.

This wonderful one-of-a-kind vase (7.75" tall) in lustrous black glass was created and hand painted by Fenton designer Michelle Kibbe. It really gave us "the chills," even though it's 80 degrees outside the Fenton Gift Shop in Boaz! We can almost hear this beautiful Wolf depicted in "full howl" on one side and looking right at us (or through us?) us on the other side! The pine forest in silhouette with the airbrushed sky and moon above are, in themselves, works of art, and the hand painted details of the wolf are simply breathtaking. This one-of-a-kind vase has been "drilled" in the bottom to allow for lamp wiring. Simply place a plate underneath to use as a vase or it is beautiful as a standalone piece.
---