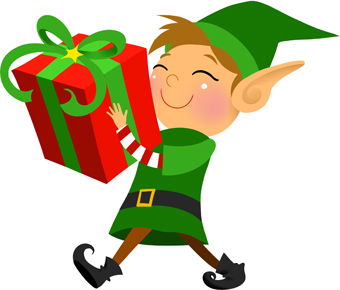 Fenton Art Glass Presents. . .
"Christmas in July" Online Specials. . . Going, Going, Gone!
Summer is speeding by and Christmas will be here before you know it! Be an "early bird" and stock up on beautiful gifts for the special someone(s) on your holiday gift list! We conclude our "Christmas in July" Online Specials with online discounts on our handcrafted Jewelry, accessories, reference materials and more. Click on each link for handcrafted jewelry, reference materials and more! Items must be purchased from the www.fentonartglass.com web site.

---
FENTON GIFT SHOP SELLING FENTON ART GLASS MOULDS
While the Fenton Gift Shop is keeping several hundred key and historic Fenton moulds for future use, they are selling the balance of the Fenton Art Glass moulds (images shown at left). Links to the list and pictures of the moulds will be included in next week's newsletter.

Almost 10,000 moulds are available, including those made by Fenton plus moulds purchased from McKee, Imperial, Quality, Chicago Art Glass, L. G. Wright, Indiana, Davis-Lynch, Beaumont, Fostoria, Verlys and others. These moulds include giftware, lighting goods and some industrial items. Cast iron moulds used in glassmaking will last for many years. These moulds have allowed Fenton to maintain the centuries-old tradition of handmade glass from this region.
---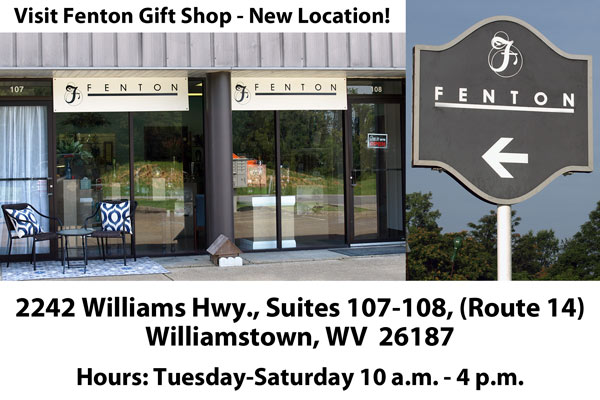 Welcome Fenton Collector Clubs!
Welcome collectors attending the annual club conventions! The Stretch Glass Society is meeting July 26-28 in Marietta, Ohio. The National Fenton Glass Society's convention is July 29-31st in Marietta. The Fenton Art Glass Collectors of America will host their convention August 1-3rd in Williamstown.
Be sure to stop in and see us at our new location in Boaz, just down the road from the Fenton factory!

Here's some recent press about Fenton Gift Shop's new location:

WTAP-TV: Fenton Gift Shop Moves to Boaz
---
NEW Limited Edition Designs from Fenton Gift Shop. . .
We are pleased to offer new Limited Edition selections for pre-orders. Each piece features a hand painted design and will be signed, numbered and dated by one of our talented designers. All of these Limited Edition pieces were handcrafted exclusively for the Fenton Gift Shop by Mosser Glass, using a Fenton mould.

Below: This Cobalt glass Alley Cat provides the perfect canvas for award-winning designer Robin Spindler's fantastic rendition of a Bald Eagle and its young. Her design encircles this impressive 11" figurine, and includes an Eagle's head, a large nest with two eaglets, and a soaring eagle. Note the wonderful expression on the Alley Cat's face!
Did you know. . . Bald eagles are not actually bald. The name "Bald Eagle" actually comes from an old English word — piebald — which means "white headed" rather than hairless. Bald eagles build very large nests, sometimes weighing as much as a ton. . . this explains the large nest depicted on this figurine! Each Eagle Family Alley Cat Figurine is $240.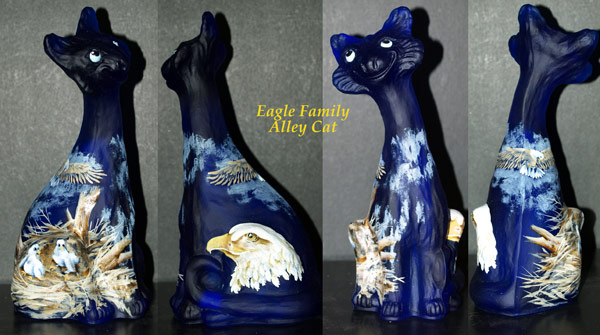 Here's the perfect accent piece for your Fall tabletop decor. . . our 5.75" Opal Satin Ghost Figurine sports a wonderful "Harvest Time" hand painted design by Kim Barley.

Kim adorned this Ghost in a blue jacket with a checkerboard pattern and added colorful sunflowers, cornstalks and two black cats (with whimsical "not-so-amused" expressions).
Each cat is perched atop a pumpkin. Note the toothy grin on the face of
the ghost. Each Harvest Time Ghost Figurine is $115.
Below: This beautiful Fenton Art Glass 9.75" Favrene vase has been made even more stunning with a sandcarved design by cameo artist Cathy Mackey. Favrene glass was first made in the late 19th century.
Fenton's Favrene glass contains cobalt and precious metals and must be worked under exacting conditions of both heat and oxygen to coax out the perfect color. The color effects form an iridescent silvery blue. The hour-glass shape of this vase provides the perfect canvas for Cathy Mackey's design which includes a babbling brook flowing through the woods.

This vase was produced in a limited production run at the Fenton Art Glass factory during 2009-2011 and just 20 are available. Each vase is signed on the underside by Cathy Mackey and Tom (T.K.) Fenton.

Shown below are other views of this spectacular vase, sure to become a family heirloom! Each Favrene Woods Vase is $350 with 20 available.

Pre-orders for the Eagle Family Alley Cat Figurine, Harvest Time Ghost Figurine and Favrene Woods Vase will be accepted until midnight (ET) on Monday, July 31st, 2017.

To place your pre-order for any of these limited editions, please call the Fenton Gift Shop: 1-800-319-7793, ext. 342 or send us an email: purchasing@fentongiftshop.com. Include the items you want to purchase in the subject line.

You may also request that we add your email address to our mailing list for news on upcoming Limited Edition offerings.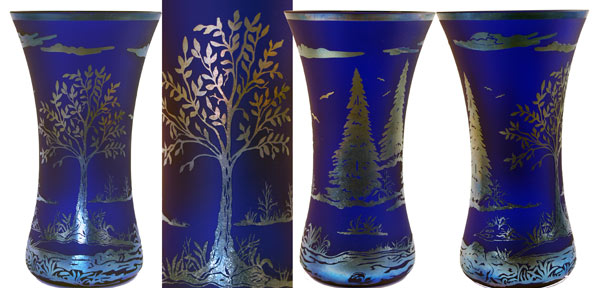 | | |
| --- | --- |
| | Michelle Kibbe created a wonderful white polka dot and floral design for our elegant 11" Opal Satin Vase. She added a complementary design for the 5" Duck figurine, which makes it a perfect companion piece! |
The vase and figurine each have a soft aquamarine background. Michelle added a lush stylized floral design on the front and back of the vase with banding and scrollwork accents.

A colorful spray of purple-red flowers adorn each side of the vase. Each Floral Polka Dot Vase is $160.

Michelle repeats this design on the figurine. Shown at right are close-ups of the vase and the figurine. Note the wonderful dark eyes and feather accents on the figurine. Each Floral Polka Dot Duck Figurine is $75.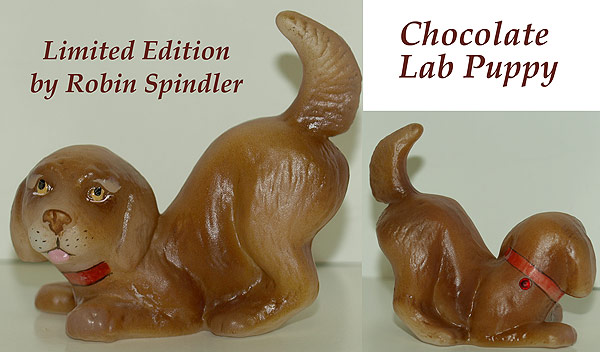 This adorable 3.25" Opal Satin Puppy figurine joyfully wags his tail. Robin Spindler hand painted this figurine in natural tones to resemble a Chocolate Labrador Retriever. She added a red and black collar featuring a red sparkling gemstone accent. Each Chocolate Lab Puppy Figurine is $75.
Pre-orders for the Floral Polka Dots Vase, Floral Polka Dots Duck and Chocolate Lab Puppy Figurines will be accepted until midnight (ET) on Wednesday, August 2, 2017. To place your pre-order, please call the Fenton Gift Shop: 1-800-319-7793, ext. 342 or send us an email: purchasing@fentongiftshop.com.
Include the items you want to purchase in the subject line.
---
Fenton Art Glass eBay Auctions. . .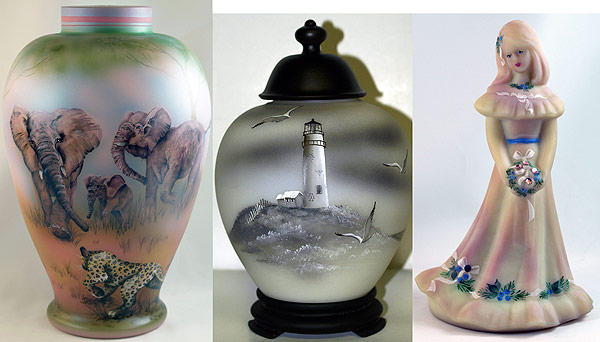 Here's an opportunity to own a beautiful "one-of-a-kind" art glass creation or a piece of Fenton history through our weekly eBay auctions. This auction ends at noon (ET) on Wednesday, August 2nd. Items featured this week.

This one-of-a-kind vase (approx. 11.75" tall) in satin finished Rosalene glass by award-winning Fenton designer Robin Spindler captures all the drama of a tense moment, as a pair of adult elephants come to protect their young offspring from two marauding leopards. We can almost hear the trumpeting elephants and the growling leopards as the scene unfolds before us. Robin's extraordinary artistic talent and her meticulous hand painting skills are displayed to perfection on this vase ... the details are simply amazing! This one-of-a-kind vase is identified, signed and dated on the underside: "Fenton 2017 'Not on My Watch' OOAK hand painted by J. K. Spindler".

Fenton artist Michelle Kibbe captures all the magic and emotions of an overcast day in her hand painted depiction of two lighthouses, each on a lonely point somewhere on the oceanside. The gray clouds contrast wonderfully with the light that illuminates the side of each lighthouse and the buildings beside it. We can almost hear the wings of the gulls and their sharp cries as they circle. This piece is made of Opal Satin glass, and the black glass lid and base create the perfect frame for the marvelous scene that Michelle has created and hand painted (overall height is 10").

The Bridesmaid doll figure is among the most popular Fenton collectibles, and this example by Gift Shop Featured Artist Susan Bryan is certainly a "must have." Made of Burmese glass (a classic Fenton color), this Bridesmaid is beautifully decorated with a hand painted floral motif and ribbons. The gemstone accents give Susan's meticulous work added sparkle that's sure to delight! This one-of-a-kind Bridesmaid Doll is identified, signed and dated inside: "designed & painted by Susan Bryan O.O.A.K. 2011 Featured Artist."
---