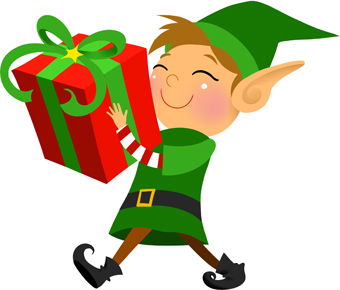 Fenton Art Glass Presents. . .
"Christmas in July" Online Specials Continue!
Summer is speeding by and Christmas will be here before you know it! Be an "early bird" and stock up on beautiful gifts for the special someone(s) on your holiday gift list!
We continue our "Christmas in July" Online Specials with a 30% discount on our handcrafted Collegiate Jewelry. Perfect gift for incoming or returning students and a great way to show fan spirit! Choose from our remaining inventory of jewelry with officially licensed artwork for several universities. There are just one or two available of most designs. Click on each image below or click here to shop Collegiate Jewelry.
More "Christmas in July" Online Specials are shown below. Click on each link for more handcrafted jewelry, reference materials and more! Items must be purchased from the www.fentonartglass.com web site.
---
65% Fenton Flash Sale Discount on Last Rose of Summer Handcrafted Bead!
Receive a Flash Sale Discount of 65% off the regular price of this handcrafted Fenton Art Glass Last Rose of Summer bead until 8 p.m. (ET) on Sunday, July 23rd!

Last Rose of Summer is a three-dimensional glass bead with sterling silver core embossed Fenton USA. The design, by Jena Lane Blair, reminded her of a garland of tiny peach roses. Note the raised yellow-gold glass flowers. Because of the handmade process, bead size may vary from 1/2'' to 5/8'' in diameter. Each bead has a sterling silver core embossed Fenton USA. Free Shipping on this item!

10422 Last Rose of Summer Bead, Regular Price $45, Flash Sale Price $15.75
---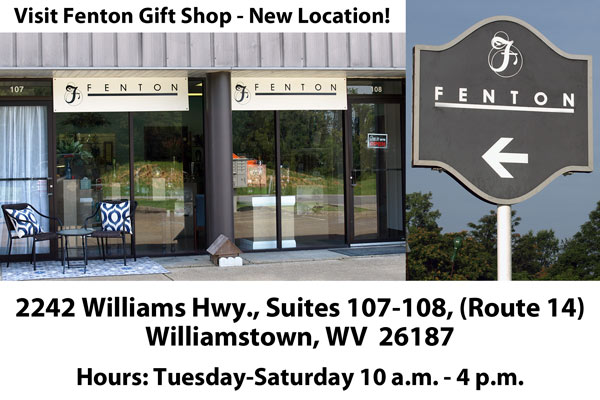 ---
NEW Limited Edition Designs
from Fenton Gift Shop. . .
We are pleased to offer new Limited Edition selections for pre-orders. Each piece features a hand painted design and will be signed, numbered and dated by one of our talented designers. All of these selections were handcrafted in Opal Satin glass, exclusively for the Fenton Gift Shop by Mosser Glass, using a Fenton mould.

Our 10" Opal Satin Vase provides a wonderful canvas for Robin Spindler's "A New Beginning" design. Her hand painted design features a mother Zebra with her young, including one jumping for joy on the back side of the vase. She added gold bands around the bottom as well as black and gold striping to frame the scene on this vase.
Did you know. . . Zebras can reach speeds of more than 40 miles per hour! Foals can run with the herd within a few hours after birth. Each individual Zebra's stripe pattern is unique. Foals recognize their mothers by the pattern of their stripes, as well as by scent and call.
Robin will add the name of this piece as well as her signature, date and number on each vase. Each A New Beginning Vase is $215.
Chill out during the summer heatwave by displaying this cool Penguin figurine designed and hand painted by Michelle Kibbe. Michelle hand painted this 4.25" figurine in natural tones of black and white with yellow accents around the head. Each Penguin Figurine is $85.

Below: Our popular Snowlady figurine returns with a lovely design by Michelle Kibbe. The 3.75" Snowlady figurine, as well as a matching Snowman figurine, was sculpted by Jon Saffell. The pair are known to collectors as the "Frosty Friends". We decided to name this figurine "Rosie the Snowlady".

Michelle created winter finery to adorn this figurine, with lush roses and greenery. Note the wonderful design on the shawl, head scarf and purse. The expression on the face with that bright carrot nose is sure to bring a smile! Each Rosie the Snowlady Figurine is $80.

Pre-orders for the A New Beginning Vase, the Penguin and the Rosie the Snowlady Figurines will be accepted until midnight (ET) on Monday, July 24th, 2017.

To place your pre-order, please call the Fenton Gift Shop: 1-800-319-7793, ext. 342 or send us email: purchasing@fentongiftshop.com. Include the items you want to purchase in the subject line.
Our 10" Feather Opal Satin Vase provides the perfect canvas for Robin Spindler's "Playful Kittens" design. The hand painted details are marvelous! Robin created colorful brick walls with dainty blue and white flowers on each of the three panels. One panel features a gray tabby kitten reaching down towards an orange tabby while a second panel has another kitten that appears to also be trying to reach the orange tabby. Each Playful Kittens Feather Vase is $180.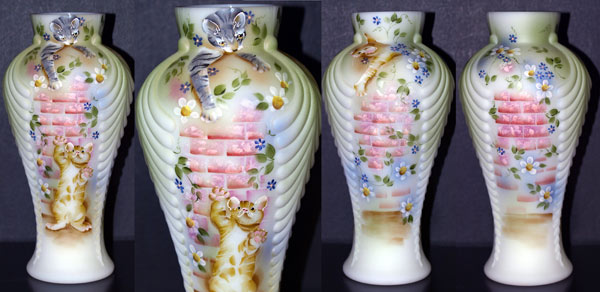 You'll want to add this fun 4.5" tall Scaredy Cat figurine to your Halloween decor! Kim Barley's whimsical creation is full of curlie-ques, stars and other favorite Halloween-themed designs! The black boots with striped stockings provide a frame for a small gray mouse and a smiling pumpkin. A bat flutters amongst the golden stars on the back and a Candy Corn bow adorns the head.


Note the delightful expression on the face. You'll love Kim's creative placement of the witch's hat on the tail. Each Trick or Treat Scaredy Cat Figurine is $80.

Below: Our 11" Opal Satin Alley Cat is all covered in roses! Michelle Kibbe's hand painted design includes lush yellow and cream-colored roses and rich greenery with beautiful small blue flower accents. She added a latticework design as background on the flowers. Each Yellow Roses Alley Cat Figurine is $225.
Pre-orders for the Playful Kittens Feather Vase, the Trick or Treat Scaredy Cat and Yellow Roses Alley Cat Figurines will be accepted until midnight (ET) on Wednesday, July 26, 2017. To place your pre-order, please call the Fenton Gift Shop: 1-800-319-7793, ext. 342 or send us email: purchasing@fentongiftshop.com. Include the items you want to purchase in the subject line. You may also request that we add your email address to our mailing list for news on upcoming Limited Edition offerings.
---
Fenton Art Glass eBay Auctions. . .
Here's an opportunity to own a beautiful "one-of-a-kind" art glass creation or a piece of Fenton history through our weekly eBay auctions. This auction ends at noon (ET) on Thursday, July 27th. Items featured this week.

With satin finished Lotus Mist Burmese glass for her canvas, Fenton artist Michelle Kibbe created and
hand painted this amazing one-of-a-kind vase (7.75" tall). Her depiction of beautiful Butterflies fluttering amidst lovely purple and yellow flowers and foliage is simply remarkable. Note the lattice work details as the background. Lotus Mist Burmese is a classic Fenton glass color that contains pure gold, and special reheating techniques are required to create the distinctive pink blush.

Award-winning Fenton designer continues to amaze us with her design talents and skills in sandcarving and hand painting ... along with her great interest in dinosaurs! This splendid one-of-a-kind Spruce Green glass paperweight measure 6.75" at the widest point and 6.125" tall. You'll love the marvelous three dimensional effect that Robin achieved on this glass by combining sandcarving techniques along with her hand painted details. Robin's design features a dinosaur within a fantastic colored background of lush foliage and an erupting volcano. This one-of-a-kind paperweight also has a sand carved Fenton logo on the front.

The soft satin-finished Opal Satin glass is enhanced by delicate hand painting on this wonderful, one-of-a-kind Owl figurine (5.75" tall), created and hand painted by Fenton artist Michelle Kibbe. The stylized floral motif is perfectly executed, and the suggestion of a heart shape is a splendid feature! Using an historic Fenton mould, our friends at Mosser Glass made this figurine for the Fenton Gift Shop.
---