Fenton Art Glass Presents. . . "Farewell to Williamstown" Online Specials
For those of you who haven't heard, the Fenton Art Glass factory site has been purchased by Wood County Schools. The factory and Fenton Gift Shop buildings will be demolished later this summer as they prepare for construction of a new Williamstown-Waverly Elementary School on the site. For more information on the 111+ year history of Fenton Art Glass, click here. A final auction (details mentioned below) will be held on Saturday, June 24th.

Fenton Gift Shop is in the process of moving to a new location (just down the road): 2242 Williams Hwy., Suites 107-108, Williamstown, WV 26187. Watch this newsletter and our Facebook page for news on our re-opening at this location, hopefully by mid-July!
As we prepare for our move, we must clear out remaining factory inventory of handcrafted glass, jewelry, reference materials, and more. There are many online specials available! Click on each link below for a "while supplies last" offering of handcrafted jewelry, reference materials and more!
---
Enjoy a 70% Fenton Flash Sale Discount on Jitterbuggin' Dragonfly!
Jitterbuggin' Dragonfly . . . a handcrafted larger-sized Impression glass bead with a hand applied decoration designed by jewelry designer Truda "TJ" Mendenhall. This design reminded her of a Dragonfly dancing among the garden blooms. Each Impression bead is initialed by the talented artist who completed it. The size of this bead is approx. 1.25" in height and may vary slightly because of the handmade process.

This Impression Bead has been retired and available While Supplies Last at a 70% discount with free shipping until 8 p.m. on June 30th!

Originally $85, Now $25.50 each with FREE shipping via USPS, Buy Now!
NEW Limited Edition Designs from Fenton Gift Shop. . .
Fenton Gift Shop is pleased to offer new Limited Edition selections for pre-orders. Each piece features a hand painted design and is signed, numbered and dated by one of our talented designers. All of these selections were handcrafted exclusively for the Fenton Gift Shop by Mosser Glass, using a Fenton mould. Included in this offering are an 8" Chessie Cat Covered Box, 11" Alley Cat, 5" Stylized Cat, 10" Feather Vase, 6.75" Bridesmaid Doll, and a 5" Duck, each figurine handcrafted in Opal Satin glass.

One look at Michelle Kibbe's design and we knew it would be named "Playtime Cat"! Three different cats are shown on this impressive 11" tall Alley Cat figurine. . . one cat appears to be taking a "cat bath" while watching the playful antics of two tabby cats. Note the wonderful golden eyes and hand painted details on the face! Each Playtime Cats Alley Cat Figurine is $235.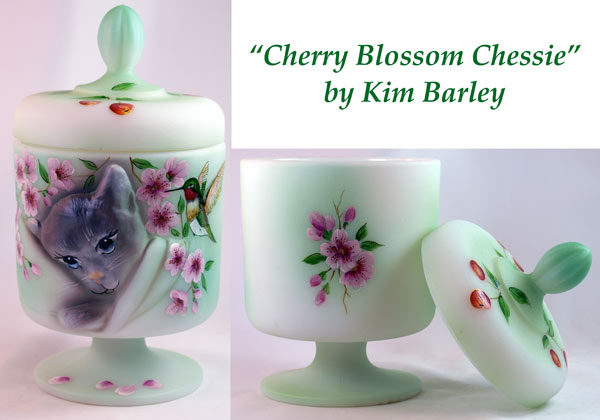 Kim Barley's lovely hand painted design includes an
adorable gray cat appearing to listen as a Ruby-throated hummingbird seeks nectar from lush cherry blossoms. Her design covers the front of this Chessie Cat Covered Box. Kim added blossoms to the back and ripe cherries adorn
the lid! Note the flower petals on the base! Each Cherry Blossoms Chessie Cat Covered Box is $150.

It's never too early to start planning for Halloween! You'll want to add this wonderful "Halloween Witch" Stylized Cat to your upcoming tabletop display! Designed by Kim Barley, this whimsical feline has been transformed into a happy witch, complete with a black hat, striped stockings, star and moon cape, and broomstick! Note the cute large-eyed purple spider dangling from its broom handle web and the gray mouse peeking out of a carved grinning pumpkin! Each Halloween Witch Stylized Cat Figurine is $85.

Pre-orders for the Playtime Cats Alley Cat, Cherry Blossoms Chessie Cat Covered Box and Halloween Witch Stylized Cat will be accepted until midnight (ET) on Monday, June 26, 2017.


To pre-order any of these Limited Editions, please call the Fenton Gift Shop: 1-800-319-7793, ext. 342 or email: purchasing@fentongiftshop.com. Include the items you want to purchase in the subject line. You may also request that we add your email address to our mailing list for news on upcoming Limited Edition offerings.
Our Feather Vase provides the perfect canvas for Kim Barley's hand painted Strawberrylicious design! The entire vase is airbrushed in a soft pastel green and Kim added lush ripe strawberries and blooms. These berries look good enough to eat!
Note the hovering bumblebees! A smaller version of the strawberry and blossom appears on two sides of the vase. Each Strawberrylicious Feather Vase is $160.
Michelle's "folk art" style works well on our duck figurine. Hand painted scrolls and dot accents adorn the top and large flowers in brown tones appear on each side. The overall figurine is a pastel blue color with white accents. Note the unique look to the head! Each Folk Art Flower Duck Figurine is $75.


Right: Michelle Kibbe created a delightful "Daisy" design on the skirt of this beautiful Bridesmaid Doll figurine. Note the lovely bouquet with matching blooms and flower accent in the hair.
This figurine will make a wonderful addition to any figurine or doll collection! Each Delightful Daisy Bridesmaid Doll Figurine is $115.

Pre-orders for the Strawberrylicious Feather Vase, Delightful Daisy Bridesmaid Doll and Folk Art Flower Duck Figurines will be accepted until midnight (ET) on Wednesday, June 28, 2017. To pre-order, call Fenton Gift Shop: 1-800-319-7793, ext. 342 or send us an email: purchasing@fentongiftshop.com. Include the name(s) of the items you want to purchase in the subject line.
---
Fenton Art Glass Auction Scheduled for June 24th. . .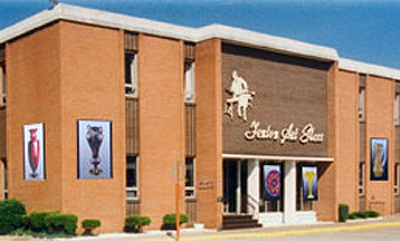 As some of you may already know, there have been auctions on the premises at the Fenton Art Glass factory during the past few weeks. The next auction, scheduled for June 24, begins at 10 a.m. EDT and will be conducted by local auctioneer Mike Voshel, proprietor
of the Williamstown Auction Center.

Click here for preview time and further information, as well as photos of the items to be sold at this auction. Scroll down the page until you see the Fenton auction listings. Questions regarding these auctions should be directed to the Williamstown Auction Center: 304-375-5815 or email: williamstownauction@suddenlink.net.
SPECIAL NOTE:
Due to preparation for the fourth Fenton Art Glass auction on June 24, and Fenton Gift Shop's upcoming "move", the Gift Shop will be closed until further notice at the Williamstown location. Watch for news on a re-opening date at the new location: 2242 Williams Hwy., Suites 107-108, Williamstown, WV 26187. Pre-orders for the new Limited Edition offerings shown in this newsletter will be accepted as usual by phone or email: purchasing@fentongiftshop.com or by calling 1-800-319-7793, ext 342.
---
Fenton Art Glass eBay Auctions. . .
Here's an opportunity to own a beautiful "one-of-a-kind" art glass creation or a piece of Fenton history through our weekly eBay auctions. This auction ends at noon (ET) on Wednesday, June 28. Items featured this week.

With satin-finished Blue Burmese glass for her canvas, Fenton artist Michelle Kibbe designed and hand painted this splendid one-of-a-kind vase (12" tall). Her design features lush Iris flowers and a simply wonderful Mockingbird that is so realistic that we can almost hear its distinctive song! Michelle's hand painting talents and skills are displayed to perfection on this piece! The Mockingbird is also the state bird for these states: Arkansas, Florida, Mississippi, Tennessee, and Texas.

You'll love the meticulously hand painted details of a majestic Eagle soaring high above the treetops on this one-of-a-kind Alley Cat! This 11" tall satin finished cobalt blue Alley Cat was designed and hand painted by award-winning Fenton artist J. K. "Robin" Spindler. All the details (trees, rocks, etc, etc.) are just perfect. This Alley Cat is signed inside "OOAK GSE2017 hand painted by JK Spindler". Using an historic Fenton Art Glass mould that originated at U.S. Glass in Tiffin during the 1920s, our friends at Mosser Glass handcrafted this Alley Cat in rich cobalt blue glass as an exclusive for Fenton Gift Shop.

This Fenton Hobnail pitcher (5.5" tall) is cased glass, featuring a Milk Glass interior and a ruby exterior. The exterior fades from a dark ruby color to a vivid orange hue. Note the applied crystal handle. Hobnail is a classic Fenton pattern and there are many collectors who seek the varied Hobnail pieces made by Fenton Art Glass over the years. This pitcher has been personally signed by company president George Fenton. Click here to place your bid! This Fenton eBay auction ends at noon (ET) on Wednesday, June 28, 2017. NOTE: Due to the upcoming holiday and move to a new location, there will not be an eBay auction beginning on July 5th.
---