Fenton Art Glass Presents. . . "Production Sample" Bead Special!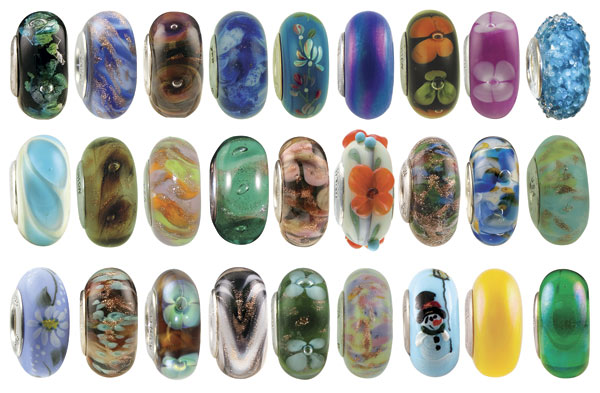 As we continue to wind down the Fenton Art Glass factory inventory of handcrafted beads,
we are pleased to offer
a "Production Sample" Online Special for our remaining beads.

With each Fenton
Art Glass bead introduction, we provide our bead makers and artists
with a production sample as they work
to complete the new line. We have many different samples available, so be sure
to watch our next newsletter for additions to this special "Production Sample" offering! You may find that one bead you missed adding to your collection when it was first introduced!
Just one bead of each design are available, so don't delay ordering your "Production Sample" Fenton Art Glass bead at a special discount of 30% while supplies last! This Online Special begins at 8 p.m. (ET) on Thursday, June 15th! Click on each bead image to order. You'll receive FREE shipping via USPS.
---
Fenton Art Glass "Gettysburg, PA" Bead . . .
The perfect way to remember a special place! This bead was custom designed for Gettysburg, PA. The hand applied decoration features the words "Gettysburg, PA" as well as a Confederate Flag with a gray dot and a Union Flag with a blue dot. Each bead is initialed by the talented Fenton artist who completed it. The photo shows the artwork on one bead. The sterling silver core is embossed with the words "Fenton USA" embossed. Because of the handmade process, size may vary slightly but our beads fit most brands of jewelry accessories. The remaining inventory of this "Gettysburg, PA" bead is now available for a 30% discount!

Originally $45, Now $31.50 each with FREE shipping via USPS, Buy Now!
NEW Limited Edition Designs from Fenton Gift Shop. . .
Fenton Gift Shop is pleased to offer new Limited Edition selections for pre-orders. Each piece features a hand painted design and is signed, numbered and dated by one of our talented designers. All of these selections were hand-crafted exclusively for the Fenton Gift Shop by Mosser Glass, using a Fenton mould. Included in this offering are a 10" Feather Vase, a 6.75" Bridesmaid Doll figurine, a 5.75" Ghost, a 4.25" Fox, and a 3.5" Bear, each figurine handcrafted in Opal Satin glass. Also included is an Alley Cat figurine in Rose glass.
The lovely Rose hue of this glass Alley Cat provides the perfect canvas for Kim Barley's design that showcases
some of the wonderful things about Spring!

Kim used vibrant shades of pink and golden yellow for the flowers and she created a nice blend of gold and green for the background.


A music score encircles the figurine. A songbird is posed and ready to sing his Spring song!


Each Rosy Songbird Alley Cat Figurine is $225 and is limited to nine figurines.

Kim Barley shows her patriotic spirit with this colorful hand painted design of stars and stripes on our popular Bridesmaid Doll figurine. White stars on a blue background encircle the full skirt, while blue striping sets off the ruffled top of the dress.

Note the red sash that crosses over one shoulder. . . perhaps she is a Miss July 4th contestant? A lovely red, white and blue bow adorns the hair. Each Patriotic Belle Bridesmaid Doll Figurine is $115.


Michelle Kibbe created a wonderful design of icy branches hanging low above a scene of a witch stirring her smoking pot of brew. A black cat with upraised tail slinks by while bats fly overhead. Ice accents also appear on the eyes of this smiling ghost figurine.
Each Witch's Brew Ghost Figurine is $115.

Pre-orders for the Rosy Songbird Alley Cat, Patriotic Belle Bridesmaid Doll and Witch's Brew Ghost Figurines will be accepted until midnight (ET) on Monday, June 19, 2017.
To pre-order, please call the Fenton Gift Shop: 1-800-319-7793, ext. 342 or email: purchasing@fentongiftshop.com. Include the items you want to purchase in the subject line.

Each panel of this beautiful Feather Vase features a hand painted butterfly and pastoral scene. One scene has a mill scene completed with the wooden waterwheel, and the other sides have a rustic farmhouse and outbuildings. Michelle Kibbe's meticulous detail on each of the three butterflies is a tribute to her talent and skill! She airbrushed the brush in a rosy pink color to enhance her design. Each Butterfly Bliss Feather Vase is $160.

This figurine, designed by Robin Spindler, has been hand painted in natural tones to resemble a gray wolf. Note those mesmerizing eyes! Great addition to a figurine collection! Each Gray Wolf Figurine is $80.

Pre-orders for the Butterfly Bliss Feather Vase, Gray Wolf and Leopard Cub Figurines will be accepted until midnight (ET) on Wednesday, June 21, 2017. To pre-order, please call Fenton Gift Shop: 1-800-319-7793, ext. 342 or email: purchasing@fentongiftshop.com and include the names of the items you want to purchase in the subject line.

This little figurine is so adorable that
you may want to hug it! This would be a great gift for the young and young-at-heart.

Kim Barley has transformed our Opal Satin Bear figurine into a smiling Leopard cub complete with gold and brown spots. Note those large, expressive green eyes and the long eyelashes! Each Leopard Cub Figurine is $80.
---
Fenton Art Glass Auction Scheduled for June 24th. . .
As some of you may already know, there have been auctions on the premises at the Fenton Art Glass factory during the past few weeks. The next auction, scheduled for June 24, begins at 10 a.m. EDT and will be conducted by local auctioneer Mike Voshel, proprietor of the Williamstown Auction Center.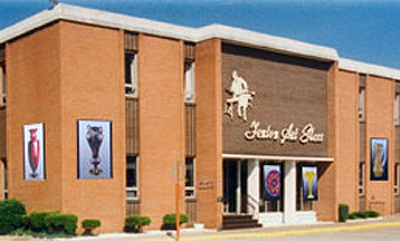 Click here for preview times and further information, as well as photos of the tools, machinery, equipment, furniture etc. to be sold at these auctions. Scroll down the page until you see the Fenton auction listings. Questions regarding these auctions should be directed to the Williamstown Auction Center: 304-375-5815 or email: williamstownauction@suddenlink.net.
SPECIAL NOTE: Due to preparation for the fourth Fenton Art Glass auction on June 24, and Fenton Gift Shop's upcoming "move", the Gift Shop will be closed until further notice. Anticipated re-opening will be at the new location just down the road in Boaz, West Virginia! However, pre-orders for the new Limited Edition offerings shown in this newsletter will be accepted as usual via email: purchasing@fentongiftshop.com or by calling 1-800-319-7793, ext 342.
---
Fenton Glass Jewelry Presents. . . Twist Earring Collection!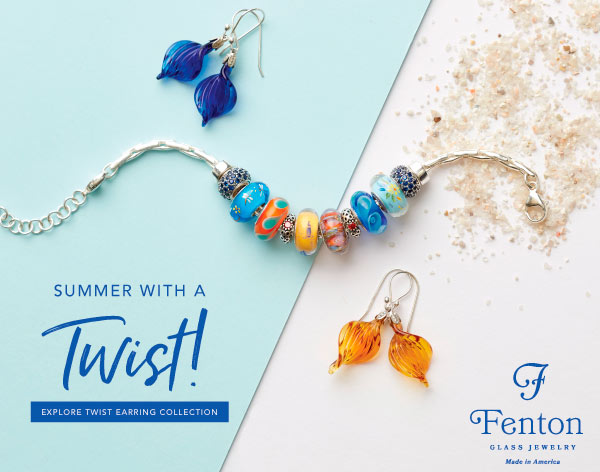 ---
Fenton Art Glass eBay Auctions. . .

Here's an opportunity to own a beautiful "one-of-a-kind" art glass creation or a piece of Fenton history through our weekly eBay auctions. This auction ends at noon (ET) on Wednesday, June 21.
Items featured this week.
With satin finished Persimmon glass for her canvas, Fenton artist Michelle Kibbe designed and hand painted this splendid one-of-a-kind 10.5" vase. Her design features a buck and doe deer, and the background elements include birch trees, a shallow creek and a weathered outbuilding in the country.

Fenton executive Tom Fenton and cameo carver Cathy Mackey collaborated to design and create this beautiful, one-of-a-kind flip vase (6" tall). The flip vase is made of iridized black glass, and the iridescence is a shimmering orange hue that is generally called Marigold (note the diamond optic pattern on the iridized inner surface). The sandcarved cameo motif is an intricate, detailed foliage pattern. Cameo carving is a painstaking process. After the glass has been annealed, a special mask is taped to the surface of the glass. Using an advanced "vignetting" technique, each piece is carefully sand carved, by hand, using aluminum oxide crystals under pressure to take away some of the surface. Great individual skill and experience are needed to control this operation, as many distinct stages of successive cameo carving are required to create the remarkable depth and the intricate details. This one-of-a-kind cameo carved vase is identified ("OOAK") on the underside and has been personally signed: "T.K. Fenton, Cathy Mackey".

Here's a great opportunity to acquire a unique piece of Fenton history. When our 12-pot furnace was shut down for repairs in July 1980, small lumps of glass in various colors remained in the bottoms of some pots. Some of this glass was ground and polished by Fenton employee Jim Stage, who was then foreman of the Finishing Department (Jim is now associated with the Williamstown Antique Mall). This opaque Patriot Red piece measures 2" by 2" and weights about 8 ounces. It will make a nice paperweight or accent piece to display with a Fenton collection. This opaque Patriot Red piece has been personally signed by company President George Fenton.

This pair of iridized Daisy & Button Baby Booties would be a great addition to any collection of glass shoes or a keepsake gift for a baby! Handcrafted in Petal Pink and Celeste Blue in the mid-1990s, each Bootie measures 4-3/8" long and about 2-1/4" tall and both have an iridized finish. These Booties have been signed by company President George Fenton. Click here to place your bid! This Fenton eBay auction ends at noon (ET) on Wednesday, June 21, 2017.
---
HOT LINKS with Hot Discounts!