Fenton Art Glass Presents. . . Online "Grab Bag" Specials!
As we continue to wind down the Fenton Art Glass factory inventory of handcrafted beads, we are pleased to offer a "Grab Bag" Online Special for our remaining "uncored" beads. Choose from four different categories: Decorated, Glass Treatments, Solid Color, and Three Dimensional Fenton Art Glass beads.

Your "Grab Bag" order includes five
uncored beads in assorted colors and designs for $25.00 with free shipping
via the U.S. Postal Service. Some of the
various styles are shown at right.

Also available is an "Assortment" of 25 uncored beads which includes beads from each of the four categories listed above
for $100. 1AS2017 - 25 Bead Assortment

These "Grab Bay" Online Special offer applies only to all orders placed via www.fentonartglass.com.

Sorry, we can not honor requests for specific colors, treatments or designs.
Decorated beads include designs ranging from butterflies and hummingbirds to florals and stylized designs. Glass Treatment beads include many of the traditional Fenton Art Glass treatments, such as Vasa Murrhina, Aurora, Pulled Feather, Encased, and Glassato. Solid Color beads have no decoration and may have either a shiny or a matte finish. Three Dimensional beads include raised glass designs.
| | |
| --- | --- |
| 1HP2017 - Decorated Beads Grab Bag | 1GT2017 - Glass Treatments Beads Grab Bag |
| 1PL2017 - Solid Color Beads Grab Bag | 13D2017 - Three Dimensional Beads Grab Bag |
---
Fenton Art Glass "Blue 'n Gold" Bead Assortment. . .
We discovered a nice assortment of beads in beautiful hues of blue and gold among our remaining inventory of uncored beads and decided to offer these as our "Blue 'n Gold" Assortment. They make the perfect fashion accessory as a way to show team spirit!

You'll receive a set of five uncored beads handcrafted in a variety of glass treatments: from Three Dimensional and Pulled Feather to Vasa Murrhina or Aurora and Solid Color beads. No set will be exactly alike! Great gift idea for fans
of the "Blue 'n Gold" sports teams or treat yourself!

1BNG2017 Blue 'n Gold Bead Assortment, $30 with Free Shipping!
---
Fenton Art Glass Patriotic Earrings. . .
Get ready for July 4th festivities with these "Patriotic" Earrings! We have a limited quantity available of these sparkling handcrafted earrings. Choose from silver or gold earwires.

The glass bead is handcrafted in rich Cobalt Blue glass with a hand applied decoration designed by Kim Barley of a stylized American Flag and white star accents. Each side of the glass bead is decorated (both views are shown in photo). Red, white and blue gem accents complete the look. The earring is approximately 1-3/4" long and the glass bead measures about 3/8" in length.

25AE2017 Patriotic Earrings - Gold Earwires - $45 - NOW $35.00 ONLINE SPECIAL!

26AE2017 Patriotic Earrings - Silver Earwires - $45 - NOW $35.00 ONLINE SPECIAL!
Fenton Art Glass Product Catalogs. . .

While Supplies Last!

As we prepare for the upcoming auctions at the factory site for Fenton Art Glass, we've found a treasure trove of marketing materials, including original Fenton product catalogs, in several locations, including the factory offices. We make these available on a first come, first served basis while supplies last.

Many of these catalogs are in pristine condition while others may have slight wear and tear from use and there may be some handwritten notes. Check out our updated catalog listings, including vintage issues from the 1980s and 1990s, as well as the last published issue in 2007.
Click here to shop Fenton Catalogs.
Enjoy A 60% Fenton Flash Sale Discount on Morning Star!
You'll receive a 60% discount on this beautiful handcrafted Fenton Art Glass bead during our "Fenton Flash Sale" this weekend! This sale ends at 8 p.m. (ET) on Sunday, June 11. This bead must be ordered via www.fentonartglass.com.


This Made in America handcrafted Precious Metals Morning Star Bead was designed by Jena Lane Blair and reminded her of that time between the dawn and the daylight . . . lingering stars. Precious metals add a new dimension to glass beads. They are used in two forms, melted into the glass formulas or added as pure metals to the bead during the forming process. Because of the handmade process, bead size may vary from 1/2'' to 5/8'' in diameter. Each bead has a sterling silver core embossed Fenton USA.

Morning Star - Originally $49.50 - Flash Sale $19.80 each + Free shipping! Buy Now!
---
NEW Limited Edition Designs from Fenton Gift Shop. . .
Fenton Gift Shop is pleased to offer new Limited Edition selections for pre-orders. A special offering for this week is the beautiful cameo-carved 10.75" Persimmon Vase shown at left (detail photo shown below). Persimmon glass is rich Ruby glass with a Milk Glass interior. This vase was designed and cameo-carved by Fenton artist Cathy Mackey. Each vase is signed by Cathy and Tom Fenton, son of Frank M. Fenton and former plant manager at the Fenton factory. Just 15 of these vases are available for $350 each.

Cameo carving is a painstaking process. After the glass has been annealed, a special mask is taped to the surface of the glass. Using an advanced "vignetting" technique, each piece is carefully sand carved, by hand, using aluminum oxide crystals under pressure to take away some of the surface. Great individual skill and experience are needed to control this operation, as many distinct stages of successive cameo carving are required to create the remarkable depth and the intricate details. As you can see from the photos, the results are stunning!

Other Limited Editions included in this offering are a 4.25" Fox, a 5.5" Owl, and a 3.5" Bear, each figurine handcrafted in Opal Satin glass. A 6.75" Jadeite glass Bridesmaid Doll figurine joins this special group. All of these selections were hand-crafted exclusively for the Fenton Gift Shop by Mosser Glass, using a Fenton mould.

Michelle Kibbe created an "owl within the owl"
design for this figurine! Wooden "tree" details
on the front of the figurine frame the small owl
peeking out of a window. The owl figurine is
airbrushed in gray-blue tones with natural browns
for the base and talons. Each Window Peeker Owl Figurine is $90.


Kim Barley created a vibrant "Foxy Flora" design for this Opal Satin figurine! She airbrushed the entire figurine in natural colors and added large, colorful blue flowers. Note those expressive eyes! Each Foxy Flora Fox Figurine is $85.

Pre-orders for the Persimmon Trees Cameo Carved Vase, Foxy Flora and Window Peeker Owl Figurines will be accepted until midnight (ET) on Monday, June 12, 2017.
To pre-order, please call the Fenton Gift Shop: 1-800-319-7793, ext. 342 or email: purchasing@fentongiftshop.com and include the items you want to purchase in the subject line.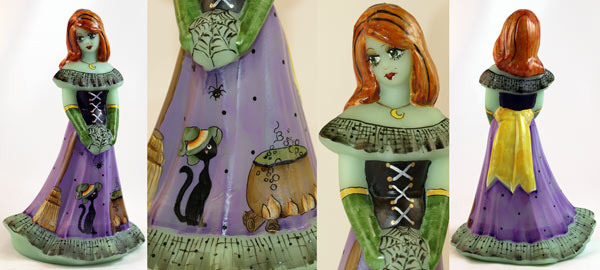 Kim Barley named her design for this Jadeite Doll figurine "Witchy Poo"! Her meticulous handpainted whimsical details are fantastic. . from the large expressive eyes and the web bouquet with a dangling spider to the witch's "familiar" (black cat) in cloth hat and the bubbling pot of "Boo Brew"! Sure to become a decorating favorite for your All Hallow's Eve!
Each Witchy Poo Doll Figurine is $115.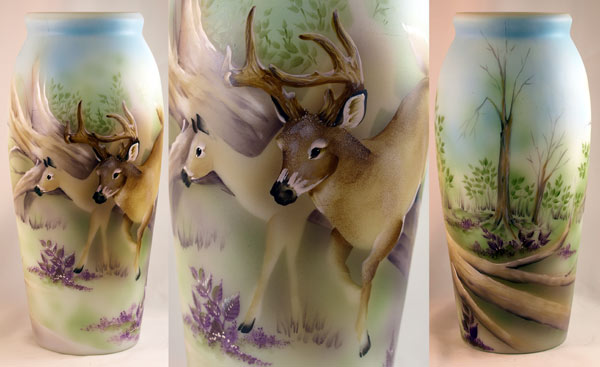 Inspired by the giant tree that fell in the Redwood Forest, Robin Spindler carries that theme to this handpainted design of a majestic buck with a doe jumping over a large fallen tree. Robin will sign each vase "Fallen Giant". This vase is sure to make a statement wherever it is displayed! Each Fallen Giant Vase is $250.
Michelle Kibbe's wonderful hand painted design for this "Polar Bear Cub" has him warmly dressed. It looks as if he has been gathering sprigs of holly. Note his winter finery with the matching cap, scarf and mittens in hues of baby blue.

A woven basket holds the holly sprigs. The expression on the face is adorable with the long-lashes on the eyes, the rosy cheeks and the heart-shaped nose! This is a must have for figurine collectors! Each Polar Bear Cub Figurine is $75.


Pre-orders for the Witchy Poo Bridesmaid Doll Figurine, Fallen Giant Vase and the Polar Bear Cub Figurine will be accepted until midnight (ET) on Wednesday, June 14, 2017.

To pre-order any of these limited edition items, please call the Fenton Gift Shop: 1-800-319-7793, ext. 342 or email: purchasing@fentongiftshop.com and include the items you want to purchase in the subject line.

You may also request to be added to our mailing list for news of upcoming Limited Editions!
---
Fenton Art Glass Auction Scheduled for June 24th. . .
As some of you may already know, there have been auctions on the premises at the Fenton Art Glass factory during the past few weeks. The next auction, scheduled for June 24, begins at 10 a.m. EDT and will be conducted by local auctioneer Mike Voshel, proprietor of the Williamstown Auction Center.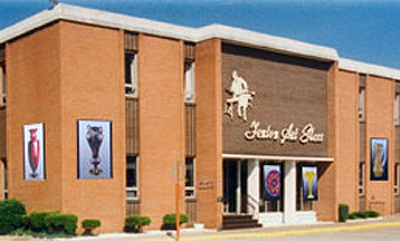 Click here for preview times and further information, as well as photos of the tools, machinery, equipment, furniture etc. to be sold at these auctions. Scroll down the page until you see the Fenton auction listings. Questions regarding these auctions should be directed to the Williamstown Auction Center: 304-375-5815 or email: williamstownauction@suddenlink.net.
SPECIAL NOTE: Due to preparation for the fourth Fenton Art Glass auction on June 24, and Fenton Gift Shop's upcoming "move", the Gift Shop will be closed until further notice. Anticipated re-opening will be at the new location just down the road in Boaz, West Virginia! However, pre-orders for the new Limited Edition offerings shown in this newsletter will be accepted as usual via email: purchasing@fentongiftshop.com or by calling 1-800-319-7793, ext 342.
---
Fenton Glass Jewelry Presents. . .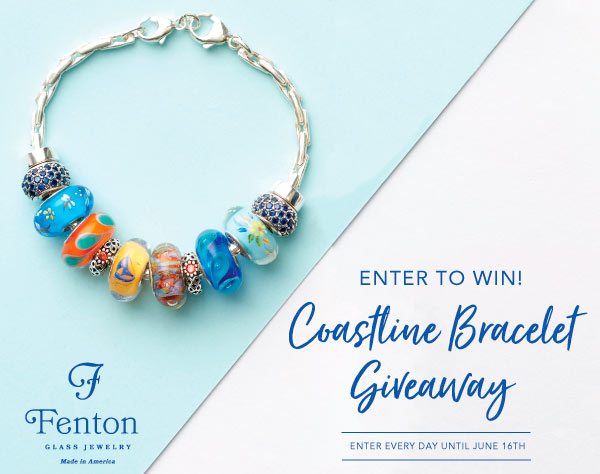 ---
Fenton Art Glass eBay Auctions. . .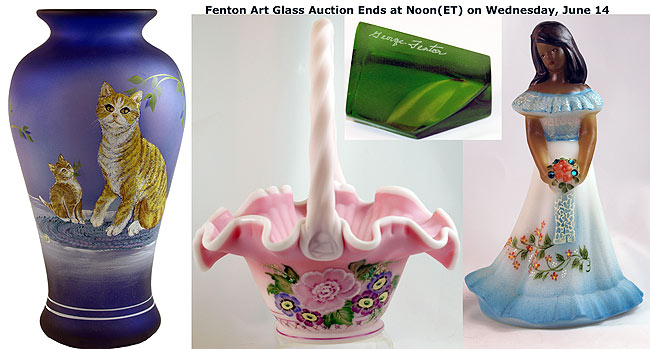 Here's an opportunity to own a beautiful "one-of-a-kind" art glass creation or a piece of Fenton history through our weekly eBay auctions. This auction ends at noon (ET) on Wednesday, June 14. Items featured this week.
With satin finished cobalt blue glass for her canvas, Fenton artist Michelle Kibbe designed and hand painted this splendid one-of-a-kind vase (9.5" tall). Her design features a mother tabby cat and her kitten, and all the hand painted details are simply wonderful, from the expressions on the cats' faces to the potted plant in the background! The plant appears to have caught the attention of the kitten! Note the kitten is holding a piece of the plant in its mouth! Michelle added an oval rug and cat toys to complete the scene. This vase was handcrafted at Blenko Glass, using the Fenton mould, exclusively for Fenton Art Glass.

With satin finished Rosalene glass for her canvas, Fenton artist Michelle Kibbe designed and hand painted this splendid one-of-a-kind basket (9.5" tall). Note the Milk Glass edge and the distinctive crimp style and applied handle. . . a real tribute to our skilled glassworkers. Michelle's hand painting talents and skills are displayed to perfection on this piece, as the intricate floral motif is remarkably detailed and vivid in color.

Here's a great opportunity to acquire a unique piece of Fenton history. When our 12-pot furnace was shut down for repairs in July 1980, small lumps of glass in various colors remained in the bottoms of some pots. Some of this glass was ground and polished by Fenton employee Jim Stage, who was then foreman of the Finishing Department (Jim is now associated with the Williamstown Antique Mall). This lightweight transparent green glass piece measures 2.125" by 2.25". It will make a nice paperweight or accent piece to display with a Fenton collection. This transparent green piece has been personally signed by company President George Fenton.

Award-winning Fenton designer Robin Spindler created and hand painted this splendid one-of-a-kind Bridesmaid Doll figurine (7" tall) in Opal Satin glass. The airbrushed blue tones are wonderful, and the details on the neckline and bow of the dress are truly remarkable. The hand painted floral motif complements the bouquet, which also has shimmering gemstone accents. This one-of-a-kind Bridesmaid Doll figurine was handcrafted at Mosser Glass, using the Fenton mould. Click here to place your bid! This Fenton eBay auction ends at noon (ET) on Wednesday, June 14, 2017.
---
HOT LINKS with Hot Discounts!