Fenton Art Glass Presents. . . Welcome June Online Specials!
"Welcome June" with Fenton Art Glass Online Specials, including a special offering of "Rep Sample" jewelry. For each product introduction, a group of handcrafted "sample" beads were provided to our sales representatives to assist them in marketing our jewelry to retail stores. Fenton sales reps returned these "Rep Samples" once production ceased at our Williamstown factory. We are pleased to make these beautiful Fenton Art Glass beads available for a 20% discount as we continue to "wind down" our inventory at this location

. NOTE: All decorated sides of the "Sister", "Princess" and "Rx of Care" beads are shown above (second row).

This "Rep Sample" 20% Discount is valid until 8 p.m. on Wednesday, June 7, and applies only to orders placed via our web site: www.fentonartglass.com.

Quantities are very limited, so take advantage
of this opportunity to shop early for upcoming gift-giving occasions or treat yourself! Click on each bead image for details and to order.
In an age of mass production, Fenton Art Glass has honored the tradition of expressive, handmade creations. Each Fenton Made in America bead bears the signature of handcraftsmanship ─ those slight variations that convey distinction, character and charm. Our bead collection includes many of Fenton's unique glass colors and historic treatments.
50% Discount
on "Retired"
Fenton Art Glass Beads!
Shop Now!

35% Discount on
Fenton Jewelry Accessories
Shop Now!

50% Discount on
"While Supplies Last" Beads
Shop Now!
Fenton Art Glass Product Catalogs. . .

While Supplies Last!

As we prepare for the upcoming auctions at the factory site for Fenton Art Glass, we've found a treasure trove of marketing materials, including original Fenton product catalogs, in several locations, including the factory offices. We make these available on a first come, first served basis while supplies last.

Many of these catalogs are in pristine condition while others may have slight wear and tear from use and there may be some handwritten notes. Check out our updated catalog listings, including vintage issues from the 1980s and 1990s,
as well as the last published issue in 2007.
Click here to shop Fenton Catalogs.
Enjoy A 60% Fenton Flash Sale Discount!

Desert Moons
Originally $35.00
Flash Sale $14.00 each
Buy Now!

You'll receive a 60% discount on these two handcrafted Fenton Art Glass beads during our "Fenton Flash Sale" this weekend! This sale ends at 8 p.m. (ET) on Sunday, June 4. This bead must be ordered via www.fentonartglass.com.

The "Desert Moons" bead features turquoise, black and white moons on a rich, chocolate sky. The "Eclipse" bead, handcrafted in lustrous black glass, was inspired by the many faces of the moon.

Each bead has a sterling silver core embossed Fenton USA. Because of the handmade process, bead size may vary from 1/2'' to 5/8'' in diameter.

Eclipse
Originally $35.00
Flash Sale $14.00 each
Buy Now!
---
NEW Limited Edition Designs from Fenton Gift Shop. . .
Fenton Gift Shop is pleased to offer these new Limited Edition selections for pre-orders. Each piece features a hand painted design (signed, numbered and dated) by our talented designers. Included in this grouping are a Cobalt Blue 11" Alley Cat, as well as a a 10.75" Vase, 5.75" Ghost figurine, an 8" Chessie Cat Covered Box, a 10" Vase, and a pair of 5" duck figurines − each piece handcrafted in Opal Satin glass exclusively for the Fenton Gift Shop by Mosser Glass, using a Fenton mould.
Michelle Kibbe's heartwarming scene of a doe with her fawn is sure to bring oohhs and aahhhs when on display in your home! The pair is shown in the foreground of a lush green landscape. The fawn gives the doe a nuzzle. Michelle added blue-gray striations of color in the background . . . we thought it resembled the look of a rain shower in the distance. Each Tender Moments Vase is $160.

As if our Chessie Cat Box isn't already adorable, you'll love how Kim Barley has transformed it into a "Beach Dreams" scene! Kim's hand painted design includes three children dressed in vintage clothing, a sand castle, a shorebird, and a bucket and shovel and there's even a starfish! Note the accents on the face of the "Chessie Cat" and the hand lettering: "Beach Dreams" and "Sun Sand and Sea". Perfect place to store special seashells or treats! Each Beach Dreams Chessie Cat Box is $150.

Kim Barley's talent for the fun and whimsical shines with her "Boo-Gie Fever!" design on our Opal Satin Ghost figurine. The entire figurine is airbrushed in soft pastel colors with metallic gold highlights. The hand painted details will delight one and all. . . from the witch and skeleton dancing under the disco ball on the front to the high-steppin' black cat on the back side of this figurine! Note the musical notes, multi-colored stars and accents and the smiling expression on the face! This figurine is sure to become a Halloween tabletop display favorite! Each Boo-Gie Fever Ghost Figurine is $115.


Pre-orders for the Tender Moments Vase, Beach Dreams Chessie Cat Box and the Boo-Gie Fever Ghost Figurine will be accepted until midnight (ET) on Monday, June 5, 2017. To pre-order, please call the Fenton Gift Shop at
1-800-319-7793, ext. 342 or email: purchasing@fentongiftshop.com and include the items you want to purchase in the subject line.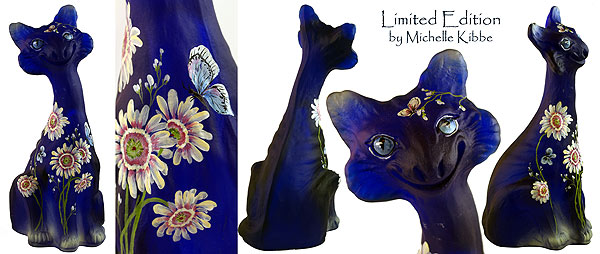 Our smiling Alley Cat figurine, handcrafted in rich Cobalt Blue glass, provides the perfect canvas for Michelle Kibbe's hand painted design of beautiful butterflies flitting amongst colorful pink and white daises. Her delicate brushstrokes, especially on the butterflies, are meticulously executed. Note how Michelle creatively positioned a butterfly on a small stem of white blooms just above the eye! Each Butterflies & Daisies Alley Cat Figurine is $215.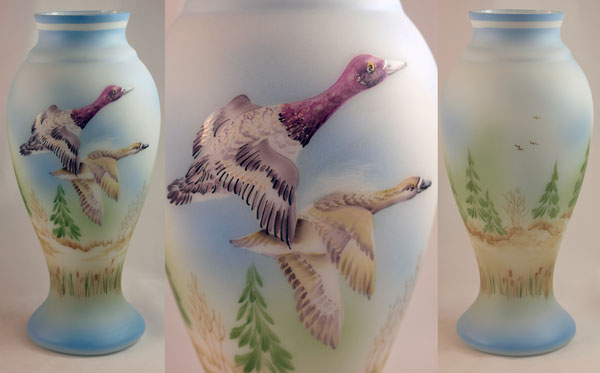 Robin Spindler has created a beautiful scene of a pair of Lesser Scaup ducks flying over the landscape for our 10" vase. Did you know. . . The Lesser Scaup is one of the most abundant and widespread of the diving ducks in North America. Lesser Scaup chicks can dive under water on their hatching day, but they are too buoyant to stay under for more than just a few moments. By the time they are 7 weeks old, however, they are able to dive for up to 25 seconds and can swim underwater for 50-60 ft. Each Lesser Scaup Pair Vase is $140.
This pair of Lesser Scaup Duck figurines will make a great addition to any figurine collection. Robin Spindler hand painted these to complement the vase shown above. Each pair of Lesser Scaup Figurines is $140.


Pre-orders for the Butterfly Daisies Alley Cat Figurine, Lesser Scaup Pair Vase and the Lesser Scaup Duck Figurines will be accepted until midnight (ET) on Wednesday, June 7, 2017.

To pre-order any of these limited edition items, please call the Fenton Gift Shop: 1-800-319-7793, ext. 342 or send us an email: purchasing@fentongiftshop.com and include the items you want to purchase in the subject line.

You may also request to be added to our mailing list for news of upcoming Limited Editions!
---
Third Fenton Art Glass Auction Scheduled for June 3rd. . .
As some of you may already know, there have been auctions on the premises at the Fenton Art Glass factory during the past few weeks. The next auction, scheduled for June 3, begins at 10 a.m. EDT and will be conducted by local auctioneer Mike Voshel, proprietor of the Williamstown Auction Center.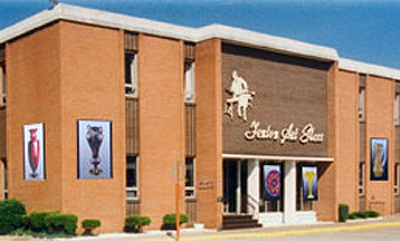 Saturday, June 3 Auction: Office and factory equipment including desks, file cabinets, furniture, shelving, display fixtures, heaters, exhaust fans, and large display cases and showcases from the Fenton Museum (note: all of the glass from the museum was sold at auctions a few years ago).

Click here for preview times and further information, as well as photos of the tools, machinery, equipment, furniture etc. to be sold at these auctions. Scroll down the page until you see the Fenton auction listings. Questions regarding these auctions should be directed to the Williamstown Auction Center: 304-375-5815 or email: williamstownauction@suddenlink.net.
SPECIAL NOTE: Due to preparation for the third Fenton Art Glass auction on June 3rd, the Fenton Gift Shop will be closed May 31-June 3rd. Anticipated re-opening will be on Wednesday, June 7th at 10 a.m. Pre-orders for the new Limited Edition offerings will be accepted as usual via email: purchasing@fentongiftshop.com or call 1-800-319-7793, ext 342. Stay tuned for news about a new Fenton Gift Shop location coming soon!
---
---
Fenton Art Glass eBay Auctions. . .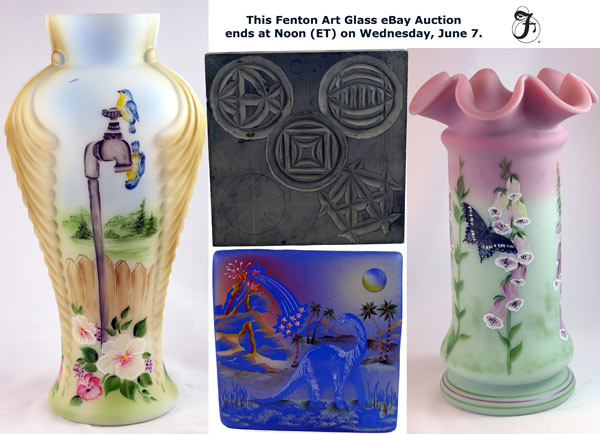 Here's your opportunity to own a beautiful "one-of-a-kind" art
glass creation or a piece of Fenton history through our weekly eBay auctions. This auction ends at noon (ET)
on Wednesday, June 7.
Items featured this week.
This hand painted Opal Satin one-of-a-kind vase (10.5" tall) by the talented Michelle Kibbe features a pair of Bluebirds, one of which is endeavoring to get a few drops of water from a dripping faucet. Careful airbrushing in wood tones frames the scene, and the hand painted flowers and leaves are remarkable for their details.
This one-of-a-kind vase was made by Mosser Glass, using the Fenton mould.

Here's a great opportunity
to acquire a unique piece of Fenton history. This 6" square made of composite material is called a "Deckel master," and it was used by our skilled mouldmakers to create and to manufacture the distinctive Fenton basket handler's marks. A Deckel master is like a designer's pantagraph, allowing the design to be reduced or enlarged as needed. This original Fenton Deckel master has nine separate designs for Fenton Art Glass basket handler's marks, and you can see the "apprentice mark" as well as the distinctive handler's marks for these skilled glassworkers who worked at Fenton Art Glass: Rob Camden, Andy Newland, Gregg Parsons, Jim Ralston, Matt Stanley, Junior Thompson, Dave Vincent, and Frank Workman.

Award-winning Fenton designer Robin Spindler continues to amaze us with her design talents and skills in sandcarvinig and hand painting. This splendid one-of-a-kind paperweight measures 6" square and is made of beautiful cobalt blue glass. You'll love the marvelous color effects Robin achieved on this glass. Robin's design features a Brachiosaurus within a fantastic multi-colored background of palm trees, shooting stars, erupting volcanoes, etc.

With satin finished Lotus Mist Burmese glass for her canvas, Fenton artist Michelle Kibbe created and hand painted this amazing one-of-a-kind vase (9.25" tall). Her depiction of a beautiful Butterfly amidst rich flowers and foliage is simply remarkable. Lotus Mist Burmese is a classic Fenton glass color that contains pure gold, and special reheating techniques are required to create the distinctive pink blush. Click here to place your bid! This Fenton eBay auction ends at noon (ET) on Wednesday, June 7, 2017.
---
HOT LINKS. . .