Memorial Day. . .

Three years after the Civil War ended, on May 5, 1868, the head of an organization of Union veterans (the Grand Army of the Republic known as the GAR) established Decoration Day as a time for the nation to decorate the graves of the war dead with flowers. Major General John A. Logan declared that Decoration Day should be observed on May 30. It is believed that date was chosen because flowers would be in bloom all over the country. The
first large observance was held that year at Arlington National Cemetery, across the Potomac River from Washington, D.C.
- US Dept. of Veterans Affairs

"Let every nation know, whether it wishes us well or ill, that we
shall pay any price, bear any burden, meet any hardship, support
any friend, oppose any foe to assure the survival and the success
of liberty." – President John F. Kennedy

"I don't have to tell you how fragile this precious gift of freedom is. Every time we hear, watch, or read the news, we are reminded that liberty is a rare commodity in this world."
– President Ronald Reagan
Fenton Art Glass Presents. . . Memorial Day Online Specials!
Our Memorial Day Online Specials include a 50% discount on all remaining "Retired" and "While Supplies Last" inventory of handcrafted Fenton Art Glass beads. This offer is valid until 8 p.m. on Wednesday, May 31 and applies only to all orders placed via www.fentonartglass.com. Quantities may be very limited, so don't miss this opportunity to shop early for upcoming gift-giving occasions or treat yourself! Choose from the selections shown here or click on the "Shop Now" links for all available beads.
50% Discount on "Retired"
Fenton Art Glass Beads! Shop Now!

50% Discount on
"While Supplies Last" Beads Shop Now!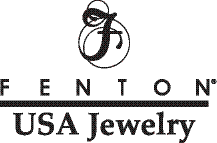 In an age of mass production, Fenton Art Glass honors the tradition of expressive, handmade creations. Each Fenton Made in America bead bears the signature of handcraftsmanship─ those slight variations that convey distinction, character and charm. Our bead collection includes many of Fenton's unique glass colors and historic treatments. Each bead has a sterling silver core embossed Fenton USA and is compatible with most major brands of jewelry accessories. Because of the handmade process, bead size may vary in size.
---
Fenton Art Glass Product Catalogs. . .

While Supplies Last!

As we prepare for the upcoming auctions at the factory site for Fenton Art Glass, we've found a treasure trove of marketing materials, including original Fenton product catalogs, in several locations, including the factory offices. We make these available on a first come, first served basis while supplies last.

Many of these catalogs are in pristine condition while others may have slight wear and tear from use and there may be some handwritten notes. Check out our updated catalog listings, including vintage issues from the 1980s and 1990s,
as well as the last published issue in 2007.
Click here to shop Fenton Catalogs.
Enjoy A 60% Fenton Flash Sale Discount on Balloon Bouquet!
You'll receive a 60% discount on this handcrafted Fenton Art Glass Balloon Bouquet bead during our "Fenton Flash Sale" this weekend! This sale ends at 8 p.m. (ET) on Sunday, May 28. This bead must be ordered via www.fentonartglass.com. Handcrafted in Rosalene glass,
Balloon Bouquet was designed by Truda "TJ" Mendenhall, and celebrates special occasions with
her hand painted "balloons" design. Each bead has a sterling silver core embossed Fenton USA.
Because of the handmade process, bead size may vary from 1/2'' to 5/8'' in diameter.


Balloon Bouquet - Originally $35.00 Flash Sale $14.00 each Buy Now!
---
NEW Limited Edition Designs from Fenton Gift Shop. . .
Fenton Gift Shop is pleased to offer these new Limited Edition selections for pre-orders. Each piece features a hand painted design (signed, numbered and dated) by our talented designers. Included in this grouping are an 11" Alley Cat in Jadeite glass, as well as a 6.75" Bridesmaid Doll in Robin's Egg Blue. Also included are a 5" Stylized Cat, an 8" Chessie Cat Covered Box, a 10.75" Vase and a 5.25" Rooster − each piece handcrafted in Opal Satin glass exclusively for the Fenton Gift Shop by Mosser Glass, using a Fenton mould.

Robin Spindler continues her "wild cats" theme
for our Stylized Cat figurine. Robin chose the
"Black Jaguar" as her subject, and we think you'll agree that the results are amazing! Each Black Jaguar Stylized Cat Figurine is $100.


Michelle Kibbe created "Flower Whimsies" as her design on our Chessie Cat Covered Box. Her hand painted flowers are festive and colorful. Note the swirl accents on the lid and the adorable napping brown tabby cat. Each Flower Whimsies Chessie Cat Covered Box is $160.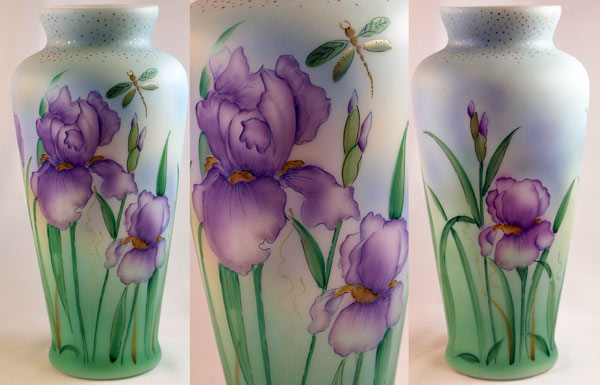 You'll never need to add a bouquet when you display this "Irresistible Iris" Vase on your tabletop! Kim Barley's meticulous attention to detail is evident on the delicate petals for these beautiful flowers. Soft hues of green and blue provide the background and Kim added golden dot accents around the top. Note the dragonfly hovering near one of the blooms! Each Irresistible Iris Vase is $155.
Pre-orders for the Black Jaguar Stylized Cat Figurine, Flower Whimsies Chessie Cat Covered Box and the Irresistible Iris Vase will be accepted until midnight (ET) on Monday, May 29, 2017. To pre-order, please call the Fenton Gift Shop: 1-800-319-7793, ext. 342 or email: purchasing@fentongiftshop.com and include the items you want to purchase in the subject line.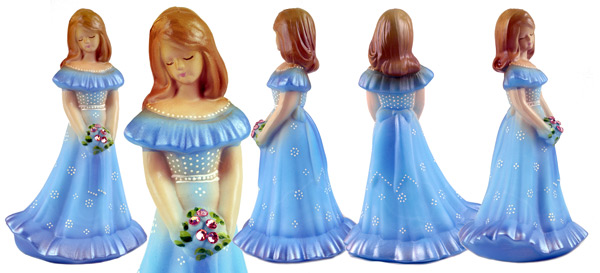 Robin Spindler created delicate dotted swiss patterns for the dress on this Bridesmaid Doll figurine, handcrafted in Robin's Egg Blue glass. She added white trim for the sash and neckline as well as sparkling pink gemstone accents for the bouquet! Each Dotted Swiss Bridesmaid Doll Figurine is $115.
Black, brown, soft reds and a vibrant white provide the perfect color palette for Michelle Kibbe's design on our Folk Art Rooster. Perfect addition to any figurine or Folk Art collection. Each Whimsy Rooster Figurine is $80.

Below: You'll be ready to visit a tropical paradise when you display this Jadeite Alley Cat. Kim Barley's hand painted "Tropical Sails" design included wonderful beach scenes. . . from low hanging palm fronds and a bright golden sun to the lush pink flowers and golden seashells. As always, Kim added a wonderful mischievous expression on the face! Each Tropical Sails Alley Cat Figurine is $220.

Pre-orders for the Dotted Swiss Bridesmaid Doll, Whimsy Rooster and the Tropical Sails Alley Cat Figurines will be accepted until midnight (ET) on Wednesday, May 31, 2017.

To pre-order any of these limited edition items, please call the Fenton Gift Shop: 1-800-319-7793, ext. 342 or email: purchasing@fentongiftshop.com and include the items you want to purchase in the subject line. You may also request to be added to our mailing list for news of upcoming Limited Editions!
| | |
| --- | --- |
| | |
---
Third Fenton Art Glass Auction Scheduled for June 3rd. . .
As some of you may already know, there have been auctions on the premises at the Fenton Art Glass factory during the past few weeks. The next auction, scheduled for June 3, begins at 10 a.m. EDT and will be conducted by local auctioneer Mike Voshel, proprietor of the Williamstown Auction Center.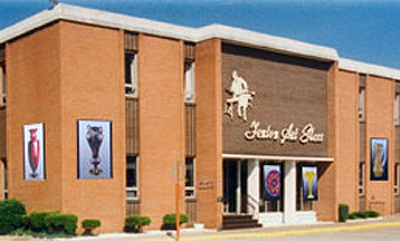 Saturday, June 3 Auction: Office and factory equipment including desks, file cabinets, furniture, shelving, display fixtures, heaters, exhaust fans, and large display cases and showcases from the Fenton Museum (note: all of the glass from the museum was sold at auctions a few years ago).

Click here for preview times and further information, as well as photos of the tools, machinery, equipment, furniture etc. to be sold at these auctions. Scroll down the page until you see the Fenton auction listings. Questions regarding these auctions should be directed to the Williamstown Auction Center: 304-375-5815 or email: williamstownauction@suddenlink.net.
NOTE: Fenton Gift Shop is open from 10 a.m. - 3 p.m. Wednesday-Saturday. In addition to the remaining inventory of glass, including one-of-a-kind and Limited Edition glass, there are miscellaneous tools, craft supplies and reference materials. Stay tuned for news about a new Fenton Gift Shop location coming soon!
---
Fenton Glass Jewelry Presents. . .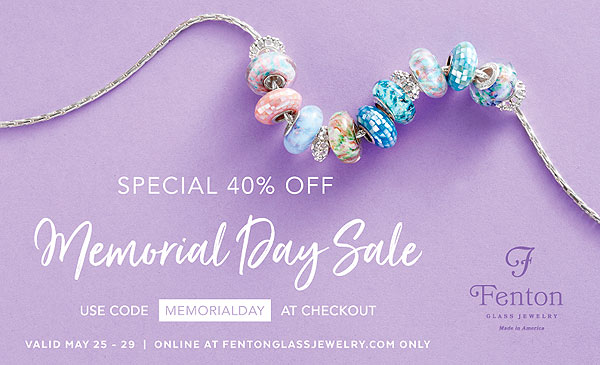 ---
Fenton Art Glass eBay Auctions. . .
Here's an opportunity
to own a beautiful
"one-of-a-kind" art
glass creation or a
piece of Fenton history through our weekly eBay auctions. This auction ends at noon (ET) on Wednesday, May 31. Items featured this week.
With satin finished Buttercup Overlay glass for her canvas, Fenton artist Michelle Kibbe created and hand painted this amazing one-of-a-kind vase (10" tall).
Her depictions of three favorite American birds (Bluebird, Black-Capped Chickadee and Cardinal) are simply remarkable. This "overlay" vase is made with cased glass and has an interior of pure milk glass with an outer layer of rich Buttercup glass.

Anyone who has heard the plaintive cry of the Whip-poor-will will not soon forget it, and this splendid one-of-a-kind hand painted vase (7" tall) by Fenton designer Michelle Kibbe will recall those vivid memories. With satin finished black glass for her canvas, Michelle created and hand painted this remarkably realistic depiction of the Whip-poor-will and the foliage where it likes to roost during the day so that it cannot be easily seen. Every element of this hand painted scene is perfectly executed. Note the added elegance of the distinctive tri-crimp on this vase, a testament to the skills of Fenton glassworkers.

Here's a great opportunity to acquire a unique piece of Fenton history. This pair of "Presser's Shears" was used by skilled glassworkers at Fenton Art Glass to cut a gob of molten glass from a gatherer's punty to allow the hot glass to drop into the press mould. As one would expect, these are heavy duty shears, and our mould shop attached a length of threading to the handle so that a special "knob" could be added. The knob was used by the skilled presser to "rub out" the tail of the molten glass after cutting off so that a shear mark would not be present in the finished piece of glass. We have cleaned these up, but you should expect to see some grime and surface rust. These presser's shears measure about 16.25" in length.

Here's a wonderful iridized Dusty Rose miniature vase (1.75" tall), made at Fenton Art Glass in the early 1990s. Fenton president George Fenton has personally signed his name on the underside of this miniature vase. Note the crimped edge. This miniature vase was made with an historic Fenton mould that was designated simply as No. 37 when it was first used in the early 1940s. Click here to place your bid! This Fenton eBay auction ends at noon (ET) on Wednesday, May 31, 2017.
---