Fenton Art Glass Presents. . . May Online Specials!
May is the perfect month to add beautiful handcrafted jewelry to your collection or add a piece of Fenton history to your collection with our Fenton Art Glass "May Online Specials". Quantities may be very limited, so don't miss this opportunity to acquire beautiful gifts! This offer applies to online orders placed via www.fentonartglass.com.

40% Discount
on "Retired"
Fenton Art Glass Beads!
Shop Now!



35% Discount on
"While Supplies Last" Beads
Shop Now!



35% Discount
on Designer Sample Jewelry!
Shop Now!



60% Discount
on Fenton International
"Anniversary" Glass
Shop Now!

Fenton Art Glass Product Catalogs. . .

While Supplies Last!

As we prepare for the upcoming auctions at the factory site for Fenton Art Glass, we've found a treasure trove of marketing materials, including original Fenton product catalogs, in several locations, including the factory offices. We make these available on a first come, first served basis while supplies last.

Many of these catalogs are in pristine condition while others may have slight wear and tear from use and there may be some handwritten notes. Check out our updated catalog listings, including vintage issues from the 1980s and 1990s,
as well as the last published issue in 2007.
Click here to shop Fenton Catalogs.
Enjoy Our May Fenton Flash Sale on Woven and Zebra Spacers!
You'll receive a special discount on these two handcrafted spacers during our "Fenton Flash Sale" this weekend! This sale ends at 8 p.m. (ET) on Sunday, May 21. These must be ordered via www.fentonartglass.com.

Our "Flash Sale' items this week are the Woven and the Zebra Spacer. . . beautiful decorative accents for your jewelry.
50% Discount - Woven Spacer Originally $29.50 Flash Sale $14.75 each Buy Now!
40% Discount - Zebra Spacer Originally $20.00 Flash Sale $12.00 each Buy Now!
---
NEW Limited Edition Designs from Fenton Gift Shop. . .
Fenton Gift Shop is pleased to offer these new Limited Edition selections for pre-orders. Each piece features a hand painted design (signed, numbered and dated) by our talented designers. Included in this grouping are an 11" Alley Cat, a 4.25" Fox, a 5.5" Owl, a 5" Stylized Cat, a 10" Feather Vase, and a 6.75" Bridesmaid Doll − each piece handcrafted in Opal Satin glass exclusively for the Fenton Gift Shop, using a Fenton mould, by Mosser Glass.
Michelle Kibbe's hand painted design for this Alley Cat really says "Spring" and it is sure to brighten any room when on display in your home.

Michelle used blue and green hues to create the lovely background for this scene of two singing bluebirds perched on a flowering branch.

Note the bright blue eyes of the Alley Cat and the lush pink and white petals of the blooms encircling the figurine. Each Bluebird Pair Alley Cat Figurine is $230.

This curious fox appears to be hiding amongst the sunflowers! Note the flower adorning the top of its head.
Michelle Kibbe's delightful hand painted design includes these beautiful seasonal flowers. A bright red barn is set amongst the pines in the background. Each Sunflower Fox Figurine is $85.
Far right: What better name for this figurine than "Meow-Owl"! Kim Barley's wonderfully whimsical hand painted design features a scruffy black cat with big orange eyes perched on
one of the talons of the owl. Vines are entwined around the other talon and on the base of the figurine. Kim added gold accents on the chest area as well as highlights around the face. Each Meow-Owl Figurine is $95.
Pre-orders for the Bluebird Pair Alley Cat, the Sunflower Fox and the Meow-Owl Figurines will be accepted until midnight (ET) on Monday, May 22, 2017. To pre-order any of these limited edition items, please call the Fenton Gift Shop: 1-800-319-7793, ext. 342 or email: purchasing@fentongiftshop.com and include the items you want to purchase in the subject line.
| | |
| --- | --- |
| Robin Spindler continues her "cat" series with a magnificent "Snow Leopard" on our Opal Satin 5" Stylized Cat figurine. The hand painted details are true to life and those blue eyes are mesmerizing! Note the details on the face! Each Snow Leopard Stylized Cat Figurine is $100. | Michelle Kibbe adorned this Bridesmaid Doll Figurine in a dress covered in vibrant mauve and cream flower bouquets. She added white dotted accents for the sash and flower bow as well as a dainty necklace. Each Mauve Bouquets Bridesmaid Doll Figurine is $115. |

Our elegant 10" Feather Vase provides the perfect canvas for this beautiful hand painted design by Michelle Kibbe.

Pale yellow trumpet-shaped blooms adorn each of the panels. A jewel-toned hummingbird sips nectar from one of the flowers.

Did you know. . . This fragrant annual is an attractive ornamental plant with blooms that swirl upward for a stunning floral display.


Michelle used soft blues with a hint of yellow at the base for the background. Each Trumpet Flower Feather Vase is $150.

Pre-orders for the Snow Leopard Stylized Cat and the Mauve Bouquets Bridesmaid Doll Figurines, as well as the Trumpet Flower Feather Vase will be accepted until midnight (ET) on Wednesday, May 24, 2017.

To pre-order, please call the Fenton Gift Shop: 1-800-319-7793, ext. 342 or email: purchasing@fentongiftshop.com with the items you want to purchase noted in the subject line.
---
Second Fenton Art Glass Auction Scheduled for May 20. . .
As some of you may already know, there will be two more auctions on the premises at the Fenton Art Glass factory during the coming weeks: May 20 and June 3. Each auction will begin at 10 a.m. EDT and will be conducted by local auctioneer Mike Voshel, proprietor of the Williamstown Auction Center.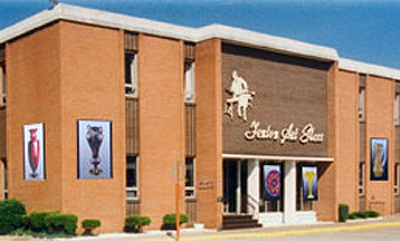 Saturday, May 20: Machinery, equipment and supplies used in glass batch mixing and melting, glassmaking and glass decorating equipment, warehouse equipment and conveyors, and other items. Moulds are not included in the auctions.

Saturday, June 3: Office and factory equipment such as desks, file cabinets, furniture, shelving, display fixtures, heaters, exhaust fans, and large showcases from the Fenton Museum (note: all of the glass from the museum was sold at auctions a few years ago).

Click here for preview times and further information, as well as photos of the tools, machinery, equipment, furniture etc. to be sold at these auctions. Scroll down the page until you see the Fenton auction listings. Questions regarding these auctions should be directed to the Williamstown Auction Center: 304-375-5815 or email: williamstownauction@suddenlink.net.
NOTE: Fenton Gift Shop is open from 10 a.m. - 3 p.m. Wednesday-Saturday. In addition to the remaining inventory of glass, including one-of-a-kind and Limited Edition glass, there are miscellaneous tools, craft supplies and reference materials. Stay tuned for news about a new Fenton Gift Shop location coming soon!
---
Fenton Glass Jewelry. . .
---
Fenton Art Glass eBay Auctions. . .
Here's an opportunity
to own a beautiful
"one-of-a-kind" art
glass creation or a
piece of Fenton history through our weekly
eBay auctions.

This auction ends
at noon (ET) on Wednesday, May 24.
Items featured this week.
Award-winning Fenton designer Robin Spindler created and hand painted this amazing one-of-a-kind cased glass vase (10.5"
tall). This cased glass has an exterior layer of black satin glass and an interior layer of Ruby glass The rich foliage has attracted jewel-toned Ruby-Throated Hummingbirds, and Robin's depictions of them are remarkably lifelike... we can almost hear the flutter of their wings. Other decorative details and applied gemstone accents add much to the artistic quality of this splendid one-of-a-kind vase.

With satin-finished Persimmon glass for her canvas, Fenton artist Michelle Kibbe has captured the essence of Spring on this gorgeous one-of-a-kind vase (11" tall). The Ruby-throated Hummingbirds hover amongst lush yellow daffodils in a remarkably vivid and realistic scene. Every element is perfectly executed. Persimmon is a cased glass with an exterior layer of ruby glass and an interior layer of milk glass.

With Fenton's classic Burmese glass for her canvas, Fenton artist Michelle Kibbe designed and hand painted this wonderful one-of-a-kind vase (8.25" tall). A mother Whitetail deer and her fawn have reached a clearing near some pine woods, and Michelle's depiction of them is simply marvelous. The trees and other elements of the outdoor scene completely encircle the vase. The feeling of depth and perspective is a great reflection of Michelle's talents and skills.

Here's a wonderful iridized Dusty Rose basket (3.75" tall), made at Fenton Art Glass in the early 1990s. We asked Fenton president to personally sign his name on the underside of this basket. Note the crimped edge and the hand applied handle. This basket was made with an historic Fenton mould that was designated simply as No. 37 when it was first used in the early 1940s. Click here to place your bid! This Fenton eBay auction ends at noon (ET) on Wednesday, May 24, 2017.
---