Fenton Art Glass Presents. . . May Online Specials!
May is the perfect month to add beautiful handcrafted jewelry to your collection or add a piece of Fenton history to your collection with our Fenton Art Glass "May Online Specials". Quantities may be very limited, so don't miss this opportunity to acquire beautiful gifts at wonderful prices! This offer applies to online orders placed via www.fentonartglass.com.

40%
Discount on
"Retired"
Fenton Art Glass Beads!
Shop Now!

35%
Discount
on Jewelry Accessories!

Shop Now!

35%
Discount
on Designer Sample Jewelry!

Shop Now!

60%
Discount on Fenton International
"Anniversary"
Glass
Shop Now!

Fenton Art Glass
100th Anniversary
Coffee Table Book
with nine
Fenton family member signatures
Now $35 + Free Shipping!
Fenton Art Glass Product Catalogs. . .

While Supplies Last!

As we prepare for the upcoming auctions at the factory site for Fenton Art Glass, we've found a treasure trove of marketing materials, including original Fenton product catalogs, in several locations, including the factory offices. We make these available on a first come, first served basis while supplies last.

Many of these catalogs are in pristine condition while others may have slight wear and tear from use and there may be some handwritten notes. Check out our updated catalog listings, including vintage issues from the 1980s and 1990s,
as well as the last published issue in 2007.
Click here to shop Fenton Catalogs.
Enjoy our May Fenton Flash Sale with a 60% Discount!
You'll receive a 60% discount on this Fenton Art Glass handcrafted bead during our "Fenton Flash Sale" this weekend! This sale ends at 8 p.m. (ET) on Sunday, May 14. This bead must be ordered via www.fentonartglass.com.

Our "Flash Sale' item this week is the handcrafted Last Rose of Summer. . . a three-dimensional glass bead with sterling silver core embossed Fenton USA. Designed by Jena Lane Blair, she commented that this design reminded her of a garland of tiny peach roses. Because of the handmade process, bead size may vary from 1/2'' to 5/8'' in diameter.
10422 Last Rose of Summer Originally $45 Flash Sale $18.00 each Buy Now!
---
NEW Limited Edition Designs from Fenton Gift Shop. . .
Fenton Gift Shop is pleased to offer these new Limited Edition selections for pre-orders. Each piece features a hand painted design (signed, numbered and dated) by our talented designers. Included in this grouping are a 10.75" Vase, a 3.5" Bear Figurine, an 8" Chessie Cat Covered Box, and a 5" Duck Figurine− each piece handcrafted in Opal Satin glass exclusively for the Fenton Gift Shop, using a Fenton mould, by Mosser Glass. Also included is an 11" Cobalt Blue Alley Cat Figurine (made by Mosser) and a Fenton Art Glass 10" Chocolate glass Vase.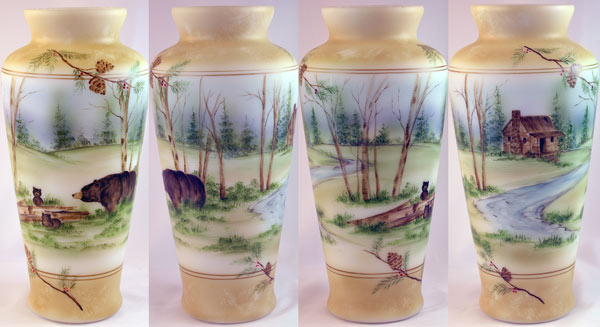 Michelle Kibbe continues to delight us with her hand painted nature-themed designs. She created a wonderful scene on this 10.75" vase of a mother bear and her two cubs exploring a wooded area near a stream. Her use of earth tone colors and thin double bands on this piece provide the frame for her design. Michelle added pine cones on branches to complete her look for this Limited Edition vase. Each Mama Bear and Cubs Vase is $170.

And what better companion piece for the vase than this adorable "Pine Cone Baby" Bear figurine! The photo shows the front and back of this figurine. Michelle continues her nature theme with this realistic design of a black bear cub. She even added a pine branch complete with red berries. Note that fabulous expression on the cub's face! Each Pine Cone Baby Bear Figurine is $75.

Below: Cobalt glass provides a rich canvas for Robin Spindler's hand painted "Puppy Kisses" design on our Alley Cat figurine. One scene depicts a young girl getting "puppy kisses" from her beloved puppy.

The other side shows a puppy looking down upon a small rabbit... perhaps the pup is deciding whether or not give a kiss to this furry friend! Crisp white daisies and fluttering butterflies adorn the entire figurine. As always, the Alley Cat's face has that signature mischievous grin. Each Puppy Kisses Alley Cat Figurine is $240.
Pre-orders for the Bear Mama and Cubs Vase, Pine Cone Baby Bear and Puppy Kisses Alley Cat Figurines will be accepted until midnight (ET) on Monday, May 15, 2017. To pre-order any of these limited edition items, please call the Fenton Gift Shop: 1-800-319-7793, ext. 342 or email: purchasing@fentongiftshop.com and include the items you want to purchase in the subject line.

This Limited Edition vase may become your future family heirloom! Handcrafted in a classic color and shape from Fenton Art Glass, this spectacular vase features cameo carving techniques as well as hand painted designs by two talented artists! The cameo carved panoramic landscape scene, created by artist Cathy Mackey, includes a country church with the sun's rays shining upon it.

Cameo carving is a painstaking process. After the glass has been annealed, a special mask is taped to the surface of the glass. Using an advanced "vignetting" technique, each piece is carefully sand carved, by hand, using aluminum oxide crystals under pressure to take away some of the surface. Great individual skill and experience are needed to control this operation, as many distinct stages of successive cameo carving are required to create the remarkable depth and the intricate details.

But wait... there's more! Robin Spindler added beautiful hand painted details on the sky and landscape as well as two white-tailed deer. The overall effect is simply breathtaking! Shown below are the different views of the vase, including a close-up of the two deer. No matter which side of this vase is displayed, you'll delight in the view.

The Chocolate glass color dates back to the earliest days of the Fenton Art Glass, but it was reintroduced in 2005 to celebrate the company's 100th anniversary. Among the first of company co-founder Frank L. Fenton's innovations was Chocolate glass, which was made from mid-1907 to about 1910. As with many of Fenton's glass colors, no two pieces are ever the same, and the unique colors of Chocolate glass include shades of caramel, mocha and milky cocoa.

Each Country Church with Deer Chocolate Vase is $350 and is limited to just 10 vases!
Below: Celebrate in style when you display this Opal Satin Chessie Cat Covered Box filled with "Derby Day" treats or a floral arrangement. Kim Barley celebrates the "run for the roses" with her take on this famous event. The gray cat with big green eyes and soft pink nose is ready to celebrate a win with its fancy hat adorned with roses, feathers, netting and a butterfly.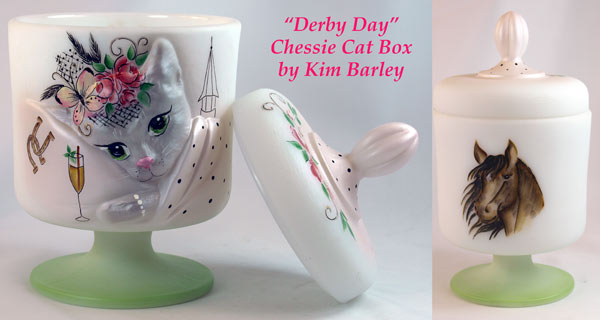 Kim added a white bracelet, a pair of horseshoes, one of the signature "Derby drinks" and a steeple. The back of the box features a beautiful hand painted horse with flowing mane.

Did you know. . . Chessie was a popular cat character used as a symbol of the Chesapeake and Ohio Railway. They used this artwork with their slogan that when traveling on their railways you would "sleep like a kitten". Fenton Art Glass began making this covered box for the railway in the early 1970s and it has since become a collector favorite. Each Derby Day Chessie Cat Covered Box is $150.

This figurine is a great Father's Day gift for use as a desk paperweight or to display in a bookcase.

Designed by Kim Barley, this Limited Edition "Stylized Mallard Decoy" Duck figurine is sure to please figurine collectors as well!

The hand painted details are marvelous and colorful, like the Mallard. Note the characteristic bright blue highlights on the beak and around the eyes. Each Stylized Mallard Decoy Duck Figurine is $75.

Pre-orders for the Country Church with Deer Vase, the Derby Chessie Cat Covered Box and the Stylized Mallard Decoy Duck Figurine will be accepted until midnight (ET) on Wednesday, May 17, 2017.


To pre-order, please call the Fenton Gift Shop: 1-800-319-7793
ext. 342 or email: purchasing@fentongiftshop.com
with the items you want to purchase noted in the subject line.
---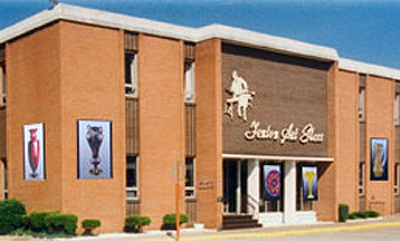 "A Final Look Around" Factory Tour Scheduled at Fenton Art Glass. . .
We've also received many requests from the public as well as our loyal collectors for a "final look around" the factory. We are pleased to offer two tours of the factory on Saturday, May 13, which will be "in between" the auctions. Customers will also receive an additional 20% discount off already discounted items, excluding the jewelry, on May 13.
Tours will be available at 11 a.m. and at 1 p.m. Fenton Gift Shop is located at 420 Caroline Avenue in Williamstown, WV 26187. Store hours are Wednesday-Saturday 10 a.m.- 3 p.m. (ET). We suggest you call to confirm store hours: 800-319-7793 or 1-304-375-7772.
---
Second Fenton Art Glass Auction Scheduled for May 20. . .
As some of you may already know, there will be two more auctions on the premises at the Fenton Art Glass factory during the coming weeks: May 20 and June 3. Each auction will begin at 10 a.m. EDT and will be conducted by local auctioneer Mike Voshel, proprietor of the Williamstown Auction Center.

Saturday, May 20: Machinery, equipment and supplies used in glass batch mixing and melting, glassmaking and glass decorating equipment, warehouse equipment and conveyors, and other items. Moulds are not included in the auctions.

Saturday, June 3: Office and factory equipment such as desks, file cabinets, furniture, shelving, display fixtures, heaters, exhaust fans, and large showcases from the Fenton Museum (note: all of the glass from the museum was sold at auctions a few years ago).

Click here for further information as well as photos of the tools, machinery, equipment, furniture etc. to be sold at these auctions. Scroll down the page until you see the Fenton auction listings. Questions regarding these auctions should be directed to the Williamstown Auction Center: 304-375-5815 or email: williamstownauction@suddenlink.net.
---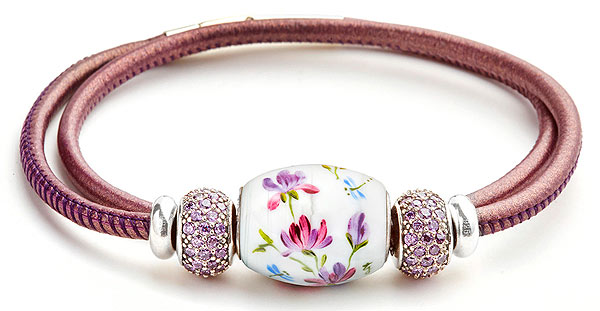 Fenton Glass Jewelry
Cornerstone Bracelets. . .
or visit
www.fentonglassjewelry.com
---
Fenton Art Glass eBay Auctions. . .
Here's an opportunity to own a beautiful "one-of-a-kind" art glass creation or a piece of Fenton history through our weekly eBay auctions. This auction ends at noon (ET) on Wednesday, May 17.
Items featured this week.

Fenton artist Michelle Kibbe's depiction of a pair of Dalmatian pups (are they brother/sister?) will delight all who enjoy these
wonderful dogs in real life. This stately vase stands 11.75" tall and is made of satin finished Rosalene glass. A collector favorite, this heat-sensitive glass is made by adding pure gold to an opaque glass batch and reheating the formed piece, the soft white glass became a wonderful soft pink. Frank M. Fenton named this new glass Rosalene and Fenton Art Glass produced the first Rosalene grouping in 1976. Michelle's talents and skills are shown to perfection as she captures the characteristic black/white Dalmatian colorations and the facial expressions these dog owners have come to love.

Here's a wonderful one-of-a-kind iceberg paperweight that was created and hand painted by award-winning Fenton designer Robin Spindler. You'll love the marvelous color effects Robin achieved on crystal glass, and the fierce Tyrannosaurus Rex will delight all who see it! We cannot recall a Fenton item with a TRex from our 100+ years of history, so that makes this one-of-a-kind even more special. This iceberg paperweight (4-9/16" long and 4-1/4" tall) is identified and signed on the underside.

Fenton artist Michelle Kibbe captures all the splendor of Spring with her hand painted depiction of a male Goldfinch perched on the first flowers to bloom in this wonderful season. This stately one-of-a-kind vase stands 9.5" tall, and is handcrafted in Seabreeze glass by Blenko Glass (using the Fenton mould). The satin finished turquoise glass color contrasts beautifully with the vivid coloration of the Goldfinch and the lush flowers and foliage.

Made of Lavender glass, this stately one-of-a-kind vase (nearly 12" tall) really showcases the talents and hand painting skills of Fenton artist Michelle Kibbe. The lush floral motif completely encircles the vase, and the bright colors and variety of flowers depicted are really quite stunning. Every hand painted petal and leaf seems real, quite a testament to Michelle's creativity and her abilities. Click here to place your bid! This Fenton eBay auction ends at noon (ET) on Wednesday, May 17, 2017.
---