Fenton Art Glass Presents. . . Gift Giving Online Specials!
Are you still seeking that perfect gift for Mother's Day, Graduation, Wedding, Birthday or an upcoming special occasion? Handcrafted Fenton Art Glass jewelry makes perfect keepsake gifts! Our Online Special this week includes discounts on remaining inventory of accessories and jewelry, as well as new specials on reference books. Quantities may be very limited, so don't miss this opportunity to acquire beautiful gifts at wonderful prices!
This offer applies to online orders placed via www.fentonartglass.com through 8 p.m. (ET) on May 10.
35%
Discount
on Jewelry Accessories!

Shop Now!

35%
Discount
on Designer Sample Jewelry!

Shop Now!


Fenton Art Glass
100th Anniversary
Coffee Table Book with nine
Fenton family member signatures
Now $35 + Free Shipping!
Fenton Art Glass Product Catalogs. . .

While Supplies Last!

As we prepare for the upcoming auctions at the factory site for Fenton Art Glass, we've found a treasure trove of marketing materials, including original Fenton product catalogs, in several locations, including the factory offices. We make these available on a first come, first served basis while supplies last.

Many of these catalogs are in pristine condition while others may have slight wear and tear from use and there may be some handwritten notes. Check out our updated catalog listings, including vintage issues from the 1980s and 1990s,
as well as the last published issue in 2007.
Click here to shop Fenton Catalogs.
Enjoy our May Fenton Flash Sale with a 60% Discount!
You'll receive a 60% discount on this Fenton Art Glass handcrafted bead during our "Fenton Flash Sale" this weekend! This sale begins at 8 p.m. (ET) on Thursday, May 4 and ends at 8 p.m. (ET) on Sunday, May 7. This bead must be ordered via www.fentonartglass.com.

Our Flash Sale item this week is a handcrafted Precious Metals "Morning Star" Bead designed by Jena Lane Blair. Precious metals add a new dimension to glass beads. They are used in two forms, melted into the glass formulas or added as pure metals to the bead during the forming process. This design reminded Jena of that time between the dawn and the daylight . . . lingering stars. Because of the handmade process, bead size may vary from 1/2'' to 5/8'' in diameter. Each bead includes a sterling silver core embossed Fenton USA. 10372 Morning Star Originally $49.50 Flash Sale $19.80 each Buy Now!
---
NEW Limited Edition Designs from Fenton Gift Shop. . .
Fenton Gift Shop is pleased to offer these beautiful Limited Edition selections for pre-orders. Each piece features a hand painted design (signed, numbered and dated) by our talented designers. Included in this grouping are an 8" Opal Satin Chessie Cat Covered Box, a 5.5" Owl, a 5.75" Ghost, a 6.75" Bridesmaid Doll, and a 3.25" diameter Ornament, each piece handcrafted in Opal Satin glass. Also included is an 11" Jadeite Alley Cat figurine. These pieces were made exclusively for the Fenton Gift Shop, using a Fenton mould, by Mosser Glass.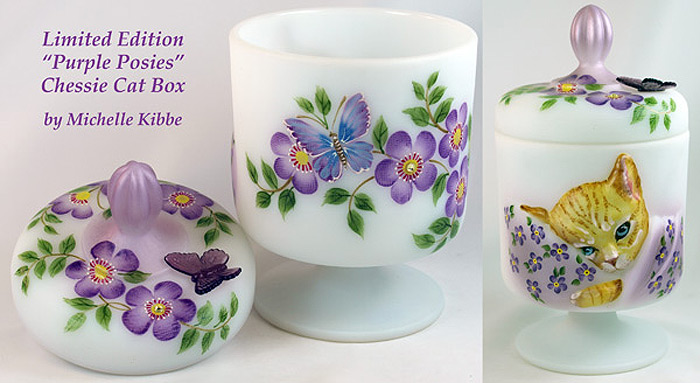 Robin Spindler created a beautiful scene on this Opal Satin Chessie Cat Covered Box! Lush purple posies adorn all sides and a brilliant blue- and purple-toned butterfly rests amongst the flowers on the back side. A purple butterfly accent is glued on the lid. Robin added the two sparkling jewel accents. . . one on the lid and one near the butterfly! The blue-eyed kitten is nestled in a lavender blanket adorned with purple posies. This photo show all views of this beautiful set. Each Purple Posies Chessie Cat Covered Box is $160.


The words of a popular movie theme song came to mind when Robin Spindler showed us her wonderful design for this Opal Satin Owl figurine. So we decided to call it "Owl of the Tiger". Robin transformed this Owl figurine into a Tiger . . . complete with mesmerizing golden eyes and vivid orange and black stripes! Each Owl of the Tiger Figurine is $95.
Jadeite glass provides the perfect canvas for Michelle Kibbe's beautiful hand painted design of a flowering fuschia cascading from the top of this 11" Alley Cat. Michelle added soft blue-purple highlights to the ears, back and base of this figurine and a bright blue eye. Note the flower covering one eye. Each Fuschia Blossoms Alley Cat Figurine is $215.

Pre-orders for the Purple Posies Chessie Cat Covered Box, the Owl of the Tiger and the Fuschia Blossoms Alley Cat Figurines will be accepted until midnight (ET) on Monday, May 8, 2017.

To pre-order any of these limited edition items, please call the Fenton Gift Shop: 1-800-319-7793, ext. 342 or send us an email: purchasing@fentongiftshop.com
and include the items you want to purchase in the subject line.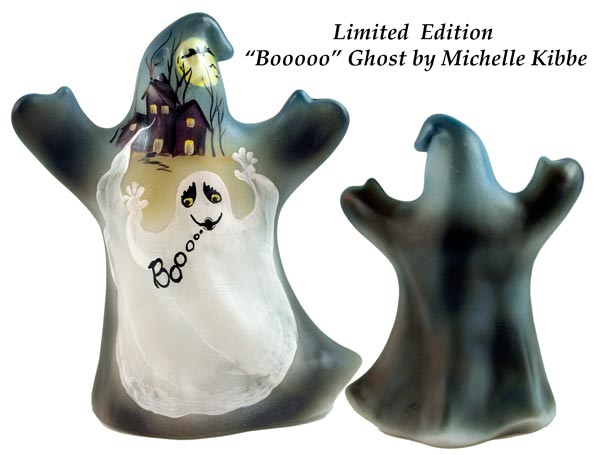 Michelle Kibbe created a "ghost within a ghost" design on this figurine! She airbrushed the piece to provide a "dark and stormy" night background and then hand painted the haunted house, bare trees, large golden moon, and flying bat.
The spooky white ghost on the front is calling out an eerie "Booooo" to one and all. Each Booooo Ghost Figurine is $115.
Below: Michelle Kibbe created a wonderful companion piece for our recently offered Limited Edition Skating Mouse Trio Vase and Skatie Mouse Figurine.

This handcrafted Opal Satin Ornament features the same "mouse" design that appears on the figurine and on one panel of the vase.

This Ornament also features a lovely embossed "snowflake" design on the back, where Michelle will sign and date each Ornament. A color ribbon for hanging is included with each Ornament.

Each Lil Red Skater Mouse Ornament is $65.

Below: This lovely figurine is sure to brighten any room! Made of Opal Satin glass,
our 6.75" tall Bridesmaid Doll figurine features a hand painted "Tropical Beauty" decoration created by
Robin Spindler.
The airbrushed yellow and orange tones are wonderfully vivid, and the details are simply splendid (note the added gemstone in the bouquet). Robin's creative use of white paint on the hem and neckline of the dress give the suggestion of a stylish lace finish. Each Tropical Beauty Bridesmaid Doll Figurine is $115.

Pre-orders for the Booooo Ghost, Tropical Beauty Bridesmaid Doll and the Lil Red Skater Mouse Ornament will be accepted until midnight (ET) on Wednesday, May 10, 2017.

Please call the Fenton Gift Shop to pre-order:

1-800-319-7793, ext. 342 or send us an email: purchasing@fentongiftshop.com. Include the name(s) of each item you want to purchase in the subject line.

You may also request that we add your name to our mailing list to receive news of upcoming offerings.
---
"A Final Look Around" Factory Tour Scheduled at Fenton Art Glass. . .
Our "Fenton Employee Appreciation Event" was a huge success with memories shared and new memories created. A big Thank You to all those who attended. Photos of the event have been posted on our Facebook page (Fenton Art Glass/Fenton Gift Shop).

We've also received many requests from the public as well as our loyal collectors for a "final look around" the factory. We are pleased to announce that we're offering two tours of the factory on Saturday, May 13, which will be "in between" the auctions. Tours will be available at 11 a.m. and at 1 p.m. Fenton Gift Shop is located at 420 Caroline Avenue in Williamstown, WV 26187. Store hours are Wednesday-Saturday 10 a.m.- 3 p.m. (ET). We suggest you call to confirm store hours: 800-319-7793 or 1-304-375-7772.
---
First Fenton Art Glass Auction Scheduled for May 6. . .
As some of you may already know, there will be three auctions on the premises at the Fenton Art Glass factory during the coming weeks: May 6, May 20 and June 3. Each auction will begin at 10 a.m. EDT and will be conducted by local auctioneer Mike Voshel, proprietor of the Williamstown Auction Center.

Saturday, May 6: Tools and equipment from the Fenton maintenance department as well as machinery, tools and equipment from the Fenton mouldmaking shop and many other items (note: no moulds will be sold at auction).

Saturday, May 20: Machinery, equipment and supplies used in glass batch mixing and melting, glassmaking and glass decorating equipment, warehouse equipment and conveyors, and other items.

Saturday, June 3: Office and factory equipment such as desks, file cabinets, furniture, shelving, display fixtures, heaters, exhaust fans, and large showcases from the Fenton Museum (note: all of the glass from the museum was sold at auctions a few years ago).

Click here for further information as well as photos of the tools, machinery, equipment, furniture etc. to be sold at these auctions. Scroll down the page until you see the Fenton auction listings. Questions regarding these auctions should be directed to the Williamstown Auction Center: 304-375-5815 or email: williamstownauction@suddenlink.net.
---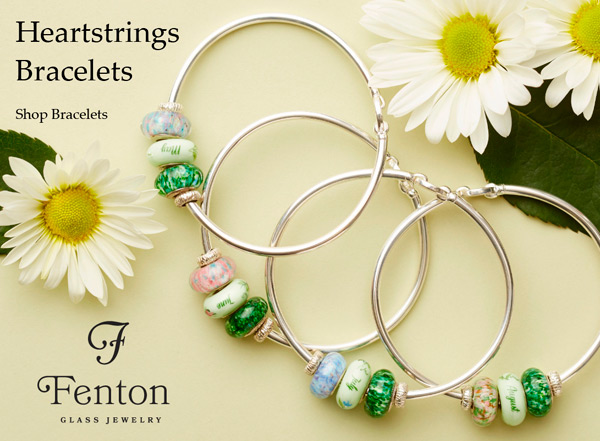 ---
Fenton Art Glass eBay Auctions. . .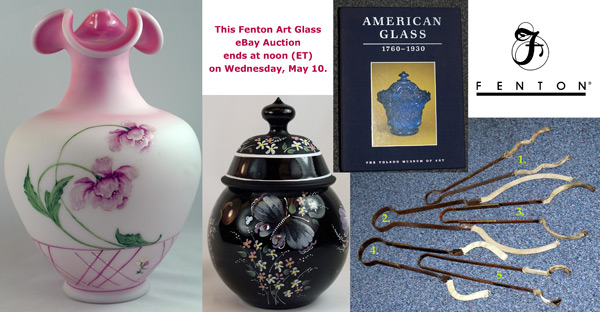 Here's an opportunity to own a beautiful "one-of-a-kind" art glass creation or a piece of Fenton history through our weekly eBay auctions. This auction ends at noon (ET) on Wednesday, May 10. Items featured this week.

With satin-finished Rosalene glass for her canvas, Fenton artist Michelle Kibbe has captured the essence of Spring on this gorgeous one-of-a-kind vase (9" tall). Every element of the lush floral motif is perfectly executed, and the flowers seem to be in motion as you view the vase! Note the tri-crimp finish. Rosalene glass contains pure gold in the glass batch, and special reheating techniques are needed to create the delicate pink blush.

In October 1980, Fenton artist Louise Piper hand painted some foliage and a few butterflies in silver on the base for a black glass Temple Jar. We found this item in one of the factory nooks recently, and we asked award winning Fenton designer Robin Spindler if she would like to add to Louise's original design. As you can see in the photos, Robin's colorful hand painting really brought everything to life, and Robin also found and decorated a cover. This item is 6" in overall height, and the cover is firmly glued on ... (it will not come off!). This one-of-a-kind collaboration between Louise and Robin has signatures etc. on the underside.

These glassmaking tools, called "pincers" by those who work with glass, are used to grasp hot glass items, usually when the item is taken out of a mould or off the blowpipe or when it is ready to be placed in an annealing lehr or kiln. These pincers are made of spring steel and are ready to be used in glassmaking. The jaws of the pincers are covered with heat-resistant Kevlar so that the metal of the tool will not mar the hot glass item. There are 5 different pinchers in this group, and we have measured both the approximate length of each pincer and the approximate width of the jaws. All of these pincers were used in glassmaking operations at the Fenton Art Glass Co. in Williamstown, West Virginia.

The late Kenneth M. Wilson was among the foremost authorities on glass made in the United States, and this two-volume hardbound book set of his American Glass 1760-1930 (published in 1994) will delight anyone interested in glass made during this period. Wilson was associated with the Toledo Museum of Art, and these books draw heavily on that museum's glass collection for splendid color photos and other illustrations. Wilson discusses in great detail all kinds of American made glass: early blown glass, pressed glass, art glass, cut glass, decorated glass, etc. Click here to place your bid! This Fenton eBay auction ends at noon (ET) on Wednesday, May 10, 2017.
---