Fenton Art Glass Presents. . . Design Sample Earring Online Special!
This week's Online Special features more beautiful selections from our remaining inventory of "Design Sample" Earrings. These earrings may include different gem accents or other style details that were not included in our regular jewelry line. There may only be one of each pair remaining in our inventory, so don't miss your opportunity to acquire beautiful "one-of-a-kind" handcrafted art glass jewelry from Fenton Art Glass. Perfect gift ideas for any special occasion, including Mother's Day, or treat yourself!
You'll receive a 30% discount on Design Sample Earrings online orders placed via www.fentonartglass.com from 8 p.m. (ET) on April 13 through 8 p.m. on April 19.

Click on each earring pair for details and to place your order or click here to view all "while supplies last" Earrings.

Design Sample Earrings
shown above, l-r:
Pumpkin King, Hearts of Fire, Fireworks Flag and Ladybug.

Shown at right, l-r:
A Touch of Midas, Dragonfly at Twilight and Blissful Blues Design Sample Earrings.

Left: Turquoise Feathers and Earthtone Feathers Design Sample Earrings.

NOTE: This online special begins at 8 p.m. (ET) on 4/13/2017 and ends at 8 p.m. on 4/19/17!

Choose from the beautiful Design Sample Earrings shown here or click here to view the Fenton Art Glass Earring Collection at www.fentonartglass.com and receive a 30% discount on your online order!

Fenton Art Glass Product Catalogs. . .

While Supplies Last!

As we prepare for the upcoming auctions at the factory site for Fenton Art Glass, we've found a treasure trove of marketing materials, including original Fenton product catalogs, in several locations, including the factory offices.

We make these available on a first come, first served basis while supplies last. Many of these catalogs are in pristine condition while others may have slight wear and tear from use.

Check out our updated catalog listings, including vintage issues from the 1980s and 1990s, as well as the last published issue in 2007. Click here to shop Fenton Catalogs.
Enjoy more Fenton Art Glass Online Specials with these links. . .
Enjoy our April Fenton Flash Sale with a 60% Discount!

10580 Buy Now!
Athenian Treasure
Originally $39.50
Flash Sale Price $15.80 each

Perfect for upcoming gift-giving special occasions: Easter, Mother's Day, Graduation, Weddings. . .

You'll receive a 60% discount on each of these two Fenton Art Glass handcrafted beads during our "Fenton Flash Sale" this weekend! This sale begins at 8 p.m. (ET) on Thursday, April 13th and ends at 8 p.m. (ET) on Sunday, April 16th. These beads must be ordered via www.fentonartglass.com and this offer does not apply to previous orders.

We're featuring TWO items this week: Athenian Treasure and
The Kiss of Spring. Each bead has a sterling silver core embossed Fenton USA. Click on each bead for details.


10200 Buy Now!
The Kiss of Spring
Originally $35.00
Flash Sale Price $14.00 each
---
NEW Limited Edition Designs from Fenton Gift Shop. . .
Fenton Gift Shop is pleased to offer these beautiful Limited Edition selections for pre-orders. Each piece features a hand painted design (signed, numbered and dated) by our talented designers. Included in this grouping are an 11" Alley Cat made in Rose glass, as well as a 10.75" Vase, a 5.5" Owl, a 5" Stylized Cat, a 3" Bear Figurine, and a 6.75" Bridesmaid Doll Figurine, each piece handcrafted in Opal Satin. These pieces were made exclusively for the Fenton Gift Shop, using a Fenton mould, by Mosser Glass.
A pale blue sky and delicate white flowers provide the background for Michelle Kibbe's hand painted scene of a pair of Golden-Crowned Kinglets on this Opal Satin Vase. Michelle's meticulously executed details on the leaves, flower blossoms and the birds create a beautiful scene on this elegant vase. Did you know. . . The petite Golden-Crowned Kinglet sings in an ascending, accelerating series of up to 14 high-pitched tsee notes. This is one of the first bird songs that people may stop being able to hear as they age. Each Golden-Crowned Kinglets Vase is $170.
Kim Barley has created a marvelous hand painted design in natural tones for this 5.5" Opal Satin Owl... from the details on the face, feathers and talons to pink heart designs on the front and back of this figurine. Note the lovely and lush tropical flower on the base. Each Blossom Hearts Owl Figurine is $90.
Above, right: Robin Spindler has transformed our popular Stylized Cat figurine into a "Cheetah" with lots of black spots on a tawny coat. Note the true-to-life details on the face! The mould for this figurine was designed by Jon Saffell and debuted in the Fenton line in 1996. This figurine is a perfect addition to a "cat" or to a figurine collection! Each Cheetah Stylized Cat Figurine is $100.
Pre-orders for the Golden-Crowned Kinglets Vase, Blossom Hearts Owl and Cheetah Stylized Cat Figurines will be accepted until midnight (ET) on Monday, April 17, 2017. To pre-order, please call the Fenton Gift Shop: 1-800-319-7793, ext. 342 or send us an email: purchasing@fentongiftshop.com and include the name(s) of each item you want to purchase in the subject line.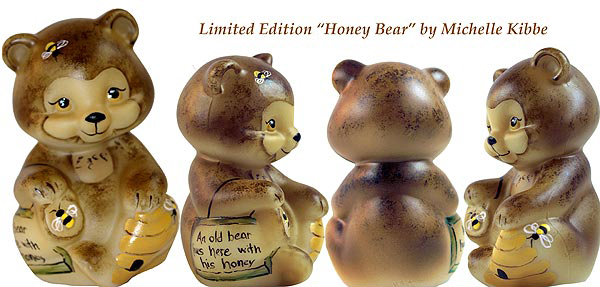 This little "Honey Bear" has his very own bucket of honey and bee hive, complete with buzzing bees!
Note the wording on the bucket "An old bear lives here with his honey!"
This figurine, designed by Michelle Kibbe, will make an adorable addition to any collection!
Each Honey Bear Figurine is $80.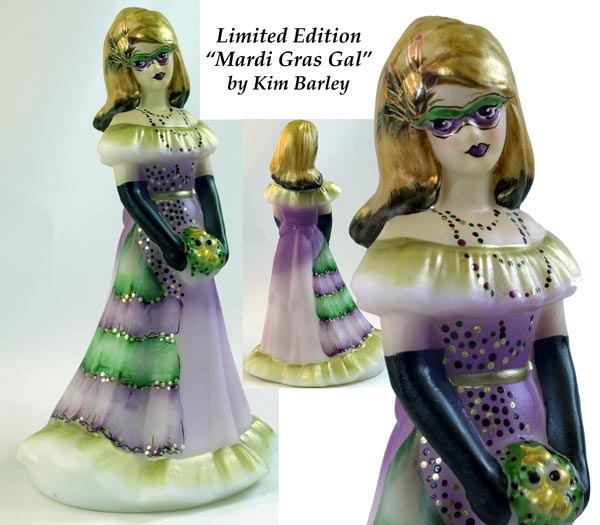 Known to eager collectors as the Bridesmaid Doll, this figurine has been made in many colors and decorative treatments since her debut nearly 30 years ago. The figurine is hollow and is made by pressing the glass.
She may look shy, but this Bridesmaid Doll is ready to make her entrance at any Mardi Gras festivities!
Kim Barley's festive design on the dress includes vibrant purple, green and golden hues. She even added black gloves and a stylish hair style.
Note the marvelous feather eye mask and the sparkling gem-like accents on necklace and ruffles of the dress.

Each Mardi Gras Gal Bridesmaid Doll Figurine is $115.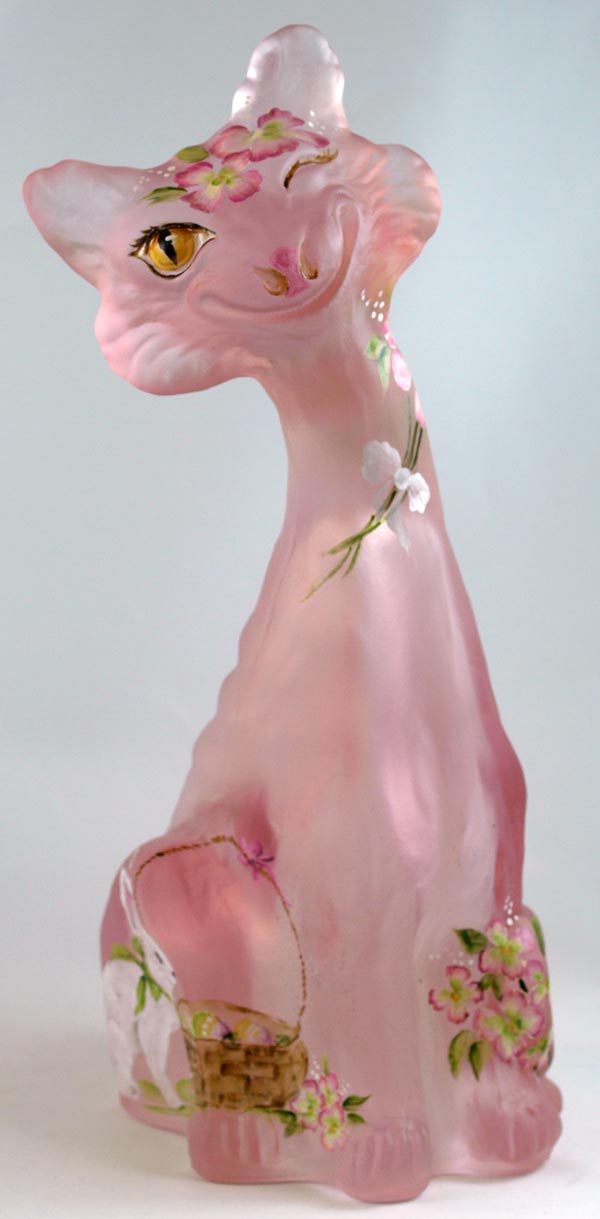 The soft pink hues of this Rose glass Alley Cat provide a perfect canvas for Michelle Kibbe's hand painted Easter scene.
Michelle's design brings to mind some favorite Easter memories. . . the seasonal pink and white blooms of the Dogwood tree, Easter baskets filled to the brim with brightly colored eggs... and there's even a white bunny adorned in a bright green bow.
This Alley Cat makes a great "Family Keepsake" to display each and every Easter! Each Basket Bunny Alley Cat Figurine is $220 and is limited to just 10 pieces.
Pre-orders for the Hummingbird Jewels Vase, Mardi Gras Gal Doll Figurine and the Basket Bunny Alley Cat will be accepted until midnight (ET) on Wednesday, April 19, 2017.
Please call the Fenton Gift Shop to pre-order: 1-800-319-7793, ext. 342 or email: purchasing@fentongiftshop.com and include the name(s) of each item you want to purchase in the subject line.
You may also request that we add your name to our mailing list to receive news of upcoming offerings.
Visiting our area? Stop by the Fenton Gift Shop! Browse our special in-store only offerings on hand crafted Fenton jewelry, Fenton Art Glass and other glass, Fenton reference materials,
and beautiful Limited Editions (signed and numbered) available only at Fenton Gift Shop.
Fenton Gift Shop is located at 420 Caroline Avenue in Williamstown, WV 26187.

Store hours are Wednesday-Saturday 10 a.m.- 3 p.m. (ET).
We suggest you call to confirm store hours: 800-319-7793 or 1-304-375-7772.
---
Fenton Art Glass Auctions Scheduled. . .
As some of you may already know, there will be three auctions on the premises at the Fenton Art Glass factory during the coming weeks: May 6, May 20 and June 3. Each auction will begin at 10 a.m. EDT and will be conducted by local auctioneer Mike Voshel, proprietor of the Williamstown Auction Center.

Saturday, May 6: Tools and equipment from the Fenton maintenance department as well as machinery, tools and equipment from the Fenton mouldmaking shop and many other items (note: no moulds will be sold at auction).

Saturday, May 20: Machinery, equipment and supplies used in glass batch mixing and melting, glassmaking and glass decorating equipment, warehouse equipment and conveyors, and other items.

Saturday, June 3: Office and factory equipment such as desks, file cabinets, furniture, shelving, display fixtures, heaters, exhaust fans, and large showcases from the Fenton Museum (note: all of the glass from the museum was sold at auctions a few years ago).

Click here for further information as well as photos of the tools, machinery, equipment, furniture etc. to be sold at these auctions. Scroll down the page until you see the Fenton auction listings. Questions regarding these auctions should be directed to the Williamstown Auction Center: 304-375-5815 or email: williamstownauction@suddenlink.net.
---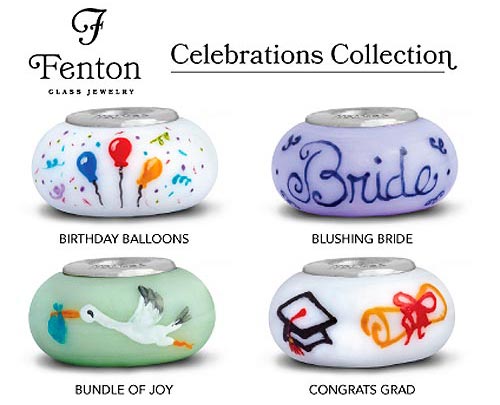 Introducing the New
Celebrations Collection
from Fenton Glass Jewelry. . .

Fenton Glass Jewelry's new Celebrations Collection is here to help you commemorate all the special moments and people in your life with our new customizable beads!

These hand decorated beads are truly one of a kind, made especially for you. Add up to 12 characters to complete these designs and give to the very special people in your life.

Shop these and more in the
Celebrations Collection.
---
Fenton Art Glass eBay Auctions. . .
Here's an opportunity to own a beautiful "one-of-a-kind" art glass creation or a part of Fenton's history through our weekly eBay auctions. This auction ends at noon (ET) on Wednesday, April 19.
Items featured this week. . .
Satin-fished black glass is the perfect background for Fenton designer Robin Spindler's portrait of a regal Rooster. Delicate airbrushing was used to create gradations of background hues, and Robin's talents and skills are evident in every colorful feather of this Rooster! The foliage and trees are well-detailed, and the rustic fence adds perspective to the scene.

Award-winning Fenton artist Kim Barley designed and hand painted this appealing Opal Satin one-of-a-kind Lop Eared Bunny figurine (3.5" tall). Made by Mosser Glass using the Fenton Art Glass mould, this figurine is decked out in purple trousers and a blue jacket, this Lop Eared Bunny has been gardening (or in someone's garden?), as you can see the lettuce in one paw and a carrot in the other!

This beautiful one-of-a-kind bell (7" tall) is handcrafted in satin-finished light blue glass. Fenton artist Michelle Kibbe created a wonderfully detailed hand painted Ruby-throated Hummingbird amidst a lush Morning Glory floral motif. All of the flowers and foliage are perfectly executed, and this bell really makes a statement! The Fenton mould for this bell was inspired by a nineteenth-century Northwood design that is now called Wild Bouquet by glass collectors. Click here to place your bid! This Fenton eBay auction ends at noon (ET) on Wednesday, April 19, 2017.
---