Fenton Art Glass Presents. . . Design Sample Earring Special and More!
This week's Online Special features beautiful selections from our remaining inventory of handcrafted Earrings. These Earrings are Design Samples from our remaining Fenton Art Glass product inventory . . . Design Samples are considered "one-of-a-kind" and may include different gem accents or other style details not included in our regular jewelry line.
You'll receive a 30% discount on online orders for Design Sample Earrings. This offer applies only to orders placed via www.fentonartglass.com from 8 p.m. (ET) on April 6 through 8 p.m. on April 12. There may only be one of each pair remaining in our inventory, so don't miss your opportunity to acquire beautiful "one-of-a-kind" handcrafted art glass jewelry from Fenton Art Glass. Perfect gift ideas for Mother's Day or any special occasion!
Click on each earring pair for details and to place your order or click here to view all "while supplies last" Earrings.

Shown above l-r: Blossoming Dragonfly, Sea and Sand, Amsterdam Blues, Albuquerque Turquoise, Lagoon of Blue, and Gatsby Blues; Shown below, l-r: Kalico Kat, Lavender Swirls, Fancy Feathers, Sweet Pea Pink, and Lovely Lavender Design Sample Earrings.
Left: Garland of Green and Grins & Spiders Design Sample Earrings.

Choose from the beautiful Earring selections shown here
or click here to view the Fenton Art Glass Earring Collection at www.fentonartglass.com and receive a 30% discount on online orders placed by 8 p.m. on 4/12/17!


Fenton Art Glass
Product Catalogs. . .

While Supplies Last!

As we prepare for the upcoming auctions at the factory site for Fenton Art Glass, we've found a treasure trove of marketing materials, including original Fenton product catalogs, in several locations, including the factory offices.

We make these available on a first come, first served basis while supplies last. Many of these catalogs are in pristine condition while others may have slight wear and tear from use.

Check out our updated catalog listings, including vintage issues from the 1980s and 1990s, as well as the last published issue in 2007.

Click here to shop Fenton Catalogs.
Enjoy more Fenton Art Glass Online Specials with these links. . .
Enjoy our No Foolin' April Fenton Flash Sale with a 60% Discount!

10210 Buy Now!
Petite Fleur
Originally $35
Flash Sale Price $14 each

Perfect for upcoming gift-giving special occasions: Easter, Mother's Day, Graduation, Weddings. . .

You'll receive a 60% discount on each of these two Fenton Art Glass handcrafted beads during our "Fenton Flash Sale" this weekend! This sale begins at 8 p.m. (ET) on Thursday, April 6 and ends at 8 p.m. (ET) on Sunday, April 9. These beads must be ordered via www.fentonartglass.com and this offer does not apply to previous orders.

We're featuring TWO items this week: Petite Fleur and Chambray. Each bead has a sterling silver core embossed Fenton USA. Click on each bead for details.


10423 Buy Now!
Chambray
Originally $45.00
Flash Sale Price $18.00 each
---
Original Fenton Glassmaking Tools Available. . .
Here's a great opportunity to acquire a real piece of "Fenton history," a blowpipe actually used by a skilled glassworker in the production of glass at the Fenton Art Glass Company in Williamstown, West Virginia. These blowpipes are made of steel and range in length from 56" to 58" and are fitted with a red rubber grip. Blowpipes are $50 each (plus tax) and must be paid in full when your order is placed at the Fenton Gift Shop.
To order, please call the Fenton Gift Shop: 1-800-319-7793, Wed.-Sat. from 10 a.m. to 3 p.m. ET. If you call at other times and leave a message, your call will be returned. NOTE: Blowpipes cannot be shipped. They will be available for pick up at the Fenton Gift Shop in Williamstown during the regular business hours listed above. If you cannot come to Williamstown until a few months later this year, don't worry! We will stay in touch to be sure that you can pick up your piece of Fenton history.
---
Fenton Art Glass Auctions Scheduled. . .
As some of you may already know, there will be three auctions on the premises at the Fenton Art Glass factory during the coming weeks: May 6, May 20 and June 3. Each auction will begin at 10 a.m. EDT and will be conducted by local auctioneer Mike Voshel, proprietor of the Williamstown Auction Center.

The Saturday, May 6 auction will consist of tools and equipment from the Fenton maintenance department as well as machinery, tools and equipment from the Fenton mouldmaking shop and many other items (note: no moulds will be sold at auction).

The Saturday, May 20 auction will consist of machinery, equipment and supplies used in glass batch mixing and melting, glassmaking and glass decorating equipment, warehouse equipment and conveyors, and other items.

The Saturday, June 3 auction will consist of office and factory equipment such as desks, file cabinets, furniture, shelving, display fixtures, heaters, exhaust fans, and large showcases from the Fenton Museum (note: all of the glass from the museum was sold at auctions a few years ago).

Click here for further information as well as photos of the tools, machinery, equipment, furniture etc. to be sold at these auctions. Scroll down the page until you see the Fenton auction listings. Questions regarding these auctions should be directed to the Williamstown Auction Center: 304-375-5815 or email: williamstownauction@suddenlink.net.
---
NEW Limited Edition Designs from Fenton Gift Shop. . .
Fenton Gift Shop is pleased to offer these beautiful Limited Edition selections for pre-orders. Each piece has a hand painted, signed, numbered and dated design by our talented designers. Included in this grouping are an 11" Cobalt Alley Cat and a 6.75" Robin's Egg Blue Bridesmaid Doll Figurine, as well as a 4.25" Fox, a 5.25" Rooster, an 8" Santa and a 10" Feather Vase, each piece handcrafted in Opal Satin. Also included is a 3.25" dia. Opal Satin Ornament with a special Mother's Day decoration by Kim Barley. These pieces were made exclusively for the Fenton Gift Shop, using a Fenton mould, by Mosser Glass.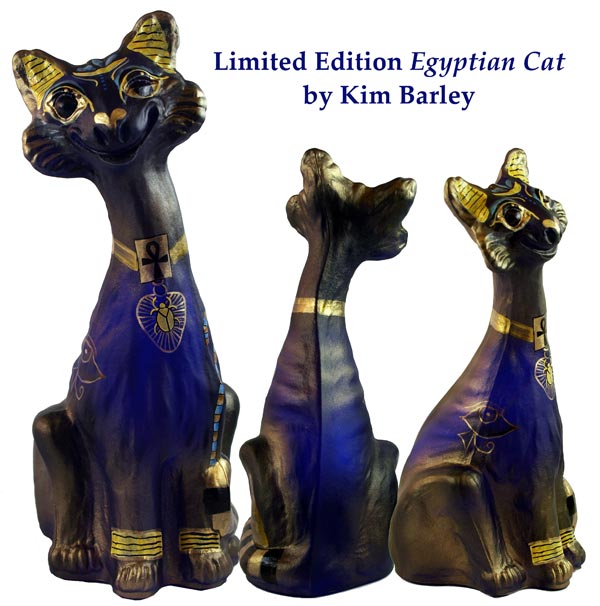 This Limited Edition "Egyptian" Alley Cat is the perfect companion piece for the Chessie Cat Covered Box and Stylized Cat Figurine offered in March. Cobalt Blue glass provides the perfect canvas for Kim Barley's hand painted golden Egyptian theme designs on this 11" figurine.
Note the unusual scarab necklace, as well as the golden anklets and ear pieces, and other symbols and accents on this marvelous figurine. Each Egyptian Alley Cat Figurine is $235.
Below: Robin's Egg Blue provides the perfect background for Michelle Kibbe's hand painted stylized hearts design on this Bridesmaid Doll figurine. Her hand painted design is meticulously executed and enhances the overall design on the dress with white lace details and daisies for the bouquet. Each Fanciful Hearts Bridesmaid Doll Figurine is $110.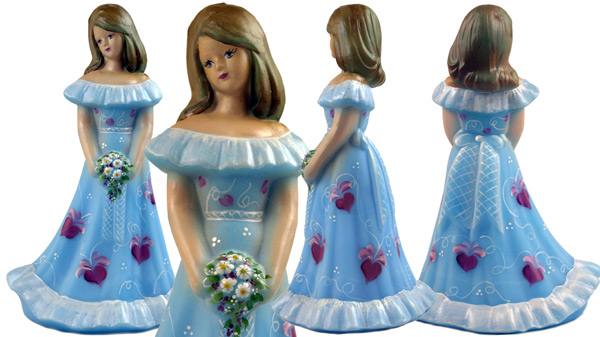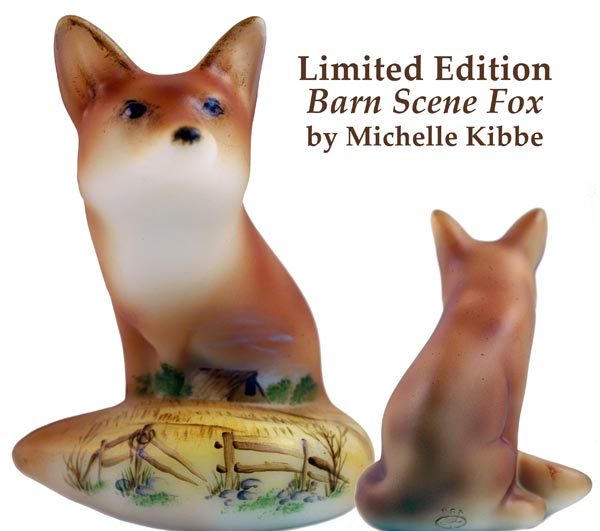 Michelle Kibbe added a wonderful rustic barn scene to the front tail area of this Opal Satin Fox figurine. Imagine that the fox is hiding in the woods just at the edge of the field, watching for signs of activity around the barn! Michelle airbrushed the fox for a realistic look and the details on the face are very true-to-life. Each Barn Scene Fox Figurine is $95.
Below: We're pleased to include this beautiful hand painted 3.25" diameter Opal Satin Ornament as a special Limited Edition offering. . . just in time to pre-order for Mother's Day!

Kim Barley airbrushed the background in a pastel green and added a lovely floral design in pinks and white that frames the hand painted words "Moms are Special" and the year "2017" on the front. Kim's signature appears on the back of the ornament.

Each Ornament will include a ribbon and a gold stand for hanging. Each Moms Are Special Ornament and Stand is $70.


Pre-orders for the Egyptian Alley Cat, Fanciful Hearts Bridesmaid Doll, Barn Scene Fox, and Moms Are Special Ornament and Stand will be accepted until midnight (ET) on Monday, April 10, 2017.

To pre-order, please call the Fenton Gift Shop: 1-800-319-7793, ext. 342 or send us an email: purchasing@fentongiftshop.com and include the name(s) of each item you want to purchase in the subject line.
Robin Spindler calls her hand painted design "A Time to Build", and will include this title as part of her signature for each Feather Vase. Robin's talent shines with her marvelous hand painted lush pink flowers with yellow and white centers. A female wren watches over her newly constructed nest. Robin added a golden butterfly accent for a three-dimensional effect to complete this piece. Each A Time to Build Feather Vase is $165.
You'll brighten up any room when you display this "Sunflower The Rooster" figurine!

Michelle Kibbe's hand painted folk art theme features red checkerboard accents and vibrant flowers. Her colorful design adorns both sides of this figurine, as shown in the photo. Each Sunflower The Rooster Figurine is $80.

Below: Kim Barley has transformed our popular Santa figurine into a fabulous "Wise Ole Wizard" dressed in a blue robe with golden trim.

You'll love the hand painted "mystical" details on this Opal Satin figurine... from the small owl perched on the scroll and the gemstone accent on the ring to the twinkling stars, sun symbol, magical staff and more! Each Wise Ole Wizard Figurine is $130 and limited to 12 pieces.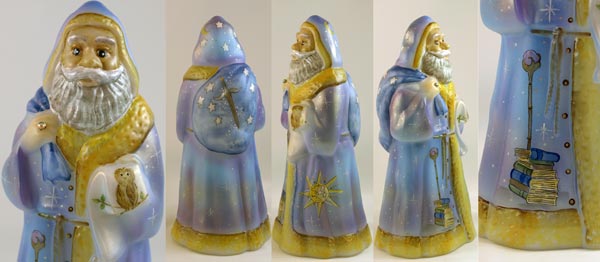 Pre-orders for the A Time to Build Feather Vase, Sunflower The Rooster Figurine and the Wise Ole Wizard Figurine will be accepted until midnight (ET) on Wednesday, April 12, 2017.
To place your pre-order, please call the Fenton Gift Shop: 1-800-319-7793, ext. 342 or email: purchasing@fentongiftshop.com and include the name(s) of each item you want to purchase in the subject line. You may also request that we add your name to our mailing list to receive news of upcoming offerings.
---
Visiting our area? Stop by the Fenton Gift Shop! We have in-store only special offerings on hand crafted Fenton jewelry, glass, Fenton reference materials, and more! We also have Limited Edition glass (signed and numbered). Fenton Gift Shop is open Wednesday-Saturday from 10 a.m.- 3 p.m. (ET) and is located at 420 Caroline Avenue, Williamstown, WV 26187. Please call to confirm store hours: 800-319-7793 or 1-304-375-7772.
---
Moms Make Life Beautiful. . .
Moms are the people who know us the best & love us the most! Celebrate the beauty of motherhood and say it with love with Mother's Day sets. Our Mother's Day sets include a total of three (3) beads curated to be the perfect gift!

Priced at $99.50 per set, these
trio bead sets include two glass-crafted beads with one matching unique, hand decorated glass bead featuring either a dragonfly, butterfly, ladybug or bumblebee mother and child ─ these curated
sets are a beautiful way
to celebrate this special day.
Shop now!
---
Fenton Art Glass eBay Auctions. . .
Here's an opportunity to own a beautiful "one-of-a-kind" art glass creation or a part of Fenton's history through our weekly eBay auctions. This auction ends at noon (ET) on Wednesday, April 12, 2017. Items featured this week. . .
Fenton artist Michelle Kibbe enjoys Springtime and loves the outdoors, and her wonderful depiction of a Black Bear on this one-of-a-kind vase (12.5" tall) in Lotus Mist Burmese glass will bring any avid collector out of "hibernation" for this auction! Her representation of deep woods is exceptional, as Michelle's talented hand painting creates the look of rays of sunshine coming through the trees. The Black Bear is simply perfect with meticulous details.

Fenton artist Michelle Kibbe welcomes Spring with this one-of-a-kind Songbird figurine (4" long) that she has hand painted with a colorful, whimsical bow and a delightful bouquet of flowers. Every hand painted detail is just perfect, and, as always, the eyes are remarkably expressive.

These glassmaking tools, called "pincers" by those who work with glass, are used to grasp hot glass items, usually when the item is taken out of a mould or off the blowpipe or when it is ready to be placed in an annealing lehr or kiln. These pincers are made of spring steel and are ready to be used in glassmaking. The jaws of the pinchers are covered with heat-resistant Kevlar so that the metal of the tool will not mar the hot glass item. There are 5 different pinchers in this group, and we have measured both the approximate length of each pincer and the approximate width of the jaws at the widest area. (1) length 15.5" jaws 4.125" wide; (2) length 15." jaws 3.25" wide; (3) length 19" jaws 7.5" wide; (4) length 20" jaws 4.75" wide; (5) length 21" jaws 11.25" wide. All of these pincers were used in glassmaking operations at the Fenton Art Glass Co. in Williamstown, West Virginia.

Here's a rare opportunity to acquire a splendid sample item in Favrene glass that was made at Fenton Art Glass. This is our 9199 Turtle Ring Tree (3.5" long and 4" tall), and this sample was made about 1974-75 when we were perfecting our techniques to produce the distinctive Favrene glass color. Favrene contains pure silver in the glass batch, and special reheating techniques by our glassworkers were needed to create the iridescent finish. This sample has the museum acquisition number in white (65-11-88) that was put on when this piece was set aside in the Fenton Museum storage area; the "65" designates sample pieces. Click here to place your bid! This Fenton eBay auction ends at noon (ET) on Wednesday, April 12, 2017.
---