Fenton Art Glass Presents. . . Welcome March Online Specials!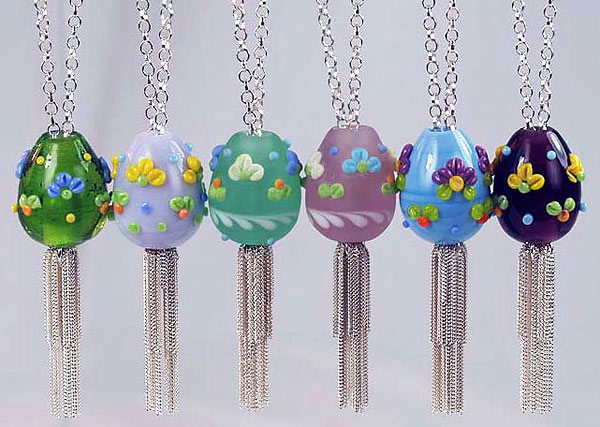 The month of March symbolizes a rebirth of vegetation, including flowers. Did you know that the Daffodil is the flower for the month of March? When giving a daffodil, the message being sent is "You Are An Angel." So give a daffodil bouquet to someone special this month. . . OR . . . give a keepsake gift of a handcrafted "Faith Blooms" necklace! Designed by Jena Lane Blair, the larger sized Faith Blooms art glass bead features vibrant three-dimensional flower blooms. Jena said this design reminded her of "Blossom time for the soul, a new beginning." The versatile Tassel Necklace is 33" long and the egg-shaped Faith Blooms bead easily slips onto the chain. Simply remove the bead and add other Fenton Art Glass beads to create a new look suitable for any occasion!
Shown above are six one-of-a-kind Faith Blooms Tassel Necklaces. Originally priced at $174.50 each, we are pleased to offer these necklaces as a Welcome March Online Special for $122.15 each, a 30% savings! This offer begins at 8 p.m. (ET) tonight and ends at 8 p.m. on Wednesday, March 8th. Remember, just these six one-of-a-kind necklaces are available. . . click on each image to order at this special price!
Our Welcome March Online Specials continue with these beautiful handcrafted "Clasp and Go" Bracelets.

Handcrafted at our factory in Williamstown, West Virginia as design samples, each one-of-a-kind bracelet includes three Fenton Art Glass beads, two stoppers and a coordinating leather band with a two inch extender chain that will fit up to 8" in wrist size. Shown here: Nuthatch on Berries Bracelet and Country Blossoms Bracelet. Click on each image for details. Offer ends 3/8/17.


Retail Value: $150 each

Welcome March Online Special price is $99.50 each
+ FREE shipping via USPS!
"Fenton Flash Sale" Online Special Discount 70%!

10122 Balloon Bouquet Bead
Buy Now!

You'll receive a 70% discount off on this bead during our "Fenton Flash Sale" beginning at 8 p.m. (ET) on Thursday, March 2nd and ending at 8 p.m. (ET) on Sunday, March 5th. Does not apply to previous orders.

Our featured "Fenton Flash Sale" item this week is the Balloon Bouquet Bead. Designed by Truda "TJ" Mendenhall, this bead celebrates special times with a hand applied decoration of balloons on Rosalene glass.

Fenton USA Jewelry is handcrafted with quality and tested for durability.

Originally $35, Flash Sale Price $10.50 each!
---
NEW Limited Edition Designs from Fenton Gift Shop. . .
Fenton Gift Shop is pleased to offer these beautiful Limited Edition selections for pre-orders. Each piece features a hand painted, signed, numbered and dated design by our talented designers. Included in this grouping is a 12.25" Vase, 8" Chessie Cat Covered Box, 2.5" Mouse figurine, and a 5.5" Owl figurine, each piece made in Opal Satin by Mosser Glass. Also included are an 11" Cobalt Blue Alley Cat figurine and a 6.75" opaque Orange Bridesmaid Doll figurine. These pieces were made exclusively for the Fenton Gift Shop using a Fenton mould.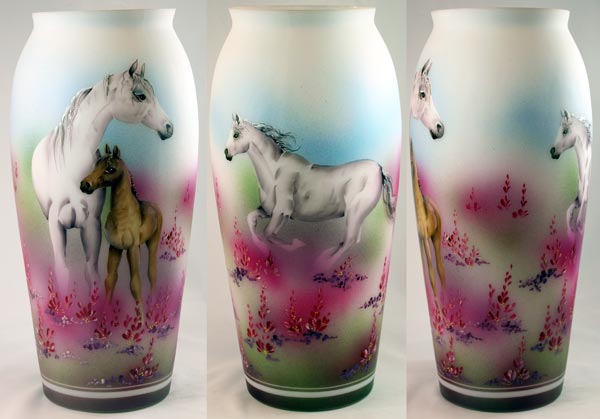 Robin Spindler's creativity shines on this impressive 12.5" Opal Satin Vase. Her hand painted design is called "Strange New World" and the scene depicts a mare in a pasture with two foals.
Perhaps these foals are exploring new surroundings for the first time. Robin added colorful florals as well as white banding to complete this design. Her hand painted details are amazing!
Each Strange New World Vase is $245.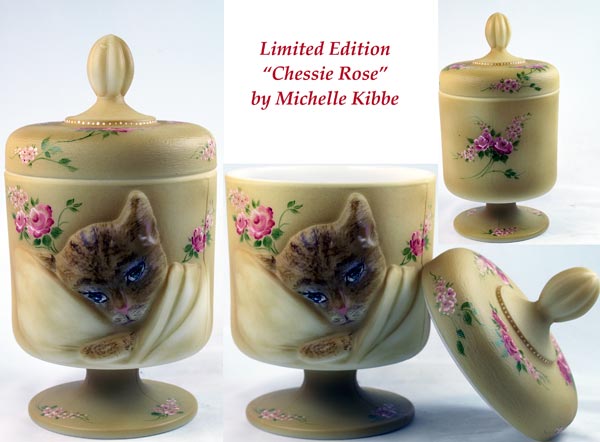 Michelle Kibbe's hand painted "Chessie Rose" design suits our Chessie Cat Covered Box just fine! Michelle created a soft caramel brown background for her delicate and beautiful pink roses.

Roses encircle the lid and base and there are also polka dot accents on the lid. The sleeping cat is an adorable brown striped tabby with sleepy blue eyes. Each Chessie Rose Covered Box is $150.
Below: St. Patrick's Day is approaching and Kim Barley had an Irish inspiration for her "Kiss Me, I'm Irish" design on our Opal Satin Mouse figurine. She airbrushed the figurine in a soft green hue and added the colors of the Irish flag on the shirt.
Kim hand lettered the words "Kiss me! xx" and "I'm Irish" on the ears and added a four-leaf clover and gold coin accents. Note the frothy green mug near the buckle shoes and the four-leaf clover on the backside of this figurine. As always, the whimsical details and cute face will bring a smile! Each Kiss Me, I'm Irish Mouse Figurine is $75.
Pre-orders for the Strange New World Vase, Chessie Rose Covered Box and Kiss Me, I'm Irish Mouse Figurine will be accepted until midnight (ET) on Monday, March 6th, 2017.

Please call the Fenton Gift Shop: 1-800-319-7793, ext. 342 or send us an email: purchasing@fentongiftshop.com. Include the name(s) of each item you want to purchase in the subject line. You may also request that we add your name to our mailing list to receive news of upcoming offerings.
Below: Alas, Spring hasn't arrived yet so we can still celebrate the joys of Winter with Michelle Kibbe's wonderful hand painted "Sleigh Ride" scene on our 11" Cobalt Blue Alley Cat! Snow covered trees and a wintry landscape provide the background for an old-fashioned sleigh being pulled by a draft horse. Michelle has done a great job incorporating this scene on the entire figurine. Each Sleigh Ride Alley Cat Figurine is $225.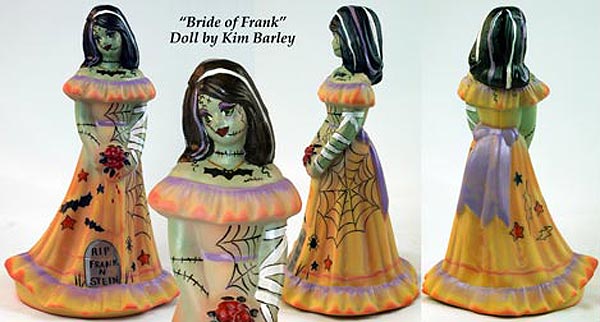 Kim Barley is already thinking about Halloween decorating with her "Bride of Frank" design on this opaque Orange Doll figurine. This glass is heat-sensitive, as you can see from the red veins running throughout the figurine, adding a marvelous touch to Kim's design! You'll love all the hand painted details from the spiders and webs, mummy wrappings and stitches to the bats, hair streaks and "RIP Frank N Stein" tombstone! Note that bat-shaped necklace! Each Bride of Frank Doll Figurine is $125 and is limited to 12 figurines.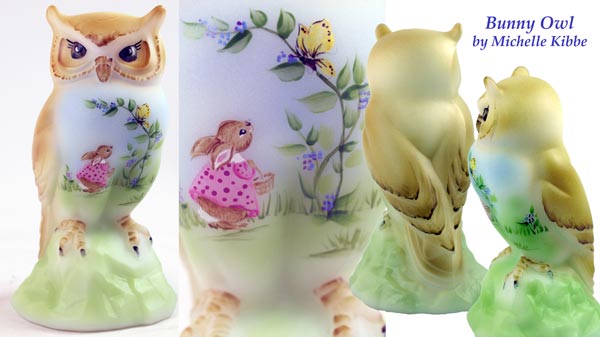 Michelle Kibbe created a heart-warming design for this Owl figurine.
Her hand painted scene on the front of the owl includes an adorable bunny, dressed in a bright pink polka dotted dress and carrying a basket, stopping to have a little chat with a beautiful yellow butterfly. The owl's body is done in natural brown tones
Each Bunny Owl Figurine is $90.
Pre-orders for the Sleigh Ride Alley Cat, the Bride of Frank Doll and the Bunny Owl Figurines will be accepted until midnight (ET) on Wednesday, March 8th, 2017. To order, please call Fenton Gift Shop: 1-800-319-7793, ext. 342 or email: purchasing@fentongiftshop.com and include the name(s) of each item you want to purchase in the subject line.
---
Visiting our area? Stop by the Fenton Gift Shop! We have "Fabulous February" in-store only special offerings on hand crafted Fenton jewelry and glass! We also have Limited Edition glass (signed and numbered) and more! Fenton Gift Shop is open Wednesday-Saturday from 10 a.m.- 3 p.m. (ET) and is located at 420 Caroline Avenue, Williamstown, WV 26187. Please call to confirm store hours: 800-319-7793 or 1-304-375-7772.
---
Fenton Glass Jewelry. . . Get Your Green on for St. Patrick's Day!

There's still time to celebrate St. Patrick's Day in style with colorful "Irish" themed beads and accessories from Fenton Glass Jewelry!

Shop the St. Patrick's Day Collection or view more glass crafted jewelry at www.fentonglassjewelry.com and be sure to sign up for their newsletter!
---
Fenton Art Glass eBay Auctions. . .
Here's an opportunity to own a beautiful "one-of-a-kind" art glass creation through our weekly eBay auctions. This auction ends at noon (ET) on Wednesday, March 8, 2017. Items featured this week. . .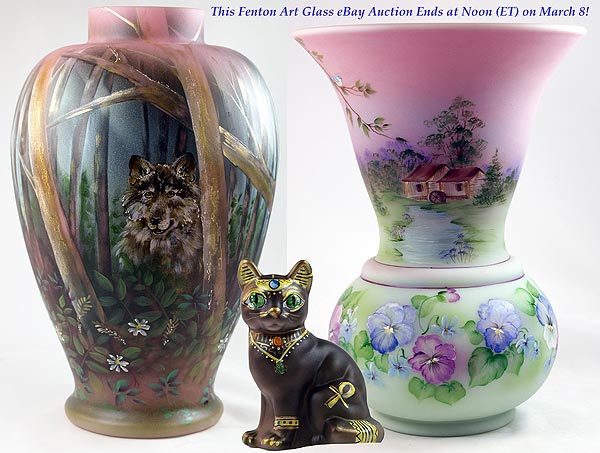 Award-winning Fenton designer Kim Barley was inspired by Egyptian art when she designed and hand painted this one-of-a-kind Cat figurine (3.75" tall). The Cat is Opal Satin glass, (made by Mosser using a Fenton mould) and Kim used airbrushing to create the matte black finish, then painted the other elements of this splendid figurine. Note the meticulous details that contrast with the black body and don't miss those wonderful green eyes!

You'll fall in love with the vivid colors and interesting scenes on this one-of-a-kind hand painted vase (9.75" tall) tall in Lotus Mist Burmese glass by the talented Michelle Kibbe. Colorful pansies encircle the base of the vase, and a rustic mill is on one side of the vase, while mountain and river scenes complete this remarkable piece. All the hand painted details are perfectly done. Lotus Mist Burmese is a classic Fenton color, made with pure gold and subjected to special reheating techniques to create the pink blush.

With a satin finished Rosalene glass vase (11.5" tall) for her canvas, award-winning Fenton designer Robin Spindler created and hand painted this remarkable scene of a wolf in the deep woods. Bent saplings frame the scene while flowers and leaves add touches of color, but the real focal point of this one-of-a-kind vase is the majestic wolf depicted in such wonderful detail. The eyes are mesmerizing! Click here to place your bid on these fantastic finds! This Fenton eBay auction ends at noon (ET) on Wednesday, March 8th, 2017.
---