Fenton Art Glass Presents. . . Fabulous February Finds!
Our Fabulous February Specials continue with online discounts with FREE shipping on the remaining inventory of handcrafted jewelry and jewelry accessories. Choose from the collections shown below or visit www.fentonartglass.com to view all available items, including reference materials and more! NOTE: Online orders will ship the week of February 27.
"Fenton Flash Sale" Online Special Discount 50%!

Pendants shown, left to right: 41A16 - Colorful Kalico Kitty; 40A16 - A Touch of Midas; and 42A16 - Country Blues

Originally $49 each - Flash Sale Price $24.50 each

You'll receive a 50% discount off of each Pendant during our "Fenton Flash Sale"! This sale begins at 8 p.m. (ET) on Thursday, February 16th and ends at 8 p.m. (ET) on Sunday, February 19th. Does not apply to previous orders.

Our featured "Fenton Flash Sale" item this week are these three handcrafted pendants designed by Jena Lane Blair. Each pendant features a larger-sized handcrafted Vasa Murrhina glass bead and sterling silver fittings. Perfect fit for most necklaces.

Vasa Murrhina means "vessel of gems." Each unique Fenton bead captures a glittering layer of Goldstone. Our beadmakers use extreme care to maintain its sparkle in the hot flame. Tiny bits of colored glass add a variety of hues in each different design, and no two are identical! This difficult process is one of the secrets of Fenton quality and the brilliance of its beads.

Fenton USA Jewelry is handcrafted with quality and tested for durability. Each glass bead measures 3/4" in length with the overall pendant measuring 1-3/8".
---
NEW Limited Edition Designs from Fenton Gift Shop. . .
Fenton Gift Shop is pleased to offer these beautiful Limited Edition selections for pre-orders. Each piece features a hand painted, signed, numbered and dated design by our talented designers. Included in this grouping is an 11" Jadeite Alley Cat, as well as a 5" long Duck Figurine, 10" Feather Vase, 10.75" Vase, and an 8.5" Hexagon Vase, each piece in Opal Satin and a 6.75" Bridesmaid Doll in opaque Orange, all handcrafted exclusively for the Fenton Gift Shop (using a Fenton mould) by Mosser Glass.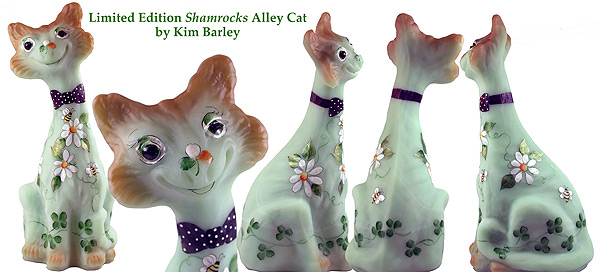 March will soon be here and this splendid "Shamrocks" Jadeite Alley Cat is perfect for your St. Patrick's Day decorating! Kim Barley's whimsical talents shine as bright as the rainbow with her hand painted details on this Alley Cat! Vibrant green shamrocks encircle the base with bumblebees buzzing near white daisies adorn all sides of this figurine. Note the colorful polka dotted bow tie and that expressive face with a three-leaf clover nose! Kim added natural tones to accent the cat's ears and paws. Each Shamrocks Alley Cat Figurine is $225.

Perfect for the duck or figurine collector, our popular handcrafted Opal Satin duck figurine has been transformed into a "mallard" by Kim Barley.

Kim used natural brown and green tones of the mallard for this figurine. Note the teal colored accents on the side feathers and the white ring around the neck. Kim's hand painted details on the face are excellent!
Each Mallard Duck Figurine is $75 and limited to just 20, so don't delay placing your order for this wonderful figurine.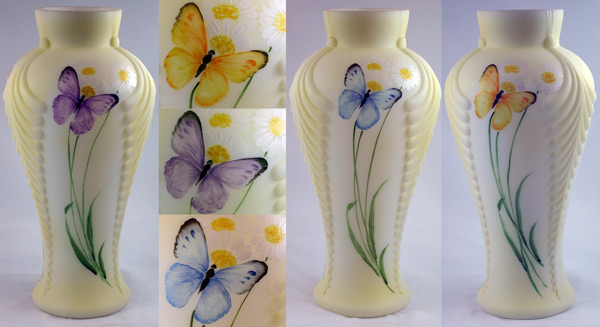 The "Feather" Vase is an elegant vase. When Michelle Kibbe added vibrant butterflies on each panel it becomes even more so with an added sense of serenity. Careful airbrushing in pastel yellow provides the frame for each panel in which Michelle meticulously hand painted a purple, yellow and a blue stylized butterfly. She added tall white daisies with bright yellow centers to complement her design. Each Butterflies Feather Vase is $165.
Pre-orders for the Shamrocks Alley Cat, Mallard Duck Figurine and Butterflies Feather Vase will be accepted until midnight (ET) on Monday, February 20th, 2017. Please call the Fenton Gift Shop: 1-800-319-7793, ext. 342 or email: purchasing@fentongiftshop.com and include the name(s) of each item you would like to purchase in the subject line. You may also request that we add your name to our mailing list to receive news of upcoming offerings.
Robin Spindler chose a pair of Ruby Throated Hummingbirds to adorn this impressive Opal Satin Vase. Her handpainted accents and sparkling gemstones add a touch of elegance to this Limited Edition. Robin's design includes a male and female hummingbird preparing to sip the nectar from the lush pink flowers. Each Hummingbird Jewels Vase is $190.

You'll want to add this attractive Bridesmaid Doll figurine to your Halloween display! Handcrafted in opaque Orange glass, this figurine provides the perfect canvas for Kim Barley's hand painted "Halloween Stars" design. This glass is heat-sensitive, as you can see from the red veins running throughout the figurine. Note the elegant cropped black jacket, black stars, adorable black kitten and spider web on the dress, as well as the fishnet gloves and tattoos on the face. Kim even added a white streak in the hair! Each Halloween Stars Bridesmaid Doll Figurine is $125.
Michelle Kibbe's "Woodland Deer" scene on our attractive hexagon-shaped Opal Satin vase is sure to please! Michelle's hand painted design encircles the vase, with each panel showing a different scene. These scenes include a buck deer standing guard as a doe heads closer to the blue water below. Michelle added colorful pink flowers as a unique and beautiful frame effect above each deer. Each Woodland Deer Vase is $135 and limited to just nine pieces.
Pre-orders for the Hummingbird Jewels Vase, the Halloween Stars Bridesmaid Doll Figurine and the Woodland Deer Vase will be accepted until midnight (ET) on Wednesday, February 22, 2017. To order, please call the Fenton Gift Shop: 1-800-319-7793, ext. 342 or email: purchasing@fentongiftshop.com and include the name(s) of each item you would like to purchase in the subject line. You may also request that we add your name to our mailing list for future "Limited Edition" offerings.
---
Visiting our area? Stop by the Fenton Gift Shop! We have "Fabulous February" in-store only special offerings on hand crafted Fenton jewelry and glass! We also have Limited Edition glass (signed and numbered) and more! Fenton Gift Shop is open Wednesday-Saturday from 10 a.m.- 3 p.m. (ET) and is located at 420 Caroline Avenue, Williamstown, WV 26187. Please call to confirm store hours: 800-319-7793 or 1-304-375-7772.
---
Fenton Glass Jewelry. . . Heartstrings Collection
A lovely keepsake gift for someone special or treat yourself to a Fenton Glass Jewelry Heartstrings Bracelet. Each bracelet comes pre-styled on a bangle with two stoppers and features a birth month Heartstrings bead along with two complementary glass crafted beads. Bangles are available in 7.5 and 8.0 inch sizes.

Shop the Heartstrings Bracelet Collection or view more handcrafted jewelry at www.fentonglassjewelry.com and be sure to sign up for their newsletter!
---
Fenton Art Glass eBay Auctions. . .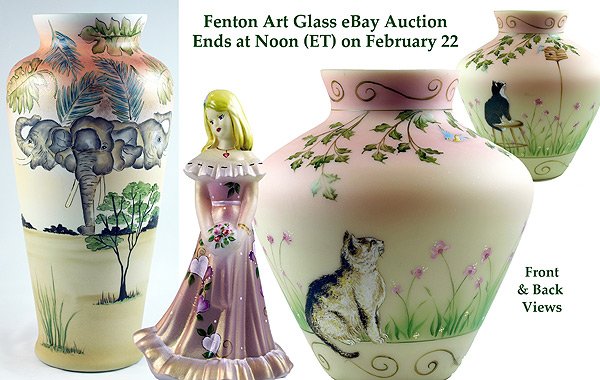 Here's an opportunity to own a beautiful "one-of-a-kind" art glass creation through our weekly eBay Auctions! This auction ends at noon (ET) on Wednesday, February 22. Items featured this week. . .

Award-winning Fenton designer Kim Barley designed and hand painted this splendid one-of-a-kind vase (10.5" tall). Her depiction of the African landscape and sunlight is complemented by the delightful Elephant portraits that encircle the vase just below its shoulder. All the hand painted elements are meticulously done, and this vase is a joy to see! This vase is cased glass, and it features a ruby interior layer and an outer layer of milk glass. This vase will definitely be a "statement" piece and conversation starter when on display in your home!

Kim Barley designed a wonderful hearts theme and hand painted this one-of-a-kind Bridesmaid Doll figurine (6.75" tall). Delicate airbrushing and special paints created the shimmering iridescence on the dress, and Kim's talents and skills are shown to advantage in the graceful hearts on the dress and in the remarkably delicate heart-shaped pendant on the necklace. Note the delicate red hearts intertwined in the floral bouquet!

Fenton artist Michelle Kibbe showcases all of her talents and skills in this one-of-a-kind hand painted vase (8.25" tall) in classic Burmese glass. Two curious cats each observe a bluebird in two delightful scenes on this vase. On one side of this vase a cat is perched on a stool, perhaps trying to get a closer look at a bluebird perched on the birdhouse. The other side of this vase shows a tabby cat watching a bluebird flying nearby. Delicate pink and white flowers and lush green leaves adorn the vase as well as golden scroll accents. Burmese glass is made with pure gold in the glass batch, and special reheating techniques by our glassworkers bring out the warm pink blush. Click here to place your bid on these fantastic finds! This Fenton eBay auction ends at noon (ET) on Wednesday, February 22, 2017.
---