Fenton Art Glass Presents. . . Fabulous February "Retired" Beads Special!
Our Fabulous February Online Special this week is a 55% discount plus FREE shipping on remaining inventory of "Retired" Fenton Art Glass Beads! Choose from the designs shown here (click on each image) or click here to shop all of the Retired Fenton Beads.

This Fabulous February "Retired" Beads 55% Discount Online Special begins at 8 p.m. (ET) on Thursday, February 2nd and ends at 8 p.m. (ET) on Wednesday, February 8th, 2017.





Remember, these beads have been "retired" from the regular line to make room for new styles, so quantities are very limited and available while supplies last! Each Fenton Made in America bead has a sterling silver core embossed "Fenton USA". Each bead with a hand applied decoration is initialed by the artist.
"Fenton Flash Sale" Online Special Discount 70%!

Elven Woods - Originally $75
Flash Sale Price $22.50
Buy Now!


You'll receive a 70% discount off this Focal Bead during our "Fenton Flash Sale"! This sale begins at 8 p.m. (ET) on Thursday, February 2nd and ends at 8 p.m. (ET) on Sunday, February 5th. Does not apply to previous orders.

Our featured "Fenton Flash Sale" item this week is the Elven Woods Focal Bead, a larger-sized handcrafted glass bead. Nine shades of browns and blues create the mystery of the deep woods in Elven Woods, designed by Jena Lane Blair. Threadlike rods of gold aventurine swirl the multiple browns and blues together while punctured air bubbles add depth. The design on this bead reminded Jena of "Elven Woods - the enchanted home to fairies and elves!"
---
NEW Limited Edition Designs from Fenton Gift Shop. . .
Fenton Gift Shop is pleased to offer these beautiful Limited Edition selections for pre-orders. Each piece features a hand painted, signed, numbered and dated design by our talented designers. Included in this grouping is a Fenton Art Glass Milk Glass/Ruby Cased 10.5" Vase and the following figurines: a 2.75" Songbird, a 5.75" Ghost, an 11" Alley Cat, and 5.5" Owl, each piece handcrafted in Opal Satin exclusively for the Fenton Gift Shop (using a Fenton mould) by Mosser Glass. Also included is a 6.75" Bridesmaid Doll in an opaque Orange glass, handcrafted by Mosser.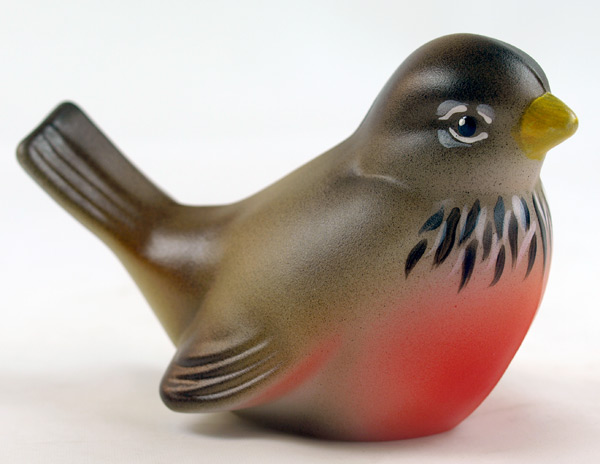 Right now, for some parts of our country, Spring can not come soon enough! For many of us, one sure sign that Spring is close is when a "Robin" appears in your yard! This popular bird is known for its warm orange breast, cheery song, and early appearance at the end of winter. Robin Spindler created a beautiful sky blue background for her "Spring Song" design on this Fenton Art Glass Ruby cased with Milk Glass vase! A singing Robin is perched on a branch laden with colorful Spring blossoms. This hand painted scene dominates the front of the vase. The branch design encircles the vase. Each Spring Song - Robin Vase is $200 and limited to 12.
This 2.75" Songbird figurine is a perfect companion piece to the "Spring Song" vase, or a great gift for figurine collectors! Robin Spindler hand painted this figurine in rich, realistic tones. Each Robin Bird Figurine is $80.
Kim Barley continues our "Spring" theme with a whimsical "bless my blooms" hand painted design on our Opal Satin Ghost figurine,
a collector favorite.
Soft, airbrushed hues of blue and green provide the perfect background for Kim's hand painted details, which include a golden sun, birds, a purple butterfly, colorful flowers, a watering can, and a smiling yellow-eyed frog
(or hop toad)!
You'll automatically smile when you see the happy expression on the face of this figurine! Each bless my blooms Ghost Figurine is $115 and limited to 14.
Pre-orders for the Spring Song Vase, the Robin Bird Figurine and the bless my blooms Ghost Figurine will be accepted until midnight (ET) on Monday, February 6th, 2017. Please call the Fenton Gift Shop: 1-800-319-7793, ext. 342 or send us an email: purchasing@fentongiftshop.com and include the name(s) of each item you would like to purchase in the subject line. You may also request that we add your name to our mailing list.
Our popular "Bridesmaid Doll" figurine returns in a new opaque Orange color! Handcrafted by Mosser Glass, using the Fenton Art Glass mould. The orange glass is heat-sensitive, as you can see from the red veins running throughout the figurine. This "Bridesmaid Doll" figurine has a satin finish, transforming the bright orange to a soft pumpkin color. Michelle Kibbe hand painted a delicate "Pumpkin Swirl" design and added dotted accents on the ruffles with pink roses for the bouquet. She completed the look with sheer white bows. Each Pumpkin Swirl Bridesmaid Doll Figurine is $115.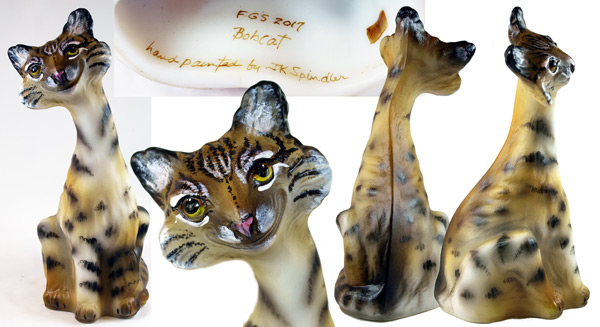 Robin Spindler has transformed this 11" Alley Cat into a "Bobcat" with a realistic hand painted design! Note the wonderful markings on the body and the details on the face, especially those eyes! Did you know?. . . Bobcats live in almost every state in the U.S., so this small feline might be your neighbor! Each Bobcat Alley Cat Figurine is $250.

One glimpse of this figurine and you'll go "Wow, look at those eyes!" Kim Barley chose a unique look for this owl figurine by designing colorful orange blossoms around the eyes! The body is hand painted in more natural, darker tones with stripes on the wings, but that face captures your attention. Each Orange Blossom Owl Figurine is $95 and limited to 18.

Pre-orders for the Pumpkin Swirl Bridesmaid Doll, Bobcat Alley Cat and Orange Blossom Owl Figurines will be accepted until midnight (ET) on Wednesday, February 8th, 2017.


To order, please call the Fenton Gift Shop: 1-800-319-7793, ext. 342 or
send us an email: purchasing@fentongiftshop.com and include the name(s) of each item you
would like to purchase in the subject line.

You may also request that we add your name to our mailing list for future "Limited Edition" offerings.
---
Visiting our area? Stop by the Fenton Gift Shop! We have "Fabulous February" in-store only special offerings on hand crafted Fenton jewelry and glass! We also have Limited Edition glass (signed and numbered) and more! Fenton Gift Shop is open Wednesday-Saturday from 10 a.m.- 3 p.m. (ET) and is located at 420 Caroline Avenue, Williamstown, WV 26187. Please call to confirm store hours: 800-319-7793 or 1-304-375-7772.
---
Fenton Glass Jewelry. . . Heartstrings Bracelets ─ the Perfect Gift!
Treat the loved ones in your life who were born in February to the gift of a Heartstrings Bracelet.
This simple, yet classic style is one-of-a-kind and is the perfect starter bracelet to continue the tradition of Fenton to future generations. . . daughter, niece or granddaughter!

Bracelets come on a 7.5" or 8.0" inch bangle with a Heartstrings bead in their month, along with two complementary glass crafted beads, sandwiched between two stoppers. Shop Heartstrings Bracelets at Fenton Glass Jewelry now or visit www.fentonglassjewelry.com for a varied selection of handcrafted jewelry and be sure to sign up for their newsletter!
---
Fenton Art Glass eBay Auctions. . .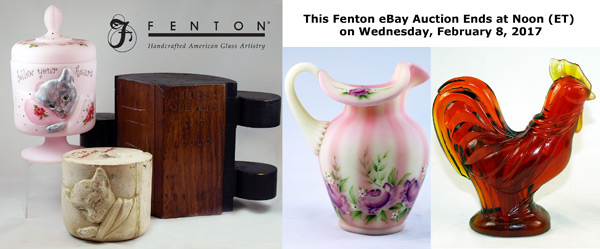 Here's an opportunity to own a beautiful "one-of-a-kind" art glass creation or a piece of Fenton Art Glass history through our weekly eBay Auctions! This auction ends at noon (ET) on Wednesday, February . . . so still time to receive the item before Valentine's Day! Items featured this week. . .

Here's a once in a lifetime opportunity to acquire not one, not two, but three unique items relating to the popular Fenton "Chessie" candy box. First is this one-of-a-kind Chessie covered candy box in satin-finished Crown Tuscan glass, made with the historic Fenton mould by our friends at Mosser Glass. Fenton artist Kim Barley created and hand painted the delightful "Follow Your Heart" motif, and the photos here speak for themselves to testify to its attractiveness. This one-of-a-kind Chessie candy box is identified, signed and dated on the underside ("Kim Barley 2017 OOAK"), and Kim's signature also appears on the cover. Second is the wood "chill" (7" tall, 10.75" wide) that is among the first steps in the mouldmaking process. The chill, marked "Chessie Cat Mould" was made in the Fenton pattern shop and is also dated (8-4-70), marking the time when Fenton first began to create this item especially for the Chesapeake & Ohio railway company. Third is a plaster rendering (3.75" tall) of the Chessie cat portrait, created by a skilled mouldmaker and used to create the pattern in the mould. Don't miss this chance to own three fabulous pieces of Fenton history!
Fenton artist Michelle Kibbe showcases all of her talents and skills in this wonderful one-of-a-kind hand painted pitcher (5.5" tall to top of handle) in classic Burmese glass. The hand painted flowers and foliage are remarkably detailed and especially colorful, as you can see in the photos (we love those rich purple-pink hues!). Burmese glass is made with pure gold in the glass batch, and special reheating techniques by our glassworkers bring out the warm pink blush (note the subtle vertical rib optic).
Made in 2011, this Fenton Folk Art Rooster (5" tall) is a sample of an exclusive Fenton glass color called Orange Slice. The interior has a mysterious wispy color that could be a special color sample test. The vivid orange hue really dominates this piece. This Rooster has the "Fenton USA" logo. Click here to place your bid on these fantastic finds! This Fenton eBay auction ends at noon (ET) on Wednesday, February 8th 2017.
---