Fenton Art Glass Presents. . . Valentine's Day Gift Ideas!
Shop Fenton Online and you'll receive discounts on fabulous jewelry creations and more! Included is a 35% discount on the remaining inventory of the Creative Spirit Collection for orders placed online from www.fentonartglass.com! This online
special is valid from 8 p.m. (ET) on Thursday, January 19th until 8 p.m. (ET) Wednesday, January 25th.

Shown below are a few of the beautiful necklace offerings from which you may choose or shop this entire collection now and receive your 35% discount. All chains and necklaces have a hypoallergenic and tarnish resistant coating. Use YOUR creative spirit, and make your personal fashion statement with Fenton USA Jewelry! Shop Creative Spirit!
Our Lovely Jasmine 3" pendant suspends on
a shimmering 26" necklace with petite leaf charm. The graceful, free style hand applied decoration features hues of dark teal, pink and purple.


Spiral Garden features a
3-1/4" pendant with floral and cross charm accents gracefully suspended on a silver plated 26" necklace. This design was inspired by front porch columns adorned with climbing, entwined flowers.

Recall happy memories of blowing dandelions when you wear the Springtime Dandelions necklace. This necklace features a 3" art glass pendant paired with floral and dragonfly charm accents on a
26" necklace.

"Fenton Flash Sale" Online Special Discount of 70%!

Retired. . . While Supplies Last!
10220 Pink Beauty
Impression Bead, Originally $85

Flash Sale Price $25.50
Free Shipping!
Buy Now!


You'll receive a 70% discount off this item for 72 hours during our "Fenton Flash Sale" beginning at
8 p.m. (ET) on January 19th and ending at 8 p.m. (ET) on January 22nd. Discount does not apply to previous orders.

Our featured "Fenton Flash Sale" item this week is the Pink Beauty Impression Bead, a larger-sized handcrafted glass bead. The hand applied decoration of "Delicate, but vibrant. . . seashell cosmos" was designed by Truda "TJ" Mendenhall.

Pair with our Sterling Silver accessory for a unique Valentine's Gift!


30020 Sterling Silver Ribbon Pendant
Horizontal Beadholder, Sale Price $49.50
Buy Now!
---
NEW Limited Edition Designs from Fenton Gift Shop. . .
Valentine's Day is fast approaching and you still have time to "pre-order" a beautiful Limited Edition Fenton Art Glass keepsake (or two) for someone special! Choose from these wonderful selections offered by the Fenton Gift Shop. Each piece features a hand painted, signed, numbered and dated design by our talented Fenton designers. Included in this grouping are the following figurines: an 11" Cobalt Alley Cat, a 2.75" Bird, a 5" Stylized Cat, and a pair of 5" long ducks, plus an 8" Chessie Cat Covered Box and an 11" Vase, each piece handcrafted in Opal Satin exclusively for the Fenton Gift Shop (using a Fenton mould) by Mosser Glass.
Michelle Kibbe created a wonderful crosshatch style in soft aqua-blue to frame her hand painted scene of a stylized nuthatch resting on a lamp post. This scene is on the front and back of the vase. Beautiful and lush vining wisteria adorn the lamp post, on top of which the bird is perched. This vase will make an elegant and colorful tabletop display! Each Stylized Nuthatch Vase is $160.

The perfect companion piece for the above vase is this "Stylized Nuthatch" Opal Satin 2.75" bird figurine, also designed and hand painted by the talented Michelle Kibbe. Note the meticulously executed details on the feathers and on the face, especially those eyes! Perfect gift for the figurine collector! Each Stylized Nuthatch Bird Figurine is $75.
Below: Kim Barley continues her "Follow your heart" theme on our 8" Opal Satin Chessie Cat Covered Box. Kim used soft pink hues for the base and lid, adding polka dot accents on the lid. The hand painted details on the kitten are simply adorable. . . from its soft pink nose to that wide-eyed expression! Kim hand lettered the words "follow your heart" across the top and added delightful cat faces and mini hearts on the back of the box.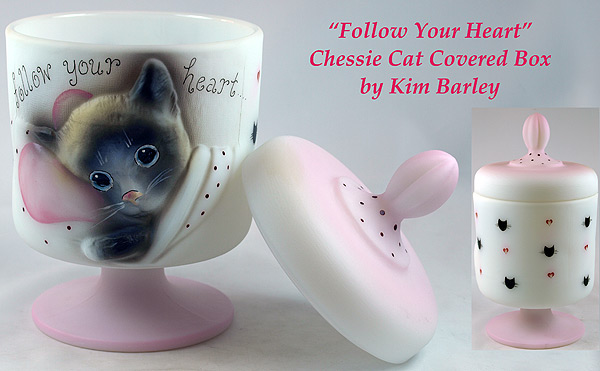 Did you know. . .
the Chessie was a popular cat character used as a symbol for the Chesapeake and Ohio Railway. They used this artwork with their slogan that when traveling on their railway you would "sleep like a kitten".
This Chessie Cat Covered Box makes a wonderful keepsake gift for someone special this Valentine's Day! Each Follow Your Heart Chessie Cat Covered Box is $160.
Pre-orders for the Stylized Nuthatch Vase and Bird Figurine and the Follow Your Heart Chessie Cat Covered Box will be accepted until midnight (ET) on Monday, January 23rd, 2017. Please call the Fenton Gift Shop: 1-800-319-7793, ext. 342 or send us an email: purchasing@fentongiftshop.com and include the name(s) of each item you would like to purchase in the subject line. You may also request us to add your name to our mailing list.
Kim Barley's creativity shines with her "Watchful Deer" design on this 11" Cobalt Alley Cat. Her hand painted scene of a deer among the foliage and trees is beautiful. Then, Kim added details to the face of this Alley Cat so it also resembles a deer! Each Watchful Deer Alley Cat Figurine is $230.
Each Vining Hearts Stylized Cat Figurine is $95.
The Green-winged Teal Duck Figurines are $140/Set.
Our Stylized Cat figurine features an ermine collar and vining hearts, designed by Kim Barley. Vibrant pink, purple and rose hearts on lush greenery adorn the front and sides of this figurine. The hand painted details on the face are sure to delight. . . especially that Mona Lisa-like half smile! Each Vining Hearts Stylized Cat Figurine is $95.
Robin Spindler captures the beauty of the Green-winged Teal, the smallest dabbling duck in North America. You'll receive one male and one female figurine for this beautiful pair. These common ducks breed along northern rivers and typically travel in small flocks. In winter or during migration stopovers, however, the flocks can number in the thousands! Note the meticulous details on the feathers on each figurine. Each Green-winged Teal Duck Figurine Pair is $140.

Pre-orders for the Watchful Deer Alley Cat, the Vining Hearts Stylized Cat and the Green-winged Teal Duck Figurines will be accepted until midnight (ET) on Wednesday, January 25th, 2017. Please call the Fenton Gift Shop: 1-800-319-7793, ext. 342 or email: purchasing@fentongiftshop.com and include the name(s) of each item you would like to purchase in the subject line.
Visiting our area? Stop by the Fenton Gift Shop for "in-store only" special offerings, including some fantastic Valentine's Day deals on Fenton jewelry! We also have Limited Edition, signed and numbered Fenton Art Glass and more! Fenton Gift Shop is open Wednesday-Saturday 10 a.m.- 3 p.m. (ET) and is located at 420 Caroline Avenue, Williamstown, WV 26187. Please call to confirm store hours: 800-319-7793 or 1-304-375-7772.
---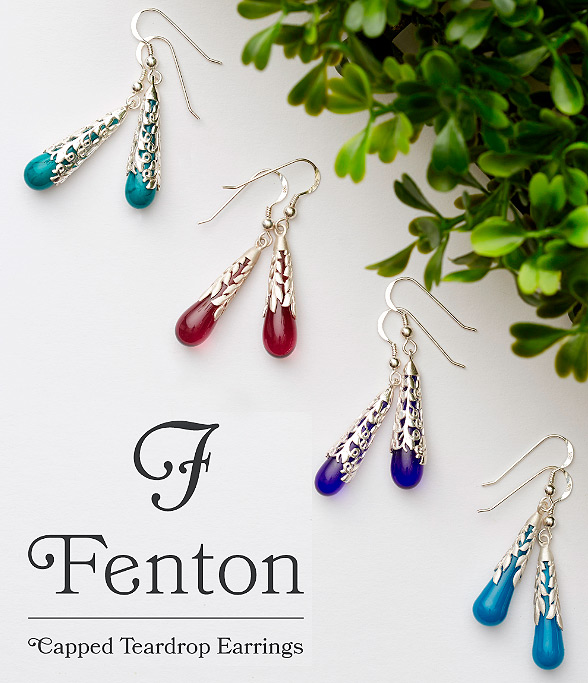 Fenton Glass Jewelry. . .
New Earrings for a New Year!
Fenton Glass Jewelry is pleased to present NEW earring collections for 2017! Using classic Fenton style features, including hand-decorated and glass crafted designs on sterling silver settings, these new earring lines are proudly made in America by our world-class glass artisans. The styles and colors are sure to turn heads and be a unique addition to any jewelry collection.
Included in their latest styles are stunning sterling silver capped teardrop earrings, using Fenton's classic Teardrop shape with delicate sterling silver settings.
Shown at left (top to bottom): "Patina Green" Vine Capped, "Amethyst" Leaf Capped, "Cobalt" Vine Capped, and "Atlantis" Leaf Capped.

Check out the complete Fenton Glass Jewelry Earring Collection: https://fentonglassjewelry.com/collections/view-all-earrings
Visit www.fentonglassjewelry.com for more jewelry styles and fashion accessories. Be sure to subscribe to the Fenton Glass Jewelry newsletter for jewelry news and offerings.
---
Fenton Art Glass eBay Auctions. . .
If you're looking for unique gift for someone special for Valentine's Day, then this is an excellent opportunity to own a beautiful "one-of-a-kind" art glass creation through our weekly eBay Auctions! This auction ends at noon (ET) on Wednesday, January 25th. Items featured this week. . .

Hand painted Roses on Rosalene glass are the highlight of this splendid one-of-a-kind Beaded Melon vase (7.25" tall) from Fenton artist Michelle Kibbe. Her hand painted Roses and foliage exhibit extraordinary detail, and every group is simply wonderful to behold. Rosalene glass is made with pure gold in the glass batch, and special reheating techniques by our glassworkers bring out the warm pink blush. The Beaded Melon pattern dates from the late 1940s, and Fenton Art Glass has used these moulds for many years ... all to the delight of glass collectors!

This wonderful, one-of-a-kind "Bear Pair" from the talented Kim Barley will make your heart melt! Each Bear stands 3.5" tall, and Kim created and hand painted this very special "Follow Your Heart" motif with delicate hearts and green foliage for contrast. As always, the hand painted eyes are remarkably expressive. These one-of-a-kind Bears were made with an historic Fenton mould in Crown Tuscan glass by our friends at Mosser Glass,

With fabulous Favrene glass for her canvas, award winning Fenton designer Robin Spindler continues to amaze us with her talents and skills. This vase combines delicate sand carving, meticulous hand painting and applied gemstone accents ... all together for a wonderfully artistic creation that is second to none! The two exotic nymphs are depicted amidst colorful mushrooms, and the sand carved leaves and foliage make a splendid contrast, as do the applied gemstones. The mould for this vase originated at Cambridge Glass in the 1920s, and Fenton purchased it in the mid-1980s. This one-of-a-kind vase (9" tall) has the cursive "F" Fenton logo and is identified, signed and dated on the underside.
Click here to place your bid on these fantastic finds! This Fenton eBay auction ends at noon (ET) on Wednesday, January 25th, 2017.
---