Fenton Art Glass Presents. . . Happy New Year Online Specials!
Celebrate the arrival of 2017 with special online savings on jewelry accessories and special collections! Shop www.fentonartglass.com and receive special online discounts when you choose from the remaining inventory of handcrafted jewelry and accessories in the collections listed below. These offers expire at 8 p.m. (ET) on Wednesday, January 4, 2017:
---
Fenton Gift Shop Presents. . . NEW Limited Editions
Fenton Gift Shop is pleased to offer a new selection of Limited Edition glass! Each piece features a design by our award-winning Fenton artists, and will be hand painted, signed, numbered, and dated by the artist. Included in this grouping are three figurines: a 5" Stylized Cat, a 5.75" Ghost and a 5" long Duck and two vases: a 10" Feather Vase and a 12.5" Vase, each piece handcrafted in Opal Satin by Mosser Glass. These Limited Editions were made exclusively for the Fenton Gift Shop, using a Fenton mould and then returned to Fenton Art Glass Company where our talented artists created these wonderful designs.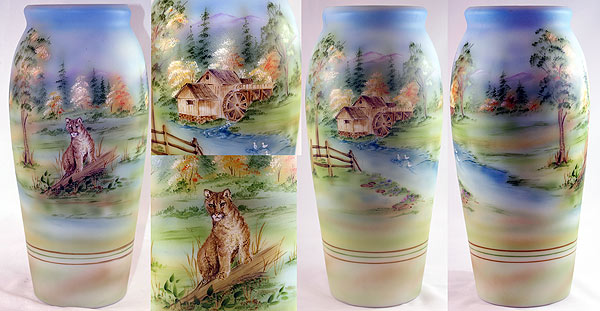 Michelle Kibbe chose a beautiful member of the big cat family to portray on this impressive 12.5" vase, the cougar! The meticulous hand painted details really stand out on this Limited Edition vase. . . from the cougar with its watchful gaze, to the wooden Mill scene set near the water. The lovely landscape, complete with blue skies and lush foliage and trees, encircles the vase. Did you know?. . . Also commonly known as the mountain lion, puma or panther, the cougar is the second largest cat in North America. Unlike other big cats, however, the cougar cannot roar. Instead, this large feline purrs like a house cat! Each Cougar at the Mill Vase is $235.
Robin Spindler continues our feline theme with her magnificent rendition of the Tiger for our 5" Stylized Cat figurine.
Her hand painted details are marvelous, from the vibrant coat with black stripes and the long, lush tail to that mesmerizing face with the penetrating eyes! This "Tiger" will make a perfect addition to any figurine collection!
Did you know?. . . the tiger is the biggest species of the cat family and can reach a length of up to 11 feet and weigh as much as 660 pounds! Tigers have also been known to reach speeds up to 40 mph. Each Limited Edition Tiger Stylized Cat Figurine is $100.


You'll get in to the spirit of the coming Spring with Michelle Kibbe's beautiful hand painted "Garden Gate" design on this Opal Satin Ghost figurine. Careful airbrushing in soft green provides the background for her design of a flower-laden garden gate. The gate is open and you can see a cobblestone path leading to a lush garden in the distance. Each Garden Gate Ghost Figurine is $110.

Pre-orders for the Cougar at the Mill Vase, the Tiger Stylized Cat and the Garden Gate Ghost Figurines will be accepted until midnight (ET) on Monday, January 2nd, 2017. To order any of these Limited Editions, please call Fenton Gift Shop: 1-800-319-7793, ext. 342 or send us an email: purchasing@fentongiftshop.com and include the name(s) of each item you would like to purchase in the subject line. You may also request we add your name to our mailing list for future Limited Edition release notifications.


Below: Spring is in the air and the goldfinches are looking for a sip of water! No drips appear to be available from this water faucet! Our Feather Vase provides an excellent canvas for Michelle Kibbe's lovely hand painted design... notice how the feather pattern "frames" the central images? This vase is beautiful front and back with blue skies and colorful flowers! Notice the details on those blossoms. . . they have a three dimensional look with the layers of paint applied to each delicate petal. Each Faucet Finches Vase is $165.
This figurine will make you want to stand up and salute! Kim Barley adorned this 5" long duck figurine from neck to tail feathers in camouflage. Note the metallic look on the head! Each Commando Duck Figurine is $75.

Pre-orders for the Faucet Finches Vase and the Commando Duck Figurine will be accepted until midnight (ET) on Wednesday, January 4th 2017. To order, call Fenton Gift Shop: 1-800-319-7793, ext. 342 or email: purchasing@fentongiftshop.com and include the name(s) of each item you would like to purchase in the subject line.