Fenton Art Glass Presents. . . "Designer Sample Jewelry" Online Special!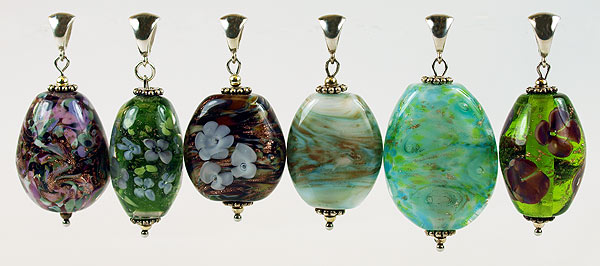 Choose from
our remaining inventory of handcrafted in
USA one-of-a-kind "Designer Samples" and receive a 33% discount with
FREE shipping!
There's still time
to add one of
these beautiful selections to
your wish list!
Add some special "bling" to your holiday fashions with one-of-a-kind Designer Sample jewelry from Fenton Art Glass! "Designer Samples" are created each year by our talented design team to be considered for the upcoming product line. Either the design or the color may have been modified for the final version... making these pieces truly unique since just one is available of each design! Shown here are some of the lovely quality handcrafted pendants. . . available in a variety of Fenton Art Glass colors and glass treatments, including three-dimensional glass, Vasa Murrhina and hand applied decorations that are initialed by the artist!
Click on each pendant image or click here to shop the "Designer Sample" collection. Choose from beads, bracelets, pendants and necklaces. Remember, these "one-of-a-kind" designs are going, going GONE, so don't delay placing your holiday order! Great stocking stuffer idea for someone special on your holiday gift list!

This Fenton Art Glass "Designer Sample" Online Special begins at 8 p.m. on Thursday, December 8th and ends at 8 p.m. (ET) on Thursday, December 15th! Discounts do not apply to prior orders. Visit www.fentonartglass.com for more holiday gift ideas!
Save 50% on Sterling Silver Jewelry Accessories. . . While Supplies Last!
3mm Rope Bracelet, 4 sizes - $45.00 ea.
7.5", 8", 8.5" SPECIAL $22.50 each!

Zebra Spacer Bead - 30073
$20, SPECIAL $10.00

Spacer Bead - 60044
$15, SPECIAL $7.50

Tassle Necklace - 30022
$95, SPECIAL $47.50
Fenton Gift Shop Presents. . . NEW Limited Editions
Fenton Gift Shop is pleased to offer a new selection of Limited Edition glass! Each piece features a design by our award-winning Fenton artists, and will be hand painted, signed, numbered, and dated by the artist. Included in this grouping is an 8" Santa figurine, 3.25" dia. Ornaments, and 2.5" Mouse figurines, each handcrafted in Opal Satin by Mosser Glass. Also included is an approx. 9" Opal Satin Vase made by Davis-Lynch and a Fenton Art Glass Milk Glass/Ruby Cased 10.5" Vase. The Limited Editions handcrafted at Mosser and Davis-Lynch were made exclusively for the Fenton Gift Shop, using a Fenton mould and then returned to Fenton Art Glass Company where our talented artists created these wonderful designs. NOTE: Sorry, we can not guarantee delivery by Christmas... You can give the recipient a printout of this newsletter and let them know that their gift is "on the way!"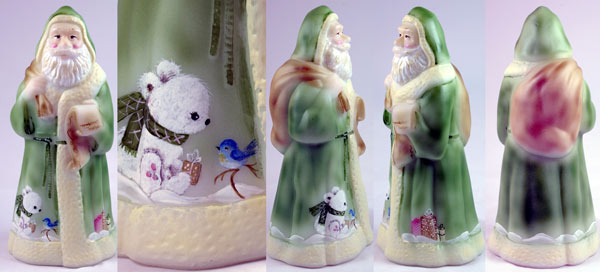 Michelle Kibbe's hand painted scene on this 8" Opal Satin Santa figurine includes an adorable white bear presenting a gift to a bluebird. Handwritten on the scroll in Santa's hand are these words: "Merry Christmas". The details are marvelous from the expression on Santa's face to the bear's colorful scarf. This figurine is sure to become a seasonal favorite for your tabletop display! Each Santa's Friends figurine is $125.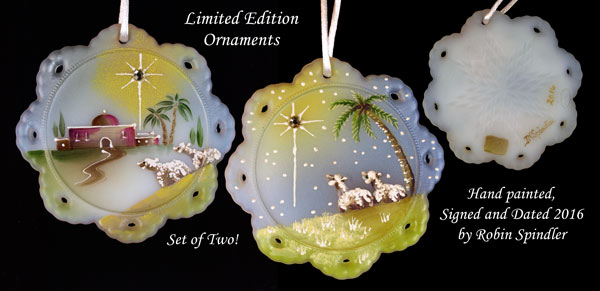 Robin Spindler continues her "Christ is Born" design theme with these beautiful handcrafted Opal Satin Ornaments. Gem accents provide the sparkling star effect for each ornament.

The hand painted scenes include Bethlehem and
two sheep gazing at the glittering star. You'll receive this set of two ornaments, each with a ribbon for hanging on your tree or window! The back of the ornament is shown in the upper right of the photo. Robin will sign, date and number each ornament. Each A Child Is Born Ornament Set is $120.

". . . Not a creature was stirring, not even the Fenton mouse!" Kim Barley enjoys creating fun and festive designs for the holiday season and we're sure that you will enjoy her "Sugarplum" design on this mouse figurine.
Perfect for Kim's hand painted "Sugarplum" design, this Opal Satin Mouse figurine was airbrushed to more natural tones and then Kim added colorful blue and green striped pajamas and those adorable little reindeer slippers! The "sugarplums" appear on the ears of this figurine with a holly and berry accent.

As always, Kim created a cute expression for the face. "Sugarplum" Mouse is a must have gift for Fenton figurine collectors this holiday season! Each Sugarplum Mouse Figurine is $75.

Display this vase all season long and you'll bring a smile to the face of everyone!

Kim Barley's "Believe" design on this Limited Edition Opal Satin Vase is perfect for the young and young-at-heart! The cheerful snowman face, complete with upturned carrot nose and rosy red cheeks will chase your winter blues away! Kim added a golden star accent and hand lettered the word "Believe" on the blue and green scarf. Each Believe Vase is $155.

Pre-orders for the Santa's Friends Santa Figurine, A Child Is Born Ornament Set, Sugarplum Mouse figurine, and the Believe Vase will be accepted until midnight (ET) on Monday, December 12th, 2016.

To order any of these Limited Edition selections, please call the Fenton Gift Shop: 1-800-319-7793, ext. 342 or email: purchasing@fentongiftshop.com and include the name(s) of each item you would like to purchase in the subject line.

You may also request that we add your email address to Fenton Gift Shop's mailing list for news on future Limited Edition offerings.

The name for this ornament says it all, "Holiday Buddies." Kim Barley's adorable hand painted holiday design includes two black cats enjoying a full moon with snowflakes falling softly.

Note the Santa hat on the left cat! The back of this Opal Satin Ornament has an embossed snowflake and Kim's signature.

She will date each one "2016" on the front, making this a favorite family keepsake. Perfect gift for cat enthusiasts too!

Each Limited Edition Ornament comes with a ribbon for hanging (not shown) Each Holiday Buddies Ornament is $55.
We just had to show all of the lovely views of this magnificent Fenton Art Glass handcrafted Milk Glass and Ruby Cased Vase! Robin Spindler's meticulous hand painted details are amazing... from the brilliant red cardinal to the pine cone laden branches encircling the vase. A wonderful piece to display all season long! Each Cardinal Vase is $240.
Figurine collectors will want to add this
"Golden Star" Mouse figurine to their collection! Kim Barley created a whimsical look for this figurine: a gray mouse in a colorful green shirt with a holiday tree design! She added the bright stars on the ears. Note those shining golden shoes, vivid black eyes and toothy smile!
Each Golden Star Mouse figurine is $75.
Pre-orders for the Holiday Buddies Ornament, the Cardinal Vase and the Golden Star Mouse Figurine will be accepted until midnight (ET) on Wednesday, December 14th, 2016.
To order, please call the Fenton Gift Shop:
1-800-319-7793, ext. 342 or send an email: purchasing@fentongiftshop.com and include the name(s) of each item you would like to purchase in the subject line.