Fenton Art Glass Presents. . . "Retired" Beads Online Special!
Accessorize your holiday fashions with festive and beautiful handcrafted in USA Fenton Art Glass beads!
Choose from our remaining inventory of "Retired" beads, including the seasonal designs shown at right, and you'll receive a 50% discount! Click on each bead image for details or click here to shop the "Retired Beads - Fenton" collection.

Remember, these beads have been "retired" from our regular line to make room for new styles so quantities are very limited! Great stocking stuffer idea for someone special on your holiday list! This Fenton Art Glass "Retired" Beads Online Special ends at 9 a.m. (ET) on Thursday, December 8th! Discounts do not apply to prior orders. Visit www.fentonartglass.com for more holiday gift ideas!
---
Fenton Glass Jewelry. . .
Welcome to the Holiday Shopping Season!
To quote a beloved holiday song, "It's the most wonderful time of the year!" Be sure to check out our Holiday Gift Guide! You'll find beautiful handcrafted beads from the Christmas (examples shown below) and Ice-Kissed Collections, jewelry accessories and a new earring style!

Holiday shopping is easy when you present the
gift of a Fenton Glass Jewelry e-gift card.
Visit www.fentonglassjewelry.com for their latest designs for the holidays and don't forget to join
the Fenton Glass Jewelry Customer Loyalty
Program to earn a free bead or discounts!
---
Fenton Gift Shop Presents. . . NEW Limited Editions
Fenton Gift Shop is pleased to offer a new selection of Limited Edition glass! Each piece features a design by our award-winning Fenton artists, and will be hand painted, signed, numbered, and dated by the artist. Included in this grouping is an 8" Santa figurine, a 5" Stylized Cat figurine, a 10.5" Vase, and an 11" Alley Cat figurine, each handcrafted in Opal Satin by Mosser Glass. Also included are an approx. 5" diameter hand blown Opal Satin Ornament by Ron Hinkle and an approx. 11" Feather Vase and a 9" Vase, each made in Opal Satin glass by Davis-Lynch. These Limited Editions were made exclusively for the Fenton Gift Shop, using a Fenton mould and then returned to Fenton Art Glass Company where our talented artists created these wonderful designs. NOTE: Delivery by Christmas is not guaranteed.

Robin Spindler's appreciation and love for the "Reason for the Season" is evident with her remarkable "A Child Is Born" design on this 8" Opal Satin Santa figurine. The meticulous hand painted details are amazing to behold... from the soft blue cloak and cord belt to the skyline of Bethlehem and the sheep gazing upon the city. A gem accent provides the perfect touch as the star of Bethlehem. Handwritten on the scroll in Santa's hand are these words: "A Child Is Born".
Each A Child Is Born Santa figurine is $140.

Robin also chose this theme for the elegant Feather Vase and hand blown Ornament shown here. The Feather Vase mould was designed by Cathy See in the 1990s. There are three panels, which gave Robin the opportunity to add additional scenes with magnificent palm trees and buildings. Both the Vase and the Ornament have a sparkling gem accent as the shining star. Each vase will be dated "Fenton 2016", numbered and signed with the name of the piece (see inset photo). Each A Child Is Born Feather Vase is $200.

Fenton Gift Shop is proud to once again offer beautiful art glass ornaments hand blown by West Virginia glass artisan Ron Hinkle.
Fascinated by the movement and flow of molten glass, Ron's creations have been featured on the West Virginia Governor's Christmas Tree.

Ron used his glassmaking skills to create a classic Christmas tree ball ornament shape, finished with a delicate loop of applied glass. Shown here is a beautiful Ornament, approx. 5" in diameter, handcrafted in crystal glass by Ron. He rolled the glass in Milk Glass frit and then the piece was blown to give it the mottled pattern. Finally, it was lightly sand-blasted for a soft satin finish.
Each ornament comes with a ribbon for hanging and is signed by Robin and dated 2016. Three views of the ornament are shown in the photo. Each A Child is Born Hand Blown Ornament is $75.

Kim Barley created a lovely winter scene of swirling snowflakes on this Opal Satin Stylized Cat figurine. She airbrushed the figurine in soft blue hues. Delicate blue and white snowflakes adorn the front, while specks of snow are on the back and on the ears of this figurine. Note the snowflake on top of the head as well as the golden nose and those wonderful eyes! Each Let It Snow Stylized Cat Figurine is $95.


Pre-orders for the A Child Is Born Santa Figurine, Feather Vase, and Hand Blown Ornament as well as for the Let It Snow Stylized Cat Figurine will be accepted until midnight (ET) on Monday, December 5th, 2016.

To order any of these Limited Edition selections, please call the Fenton Gift Shop: 1-800-319-7793, ext. 342 or email: purchasing@fentongiftshop.com and include the name(s) of each item you would like to purchase in the subject line.

You may also request that we add your email address to Fenton Gift Shop's mailing list for news on future Limited Edition offerings.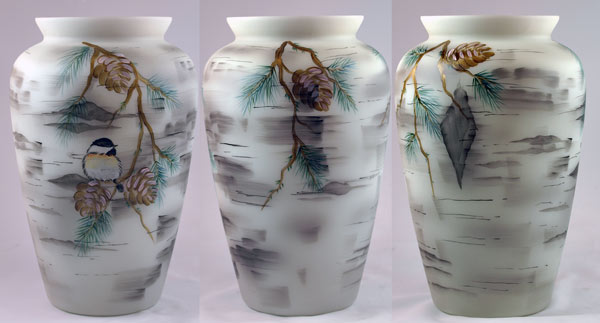 Kim Barley has done a wonderful job transforming this Opal Satin Vase into a White Birch tree! Kim's brush strokes created the interesting "tree bark" and she added a Chickadee resting on a pine-cone laden branch. Perfect for your seasonal tabletop displays! Each Chickadee and Pine Cones Vase is $175.
We just had to show you all views of this magnificent Opal Satin Vase! Michelle Kibbe chose the "largemouth bass" as her subject and created a wonderful scene, complete with a full moon! Did you know. . . The "largemouth bass" is native only to North America. This fish has a very large mouth that extends beyond the rear edge of the eye when it is closed. Largemouth bass average 15-18 inches in length and may weigh between 1-5 pounds, but there are reports of some as long as 26 inches and 13 pounds. Michelle does this magnificent fish justice with her meticulous hand painted and very realistic details. The background scene of pine trees with a full moon in the night sky add to the beauty of this vase. Each Moonlight Bass Vase is $190.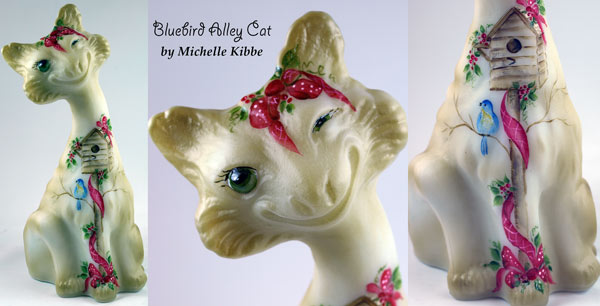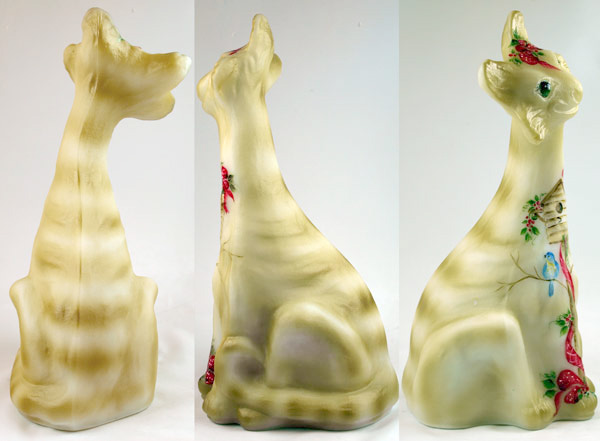 Fenton artist Michelle Kibbe created a colorful hand painted design on this 11" Opal Satin Alley Cat! Sprigs of Holly and berries are entwined in a ribbon which curls around a bluebird box. The resident "bluebird" is sitting on a branch. Michelle added signature "tabby cat" stripes to complete this figurine. Note that wonderful signature Alley Cat face! Each Bluebird Alley Cat figurine is $210.
Pre-orders for the Moonlight Bass Vase, Bluebird Alley Cat figurine and Chickadee & Pine Cones Vase will be accepted until midnight (ET) on Wednesday, December 7th, 2016. To order, please call the Fenton Gift Shop: 1-800-319-7793, ext. 342 or send an email: purchasing@fentongiftshop.com and include the name(s) of each item you would like to purchase in the subject line.