Fenton Art Glass Presents. . . While Supplies Last Handcrafted Beads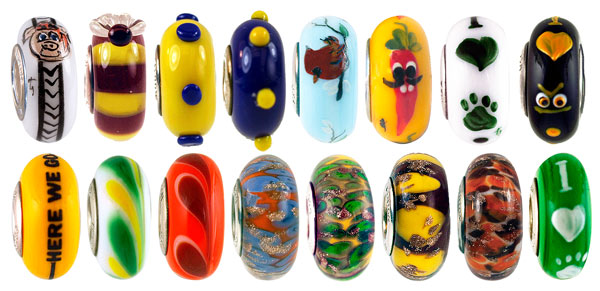 Shown here are beads available from our collection that features a custom design or were included in a special color grouping. This collection includes many of Fenton's unique glass colors and historic treatments.

In an age of mass production, Fenton remains committed to honoring the tradition of expressive, handmade creations. Each Fenton Made in America bead bears the signature of handcraftsmanship; those slight variations that convey distinction, character and charm. These beads are a fashionable way to show fan spirit for favorite sports teams or as a reminder of special events or places. Each bead has an approx. 3/16'' sterling silver core embossed with Fenton USA and is compatible with most brands of fashion accessories.

A limited production run of these beads is still available. . . While Supplies Last! As always, you'll enjoy Free Shipping! Click on each bead image or shop the complete Beads. . . Fenton While Supplies Last collection.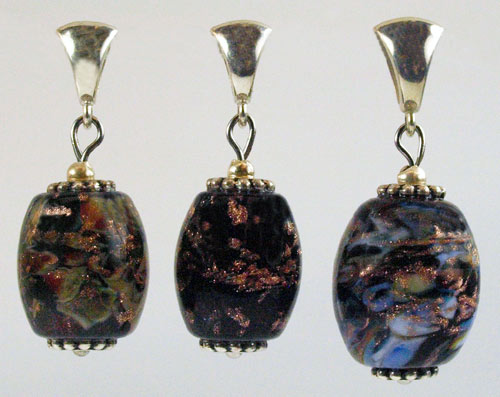 We are pleased to offer a very limited quantity of these beautiful Fenton Art Glass pendants at a special price of $49 each. . . While Supplies Last!

Shown, l-r: Colorful Kalico Kitty, A Touch of Midas and Country Blues. Designed by Jena Lane Blair, each pendant bead has sterling silver findings.
These "made in USA" pendant beads are handcrafted using the "Vasa Murrhina" glass treatment, a term which means "vessel of gems." Each unique Fenton bead captures a glittering layer of Goldstone. Our bead makers use extreme care to maintain its sparkle in the hot flame. Tiny bits of colored glass add a variety of hues in each different design, and no two are identical! This difficult process is one of the secrets of Fenton quality and the brilliance of its beads.
Start your shopping this holiday season with these perfect stocking stuffers! Free Shipping! Click on each image to order.
---
Fenton Gift Shop Presents. . . NEW Limited Editions
Fenton Gift Shop is pleased to offer a new selection of Limited Edition glass! Each piece features a design by our award-winning Fenton artists, and will be hand painted, signed, numbered, and dated by the artist. Included in this grouping are the following figurines: 4" Bird, 5.75" Ghost and a 8" Santa, as well as a 10.5" Vase, each handcrafted in Opal Satin by Mosser Glass. These Limited Editions were made exclusively for the Fenton Gift Shop, using a Fenton mould and then returned to Fenton Art Glass Company where our talented artists created these wonderful designs.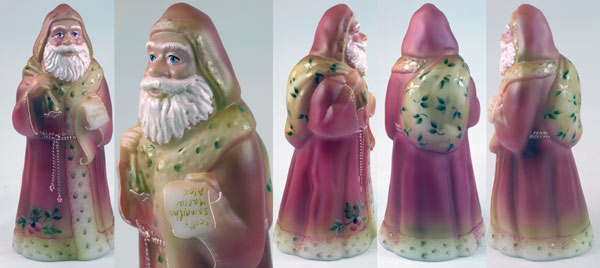 Robin Spindler's design on this 8" Opal Satin Santa figurine reminds one of Christmas Past. The robe is hand painted in a soft antique rose hue and Robin added a holly sprig an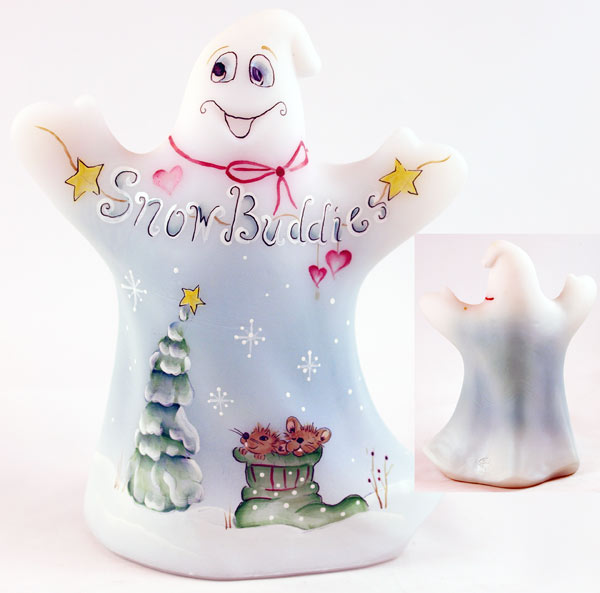 d sparkling gem accent on the front. Robin completes the antique look with an old fashioned fur trim and a decorative gift bag. Santa's face features rosy cheeks and sparkling blue eyes above his snow white beard and mustache. The hand written list has these names: Scotty, Samantha, Maria, and Alex. Each Antique Rose Santa figurine is $140.
Kim Barley's fun design on our Opal Satin Ghost figurine is sure to bring smiles! Kim's "Snow Buddies" scene includes a snow-laden tree topped with a shiny gold star and a wonderful green boot sheltering two happy little mice. The outstretched arms hold up a garland with the hand painted words "Snow Buddies" and two golden stars. Note the snowflakes and hearts accents and that joyful expression on the Ghost's face! Each Snow Buddies Ghost figurine is $130.
Pre-orders for the Antique Rose Santa and the Snow Buddies Ghost figurines will be accepted until midnight (ET) on Monday, November 21st, 2016.

To order, please call the Fenton Gift Shop:
1-800-319-7793, ext. 342 or send us an email: purchasing@fentongiftshop.com and include the name(s) of each item you would like to purchase in the subject line.
Eastern, Western and Mountain Bluebirds are among the most beloved backyard visitors with their gorgeous hues and musical song. Robin Spindler captures the beautiful colors of this popular bird for our Opal Satin 10.5" Vase.

Her meticulous hand painted details, especially on the wingtips, are amazing and the fall foliage and acorns are a tribute to Robin's creative talent. She created a soft "habitat" colored background on this vase and her use of the varying seasonal colors on the leaves are beautifully executed. Note the detail on the acorns! Each Autumn Bluebird Vase is $225.

Robin continues her "Bluebird" theme on our popular Opal Satin 4" bird figurine. Did you know. . . the oldest recorded Eastern Bluebird was at least 10 years, 6 months old! This figurine is the perfect companion piece for the Autumn Bluebird Vase.
Each Bluebird figurine is $75.
Pre-orders for the Autumn Bluebirds Vase and the Bluebird Figurine will be accepted until midnight (ET) on Wednesday, November 23rd, 2016. To order, please call the Fenton Gift Shop: 1-800-319-7793, ext. 342 or email: purchasing@fentongiftshop.com and include the name(s) of each item you would like to purchase in the subject line. You may also request that we add your email address to Fenton Gift Shop's mailing list for future offerings.
---
Visit Fenton Gift Shop. . .
Check out our latest offerings at Fenton Gift Shop, 420 Caroline Avenue, Williamstown, WV 26187. Items include NEW one-of-a-kind and Limited Edition glass, as well as beautiful first quality "glass from the past". . . available while supplies last! There are specials on handcrafted jewelry, including Designer Sample beads and pendants, retired beads, art glass earrings, and jewelry accessories. . . available in a rainbow of colors, designs and glass treatments! You'll find Fenton marketing material and other unique items related to the Fenton Art Glass Company's 111-year-old history. You never know what you'll uncover in our "odds and ends" section, including glassmaking tools, wooden mould "chills" and more! Call today if you are interested in any of the items shown here as they could be going, going, GONE!
Fenton Gift Shop is open Wednesday-Saturday from 10 a.m.-3 p.m. ET. NOTE: Fenton Gift Shop will be closed on Thanksgiving, November 24th. Planning a visit? Please call to confirm store hours: 1-800-319-7793 or 1-304-375-7772.
---
Fenton Art Glass eBay Auctions. . .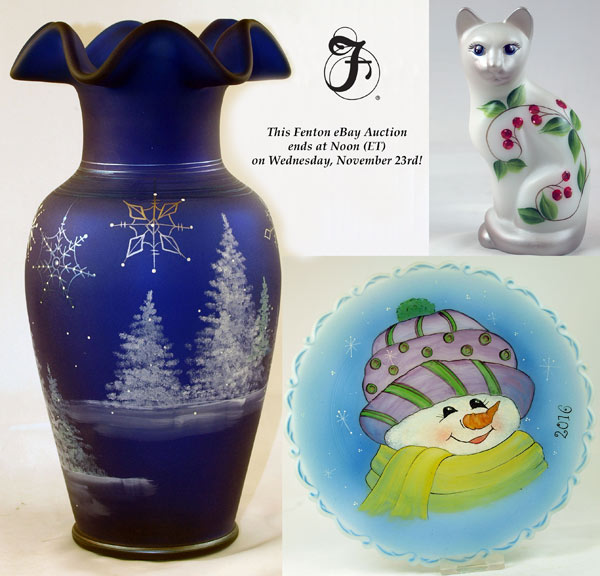 Here's an opportunity to own a beautiful and unique one-of-a-kind art glass creation through our weekly eBay Auctions! This auction ends at noon (ET) on Wednesday, November 23rd.
Items featured this week. . .

With satin finished Cobalt Blue glass for her canvas, award-winning Fenton designer Kim Barley captures all the wonder of Winter on this one-of-a-kind vase (10.5" tall). The snow covered pine trees are simply breathtaking, and the snowflakes glisten and sparkle like stars! Note the graceful six-point crimp style.

Here's your chance to enjoy a one-of-a-kind Fenton item designed and hand painted by award-winning Fenton designer Frances Burton, who will officially retire from Fenton Art Glass in November 2016. Subtle airbrushing created the gray tones on this splendid Cat figurine (5" tall) in Milk Glass. The lush green leaves and vivid red berries resemble a "winterberry" bush and are beautifully hand painted, and, as always, the eyes are remarkably expressive.

Here's a beautiful one-of-a-kind Fenton collectible plate designed by award-winning Fenton designer Frances Burton, who officially retires from Fenton in November 2016. This 8" d. Opal Satin plate features delicate airbrushing to create the blue background for a wonderfully whimsical "Snowlady" that captures the essence of Wintertime fun! The wry facial expression and colorful garb will really make this splendid plate a conversation piece in your home. This Snowlady sports a bright lavender and green cap with a yellow scarf. Click here to check out the details on each item and place your bid today! This Fenton eBay auction ends at noon (ET) on Wednesday, November 23rd.
---
'Tis the Season for Stylish Holiday Beads from Fenton Glass Jewelry. . .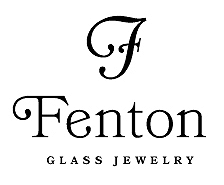 Accessorize your holiday fashions with these festive new designs from Fenton Glass Jewelry! Shown above, l-r: Christmas Garlands, Feelin' Frosty, Ribbon Candy, Snowflake Majesty, Tis' the Season, and Visions of Sugarplums. Shop Christmas 2016! Holiday shopping is easy when you give a Fenton Glass Jewelry e-gift card!
---
---
For questions or comments, please do not reply to this email. Instead, email: askfenton@fentonartglass.com.

This email has been sent to you because you have agreed to receive offers and information from the Fenton Art Glass Company. We respect your privacy and do not sell your personal information. For details, please review our privacy policy.

How to unsubscribe: If you prefer not to receive offers or information from Fenton Art Glass, please use this page to unsubscribe.

If you use a Challenge-Response system for email, please make certain that you can receive our email by adding askfentononline@fentonartglass.com to your Allow List.

For specific instructions for major ISPs, click here.

The sender of this email is the Fenton Art Glass Co., 700 Elizabeth St., Williamstown, WV, 26187