Fenton Art Glass Salutes Our Veterans. . . Past and Present
November 11 serves as a day to honor living veterans for their service to this country and to remember the sacrifice of the many soldiers who have given their lives in the service of our country. It is both a Federal legal holiday and a state holiday in all 50 U.S. states.

In Canada, Australia, New Zealand, South Africa, and much of Europe, November 11 is celebrated as Remembrance Day.
The United Kingdom honors its war veterans on the second Sunday of November, known as Remembrance Sunday.

"As we express our gratitude, we must never forget that the highest appreciation is not to utter words, but to live by them."
—John F. Kennedy

"How important it is for us to recognize and celebrate our heroes and she-roes!"
—Maya Angelou


Many Fenton employees have served in our nation's military. We salute them all and thank them for their service to our country.


The photo is dated February 28, 1943. This occasion was the erection and placement of the Roll of Honor of Fenton employees. Each star represented a Fenton employee who had been inducted into the service during World War II. There are 55 stars shown in the photo. The six men in uniform were all home on furlough after having completed their basic training. While all of these fellows were home at the same time, it seemed an appropriate time to recognize all of the employees who were in the Armed Forces.

Uniformed men, L-r: Milton McMillin (Mick), Harold Bush (Butter), Ab Dulin, Ralph Wiggins, C. Edward Hall, and Harold Riggle (Paul Rosenthal's son-in-law). Back row l-r: William Burton, Dohrman Henke, David Conroy, Frank M. Fenton (6'7" at that time), Lawrence Badgley, Frank L. Fenton, Robert C. Fenton, Robert C. Fenton Jr., Delbert C. Ward, Sr., Walter Dean, and Kenny Metcalf.
---
Ice Kissed Giveaway from Fenton Glass Jewelry. . .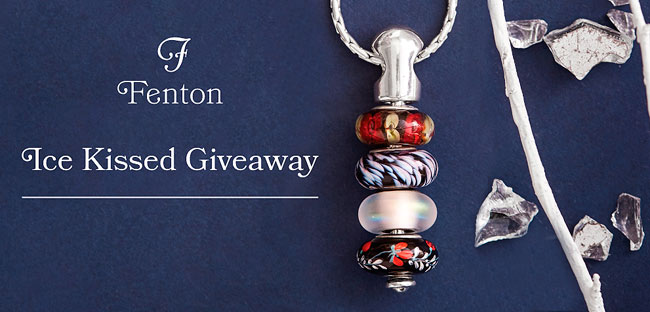 Fenton Glass Jewelry is having a special contest — the Ice Kissed Giveaway!

This contest is running until Nov. 15th and it is your chance to win the styled "Ice Kissed" necklace shown here.

To enter this giveaway,
visit our website: www.fentonglassjewelry.com or click here, then simply start your entry!
---
Fenton Gift Shop Presents. . . NEW Limited Editions
Fenton Gift Shop is pleased to offer a new selection of Limited Edition glass! Each piece features a design by our award-winning Fenton designers, and will be hand painted, signed, numbered, and dated by the artist. Included in this grouping is an 8.5" Hexagon-shaped Vase, an 8" Santa figurine, a 5" Stylized Cat figurine, and a 2.75" Mouse figurine, each handcrafted in Opal Satin by Mosser Glass. These Limited Editions were made exclusively for the Fenton Gift Shop, using a Fenton mould and then returned to Fenton Art Glass Company where our talented artists created these designs.

The hexagonal shape of this Opal Satin vase provides a wonderful canvas for Michelle Kibbe's hand painted Bluebirds design. She added delicate scrollwork details around the bottom and vining floral motif around the vase. Note the wonderfully done birdhouses on the top and back of this piece. The soft lavender color, which Michelle airbrushed as a frame around the two bluebirds, completes the look of this vase. Each Bluebirds Vase is $155.


Below: Michelle Kibbe created a lovely design of sparkling snowflakes on the robe of this Opal Satin Santa figurine. She added glittering accents to the fur trim and hand painted the words "Christmas Wish" on the list held in his gloved hand. Note the rosy red cheeks and the gold-rimmed glasses perched on Santa's nose! Each Snowflake Santa figurine is $115.


Pre-orders for the Limited Edition Bluebirds Vase and the Snowflake Santa figurine will be accepted until midnight (ET) on Monday, November 14th, 2016. To order, please call Fenton Gift Shop: 1-800-319-7793, ext. 342 or email: purchasing@fentongiftshop.com and include the name(s) of each item you would like to purchase in the subject line.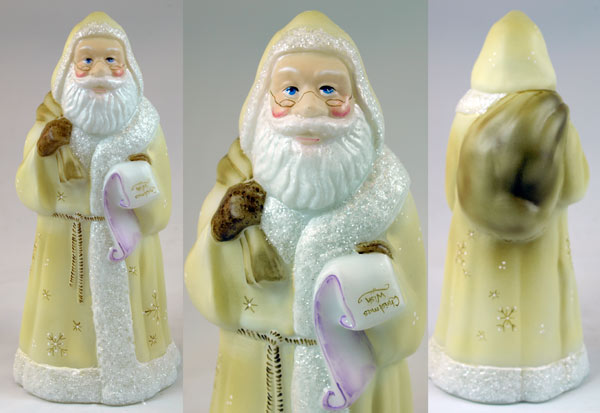 Our Ruby Satin Mouse figurine provides the perfect canvas for
Kim Barley's whimsical "Christmas Stamp" hand painted design.
The "one cent" holiday stamp, colorful green and white striped shirt, expressive face and pink heart-shaped nose make this figurine a "must have" for figurine collectors! Note the wonderful Ruby Amberina effect on the ears! Each Christmas Stamp Mouse figurine is $75 and is limited to just 11 figurines.
Michelle Kibbe chose a delicate scrolling rose and floral design for this Opal Satin Stylized Cat figurine. Delicate vines encircle the figurine with lovely flower blossom accents. Note the expressive face with the heart-shaped nose. Michelle's use of a rosy pink hue for the top and bottom halves of this figurine act as a frame for her beautiful design. Each Scrolling Rose Stylized Cat figurine is $95.
Pre-orders for the Christmas Stamp Mouse figurine and the Scrolling Rose Stylized Cat figurine will be accepted until midnight (ET) on Wednesday, November 16th, 2016. To order, please call Fenton Gift Shop: 1-800-319-7793, ext. 342 or send an email: purchasing@fentongiftshop.com and include the name(s) of each item you would like to purchase in the subject line.
---
Visit Fenton Gift Shop. . .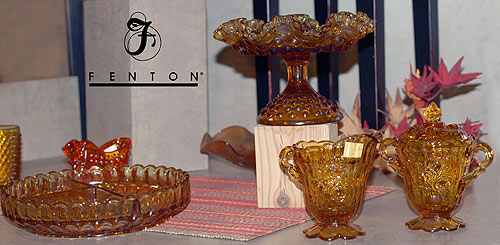 Stop in and see our latest offerings at Fenton Gift Shop, 420 Caroline Ave., Williamstown, WV 26187.

Items include NEW one-of-a-kind and Limited Edition glass, as well as beautiful first quality "glass from the past". . . available while supplies last! There are specials on handcrafted jewelry, including Designer Sample beads and pendants, retired beads, art glass earrings, and jewelry accessories. . . available in a rainbow of colors, designs and glass treatments! You'll find Fenton marketing material and other unique items related to the Fenton Art Glass Company's 111-year-old history. You never know what you'll uncover in our "odds and ends" section, including glassmaking tools, wooden mould "chills" and more! Call today if you are interested in any of the items shown here as they could be going, going, GONE! Fenton Gift Shop is open Wednesday-Saturday from 10 a.m.-3 p.m. ET. Planning a visit? Please confirm store hours: 1-800-319-7793 or 1-304-375-7772.
---
Fenton Art Glass eBay Auctions. . .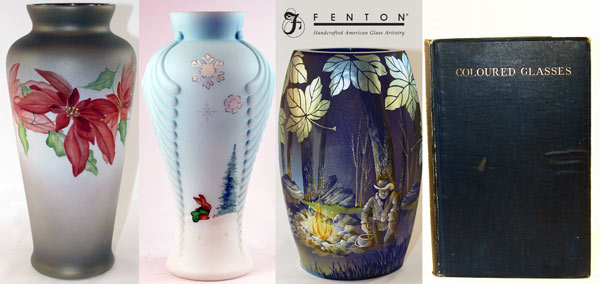 Here's an opportunity to own a beautiful and unique one-of-a-kind art glass creation through our weekly eBay Auctions! This auction ends at noon (ET) on Wednesday, November 16th. Items featured this week. . .

Here's your chance to enjoy a one-of-a-kind Fenton item designed by award-winning designer Frances Burton, who officially retires from Fenton Art Glass in November, 2016. This stately Opal Satin vase is 10.5" tall, and the airbrushed gray tones provide a handsome contrast to the vivid red poinsettias and green foliage designed and hand painted by Frances. Perfect for December holiday decorating, we're sure that you'll enjoy this beautiful vase for years to come.

Award-winning Fenton designer Kim Barley created and hand painted a wonderful Winter motif for this one-of-a-kind vase (10.25"). This vase was handcrafted at Davis-Lynch Glass as an exclusive for Fenton Gift Shop, using the Fenton mould, then returned to Fenton for Kim's hand painted design. The soft blue hues were created by Kim's careful airbrushing, and the hand painted pine trees and snowflakes have a splendid look and texture to them. Note the Bunny crouching in the snow!

Award-winning Fenton designer Robin Spindler showcases all of her talents and skills on this remarkable one-of-a-kind sand carved and hand painted Favrene vase (just a fraction under 8" tall). She entitled this wonderful vase "Finding the Silver Lining" and it depicts a lone cowboy about to enjoy his dinner beside the campfire after a long, hard day on the range. The dark clouds of a hard day's work are forgotten in the quiet solitude. Fenton Favrene has a vivid iridescent finish created by special reheating techniques, and Robin designed and sand carved the trees, leaves and foliage that completely encircle this vase. The hand painted cowboy and his faithful horse exhibit splendid depth and color.

Woldemar Weyl's book "Coloured Glasses" is one of the greatest books in the history of glassmaking and glass technology. This is a rare opportunity to acquire a hardback copy of the first edition! Published by the Society of Glass Technology in England during 1951, this book is a thorough study of the chemical constituents of colored glass, and many glass artists of today consider it to be "the bible" on this subject. Embracing some 32 chapters, Weyl's "Coloured Glasses" details the production of glass colors by many chemical compounds containing chromium, iron, selenium, nickel, gold, uranium, etc. etc. The book runs 541 pages, including index. This hardback copy is in very good condition, with a tight binding and only minor wear to the cover. This book was in the personal library of Frank M. Fenton, and his signature is on the inside front cover. Click here to check out the details on each item and place your bid today! This Fenton eBay auction ends at noon (ET) on Wednesday, November 9th.
---
---
For questions or comments, please do not reply to this email. Instead, email: askfenton@fentonartglass.com.

This email has been sent to you because you have agreed to receive offers and information from the Fenton Art Glass Company. We respect your privacy and do not sell your personal information. For details, please review our privacy policy.

How to unsubscribe: If you prefer not to receive offers or information from Fenton Art Glass, please use this page to unsubscribe.

If you use a Challenge-Response system for email, please make certain that you can receive our email by adding askfentononline@fentonartglass.com to your Allow List.

For specific instructions for major ISPs, click here.

The sender of this email is the Fenton Art Glass Co., 700 Elizabeth St., Williamstown, WV, 26187