Fenton Art Glass Presents. . . "Designer Sample" Creative Spirit Jewelry


Fenton's "Designer Sample" Collection includes accessories to suit your style, color or occasion, including these remaining one-of-a-kind bracelets and necklace designed by Jena Lane Blair for our Creative Spirit Collection. Each piece of jewelry features handcrafted Fenton pendant beads. The bracelets include a "Drop" accent bead made in Fenton's classic Chocolate glass color and an antique brass link chain.
Bracelets are shown clockwise, top right: El Dorado, Hopeful, Imagine, Evangeline, and Faith. Imagine features a hand applied three-dimensional decoration designed by Jena and Truda "TJ" Mendenhall. Faith and Imagine each have the word embossed in the glass on the reverse side of the bead, while Hopeful has a hand applied floral decoration and lettering for "Hope" applied by hand on the reverse side. Beads with hand applied decorations were designed by Truda.

Our El Dorado bead was inspired by the hues of the southwest and a poem of the same name by Edgar Allen Poe. The Evangeline bead, also designed by Jena, was created with reactive glass frit in colors ranging from green, turquoise, creamy yellow, and purple. The Chocolate glass "Drop" bead completes the look on these bracelets.
The 26" necklace features our Joy pendant bead paired with an antique pewter chain. This bead features a hand applied glass flower decoration by Truda on one side and the word "Joy" on the other side. This bead measures approximately 1" long. Each bead with a decoration is initialed by the artist who completed it. Click on each bracelet or the necklace for details. Shop the Designer Sample Collection or our Creative Spirit Collection. Remember, the jewelry shown above are each one-of-a-kind "Designer Samples" and they may be going, going, GONE!
---
Happy Halloween. . .
Fenton employees enjoyed Halloween and often would wear costumes to work. Visitors to Fenton Gift Shop never knew "who or what" they would encounter when taking the factory tour. Fenton Gift Shop employees would also don costumes and several people would choose a theme, like the Wizard of Oz, and show up to work dressed as the characters from that movie. While on a Fenton tour, visitors would encounter ghosts, goblins, storybook characters, and sometimes very unusual costumes when they visited the Decorating Department. Here's a few memories of Halloween fun at Fenton shared by designer Kim Barley and Fenton Gift Shop customer service representative Susan Wilson:

Kim remembers one Halloween when Fenton decorator Michael Dickinson dressed up as "The Grim Reaper". He apparently freaked several people out when he was spotted driving to work that morning in costume. She recalls another time when two decorators, Valerie Adkins and Beverly Cumberledge, teamed up and came to work dressed as a very convincing "Sonny and Cher" duo.

Susan recalls a time when a Fenton Gift Shop employee dressed up as a clown and terrified another employee who was very afraid of clowns. . . . now that one could be very scary today with the recent "clown" sightings!


Visitors to the Fenton Museum may have been greeted by a
Goth Girl or even a Michael Jackson look-alike!
(Jennifer Maston)
---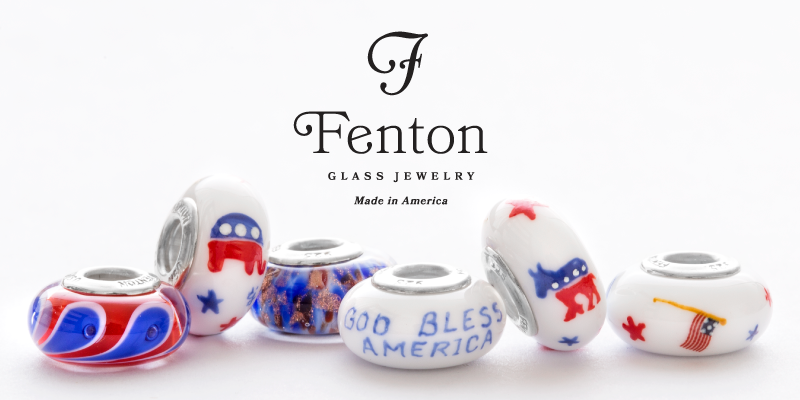 Patriotic Styles from
Fenton Glass Jewelry. . .
Vote in style with our patriotic
Fenton Glass Jewelry beads that make you feel comfortable, casual & festive!

Browse our "Made in America" patriotic jewelry and register for the Customer Loyalty Program at www.fentonglassjewelry.com and start earning your rewards points!

Holiday shopping is easy when you present the gift of a Fenton Glass Jewelry e-gift card. Fenton Glass Jewelry e-gift cards are delivered by email with "how-to redeem" instructions and no additional processing fees.
---
Fenton Gift Shop Presents. . . NEW Limited Editions
Including Frances Burton's Last Design Offering Before She Retires!
Frances Burton will be retiring soon and we wanted her to go out in style with plenty to do before then!

This 8" Opal Satin Santa figurine is a wonderful tribute to her creative talent. We believe it is sure to become a family heirloom to display each holiday season!

She created a wonderful hand painted winter scene which we named "Forest Friends".


A fawn rests in the snow and gazes down at a small bunny. Three more adorable bunnies are hand painted on this figurine.

Frances added pine bough accents below Santa's belt and a soft blue background with cream-colored
fur accents for his robe.

Note that the list hanging over the arm reads "Santa's List". Frances will number, sign and date each figurine.

Each Forest Friends Santa figurine is $140

Award-winning Fenton designer Frances Burton paints a Dolphin figurine for the Fenton Art Glass product line.


Frances completes details on the Forest Friends Santa figurine, her final
Limited Edition piece for the Fenton Gift Shop (also offered in this newsletter).
Fenton Art Glass Artist Profile: Frances Burton
Frances Burton loved sketching and painting with watercolors long before she began her career as a Fenton decorator in 1973. Much of her inspiration comes from her garden. "I love to grow flowers, and I get many ideas from them," she smiles. "It lets me see what they look like in nature and how they change as they grow." According to Frances, her designs have changed throughout the years, "My style has become more intricate."

At Fenton, Frances trained under Louise Piper, who started Fenton's decorating department in 1968. The first decoration designed especially for Fenton Art Glass to be featured on QVC was created by Frances in 1988 (forget-me-nots on Shell Pink). She left to spend time with her family and returned to Fenton in 1984 and again in 2013. Frances has won numerous awards for her designs on glass.

When asked how painting on glass differed from canvas, she replied "You use different paints and brushes and it is more challenging to paint on a curved surface." Her future plans? "To keep painting and get back in my flower garden!" All of us at Fenton congratulate Frances on her retirement and we wish her the best!
Fenton Gift Shop is pleased to offer a new selection of Limited Edition glass! Each piece features a design by our award-winning Fenton artists, and will be hand painted, signed, numbered, and dated by the artist. Included in this grouping is an 8" Santa figurine, a 5.75" Ghost figurine, an 11" Alley Cat figurine, and a 4" Opal Satin Bird figurine, each handcrafted by Mosser Glass. Also included is a lovely 10" Feather Vase handcrafted in Opal Satin by Davis-Lynch Glass. These Limited Editions were made exclusively for the Fenton Gift Shop, using a Fenton mould and then returned to Fenton Art Glass Company where our talented artists created these wonderful designs.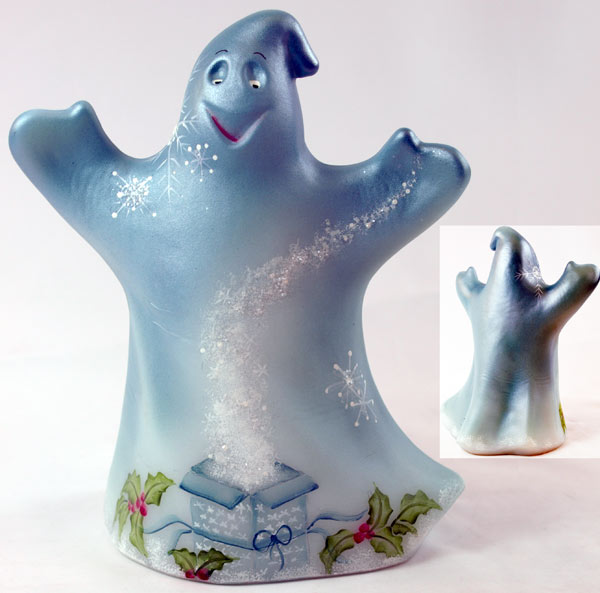 Michelle Kibbe designed a fanciful scene we call "The Gift of Snow" on this Opal Satin Ghost figurine. With arms spread wide and big smile on the face, this ghost welcomes one of the loveliest gifts of the winter season.
Hand painted holly and berries adorn the bottom along with a present opened to reveal sparkling white snowflakes drifting upward to the ghost's hand. Note the other meticulously painted delicate snowflakes and whimsical expression on this figurine. Each The Gift of Snow Ghost figurine is $95.
Pre-orders for the Forest Friends Santa figurine and The Gift of Snow Ghost figurine will be accepted until midnight (ET) on Monday, October 31st, 2016.

To order, please call the Fenton Gift Shop:
1-800-319-7793, ext. 342 or send us an email: purchasing@fentongiftshop.com and include the name(s) of each item you would like to purchase in the subject line.

You may also request that we add your email address to Fenton Gift Shop's mailing list for news about future offerings.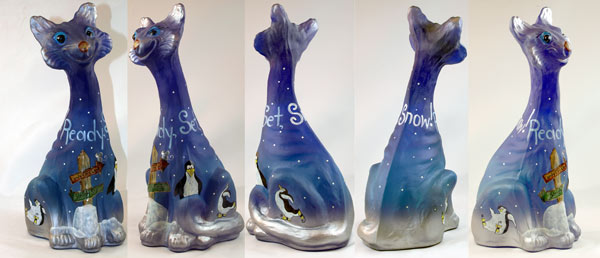 Cobalt Satin glass provided a marvelous canvas for Kim Barley's "Ready, Set, Snow!" scene hand painted on this 11" Alley Cat figurine. Her fun and whimsical details are wonderful... from the expression on the cat's face and the slipping and sliding penguins to the post with the two arrow signs with "Candy Cane Lane" and "Sleigh Stop" wording. Note the silver mouse perched on one of the signs! Each Ready, Set, Snow! Alley Cat figurine is $245.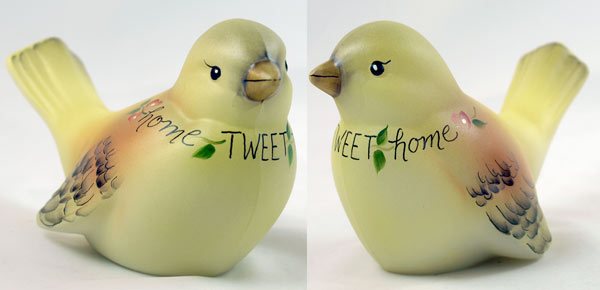 There's nothing like "Home Sweet Home" or in this case, "home, TWEET home" for our Opal Satin 4" long bird figurine. Kim Barley chose a soft yellow for the body with darker orange blush on the wing area and black feather details. Note the realistic face and the floral accents! Each home TWEET home Bird
figurine is $70.
Below: Michelle Kibbe has transformed this Opal Feather Vase into a Butterfly haven with a lavender background, delicate vining flowers and a lovely rendition of a Swallowtail Butterfly.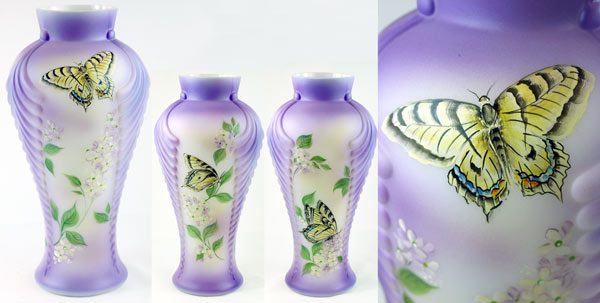 The hand painted details are simply beautiful on this vase! An elegant display piece for any room! Did you know. . . Adult swallowtails sip nectar, but also mud and sometimes manure!! Each Butterflies on Lavender Feather Vase is $165.
Pre-orders for the Ready, Set, Snow! Alley Cat figurine, home TWEET home Bird figurine and the Butterflies on Lavender Feather Vase will be accepted until midnight (ET) on Wednesday, November 2nd, 2016. Please contact Fenton Gift Shop: 1-800-319-7793, ext. 342 or send us an email: purchasing@fentongiftshop.com and include the name(s) of each item you would like to purchase in the subject line.