Fenton Art Glass Presents. . . Whiles Supplies Last Beads Online Special!
Our talented bead artisans created a group of beads which included special colors and designs that were not included in the regular product line. We are pleased to offer a 25% discount on the remaining inventory of these "While Supplies" Last beads. Quantities may be limited! Choose from the selections shown below or click here to shop the While Supplies Last Beads. This Online Special ends at 8 a.m. (ET) on October 20th.

While Supplies Last Beads Now Available at 25% Discount. . . Shop Now!
---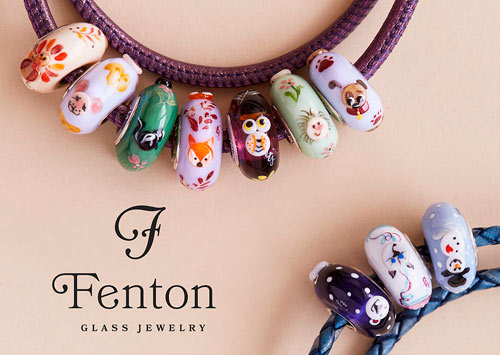 New "Whimsy" Beads
from Fenton USA Jewelry. . .
Shop the Whimsy Collection, including these loveable new bead styles: Gobble, Gobble; Roquefort; Flower; Copper; Whooo!; Hattie Hedgehog; Fido; Roly, Poly, Polar Bear; Mittens; and Parson Brown and more at fentonglassjewelry.com.
Shopping for someone but not sure what to give them? Give the gift of choice with a Fenton Glass Jewelry e-gift card. Fenton Glass Jewelry e-gift cards are delivered by email with "how-to redeem" instructions and no additional processing fees.

Are you a member of our Member Loyalty Program? Customers earn Loyalty Points with every purchase and receive rewards!
---
Fenton Gift Shop Presents NEW Limited Editions!
Fenton Gift Shop is pleased to offer a new selection of Limited Edition glass! Each piece features a design by our award-winning Fenton artists, and will be hand painted, signed, numbered, and dated by the artist. Included in this grouping is a 10.5" Opal Satin Feather Vase made by Davis-Lynch Glass, plus an 11" Jadeite Alley Cat figurine, as well as a 5.75" Ghost figurine and a 3.25" diameter Ornament, each handcrafted in Opal Satin by our friends at Mosser Glass. These Limited Editions were made exclusively for the Fenton Gift Shop, using a Fenton mould and then returned to our factory where our talented artists created these wonderful designs.
Our Alley Cat, handcrafted in the soft green Jadeite glass color, provides the perfect canvas for a marvelous seasonal design by Robin Spindler, which we call "Raccoon's Harvest". . . and you can see why! Robin's hand painted design encircles this Alley Cat figurine. An alert raccoon is holding fast to an ear of corn while resting against a large pumpkin. Note the expression on the face of that raccoon! The details on the raccoon, pumpkin, gourds and the corn stalks are meticulously executed. Each Raccoon's Harvest Jadeite Alley Cat is $250.
Halloween wouldn't be complete without this delightful ghost figurine! Frances Burton airbrushed the entire figurine in blue with a darker green added at the bottom. Her hand painted "Ghost Buddies" design features a trio of stacked smiling pumpkins, flying bats and a wide-eyed black cat. A golden full moon illuminates the night sky in the background.
Each Ghost Buddies Ghost Figurine is $110.


Display this delightful "Winter Friends" hand painted ornament all season long! Kim Barley hand painted each Opal Satin ornament with a wonderfully whimsical Snowman wearing a tophat with a cardinal perched on the polka-dotted scarf.

Frances added dazzling glitter on the scalloped edges to make this ornament really sparkle! Each ornament is dated 2016 (on the front) and is also signed and numbered on the reverse side by Kim.
Each Winter Friends Ornament is $55.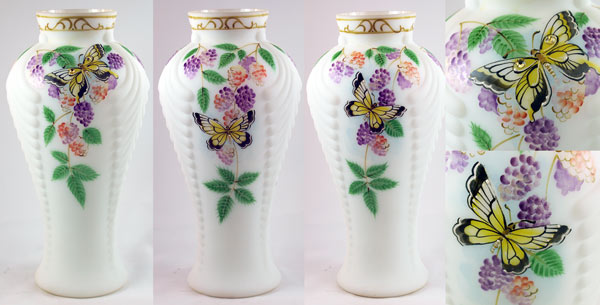 Our Opal Satin Feather Vase provides excellent frames for Robin Spindler's hand painted "Blackberries 'n Butterflies" design within each panel. Lush Blackberries cascade from the top of the vase with golden-winged butterflies flitting in and out amongst the berries. Robin added gemstone accents on a butterfly and painted golden scrolls around the top of the vase to complete this limited edition vase. Each Blackberries 'n Butterflies Vase is $175.
Pre-orders for the Limited Edition Raccoon's Harvest Jadeite Alley Cat, Ghost Buddies Ghost Figurine, Winter Friends Ornament, and the Blackberries 'n Butterflies Vase will be accepted until midnight (ET) on Wednesday, October 19, 2016. Please contact Fenton Gift Shop: 1-800-319-7793, ext. 342 or send us an email: purchasing@fentongiftshop.com and include the name(s) of each item you would like to purchase in the subject line. You may also request that we add your email address to Fenton Gift Shop's mailing list for news about future offerings.