---
Fenton Gift Shop Presents. . . NEW Limited Edition Glass!
Fenton Gift Shop is pleased to offer a new selection of Limited Editions! Each piece features a design by our award-winning Fenton artists, and will be hand painted, signed, numbered, and dated by the artist. Included in this grouping are a 14" Opal Satin Vase and a 9" Opal Satin Vase made by Davis-Lynch Glass as well as a 2.75 M
ouse figurine, a pair of 3" Ornaments/Suncatchers and an 11" Alley Cat figurine, each handcrafted in Opal Satin glass by our friends at Mosser Glass.

These pieces were made exclusively for the Fenton Gift Shop, using a Fenton mould, and returned to our factory where our talented artists created these wonderful Limited Edition designs!
Add a touch of fun to your Halloween display with "Count Catula" the Mouse figurine! Robin Spindler's creative imagination came up with the "purrfect" Halloween costume for this rodent! Robin's hand painted details include a "cat mask" complete with pointed ears and whiskers. Take note of those colorful green eyes that look full of mischief and those fangs! This figurine also sports a black t-shirt trimmed in white with the words "Trick or Treat" printed on the front. Each Count Catula Mouse Figurine is $85.
Frances Burton has transformed these Opal Satin Ornaments into delightful Halloween suncatchers and/or ornaments for your Trick or Treat Tree! Her popular cat and pumpkin designs are perfect subjects for these ornaments! Note those expressions and the fangs on the cats!
Frances painted the words "Halloween 2016" on the front and added her signature to the back of each ornament. These ornaments are sure to become family heirlooms to be displayed every Halloween season! These Halloween Cat and Pumpkin Ornaments are $100/pair.

Below: Robin Spindler continues her "Fading from Memory" series of hand painted designs featuring an endangered species with the impressive 14" Opal Satin Vase shown below. Her "endangered species" design depicts two Jaquarundi Kittens.
Did you know. . . At first glance this species looks more like a large weasel with its long body, small rounded ears, small head, and honey-brown eyes. Kittens are born with spots on their undersides, which disappear as they age.
The Jaguarundi have been endangered in the U.S. since 1976, with habitat loss as their most serious threat. Robin's hand painted details are meticulously applied as well as marvelous.
Robin added native habitat foliage and ground cover as background to her scene, which encircles the vase. Note the expressions on the face of each kitten! Robin will personally sign, date and number each vase. Each Fading from Memory-Jaguarundi Kittens Vase is $240.
Pre-orders for the Count Catula Mouse Figurine, the Halloween Cat and Pumpkin Ornaments and the Fading from Memory-Jaguarundi Kittens Vase will be accepted until midnight (ET) on Monday, September 19th, 2016. Please contact Fenton Gift Shop: 1-800-319-7793, ext. 342 or email: purchasing@fentongiftshop.com. You may also request that we add your email address to Fenton Gift Shop's mailing list for future limited edition news.
Kim Barley chose a special theme for this Opal Satin 11" Alley Cat. She calls her design "In Remembrance" in honor of the victims of 9-11-01. The photos above show all views of this magnificent tribute piece.
Kim sprayed the background of the Opal Satin glass in hues of red and blue with red stripes and a blue background with white stars on the neck area. A golden star covers one eye. Note the tear drop.

These words are hand painted around the figurine: "In Remembrance 9-11-01" with an image of the twin towers on the center section of this Alley Cat figurine. A single flame steadily glows on the top of the left tower. A hat representing firefighters and police overlap the towers, along with golden star accents.

Kim will sign and date each collectible Alley Cat figurine with these additional words: "15 years". Each In Remembrance Alley Cat Figurine is $240.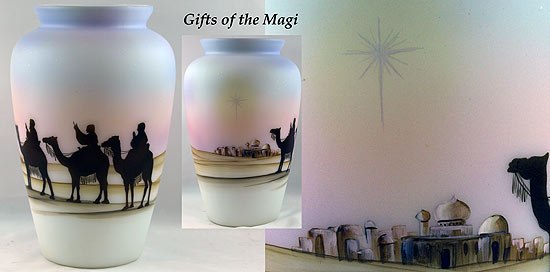 This vase will become a treasured heirloom to display during the holidays! Opal Satin glass provides the perfect canvas for this beautiful "Gifts of the Magi" design by Frances Burton. Her hand painted details include camels bearing the three Wise Men, or Magi. They followed a guiding star that, according to prophecy, would lead them to the city of Bethlehem and to the new Messiah. Frances used soft pastel hues for the sky and added a luminous star shining above the city of Bethlehem. Each Gifts of the Magi Vase is $165.
Pre-orders for the In Remembrance Alley Cat Figurine and the Gifts of the Magi Vase will be accepted until midnight (ET) on Wednesday, September 21st, 2016. Please contact Fenton Gift Shop: 1-800-319-7793, ext. 342 or send an email: purchasing@fentongiftshop.com, listing the items you wish to order in the subject line.
---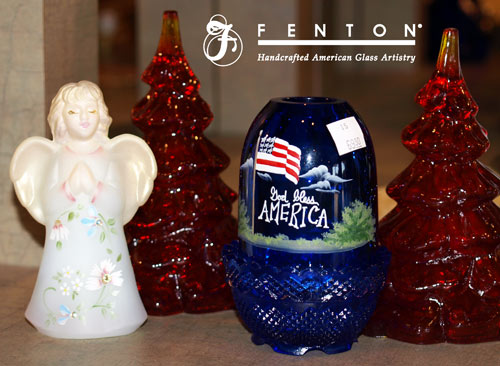 Visit Fenton Gift Shop. . .
Stop in to browse our latest offerings at Fenton Gift Shop, 420 Caroline Avenue, Williamstown, WV 26187. There is a wonderful selection of NEW one-of-a-kind pieces and limited editions, as well as excellent first quality "glass from the past"
. . . available while supplies last (there is usually just one available of each piece)!
Included are these Christmas Tree and Angel figurines and the Cobalt Blue "God Bless America" Fairy Light.
Be sure to check out specials on handcrafted jewelry. . . including Designer Sample beads and pendants, art glass earrings and jewelry accessories. . . all in a rainbow of colors, designs and glass treatments! Also available are catalogs, marketing material and other unique items related to the Fenton Art Glass Company's 111-year-old history. You never know what you'll find in our "odds and ends" section, including glassmaking tools and catalogs! Call today if you are interested in any of the items shown here as they may be going, going, GONE! Fenton Gift Shop is open Wednesday-Saturday from 10 a.m.- 3 p.m. ET. If you are planning a visit, we suggest you call to confirm the hours: 1-800-319-7793 or 1-304-375-7772.
---