---
Fenton Gift Shop Presents. . . NEW Limited Edition Glass!
Fenton Gift Shop is pleased to offer a new selection of Limited Editions! Each piece features a design by our award-winning Fenton artists, and will be hand painted, signed, numbered, and dated by the artist. You're in for a real "treat" with this offering of an assortment of talented designer Kim Barley's whimsical and fun designs! Included in this grouping are a 14" Opal Satin Vase made by Davis-Lynch Glass as well as a 5.75" Ghost figurine, a 5" Stylized Cat figurine and an 11" Alley Cat figurine, each handcrafted in Opal Satin glass by our friends at Mosser Glass. These pieces were made exclusively for the Fenton Gift Shop, using a Fenton mould, and returned to our factory where Kim created these wonderful Limited Edition designs!
Add dried branches, leaves and fake spider webs to this impressive "Haunted Mansion" Vase to create the perfect Halloween tabletop display! Kim Barley's hand painted design includes bats navigating through a stormy night with rain slashing throughout the sky. A witch (with spiderweb wings, no less!) and her black cat stride toward the front gates. Note the eerie glow in the windows and those tombstones on the back which spell out "R I P"! Each Haunted Mansion Vase is $245.
This Ghost looks happy about the approaching Halloween season with his "Just Bootiful" words within his wide-spread arms. We feel the same way about Kim's wonderful design on this Opal Satin Ghost figurine!
Kim prepared the background with soft hues of blue and green and then she meticulously applied the details. From the hand painted bats and stars, black cats and pumpkins to the colorful sunflowers and fabulous expression, this Ghost figurine is sure to bring a smile to all who see it! Each Just Bootiful Opal Satin Ghost Figurine is $130.
Pre-orders for the Haunted Mansion Vase and the Just Bootiful Ghost Figurine will be accepted until midnight (ET) on Monday, September 12th, 2016. Please call Fenton Gift Shop:
1-800-319-7793, ext. 342 or email:purchasing@fentongiftshop.com.
You may also request that we add your email address to Fenton Gift Shop's mailing list for news of future limited editions.

This figurine will delight figurine collectors and fans of the festive Halloween season! Kim hand painted this Stylized Cat figurine in colorful orange and yellow. Note the stripes in the cat's tail. . . and those startled expressions on the pumpkins! Kim also added a spider dangling from its web on the face and completed this piece with polka dot accents on the ears and a bat-shaped necklace! Each Webster Stylized Cat Figurine is $100 and limited to 13 figurines.
In Kim Barley's mind, there's nothing better than delicious iced cookies to go along with a nice mug of steaming coffee! She chose to hand paint this Alley Cat figurine as an orange tabby cat with distinctive stripes in shades of orange and golden-yellow. Note the black bowtie and that huge smile on the face (see the tongue?). Perhaps this Alley Cat is thinking about his upcoming coffee break treat! Each Coffee Cat Alley Cat Figurine is $200.
Pre-orders for the Webster Stylized Cat Figurine and the Coffee Cat Alley Cat Figurine will be accepted until midnight (ET) on Wednesday, September 14th, 2016. Please contact Fenton Gift Shop: 1-800-319-7793, ext. 342 or send us an email: purchasing@fentongiftshop.com.
---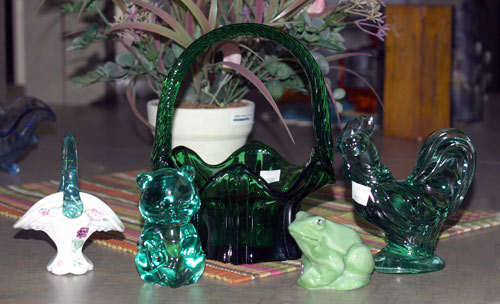 Visit Fenton Gift Shop. . .
Stop in to browse our latest offerings at Fenton Gift Shop, 420 Caroline Avenue, Williamstown, WV 26187. There is a wonderful selection of NEW one-of-a-kind pieces and limited editions, as well as excellent first quality "glass from the past". . . available while supplies last (there is usually just one available of each piece)!

Included are these beautiful baskets and figurines. Great holiday gift ideas! Be sure to check out specials on handcrafted jewelry. . . including Designer Sample beads and pendants, art glass earrings and jewelry accessories. . . all in a rainbow of colors, designs and glass treatments! Also available are catalogs, marketing material and other unique items related to the Fenton Art Glass Company's 111-year-old history. You never know what you'll find in our "odds and ends" section, including glassmaking tools and catalogs! Call today if you are interested in any of the items shown here as they may be going, going, GONE!
Fenton Gift Shop is open Wednesday-Saturday from 10 a.m.- 3 p.m. ET. If you are planning a visit, we suggest you call to confirm these hours: 1-800-319-7793 or 1-304-375-7772.
---
Fenton Art Glass Reference Books. . .
Stock up on reading material with Fenton Art Glass reference books. Choose from single titles or specially priced group sets or click here to view all available reference materials. Shown at right are paperback editions of Fenton Glass The 1990s Decade and Fenton Glass The 1980s Decade.
The 5th book in the Fenton history book series, Fenton Glass
The 1990s Decade contains 111 color pages and black and white photos to assist in identifying Fenton Art Glass pieces from the 1990s. A must have for the serious collector! Topics covered include A Decade of Growth 1990-1999; The Fenton line; Historic Collection colors; Connoisseur Collection; Family Signature Series; Easter and Christmas Limited Editions; Carnival Glass; Special Products; and Fenton and QVC.
Colors covered include Cranberry, Mulberry, Sea Mist Green, Jade Opaline, Twilight Blue, Plum, Rose Pearl, Ocean Blue, Fuschia, Rose Magnolia, Autumn Gold, Misty Blue, Aquamarine, Dusty Rose, and more. FG911 - Fenton Glass The 1990s Decade - $17.50 Buy Now!
Fenton Glass The 1980s Decade contains 176 pages with almost 80 pages of color photos of Fenton products of the period. An essential reference for the serious collector! The book, edited by Dr. James Measell, was published in 1996. Chapters trace the changes and developments in both the people and the products of the Fenton Art Glass Company throughout the 1980s. Other elements of the Fenton story, ranging from collectible glass (Connoisseur Collection and Mother's Day and Christmas editions) and special products to Fenton's diversification ventures (QVC), are the focus in later chapters of the book. FG100 - Fenton Glass The 1980s Decade - $17.50 Buy Now!

Originally $29.50 each, these books are now available for $17.50 each with FREE Shipping via the USPS.