---
Fenton Gift Shop Presents. . . NEW Limited Edition Glass!
Fenton Gift Shop is pleased to offer a new selection of Limited Editions! Each piece features a design by our award-winning Fenton artists, and will be hand painted, signed, numbered, and dated by the artist.

Included in this grouping are an 11" Rose Alley Cat, a 5.75" Opal Satin Ghost figurine and a 2.75" Opal Satin Bird figurine, each handcrafted by our friends at Mosser Glass. Also included is a 9"and an approximately 10" Vase, each made in Opal Satin by Davis-Lynch Glass. These pieces were made exclusively for the Fenton Gift Shop, using a Fenton mould, and returned to our factory where our talented designers created these wonderful Limited Edition designs!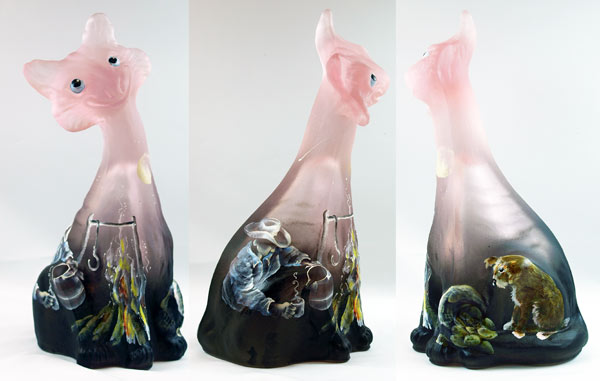 | | |
| --- | --- |
| Robin Spindler's creative imagination came up with a wonderful design for this Alley Cat, handcrafted in a Rose glass color. We called Robin's design "Cowboy Campfire". . . and the hand painted details are amazing! There's the traditional campfire and a cowboy pouring his cup of java. Did you notice that the faithful furry friend has his eyes on a mouse hiding amongst the potatoes! Each Cowboy Campfire Alley Cat Figurine is $235. | |
Frances Burton's lovely "Blooming Butterflies" design suits this Opal Satin Ghost figurine perfectly. The pastel green background hues complement the colorful purple- and rose-colored flowers and two vivid orange butterflies hovering amongst the blooms. Each Blooming Butterflies Ghost Figurine is $100.
The shape of this nearly 10" Opal Satin Vase provides a wonderful canvas for stylized peacock feathers designed by Frances Burton. The hand painted details feature elegant feathery strands climbing upwards on the vase. The feathers appear to be swaying in a summer's breeze. Soft blue bands at the top of this vase complete the stylish look. Each Peacock Feathers Vase is $160.
Pre-orders for the Cowboy Campfire Alley Cat Figurine, the Blooming Butterflies Ghost Figurine and the Peacock Feathers Vase will be accepted until midnight (ET) on Monday, August 8th , 2016. Please contact Fenton Gift Shop: 1-800-319-7793, ext. 342 or email: purchasing@fentongiftshop.com.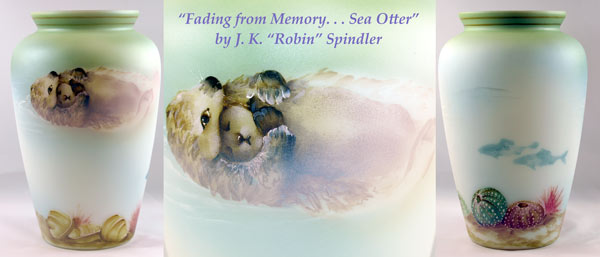 Robin Spindler will be featuring a series of "endangered species" hand painted designs for her upcoming limited editions. She named this series "Fading from Memory" and each limited edition will have an endangered species as the design theme. A wild animal that is in danger of extinction throughout all or a significant portion of its range is considered an endangered species. A species is considered "threatened" if it is likely to become endangered within the foreseeable future. One way to find out if a species is endangered is to search the U.S. Fish and Wildlife Service Endangered Species Reports.
First in Robin's "Fading from Memory" series is a splendid Opal Satin 9" Vase for which Robin chose to depict "Sea Otters" as the theme. Did you know. . . Sea otters have excellent eyesight and use their whiskers to sense vibrations in the water. They also use "tools" when eating. Because they love mollusks, sea otters will use rocks as hammers to help open the shells. Sea Otters were listed under the Marine Mammal Protection and Endangered Species Acts in the 1970s. Numbers have slowly recovered, but remain far below original population numbers. Robin's meticulous hand painted details on this heartwarming scene of a female (sow) with her young (pup) are amazing. Robin added sea urchins in an ocean floor scene as background on this vase. Each Fading from Memory - Sea Otters Vase is $210.
Frances Burton continues her popular "Pink Floral" design on our 2.75" Opal Satin Songbird figurine. The hand painted design was featured earlier this year on an Owl figurine and this Songbird makes the perfect companion piece for collectors! Note the details on the eyes! Frances airbrushed the Opal Satin figurine to a soft golden-yellow hue before applying the decoration. Each Pink Floral Songbird Figurine is $80.
Pre-orders for the Pink Floral Songbird Figurine and the Sea Otter Vase will be accepted until midnight (ET) on Wednesday, August 10th, 2016. Please contact Fenton Gift Shop: 1-800-319-7793, ext. 342 or email: purchasing@fentongiftshop.com.
You may also request that we add your email address to Fenton Gift Shop's mailing list to receive future limited edition notifications.
---
Visit Fenton Gift Shop. . .
Stop by and see the latest offerings at Fenton Gift Shop, 420 Caroline Avenue, Williamstown, WV 26187. Fenton Gift Shop has a wonderful selection of NEW one-of-a-kind art glass creations, limited editions, and excellent first quality "glass from the past". . . available while supplies last (there may be just one available of each piece)!
Included is this wonderful selection of Custard glass with the hand painted "Log Cabin" design from the 1970s-80s.

Be sure to check out specials on handcrafted jewelry. . . including Designer Samples, one-of-a-kind beads, art glass earrings and jewelry accessories... available in a rainbow of colors, designs and glass treatments! Also available are catalogs, marketing materials and other unique items related to the Fenton Art Glass Company's 111-year-old history. You never know what you'll find in our "odds and ends" section, including glassmaking tools and catalogs! Call today if you are interested in any of the beautiful items shown here as there is just one of each piece and they could be going, going, GONE!
Fenton Gift Shop is open Wednesday-Saturday from 10 a.m.- 3 p.m. (ET) and closed Sunday-Tuesday.
Please call to confirm hours: 1-800-319-7793 or 1-304-375-7772.