---
Fenton Art Glass Christmas in July Special on "Retired" Beads!
Now is the perfect time to stock up on gifts with our final Christmas in July Online Special of "retired" Fenton Art Glass beads. With a wide selection of beads in a variety of colors and glass treatments from which to choose, you'll be sure to find gifts for special people or a specific bead you need to complete your jewelry collection. Quantities may be very limited on these items. . . so don't delay placing your order!

You'll receive a 35% discount on our remaining inventory of "retired" first quality Fenton Art Glass beads. . . (handcrafted in Williamstown, West Virginia) for orders placed online from www.fentonartglass.com! This online special is valid from 8 p.m. (ET) on Thursday, July 21st until 8 p.m. (ET) Wednesday, July 27th.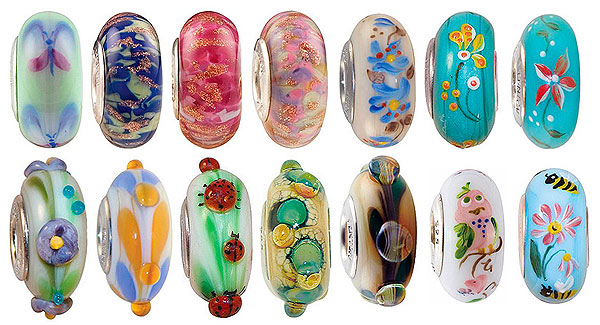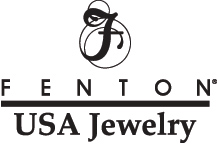 We're going to help you find the perfect gift or those missing beads with this online special!

Choose from the selections shown here or shop now and receive a 35% discount on any bead in our "Retired Beads - Fenton" online category at www.fentonartglass.com. Remember, this online special ends at 8 p.m. on July 27th!

---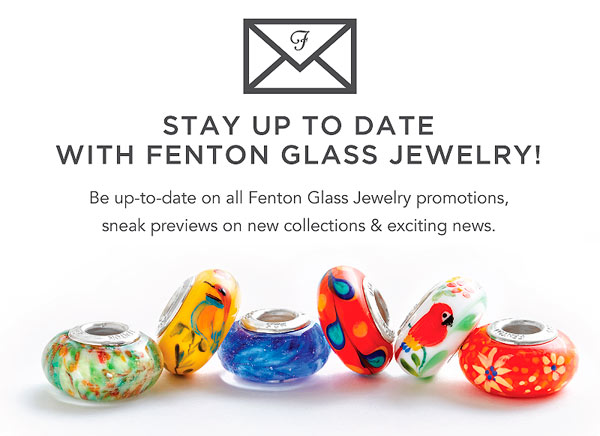 Check out the latest jewelry, including beads and stylish fashion accessories, available from Fenton Glass Jewelry.
Be sure to register for the Customer Loyalty Program and receive 25 Welcome points at signup. Sign up today and start earning your rewards points ─ www.fentonglassjewelry.com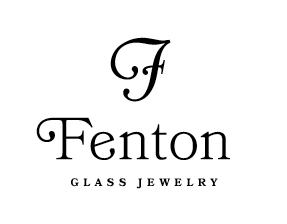 ---
Fenton Gift Shop Presents. . . NEW Limited Edition Glass!
Fenton Gift Shop is pleased to offer a new selection of Limited Editions! Each piece features a design by our award-winning Fenton artists, and will be hand painted, signed, numbered, and dated by the artist. Included in this grouping are an 8" Buttercream Chessie Cat Candy Box, an Opal Satin 10.5" Vase and 11" Opal Satin Alley Cat, each handcrafted by our friends at Mosser Glass. These pieces were made exclusively for the Fenton Gift Shop, using a Fenton mould, and returned to our factory where our talented designers created these wonderful Limited Edition designs! SPECIAL NOTE: A photography sample was not ready at press time, but a wonderful Opal Satin Ghost figurine (made by Mosser) designed by Frances Burton will also be available for pre-orders until midnight on July 27th.
Plan your Halloween tabletop display with these new Limited Edition selections from the talented Kim Barley. Kim's love of all things Halloween inspired her to create two whimsical and fun seasonal designs!

This Chessie Box is perfect for hiding special Halloween treats! Kim has transformed the sleeping cat on this Buttercream Chessie Cat Covered Box into an adorable "pumpkinhead" cat. . . perhaps still in costume after a night or prowling for treats?

Kim included lots of hand painted details. . . . from the web with a creepy spider dangling over a cupcake to a skeleton peeking over the blanket! And don't forget that black bat on the lid! Each Pumpkin Head Chessie Cat Covered Box is $150 and is limited to just 7 sets!


NOTE: Once the seven sets are gone, this scene will also be available on the Crown Tuscan Chessie Cat Covered Box with a slight variation in the hand painted design. Please contact the Fenton Gift Shop for details.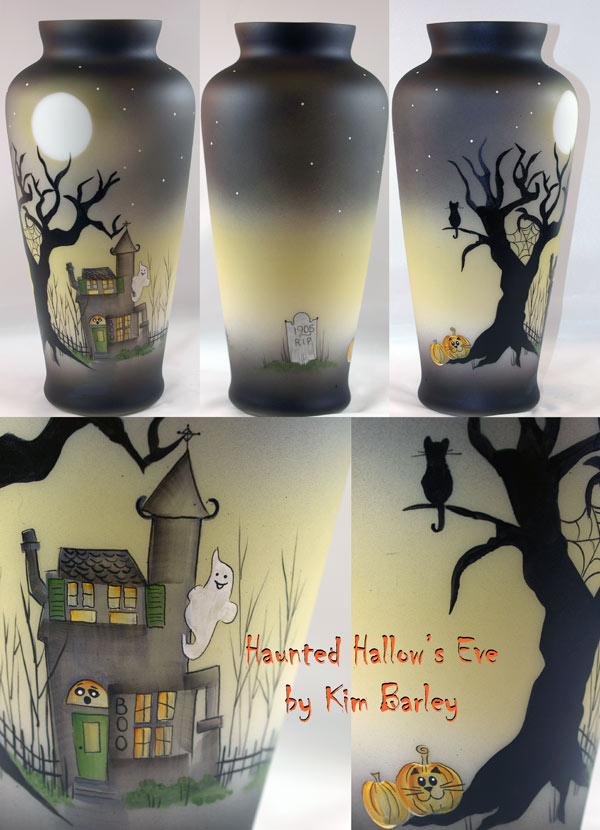 Kim chose her popular haunted house theme for this 10.5" Opal Satin vase. We call this piece "Haunted Hallow's Eve". Kim incorporated lots of spooky details in her design.
Check out the close-ups for images of a black cat keeping watch while perched high above a pumpkin painted to resemble a cat! Check out the friendly ghost and the face appearing above the front door to this haunted house. Did you notice the date on the R.I.P. tombstone? Each Haunted Hallow's Eve Vase is $210.
Pre-orders for the Pumpkin Head Chessie Cat Covered Box and the Haunted Hallow's Eve Vase will be accepted until midnight (ET) on Monday, July 18, 2016. Please contact Fenton Gift Shop: 1-800-319-7793, ext. 342 or email: purchasing@fentongiftshop.com.
Robin Spindler chose to depict a predator for this Opal Satin Alley Cat. Her design includes a Cobra and a Mongoose having a "staredown". . . looking eye to eye while a hovering dragonfly observes from above. Opal Satin glass provides the perfect canvas for Robin's meticulous hand painted details.
Just who is the predator in this scene? Though small in size, the Mongoose is an excellent hunter, having a keen sense of smell, excellent eye sight and hearing, as well as remarkable reflexes. They hunt snakes, including the King Cobra! They are mostly immune to the snake's venom, although repeated stings/strikes may sicken or kill them. Each Mongoose and Cobra Alley Cat is $235.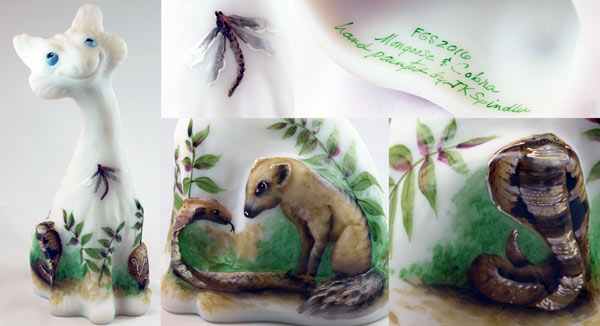 Not available at press time: An Opal Satin Ghost figurine with hand painted design by Frances Burton. Please contact Fenton Gift Shop for photo and details: purchasing@fentongiftshop.com.
Pre-orders for the Mongoose and Cobra Alley Cat and the Ghost Figurine will be accepted until midnight (ET) on Wednesday, July 27, 2016. Please contact Fenton Gift Shop: 1-800-319-7793, ext. 342 or email: purchasing@fentongiftshop.com. You may also request that we add your email address to Fenton Gift Shop's mailing list to receive future limited edition notifications.
---

Visit Fenton Gift Shop. . .

Stop by and see the latest offerings at Fenton Gift Shop, 420 Caroline Avenue, Williamstown, WV 26187. Fenton Gift Shop has a wonderful selection of NEW one-of-a-kind art glass creations, limited editions, and excellent first quality "glass from the past". . . available while supplies last (there may be just one available of each piece)! Be sure to check out our handcrafted jewelry specials. . . including Designer Samples, one-of-a-kind beads, art glass earrings and jewelry accessories... available in a rainbow of colors, designs and glass treatments! Also available are catalogs, marketing materials and other unique items related to the Fenton Art Glass Company's 111-year-old history.

You never know what you'll find in our "odds and ends" section! Call today if you are interested in any of the beautiful items shown at right as there is just one of each piece and they could be going, going, GONE!

Fenton Gift Shop is open Wednesday-Saturday from
10 a.m.- 3 p.m. (ET) and closed Sunday-Tuesday.
Please call to confirm hours:

1-800-319-7793 or 1-304-375-7772.
---
Fenton eBay Auctions. . . Here's your opportunity to own a unique, rare, one-of-a-kind creation, through our weekly eBay Auctions! Items featured this week. . .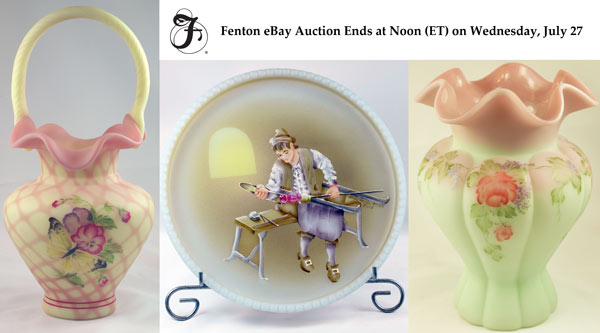 This one-of-a-kind satin finished Burmese basket (10" tall) features a lush, hand painted floral motif with butterfly that was designed and painted by Fenton artist Michelle Kibbe. Michelle's design and exquisite hand painting blend beautifully with the diamond optic pattern within the Burmese glass, which contains pure gold in the glass batch in order to allow skilled glassworkers to bring out the pink blush with special reheating techniques. Note the distinctive lily crimp style, too!

Award-winning designer Robin Spindler marshaled all her talents and skills to create this one-of-a-kind hand painted design on a Blue Burmese plate (7.25" diameter) that depicts the iconic "Clarence" glassworker, a symbol used on small sticker and in publications by Fenton Art Glass since the 1950s but not as a hand painted scene until Robin created this design last year! The skilled Clarence is seated at his finisher's bench, completing his work on a piece of cranberry glass, while the open mouth of a pot furnace is represented in the background. This plate includes a satin silver stand.

Lotus Mist Burmese is a classic Fenton color, made with pure gold and subjected to special reheating techniques to create the pink blush. Fenton artist Frances Burton designed and hand painted this lush floral motif on a Lotus Mist Burmese vase (7.25" tall) to create a wonderful one-of-a-kind piece that will grace any home! You'll enjoy the vivid colors of the hand painted flowers, and the details of the foliage are remarkable. The exterior of this vase is satin finished, and the interior is shiny. Check out the details on each piece and place your bid! This Fenton eBay auction ends at noon (ET) on Wednesday, July 27th.
---
For questions or comments, please do not reply to this email. Instead, email: askfenton@fentonartglass.com.

This email has been sent to you because you have agreed to receive offers and information from the Fenton Art Glass Company. We respect your privacy and do not sell your personal information. For details, please review our privacy policy.

How to unsubscribe: If you prefer not to receive offers or information from Fenton Art Glass, please use this page to unsubscribe.

If you use a Challenge-Response system for email, please make certain that you can receive our email by adding askfentononline@fentonartglass.com to your Allow List.

For specific instructions for major ISPs, click here.

The sender of this email is the Fenton Art Glass Co., 700 Elizabeth St., Williamstown, WV, 26187