---
Fenton Gift Shop Presents. . . NEW Limited Edition Glass!
Fenton Gift Shop is pleased to offer a new selection of Limited Editions! Each piece features a design by our award-winning Fenton artists, and will be hand painted, signed, numbered, and dated by the artist. Included in this grouping are a Cobalt Blue 11" Alley Cat as well as a 9.5" Candy Box and a 5.25" Rooster figurine, all handcrafted in Opal Satin at Mosser Glass. Also included is an 8" Hexagon-shaped Vase and a 10.5" Vase, each handcrafted in Opal Satin by Davis Lynch. These pieces were made exclusively for the Fenton Gift Shop, using a Fenton mould, and returned to our factory where our talented designers created these wonderful Limited Edition designs!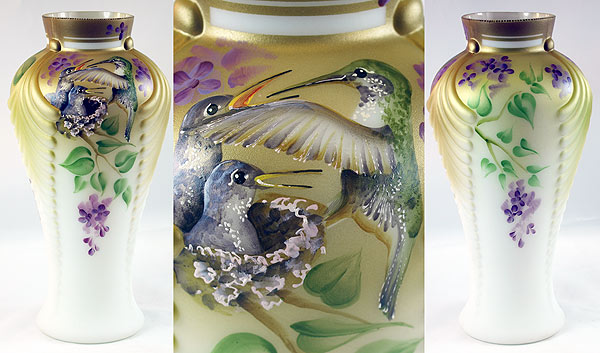 Robin Spindler's hand painted design of a hummingbird feeding its young is perfect for this elegant "feather" 10.5" vase! Soft golden hues of color encircle the vase and Robin added banded accents around the top. Note the lovely purple flowers and green leaves that seem to be hanging gracefully from the top of this vase. Robin's hand painted details are beautiful. Each Feeding Time Feather Vase is $185.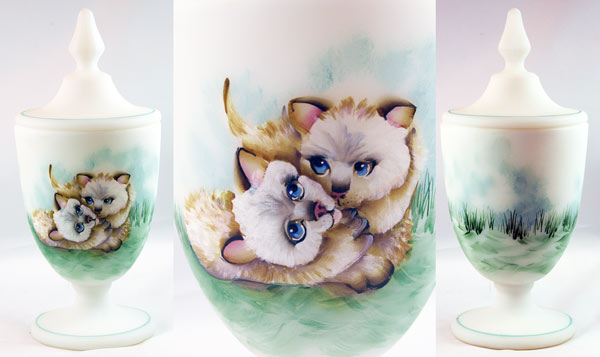 We've named the design on this Candy Box "Cuddle Kittens" . . . can you can see why? Robin Spindler's adorable depiction of kittens at play will tug at your heartstrings! Note the vivid blue eyes on these playful kittens! Pale green accent lines encircle the lid and the base and Robin added a grassy landscape on the back of this Candy Box. Each Cuddle Kittens Candy Box is $150.


Kim Barley's "Gold 'n Green" 5.25" Folk Art Rooster is a collectible blast from the past with a whimsical touch! Kim used a stipple art effect on the tail in a style from days gone by and added pastel colors and polka dots accents to complete this piece. Each Gold 'Green Folk Art Rooster Figurine is $90.

Pre-orders for the Feeding Time Feather Vase,
the Cuddle Kittens Candy Box and the Gold 'Green
Folk Art Rooster figurine will be accepted until midnight (ET) on Monday, July 18, 2016. Please contact Fenton Gift Shop: 1-800-319-7793, ext. 342 or via email: purchasing@fentongiftshop.com. You may also request that we add your email address to Fenton Gift Shop's mailing list to receive future limited edition notifications.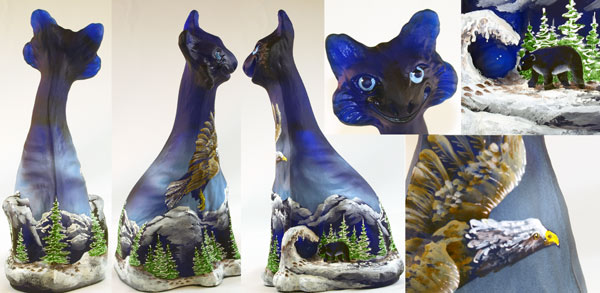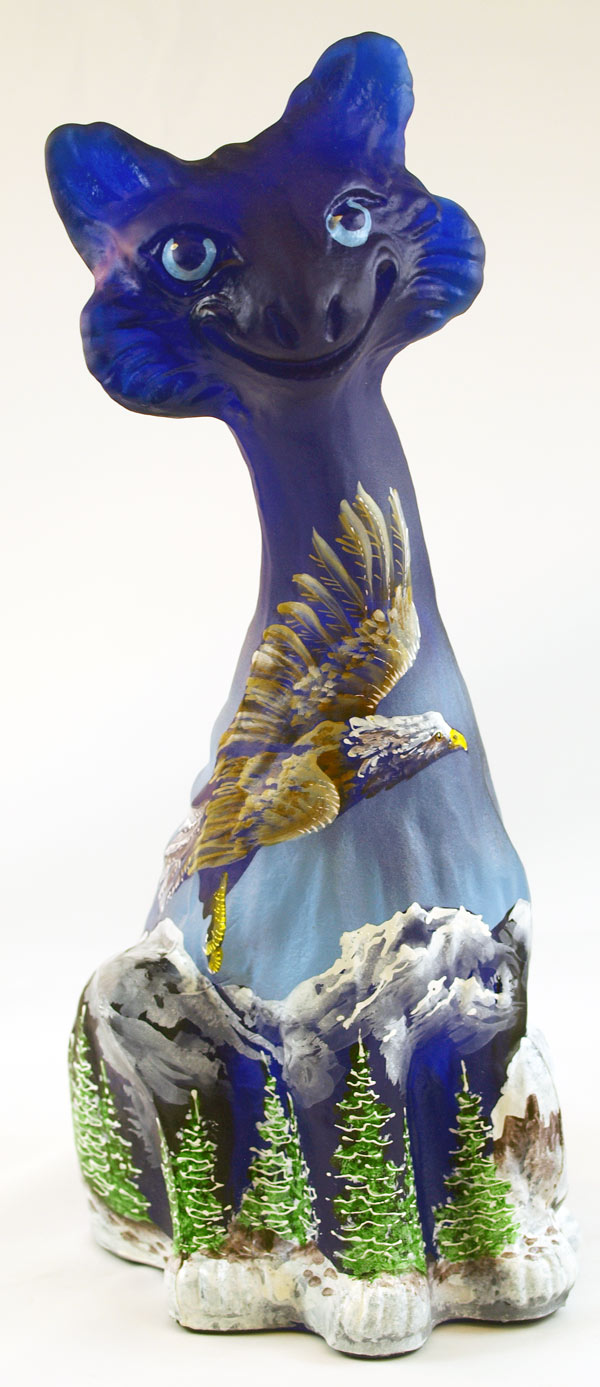 Rich Cobalt Blue glass provides the perfect canvas for Robin Spindler's depiction
of the beauty and majesty of nature and our national symbol. . . the bald eagle.
We've included several views of this magnificent 11" tall Cobalt Alley Cat
so you can see all the meticulous details of Robin's scenic design. . .
from the majestic snow-capped mountains and tall evergreens that seem to
stretch upward toward the blue skies to the impish grin on the face and the
bright blue hand painted eyes on this popular Alley Cat. Can you spot the
black bear on this figurine? Hint: Check out the curved tail area!
Did you know. . . The male bald eagle has been the national emblem of the
United States of America since June 20, 1782 and is one of the largest raptors
in the world. The eagle is clearly recognized by its distinctive white head,
brown body and hooked yellow beak with a wing span that can reach up to
7 ft., a weight of 7-15 lbs. and an overall size of 28-38 inches.
Each Flight of the Eagle Alley Cat is $250.
Below: Frances Burton has created a serene summertime scene of a
pond laden with lush pink and rose-colored waterlily blossoms that appear to
be waving in a gentle breeze. Golden-winged dragonflies hover above them
and curious Koi fish swim just beneath the water's surface.
The delicate hand painted details are beautiful on our popular hexagon-shaped vase. Each Waterlily Waves Vase is $160.
Pre-orders for the Flight of the Eagle Alley Cat and the Waterlily Waves
Vase will be accepted until midnight (ET) on Wednesday, July 20, 2016. Please contact the Fenton Gift Shop, listing each Limited Edition piece
you would like to order: 1-800-319-7793, ext. 342 or via email: purchasing@fentongiftshop.com.