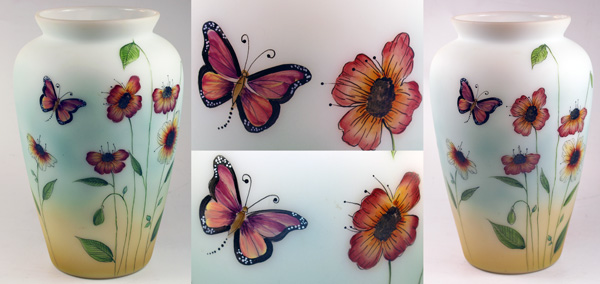 Changing seasons from Halloween to summertime "Butterflies and Blooms", Kim Barley continues to delight one and all with her creativity! Kim chose soft, airbrushed hues for the background on this 9" Opal Satin vase, and added colorful blooms stretching upward with vibrant butterflies hovering nearby. Note the delicately hand painted flower petals and details on the wings of the butterflies. Each Butterflies and Blooms Vase is $170.

Pre-orders for the Spooky Street Alley Cat and the Butterflies and Blooms vase will be accepted until midnight (ET) on Monday, July 11, 2016. Please contact the Fenton Gift Shop: 1-800-319-7793, ext. 342 or via email: purchasing@fentongiftshop.com.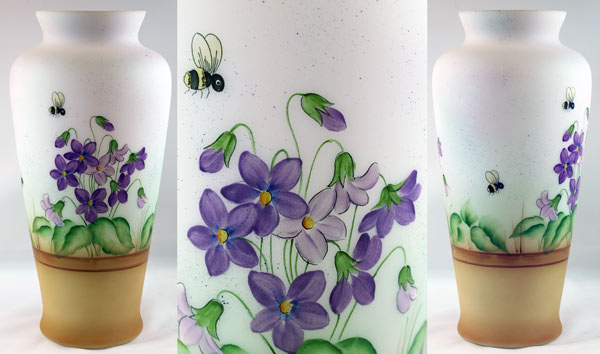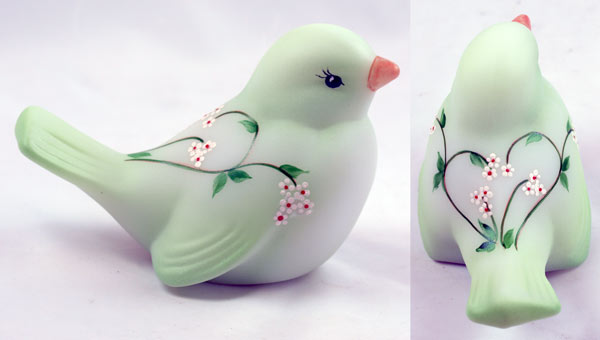 You can have a floral display all year with this unique design of "Vivid Violas" from Kim Barley! Kim chose to hand paint these vibrant purple flowers in a clay flowerpot on this 10.5" Opal Satin Vase. . . it even has the "hole" for the flowerpot painted on the underside! Kim added hovering bumblebees as whimsical accents to this piece. Each Vivid Violas Vase is $170.

Frances Burton has transformed our Opal Satin Songbird figurine into a lovely green songbird with a heart-shaped floral design with delicate green stems and white flowers. Each Floral Heart Bird figurine is $75.

Pre-orders for the Vivid Violas Vase and
the Floral Heart Bird figurine will be accepted until midnight (ET) on Wednesday, July 13, 2016. Please contact the Fenton Gift Shop: 1-800-319-7793, ext. 342 or via email: purchasing@fentongiftshop.com.
---
Visit Fenton Gift Shop!
Stop by and see the latest offerings at Fenton Gift Shop, 420 Caroline Avenue, Williamstown, WV 26187. Fenton Gift Shop has a wonderful selection of NEW one-of-a-kind art glass creations, limited editions, and excellent regular line "glass from the past". . . available while supplies last (there may be just one available of each piece)!

Be sure to check out our handcrafted jewelry specials, including Designer Samples, one-of-a-kind beads, and art glass earrings available in a rainbow of colors, designs and glass treatments!
And don't forget about sterling silver jewelry accessories!

Also available are catalogs, marketing materials and other unique items related to the Fenton Art Glass Company's 111-year-old history. You never know what you'll find in our "odds and ends" section! Call today if you are interested in any of the items shown here as they could be going, going, GONE!

Fenton Gift Shop hours:
Wednesday-Saturday, 10 a.m.- 3 p.m. (ET)
Closed Sunday-Tuesday. Please call to confirm hours:
1-800-319-7793 or 1-304-375-7772
---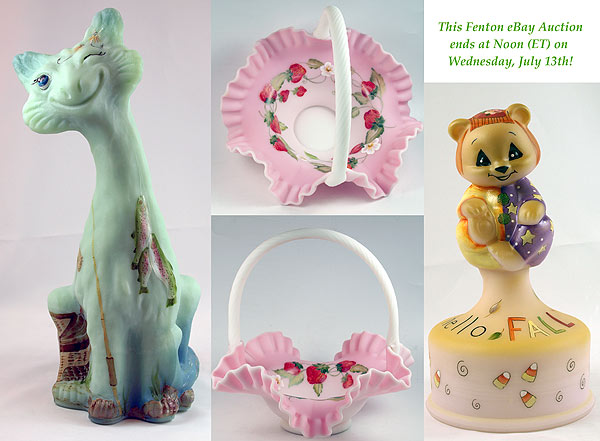 Fenton eBay Auctions:
Here's your opportunity to own a unique, rare, one-of-a-kind creation, through our weekly eBay Auctions!
Items featured this week. . .

If you like to be "Gone Fishing," this one-of-a-kind Alley Cat (11" tall) in satin finished jade green with hand painting by Fenton artist Michelle Kibbe is a "must have!" From the creel below the sign and the fish on a stringer to the leaping "lunker," this hand painted Alley Cat figurine is simply splendid. Note the epigram in Michelle's careful lettering: "A bad day fishing is Better than a good day working." The Alley Cat is among the most collectible items in Fenton history, and the mould for this piece originated at the United States Glass Co. in Ohio during the 1920s and was purchased by Fenton Art Glass about 40 years later. The light jade green color was made at Mosser Glass, using the Fenton mould.

Memories of strawberry picking in the Springtime abound in this one-of-a-kind hand painted Rosalene basket by Frances Burton. With satin finished Rosalene glass as her canvas, Frances designed and hand painted this incredibly lush motif of strawberries, blossoms, tendrils and foliage on the interior of the basket … we wish we could have a few to eat! The basket measures nearly 8.75" tall, and the elaborate lily crimp and the fine rib twisted handle are hallmarks of the skilled glassworkers who made this basket several years ago.

Summer may be here, but the talented Kim Barley is already looking forward to Fall! This one-of-a-kind Crown Tuscan Bear is on the fount as pressed (by our friends at Mosser Glass) using an original Fenton mould, and Kim has used a variety of vivid colors in this delightful hand painted motif. The triangular eye make-up, the costume and the candy corn all suggest that Halloween was in Kim's mind as she created this most unusual design (note the lettering: "hello FALL"). This one-of-a-kind Bear on fount measures 6.75" tall. Check out the details on each piece and place your bid! This Fenton eBay auction ends at noon (ET) on Wednesday, July 13th.
---