---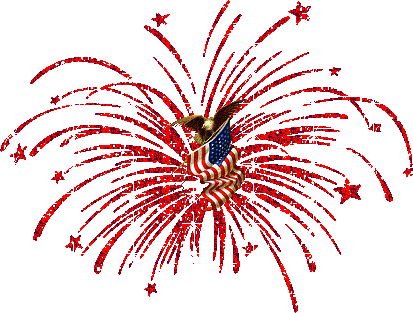 Fenton Presents. . . Sizzling July 4th Specials!
Celebrate July 4th with these sizzling online specials! Enjoy special discounts on select items for orders placed online from www.fentonartglass.com!
Offers Valid from 8 a.m. on July 1st until 8 a.m. (ET) on July 5th!
Sizzling July 4th Spacer Special!

Receive a 30% discount on this sterling silver spacer bead when you place your order via www.fentonartglass.com! Spacer beads are the perfect jewelry accessory to complement our handcrafted glass beads. Quantity is very limited and this spacer is available at a special online sale price until 8 a.m. (ET) on Tuesday, July 5th. . . while supplies last!


60044 Sterling Silver Spacer Bead, $15, Sale Price $10.50 for a limited time! Buy Now!
Sizzling July 4th "Retired" Beads Special!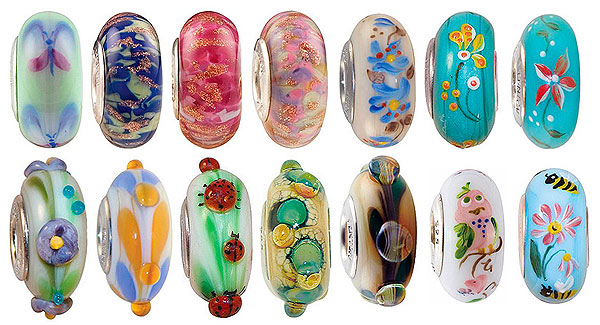 Each year we retire beads from our regular line to make room for new designs and glass treatments.
This is the perfect time to pick up those beads you wanted, but had missed getting earlier!
We're going to help you find those missing beads with this sizzling special on our "retired" beads!

Choose from the selections shown here or shop now and you'll receive a 30% discount on any bead in our "Retired Beads - Fenton" category at www.fentonartglass.com. Remember, this online special ends at 8 a.m. on July 5th!
---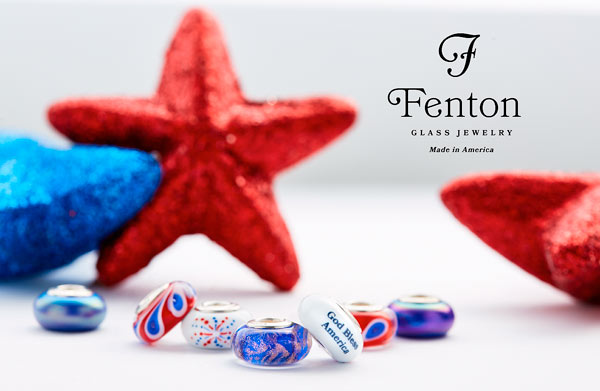 Fabulous Patriotic Fashion Accessories!
The Fourth of July is celebrated every year through cookouts, parades, fireworks and most importantly by the company of our beloved friends and family.

You may already have your holiday weekend planned with barbecues, picnics and being surrounded by love, but do you know what you'll be wearing?

Check out our patriotic Fenton beads to style with that will make you feel comfortable, casual & festive!

Browse the latest "Made in America" patriotic jewelry and be sure to register for the Customer Loyalty Program at www.fentonglassjewelry.com and receive 25 Welcome points at signup. Sign up today and start earning your rewards points!
---
Fenton Gift Shop Presents. . . NEW Limited Edition Glass!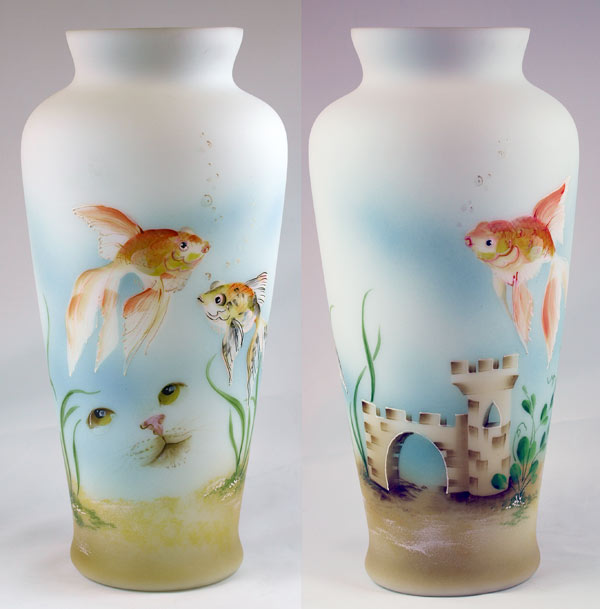 Fenton Gift Shop is pleased to offer a new selection of Limited Editions! Each piece features a design by our award-winning Fenton artists, and will be hand painted, signed, numbered, and dated by the artist.
Included in this grouping are a 10.5" Vase,
a 5.75" Ghost, a 5" Cat and a 5.25" Rooster, each made in Opal Satin glass by our friends
at Mosser Glass. Also included is an 8.5" Opal Satin Hexagonal-shaped Vase by Davis Lynch.
These pieces were made exclusively for the Fenton Gift Shop, using a Fenton mould, and returned to our factory where our talented designers created these wonderful Limited Edition designs! You may also request that we add your email address to Fenton Gift Shop's mailing list to receive future limited edition notifications.

The vase shown here can be mesmerizing! Robin Spindler's fun design depicts the curious side of our feline friends! Robin calls her design "Visitor". Look at that face on the lower left as it gazes up at the koi fish above!
Robin's hand painted details are vivid and marvelous. . .
(see close up views) from the cat's face and koi fish to the underwater foliage and castle! Each Visitor Opal Satin Vase is $195.

Our friendly Opal Satin Ghost figurine provides the perfect canvas for Kim Barley's hand painted scene of two black cats perched on a branch "bat watchin'" beneath a full autumn moon. Note that smiling face! Kim airbrushed the background and added golden star accents to complete this piece.
Each Bat Watchin' Ghost figurine is $120.

Pre-orders for the Limited Edition Visitor Vase and the Bat Watchin' Ghost figurine will be accepted until midnight (ET) on Monday, July 4th, 2016. Please contact the Fenton Gift Shop: 1-800-319-7793, ext. 342 or email: purchasing@fentongiftshop.com. You may also request to have your email added to a mailing list in order to receive future notifications of limited editions as they become available.

Below: Designed by Kim Barley, our Opal Satin vase will add a bright spot of color to any tabletop display! Kim designed stylized fuchsia flowers hanging from a golden band and added a soft lavender background and colorful accents that complement the hexagonal shape of this interesting vase. Each Fuchsia Blooms Vase is $150.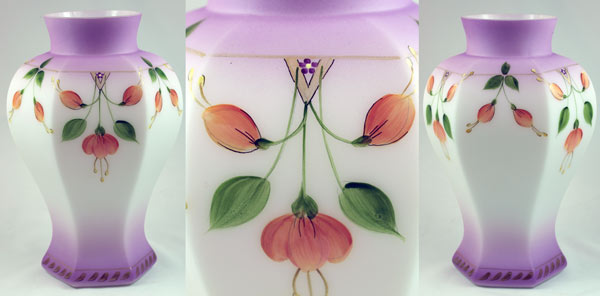 | | |
| --- | --- |
| | |
Figurine collectors will want to add these two delightful pieces to their collection! Handcrafted in Opal Satin glass, each figurine features a wonderful hand painted design that is sure to please. Frances Burton chose Forget-me-nots and Butterflies for the Stylized Cat figurine. Note the delicately hand painted flowers and details on the wings of the butterflies. Each Butterflies with Blooms Stylized Cat figurine is $95.
Robin Spindler chose an elegant look for her design of vining florals and soft gold-red hues for this handcrafted Rooster figurine. Each Golden Rooster figurine is $85.

Pre-orders for the Fuchsia Blooms Vase, Butterflies with Blooms Stylized Cat and the Golden Rooster figurines will be accepted until midnight (ET) on Wednesday, July 6, 2015. Please contact the Fenton Gift Shop: 1-800-319-7793, ext. 342 or via email: purchasing@fentongiftshop.com.
---
Visit Fenton Gift Shop!
Stop by and see the latest offerings at Fenton Gift Shop, 420 Caroline Ave., Williamstown, WV 26187.
Fenton Gift Shop has a wonderful selection of NEW one-of-a-kind art glass creations, limited editions, and excellent regular line "glass from the past". . . available while supplies last (there may be just one available of each piece)!

Be sure to check out our handcrafted jewelry specials, including Designer Samples, one-of-a-kind beads, and art glass earrings available in a rainbow of colors, designs and glass treatments! And don't forget about sterling silver jewelry accessories! Also available are catalogs, marketing materials and other unique items related to the Fenton Art Glass Company's 111-year-old history. You never know what you'll find in our "odds and ends" section!

Call today if you are interested in any of the items shown here as they may be going, going, GONE! Regular Fenton Gift Shop hours are Wednesday-Saturday: 10 a.m.- 3 p.m. (ET). Closed Sunday-Tuesday. Please call to confirm hours: 1-800-319-7793 or 1-304-375-7772


SPECIAL NOTE FOR JULY 4th, 2016:
Fenton Gift Shop will be open Friday, July 1 and closed on Saturday, July 2nd. Regular hours will resume on July 6th.
---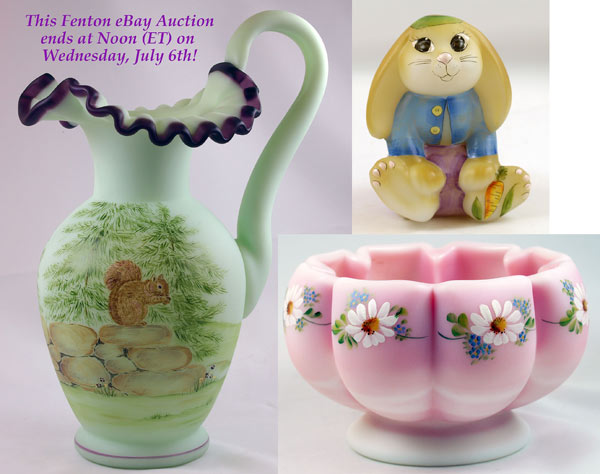 Fenton eBay Auctions:
Here's your opportunity to own a unique, rare, one-of-a-kind creation, through our weekly eBay Auctions!
Items featured this week. . .

With a satin finished Lotus Mist Burmese pitcher (10" tall to the top of the handle) for her canvas, Fenton artist Michelle Kibbe, designed and hand painted this interesting one-of-a-kind outdoor scene featuring a squirrel enjoying a snack while perched on a rock wall (there's a Chickadee on a fence post, too!). The colors and details in Michelle's hand painting are beautifully executed. Note the applied glass edge of amethyst glass and the distinctive "saddle" crimp style created by skilled glassworkers at Fenton.

Kim Barley has created a delightful design on our popular Opal Satin Lop Ear Bunny figurine (3.5" Tall). Handcrafted by Mosser Glass, using a Fenton mould, this handpainted bunny features a blue jacket, purple bottoms and a green cap. Kim added a carrot by one paw. Note the adorable expression on the bunny's face!

Made with an historic Fenton mould dating back to the 1920s, this satin finished Rosalene bowl (5.5" d., with shiny interior) features a one-of-a-kind decoration created and hand painted by Fenton artist Frances Burton. The vivid white daisies are simply delightful, and the surrounding flowers and leaves and beautifully done. Rosalene glass is a collector favorite. In the late 1960s Frank M. Fenton and Fenton chemist Charlie Goe wanted to duplicate an antique color called Pink Slag. This heat-sensitive glass was made in the early 1900s for a brief time by another glass company. By adding pure gold to an opaque glass batch and reheating the formed piece, the soft white glass became a wonderful soft pink. Check out the details on each piece and place your bid! This Fenton eBay auction ends at noon (ET) on Wednesday, July 6th.
---
---
For questions or comments, please do not reply to this email. Instead, email: askfenton@fentonartglass.com.

This email has been sent to you because you have agreed to receive offers and information from the Fenton Art Glass Company. We respect your privacy and do not sell your personal information. For details, please review our privacy policy.

How to unsubscribe: If you prefer not to receive offers or information from Fenton Art Glass, please use this page to unsubscribe.

If you use a Challenge-Response system for email, please make certain that you can receive our email by adding askfentononline@fentonartglass.com to your Allow List.

For specific instructions for major ISPs, click here.

The sender of this email is the Fenton Art Glass Co., 700 Elizabeth St., Williamstown, WV, 26187