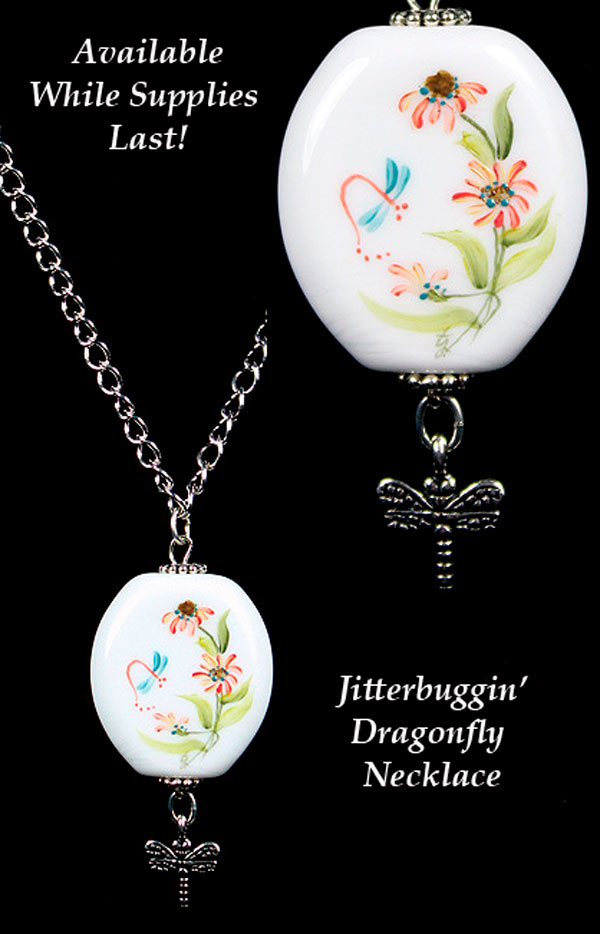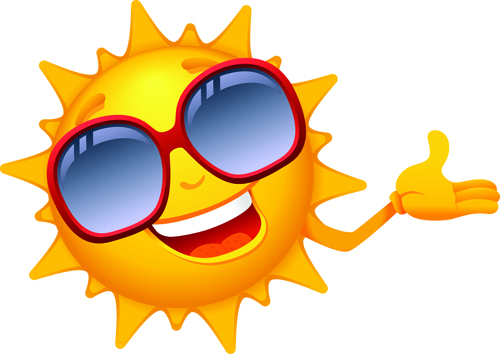 Fenton Art Glass Presents. . .
Welcome Summer Necklace Special!
We are pleased to offer this "Welcome Summer" Online Special on recently retired handcrafted necklaces from our Creative Spirit Collection. Choose from the selections shown in this newsletter and you'll receive an online only 25% discount on the remaining inventory . . . while supplies last!

This Welcome Summer Necklace Special begins at 8 p.m. ET on June 23rd and is valid until 8 p.m. ET on June 29th.
Each necklace features a hypoallergenic and tarnish resistant coating. Measurements shown are for the chains only. Sizes may vary for the pendants and accents and are included in each description. Jena Lane Blair designed each Creative Spirit necklace and the hand applied decorations were designed by Truda "TJ" Mendenhall. Each Fenton decorated pendant is initialed by the artist who completed it and then fired to 1200 degrees for durability.

Shown at right is our Jitterbuggin' Dragonfly Necklace. This necklace features a beautiful 2" handcrafted art glass pendant and a petite dragonfly charm accent suspended on a made in USA antique pewter finish 20" chain. Truda was inspired by time spent watching the antics of dragonflies flitting amongst her flowers for this decoration (see inset photo).
Right: 11594 Jitterbuggin' Dragonfly Necklace, $75, Now $56.25 Buy Now!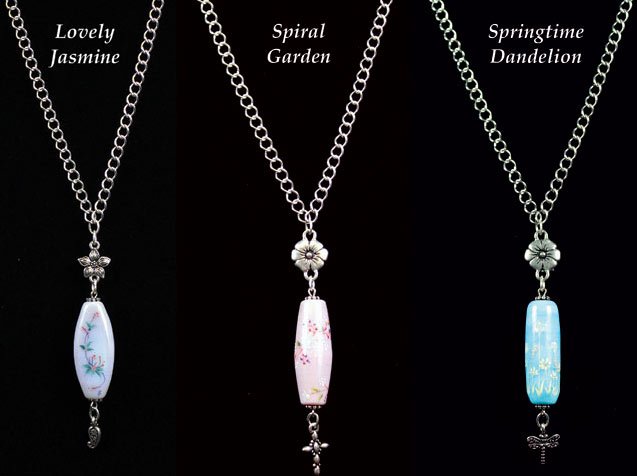 11581 Lovely Jasmine Necklace, $69.50
Now $52.13 Buy Now!

11582 Spiral Garden Necklace, $69.50
Now $52.13 Buy Now!

11583 Springtime Dandelion Necklace, $69.50 Now $52.13 Buy Now!
Our Lovely Jasmine 3" pendant suspends on a shimmering, silver plated 26" Necklace with a petite leaf charm accent. The graceful, free style hand-applied decoration features hues of dark teal, pink and purple.
The Spiral Garden Necklace features a 3-1/4" pendant with floral and cross charm accents suspending gracefully on a shimmering, silver plated 26" Necklace. Truda's hand applied decoration for the pendant was inspired by front porch columns adorned with climbing, entwined flowers. Her design also spirals around the entire pendant.
Recall happy memories of blowing dandelions with our Springtime Dandelions Necklace. This necklace features a 3" art glass pendant (paired with floral and dragonfly charm accents) suspended on a shimmering, silver plated 26" Necklace.
Use YOUR creative spirit, and make your personal fashion statement with Fenton USA Jewelry! Create it. . . Wear it. . . Love it! Quantities are very limited on these necklaces (fewer than 5 remain of two designs) and they are available while supplies last for orders placed via www.fentonartglass.com. Don't delay. . . this Welcome Summer Necklace Special begins at 8 a.m. ET on June 23rd and is valid until 8 p.m. ET on June 29th.
---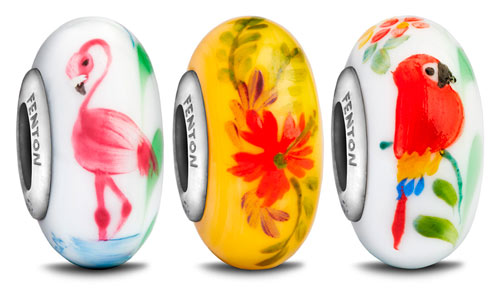 Celebrate Summer with the "Tropical Paradise" Collection from Fenton Glass Jewelry. . .
Celebrate summer fun with our colorful and festive Tropical Paradise Collection. Shown at left are a trio of fan favorites featuring hand applied decorations designed by Truda "TJ" Mendenhall: Lola, Luau and Picasso.

Be sure to register for the Customer Loyalty Program at www.fentonglassjewelry.com. You'll receive 25 Welcome points at signup! Sign up today and start earning your rewards points!
---
NEW Fenton Gift Shop Limited Editions . . .
Fenton Gift Shop is pleased to offer a new selection of Limited Editions! Each piece features a design by our award-winning Fenton artists, and will be hand painted, signed, numbered, and dated by the artist. Included in this grouping are a 9.5" Candy Box, a 5.5" Owl figurine and a 2.75" bird figurine, each made in Opal Satin glass; as well as an 11" Alley Cat in Ruby glass. . . all handcrafted by Mosser. Also included this week is a 10" Opal Satin Vase made by Davis Lynch. These pieces were made exclusively for the Fenton Gift Shop, using a Fenton mould, and returned to our factory where our talented designers created these wonderful Limited Edition designs! You may also request that we add your email address to Fenton Gift Shop's mailing list to receive future limited edition notifications.
One look at this Opal Satin vase and we named it "Delightful Dragonfly" for Kim Barley's fun and whimsical design of a hovering colorful dragonfly amongst vibrant stylized flowers. Note the curliques on the wings and tail and don't miss that pink flower on the body of the dragonfly! Kim added final touches with a lone flower on the back side as well as soft lavender-pink and green hues on the background of the vase. Each Delightful Dragonfly Vase is $160.

Frances Burton's cheery hand painted design on this Opal Satin bird figurine includes vibrant flowers and hues of teal and green. Each Spring Flowers Bird figurine is $80.
Pre-orders for the Delightful Dragonfly Vase and the Spring Flowers Bird figurine will be accepted until midnight (ET) on Monday, June 27th.

Brilliant Ruby glass provides the perfect canvas for Robin Spindler's scene of a girl reading near the water. . . with a fish jumping and her faithful canine companion sitting contentedly behind her on the other side. Robin named her creation "I've got your back" and it is included in her signature on each figurine. The hand painted details are amazing on this heartwarming scene of summer tranquility. Each I've got your back Ruby Alley Cat is $235.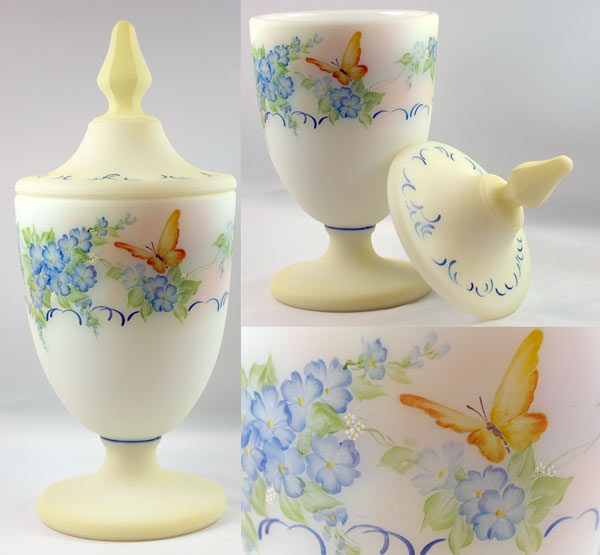 Nature's beauty, one of Frances Burton's favorite design topics, can be seen in many of her hand painted creations. . . and this Opal Satin Candy Box is no exception! Blue and white flowers provide a beautiful floral frame for two delicate golden butterflies. Frances added a blue band and scroll accents to complete the look. The hand painted details are meticulous, especially on the butterflies. Each Butterfly Beauty Candy Box is $155.
Below: Frances Burton has transformed this Opal Satin Owl figurine into an elegant golden raptor! Her hand painted design includes lush pink flowers as well as striking black accents. Note those mesmerizing eyes!
Did you know. . . There are currently about 225 owl species, and of those about 50 have ear tufts. However, these tufts are unrelated to the owl's hearing as the ears are located on the sides of the head, behind the eyes.
The function of ear tufts remains a mystery with several theories. The most common theory is that owls use their feathery tufts as camouflage. But we're sure that this graceful Owl figurine will add a touch of beauty to any display! Each Pink Floral Owl figurine is $90.
Pre-orders for the I've got your back Ruby Alley Cat, the Butterfly Beauty Candy Box and the Pink Floral Owl figurine will be accepted until midnight (ET) on Wednesday, June 29th. To pre-order, please call the Fenton Gift Shop: 1-800-319-7793 or 1-304-375-7772, ext. 342 or send an email, listing item(s) you want: purchasing@fentongiftshop.com
---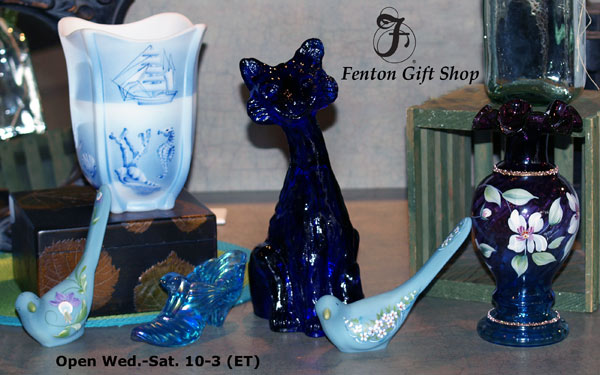 See What's New
at Fenton Gift Shop!
Stop by and see the latest offerings at Fenton Gift Shop, 420 Caroline Ave., Williamstown, WV 26187.
Fenton Gift Shop has a wonderful selection of NEW one-of-a-kind art glass creations, limited editions, and excellent regular line "glass from the past". . . available while supplies last (there may be just one available of each piece)!

Be sure to check out our handcrafted jewelry specials, including Designer Samples, one-of-a-kind beads, and art glass earrings available in a rainbow of colors, designs and glass treatments! And don't forget about sterling silver jewelry accessories! Love history? We have catalogs, marketing materials and other unique items related to the Fenton Art Glass Company's 111-year-old history. You never know what you'll find in our "odds and ends" section! Call today if you are interested in any of the items shown above as they may be going, going, GONE!
Fenton Gift Shop Hours: Wednesday-Saturday: 10 a.m.- 3 p.m. (ET). Closed Sunday-Tuesday.
Please call to confirm hours: 1-800-319-7793 or 1-304-375-7772
---
Fenton's Weekly eBay Auctions. . .
Here's your opportunity to own a beautiful one-of-a-kind item through our weekly eBay Auctions! Each one-of-a-kind art glass creation is dated, identified and signed by the award-winning Fenton artist who designed it. Shown here are our latest offerings. Items featured this week. . .
Fenton artist Michelle Kibbe used a variety of decorative techniques to create this one-of-a-kind vase. The vase (10.5" tall) is satin finished ruby glass. A puppy has jumped to the top of a sofa or chair to watch the Chickadee on the green branches just outside the window of a farmhouse. You can see barn buildings in the background of this scene. Michelle's colorful hand painting is remarkably detailed, and every element of this hand painted decoration is true to life!

Celebrate American independence on the Fourth of July with this wonderful one-of-a-kind Duck figurine (5" long) with a patriotic design created and painted by Fenton artist Frances Burton. Made of Opal Satin glass by Mosser (using a Fenton mould), this Duck figurine was the perfect canvas for the subtle red-white-blue colors of "faded glory." A great addition to any collection of Fenton glass or figurines!

Here's a great opportunity to acquire an item made by Fenton Art Glass for a special series sold only on QVC. This 10.5" tall Spruce Green Opalescent basket with Violet ring is among the very few items that were ever inscribed with the signatures of all 12 Fenton family members who were associated with the Fenton Art Glass Glass Co. Made for the
New Century Collection in 1999, this basket features an elaborate hand painted decoration of white and purple Peruvian lilies, dragonflies and butterflies that was created by Fenton designer Martha Reynolds (this particular basket is signed on its side by Fenton decorator Sunday Davis). The 12 Fenton family signatures are on the underside of the basket along with the New Century Collection backstamp. The New Century Collection welcomed the new millennium by highlighting the skills of Fenton glassmakers and decorators. This basket comes with a paperback edition of Fenton Glass Especially for QVC. Be sure to check out the "Buy It Now" items also featured on the Fenton eBay Auctions.
---
If you have a question about a piece of glass. . .
We no longer have the staff to respond to questions regarding glass identification, values of antique glass, or related matters that come to us through "Ask Fenton" or by telephone. There are two collector clubs devoted to Fenton glass, the Fenton Art Glass Collectors of America (FAGCA) and the National Fenton Glass Society (NFGS), that may be of assistance to you. Reference books on Fenton Art Glass are also available on our web site: http://www.fentonartglass.com/shop/product.asp?c=0&l=books and magazines, however, they do not include current price guides. We suggest you contact your local antiques dealer(s), the local library, or one of the collector clubs: http://www.fentonartglass.com/collectors. There are also fan sites, such as the Fenton Fanatics, on Facebook. You may also find your piece listed on eBay, which may provide current pricing information. The Williamstown Antique Mall may also provide assistance: 304-375-6315. Otherwise, please send email inquiries about glass production to: purchasing@fentonartglass.com
---