Fenton Art Glass Presents. . . Simply Spiritual Bracelet Special!
We are pleased to offer these recently retired Clasp and Go Bracelet selections from our Simply Spiritual Collection. Choose from the bracelets shown below and you'll receive a special online only 25% discount while supplies last on the remaining inventory (several items have fewer than 3 remaining!). This Online Special begins at 8 a.m. ET on June 17th and is valid until 8 a.m. ET on June 22nd.
| | |
| --- | --- |
| 11301 I Am the Vine Bracelet, $45.00, Now $33.75 - Buy Now! | 11293 God's Love Bracelet, $45.00, Now $33.75 - Buy Now! |
Bible verses that give us strength and direction inspired the lovely bracelets in the Simply Spiritual collection. Fenton designer Jena Lane Blair developed the concept and subjects and worked with designer Truda "TJ" Mendenhall on the final artwork to capture the essence of each bible reference impressed into the back of the bead. Each bracelet includes a handcrafted bead that measures approximately 1.25" long. The bracelet has an extender chain which will accommodate most wrist sizes. Fenton USA Jewelry is handcrafted with quality and tested for durability. Quantities are very limited on these bracelets and they are available while supplies last for orders placed via www.fentonartglass.com.

11294 Fishers of Men Bracelet, $45.00
Now $33.75 - Buy Now!

11298 The Lord is My Shepherd Bracelet $45.00 Now $33.75 - Buy Now!


11295 Fishers of Men Bracelet, $45.00
Now $33.75 - Buy Now!

11299 The Lord is My Shepherd Bracelet $45.00, Now $33.75 - Buy Now!


11296 Faith, Hope and Love Bracelet, $45.00 Now $33.75 - Buy Now!

11300 I Am the Vine Bracelet, $45.00
Now $33.75 - Buy Now!
---
Heartstrings. . . from Fenton Glass Jewelry

Visit www.fentonglassjewelry.com for these lovely handcrafted art glass beads. The Heartstrings Collection celebrates special moments or emotions. Be sure to register for an online shopping account. Check out the new Customer Loyalty Program! You'll receive one rewards point for every dollar you spend (excludes shipping fees, taxes & gift card purchases) at www.fentonglassjewelry.com and rewards are issued as discount codes that may be applied during checkout (only one discount code per order). Be sure to sign up today and start earning your rewards points!
---
NEW Fenton Gift Shop Limited Editions . . .
Fenton Gift Shop is pleased to offer a new selection of Limited Editions! Each piece features a design by our award-winning Fenton artists, and will be hand painted, signed, numbered, and dated by the artist. Included in this grouping are a 10" Vase and a 14" Vase, handcrafted in Opal Satin by Davis-Lynch. Also included are a 9.5" Candy Box, a 5.5" Owl figurine and a 5.25" Rooster figurine, each made in Opal Satin glass by Mosser.
These pieces were made exclusively for the Fenton Gift Shop, using a Fenton mould, and returned to our factory where our talented designers created these wonderful Li
mited Edition designs! You may also request that we add your email address to Fenton Gift Shop's mailing list to receive future limited edition notifications.
Frances Burton's design for this Opal Satin 10" vase gives one a sense of calm and tranquility. Bird watchers as well as Fenton collectors will enjoy displaying this vase in their home! The meticulous hand painted details are beautiful, especially on the chickadees. The pussy willow branches are amazing and encircle the vase. Each Tranquil Chickadees Vase is $180.


Kim Barley's creative take on bird watching will bring smiles of delight! Her whimsical design includes eight fabulous felines

. . . with all eyes on a bird perching on a branch above! The background of this Opal Satin Candy Box has been airbrushed in soft hues for Kim's hand painted scene of cats perched on a fence. . . and note that little gray tabby kitten! Each Bird Watchin' Felines Candy Box is $180.

Below: Robin Spindler has transformed our elegant Opal Satin Owl figurine into a "Snowy Owl" with mesmerizing eyes!

She used natural color tones overall and added raised white hand painted accent lines for a beautiful effect. Each Snowy Owl figurine is $85.

Pre-orders for the Tranquil Chickadees Vase, the Bird Watchin' Felines Candy Box and the Snowy Owl figurine
will be accepted until midnight (ET) on Monday, June 20th.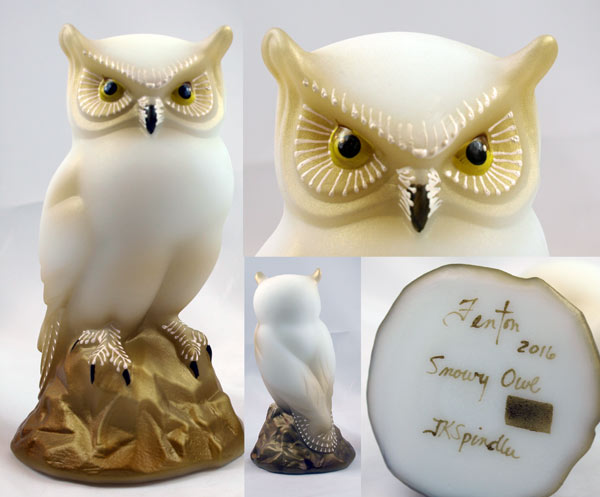 To place your pre-order, please call the Fenton Gift Shop: 1-800-319-7793 or 1-304-375-7772, ext. 342 or email, listing the item(s) you want to purchase: purchasing@fentongiftshop.com.
Below: The King of the Jungle relaxes with his pride while another lion is shown heading their way in Robin Spindler's magnificent scene on this impressive 14" vase! Robin also added black and white accents on the bottom of this vase.

Did you know that Lions are the only felines with an obvious difference between the males and the females? Males have a large mane of dark fur surrounding the head and neck. Lions are also known as the laziest of the big cats as they usually spend 16 to 20 hours a day sleeping and resting. . . so Robin's design suits them perfectly! Each The Lion's Den Vase is $250.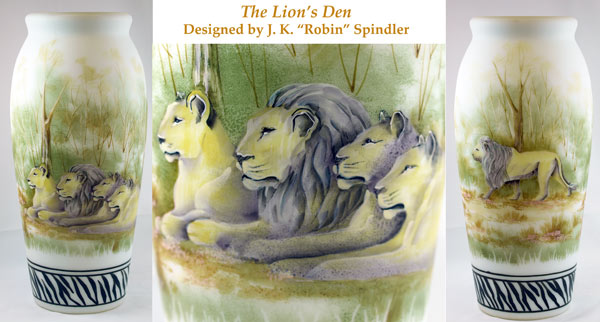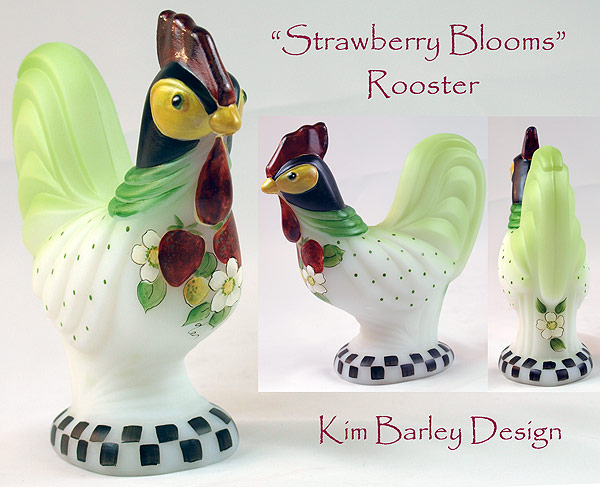 This 5.25" Opal Satin Rooster figurine looks great hand painted in a folk art style by Kim Barley.
Kim's use of pastel colors and black and white checks on the base are perfect for this figurine! Polka dot accents along with the strawberries and blossoms complete the folk art look of this rooster. Each Strawberry Blooms Rooster figurine is $100.

Pre-orders for The Lion's Den Vase and the Strawberry Blooms Rooster figurine will be accepted until midnight (ET) on Wednesday, June 22nd.
To pre-order any of these Limited Editions, please call the Fenton Gift Shop: 1-800-319-7793 or 1-304-375-7772, ext. 342 or send an email, listing the item(s) you want: purchasing@fentongiftshop.com
---
Visit Fenton Gift Shop. . .
Stop by and see the latest offerings at Fenton Gift Shop, 420 Caroline Ave., Williamstown, WV 26187. Fenton Gift Shop has a wonderful selection of NEW one-of-a-kind art glass creations, limited editions, and excellent regular line 'glass from the past" with newly arrived items. . . available "while supplies last" as there may be just one available of each piece! Be sure to check out handcrafted jewelry specials from Designer Sample and one-of-a-kind beads to sterling silver accessories, plus art glass earrings in a rainbow of colors, designs and glass treatments! Love history? We have catalogs, marketing materials and other unique items related to the Fenton Art Glass Company's 111-year-old history. You never know what you'll find in our "odds and ends" section!
Fenton Gift Shop Hours: Wednesday-Saturday: 10 a.m.- 3 p.m. (ET). Closed Sunday-Tuesday.
Please call to confirm hours: 1-800-319-7793 or 1-304-375-7772
---
Fenton's Weekly eBay Auctions. . .
Here's your opportunity to own a beautiful one-of-a-kind item through our weekly eBay Auctions! Each one-of-a-kind art glass creation is dated, identified and signed by the award-winning Fenton artist who designed it. Shown here are our latest offerings. Items featured this week. . .
This dramatic, one of-a-kind vase stands nearly 12" tall, and you'll enjoy the '"dichroic" Lavender glass color, which changes in hue with varying sources of light! Fenton artist Michelle Kibbe used a variety of techniques ─ from sponge applications to remarkably intricate hand painting to create the background and the lush floral motif depicting colorful Pansies. Note the wonderful watering can, too!

Made by Fenton for QVC in 2005, this lovely Burmese basket (9.75" tall) is inscribed with the signature of Frank M. Fenton and features a hand painted decoration designed by award-winning Fenton artist Robin Spindler. Note the lily crimp and the distinctive pink blush that is created by the use of pure gold in the glass batch. The hand painted decoration is a scenic view of a cabin amidst pines near a creek, and the subtle colors are simply splendid (this basket was hand painted by longtime Fenton decorator Dane Fredrick and is signed by him on the underside. Frank M. Fenton passed away in August 2005, and this is one of the last pieces to be inscribed with his signature.

This one-of-a-kind crystal iceberg paperweight (5" wide, 4.25" tall) features a wonderful hand painted scenic depiction of a barn, designed and hand painted by Fenton artist Frances Burton. The crystal glass creates an interesting sense of depth to the scene, and the details are simply exquisite. This one-of-a-kind crystal iceberg paperweight is identified,
dated and signed: "Fenton 2016 hand painted by Frances Burton" and she also signed her name on the lower right front corner of the paperweight. Be sure to check out the "Buy It Now" items also featured on the Fenton eBay Auctions.
---
If you have a question about a piece of glass. . .
We no longer have the staff to respond to questions regarding glass identification, values of antique glass, or related matters that come to us through "Ask Fenton" or by telephone. There are two collector clubs devoted to Fenton glass, the Fenton Art Glass Collectors of America (FAGCA) and the National Fenton Glass Society (NFGS), that may be of assistance to you. Reference books on Fenton Art Glass are also available on our web site: http://www.fentonartglass.com/shop/product.asp?c=0&l=books and magazines, however, they do not include current price guides. We suggest you contact your local antiques dealer(s), the local library, or one of the collector clubs: http://www.fentonartglass.com/collectors. There are also fan sites, such as the Fenton Fanatics, on Facebook. You may also find your piece listed on eBay, which may provide current pricing information. The Williamstown Antique Mall may also provide assistance: 304-375-6315. Otherwise, please send email inquiries about glass production to: purchasing@fentonartglass.com
---