Fenton Art Glass Presents. . . Creative Spirit Jewelry Specials!
We are pleased to offer more "retired" selections from our Creative Spirit Jewelry Collection. Choose from the pieces shown below and you'll receive a special online only discount. . . while supplies last on the remaining inventory. This Online Special begins at 8 p.m. ET on June 9th and is valid until 8 p.m. ET on June 15th.
Creative Spirit
Clasp and Go Bracelet Special!
Rx of Care Clasp and Go Bracelet, Buy Now!
Joy Clasp and Go Bracelet, Buy Now!
Originally $49.50 each
Special Price: $39.60 each until 8 p.m. on June 15th!
Included in our Creative Spirit collection, these Clasp and Go bracelets feature our most popular colors and designs with coordinating colored leather bands and accents. Perfect for stacking with your own bangles or worn alone, with these glass beads and colored bands you can make your personal style statement! Each bracelet includes a handcrafted bead with a hand applied decoration designed by Truda "TJ" Mendenhall. The bead measures approximately 1.25" long. The bracelet has an extender chain to accommodate most wrist sizes. Fenton USA Jewelry is handcrafted with quality and tested for durability.

11006 - 24" Iridescent Hummingbird Necklace, $115.00, Now $92.00


11573 Birds of a Feather 38"Necklace, $49.50 - Now $39.60
11118 Long Brass 26-3/4" Chain, $30.00 - Now $24.00
Creative Spirit Necklace Online Special. . .
Enjoy a special online discount on the remaining inventory of necklaces and chains shown above. Simply click on the image to order and the sales price will show in red above the description. This offer expires at 8 p.m. on June 15 and is not valid on previous orders. All online orders must be placed via www.fentonartglass.com.
The beautiful Iridescent Hummingbird 24" sterling silver pendant necklace was designed by our talented artisans. The Milk Glass pendant measures approx. 1" in height. The "Iridescent Hummingbird" design, by Truda ''TJ'' Mendenhall who was inspired by spotting a hummingbird ''...Sipping sweet nectar in the morning dew." The decoration was hand applied, using ceramic glazes. Just a few now remain!
Our Silver Rings necklace is a light and shimmery jewelry accessory. . . perfect for your Summer fashions! This silver plated brass necklace features a curb link and a textured hammered link chain accented with hammered oval and round links. Layer this Silver Rings necklace with our other chains to create your own look!
The lovely Birds of a Feather antique brass chain is handmade in the USA and is accented with beautiful brass charms adorned on each side with a Paloma Dove. . . a symbol of Peace. Layer this necklace with our other chains to create your own look! All chains and necklaces have a hypoallergenic and tarnish resistant coating. You can create the perfect look with our 26-3/4'' long chain. . . it goes perfectly with handcrafted art glass beads, pendants, dangles and drops! Create it, Wear it, LOVE it. . . with Creative Spirit Jewelry!
Handcrafted art glass drops and dangles are the perfect accents for your bracelet, chain or necklaces! Quantities are very limited and available while supplies last for orders placed via www.fentonartglass.com. Click on each image to order.
---
Visit www.fentonglassjewelry.com and see the latest designs for your summer fashions!
Shown at right are new patriotic styles.
Be sure to register for an online shopping account. Check out the new Customer Loyalty Program! You'll receive one rewards point for every dollar you spend (excludes shipping fees, taxes & gift card purchases) at www.fentonglassjewelry.com and rewards are issued as discount codes that may be applied during checkout (only one discount code per order). Be sure to sign up today and start earning your rewards points!
---
NEW Fenton Gift Shop Limited Editions . . .
Fenton Gift Shop is pleased to offer a new selection of Limited Editions! Each piece features a design by our award-winning Fenton artists, and will be hand painted, signed, numbered, and dated by the artist. Included in this grouping are an impressive 14" Vase, handcrafted in Opal Satin by Davis-Lynch. Also included are an Opal Satin 5.75" Ghost figurine and an Opal Satin 6" Owl figurine, as well as an 11" Alley Cat in Jadeite glass, handcrafted by Mosser. These pieces were made exclusively for the Fenton Gift Shop, using a Fenton mould, and returned to our factory where our talented designers created these wonderful Limited Edition designs! You may also request that we add your email address to Fenton Gift Shop's mailing list to receive future limited edition notifications.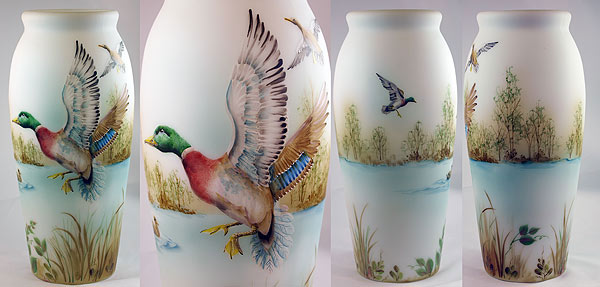 This 14" vase provides the perfect canvas for Robin Spindler's spectacular scene of Mallards. . . in flight and in the water. The scene encircles the vase and there are four of these magnificent waterfowl depicted. Robin's meticulous hand painted details are amazing! Each Mallards Vase is $245.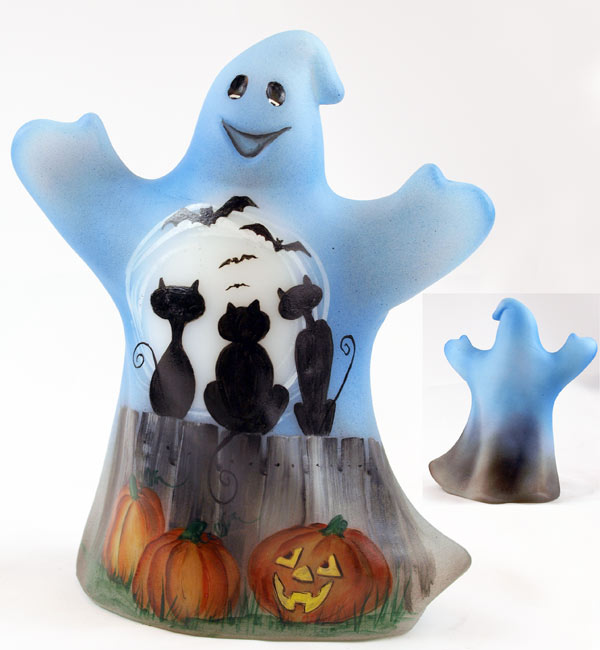 Our friendly Ghost figurine appears to welcome a trio of cats as they watch bats flying in front of a full moon. Designed by Frances Burton, this figurine is perfect for your Halloween display! Each Moon Cats Ghost figurine is $135.
Pre-orders for the Mallards Vase and the Moon Cats Ghost figurine will be accepted until midnight (ET) on Monday, June 13th.
To place your pre-order, please call the Fenton Gift Shop: 1-800-319-7793 or 1-304-375-7772, ext. 342 or email, listing the item(s) you would like to purchase: purchasing@fentongiftshop.com.
Below: The "eyes" have it on this 6" Owl figurine designed by Kim Barley! Her hand painted details on the eyes are wonderful! Note those funky eyelashes! Kim added colorful florals, a heart-shape scroll design and polka dotted accents to complete the look on this whimsical figurine. Each Bright Eyes Owl figurine is $90.
Not quite ready at press time are images of an 11" Alley Cat in the Jadeite glass color. Robin Spindler designed a delightful Pandas scene. Each Playful Pandas Alley Cat will be $240. Please contact the Fenton Gift Shop for images.

Pre-orders for the Bright Eyes Owl and the Playful Pandas Alley Cat figurines will be accepted until midnight (ET) on Wednesday, June 15th.

To pre-order any of these Limited Editions, please call the Fenton Gift Shop: 1-800-319-7793 or 1-304-375-7772, ext. 342 or send an email, listing the item(s) you want to purchase: purchasing@fentongiftshop.com
---
Visit Fenton Gift Shop. . .
Stop by and see the latest offerings at Fenton Gift Shop, 420 Caroline Ave., Williamstown, WV 26187. Fenton Gift Shop has a wonderful selection of NEW one-of-a-kind art glass creations, limited editions, and excellent regular line 'glass from the past" with newly arrived items. . . available "while supplies last" as there may be just one available of each piece! Be sure to check out handcrafted jewelry specials from Designer Sample and one-of-a-kind beads to sterling silver accessories, plus art glass earrings in a rainbow of colors, designs and glass treatments! Love history? We have catalogs, marketing materials and other unique items related to the Fenton Art Glass Company's 111-year-old history. You never know what you'll find in our "odds and ends" section!
Fenton Gift Shop Hours: Wednesday-Saturday: 10 a.m.- 3 p.m. (ET). Closed Sunday-Tuesday.
Please call to confirm hours: 1-800-319-7793 or 1-304-375-7772
---
Fenton's Weekly eBay Auctions. . .
Here's your opportunity to own a beautiful one-of-a-kind item through our weekly eBay Auctions! Each one-of-a-kind art glass creation is dated, identified and signed by the award-winning Fenton artist who designed it. Shown here are our latest offerings. Items featured this week. . .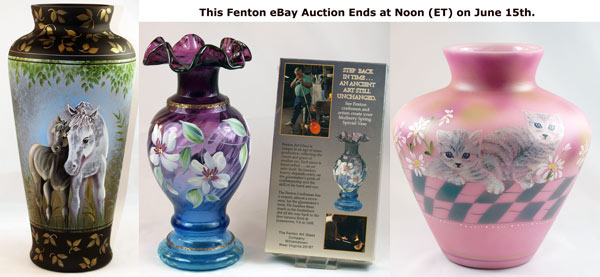 Standing aAward-winning Fenton designer Robin Spindler likes to create designs involving horses, and this one-of-a-kind vase (10.5" tall) features two horses within a scene of remarkable depth and wonderful gold accents. This vase is cased glass (ruby interior, black exterior), and the leaves and foliage are beautifully executed. The close-up photo of the Mare with her foal reflects Robin's talents and skills as she designs and hand paints these splendid animals.

Standing 8.5" tall, this beautiful Mulberry Vase was featured as an exclusive on QVC in 1996. Both the mould and the Mulberry color were introduced as Bill Fenton began his career with Fenton Art Glass in 1946. Mulberry is a hand blown, cased glass which fades from a deep violet to a rich blue color using special glassmaking techniques to create the subtle color transition... glass craftsmanship at its best. Martha Reynolds designed the floral scene with iced gold accents and bands. This vase was hand painted and signed by Fenton artist Kitty Lupardus. Included with this vase is a 30-minute video (VHS) in honor of Bill Fenton's 50 Years with Fenton Art Glass. This vase is identified, signed and dated on the underside: "Bill Fenton (signature) Chairman of the Board. This Mulberry vase honors Bill Fenton's 50
years of leadership and service to The Fenton Art Glass Company 1946-1996. George W. Fenton (signature)."

Kittens, daisies and bumblebees ... what a great combination on this stately, one-of-a-kind vase featuring hand painting by Fenton artist Michelle Kibbe! This Rosalene vase stands 8.25: tall, and the hand painting completely encircles it. Rosalene is a classic Fenton glass color, and it takes pure gold in the glass batch to achieve the wonderful pink color. The rich pink of the glass is the perfect canvas for Michelle's intricate hand painting. The pair of happy kittens are remarkably detailed, and every element of this one-of-a-kind vase offers much to the viewer. Be sure to check out the "Buy It Now" items also featured on the Fenton eBay Auctions.
---
If you have a question about a piece of glass. . .
We no longer have the staff to respond to questions regarding glass identification, values of antique glass, or related matters that come to us through "Ask Fenton" or by telephone. There are two collector clubs devoted to Fenton glass, the Fenton Art Glass Collectors of America (FAGCA) and the National Fenton Glass Society (NFGS), that may be of assistance to you. Reference books on Fenton Art Glass are also available on our web site: http://www.fentonartglass.com/shop/product.asp?c=0&l=books and magazines, however, they do not include current price guides. We suggest you contact your local antiques dealer(s), the local library, or one of the collector clubs: http://www.fentonartglass.com/collectors. There are also fan sites, such as the Fenton Fanatics, on Facebook. You may also find your piece listed on eBay, which may provide current pricing information. The Williamstown Antique Mall may also provide assistance: 304-375-6315. Otherwise, please send email inquiries about glass production to: purchasing@fentonartglass.com
---