Fenton Presents. . . Art Glass Clasp 'n Go Pendants
While Supplies Last. . . Online Special!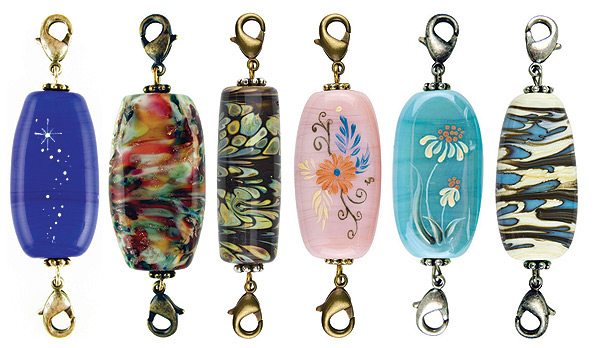 These beautiful art glass pendants have been retired from our Creative Spirit Jewelry Collection and are now available at a special 25% discount. . . while supplies last. . . on the remaining inventory. This Online Special begins at 8 p.m. ET on June 2nd! Create it, Wear it, LOVE it. . . by pairing one of these versatile pendants with a necklace or bracelet to suit your personal style. Go from Bohemian to Southwest casual to inspirational with two clicks of a clasp! Each pendant was created by hand from molten glass and wonderful imagination. The glass part of each pendant is approximately 1.25" in length. Shown above are (l-r): Dream, El Dorado, Evangeline, Hopeful, Joy, and Trails of Turquoise. Quantities are very limited (fewer than 4 for almost all of those shown above) and are available while supplies last for orders placed via www.fentonartglass.com. Simply click on each image to order and the discount price will show in red in the item description. Complete your look with Fenton's line of handcrafted jewelry accessories.
Fenton Glass Jewelry Launches Tropical Paradise Collection. . .
Visit Fenton Glass Jewelry to see these latest jewelry designs and be sure to register for an online shopping account: www.fentonglassjewelry.com.

NEW! Fenton Glass Jewelry Customer Loyalty Program. . .
You'll receive one rewards point for every dollar you spend (excludes shipping fees, taxes & gift card purchases) at www.fentonglassjewelry.com and rewards are issued as discount codes that may be applied during checkout (only one discount code per order). Be sure to sign up today and start earning your rewards points!
---
NEW Fenton Gift Shop Limited Editions . . .
Fenton Gift Shop is pleased to offer a new selection of Limited Editions! Each piece features a design by our award-winning Fenton artists, and will be hand painted, signed, numbered, and dated by the artist. Included in this grouping are a 14" Opal Satin Vase made by Davis-Lynch, as well as a 9.5" Candy Box, 2.75" Bird figurine, 5.75" Ghost figurine, and a 5" Stylized Cat figurine, each handcrafted in Opal Satin glass, and a 8" Crown Tuscan Chessie Cat Covered Box. . . all made by Mosser Glass. These pieces were made exclusively for the Fenton Gift Shop, using a Fenton mould, and returned to our factory where our talented designers created these wonderful Limited Edition designs! You may also request that we add your email address to Fenton Gift Shop's mailing list to receive future limited edition notifications.
Kim Barley takes us back in time with her vintage farm scene complete with barn, cows in the pasture and beautiful flowering trees . . . and don't forget the red pickup parked near the fence! This impressive 14" Opal Satin Vase will make a statement on any tabletop! Each Vintage Country Opal Satin Vase is $230.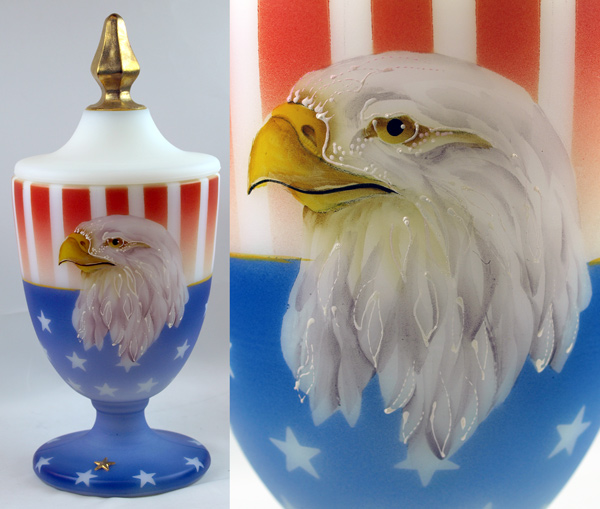 Robin Spindler's patriotic design on this Candy Box makes one want to stand up and salute! This Opal Satin Candy Box provides the perfect canvas for Robin's majestic Bald Eagle design on the front with a combination of red stripes, white stars and blue for the background and a golden band encircling the entire piece.
Robin added a gold star accent on the base as well as metallic gold for the top of the lid to complete this set. Her hand painted details on the eagle are magnificent! Each Patriotic Eagle Candy Box is $175.
Kim Barley's lovely floral design will delight figurine collectors! Her brightly colored flowers and lush greenery are perfect complements to the soft hues of yellow on this piece. Note the garland and buzzing bee accents! Each Bee Bird figurine is $80.
Pre-orders for the Vintage Country Vase, Patriotic Eagle Candy Box and Bee Bird figurine will be accepted until midnight (ET) on Monday, June 6th.
Robin Spindler's message, handpainted on the bottom of this Crown Tuscan Candy Box, is to "Be Fruitful"! Her hand painted basket of delicious looking fruit includes a golden pear accent. The Chessie Cat is snuggled in a soft rosy pink blanket. Each Be Fruitful Chessie Cat Covered Box is $175.
Frances Burton creatively transformed our Stylized Cat figurine into a butterfly garden! Her meticulous hand painted details on the butterfly's wings make you want to reach out and touch them! Frances airbrushed the figurine in soft peach-yellow tones and added lovely flowers on the front and back. Note the lovely expression on this elegant cat! Each Butterfly Bliss Stylized Cat figurine is $90.
Below: Our popular Ghost figurine welcomes honey gathering season with open arms! Frances Burton's design includes a hand painted message: "Home is where your honey is. . ." with a hive full of buzzing bees and bright blossoms! Note the wonderful smiling face on the ghost and on the bee hovering nearby! Each Honey Bee Ghost figurine is $110.
Pre-orders for the Be Fruitful Chessie Cat Covered Box, the Butterfly Bliss Stylized Cat and the Honey Bee Ghost figurines will be accepted until midnight (ET) on Wednesday, June 8th. To pre-order any of these Limited Editions, please call the Fenton Gift Shop: 1-800-319-7793 or 1-304-375-7772, ext. 342 or send an email, listing the item(s) you would like to purchase: purchasing@fentongiftshop.com.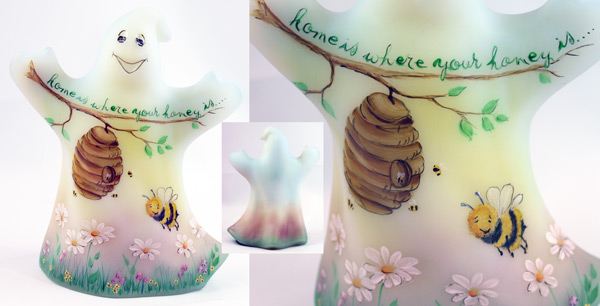 ---
Visit Fenton Gift Shop. . .
Stop by and see the latest offerings at Fenton Gift Shop,
420 Caroline Ave., Williamstown, WV 26187.

Fenton Gift Shop has a wonderful selection of NEW one-of-a-kind art glass creations, limited editions, and excellent regular line 'glass from the past" with newly arrived items. . . available "while supplies last" as there may be just one available of each piece! Be sure to check out handcrafted jewelry specials from Designer Sample and one-of-a-kind beads, plus art glass earrings in a rainbow of colors, designs and glass treatments!

Love history? We have catalogs, marketing materials and other unique items related to the Fenton Art Glass Company's 111-year-old history. You never know what you'll find in our "odds and ends" section!

Fenton Gift Shop Hours:
Wednesday-Saturday: 10 a.m.- 3 p.m. (ET).
Closed Sunday-Tuesday. Please call to confirm hours:

1-800-319-7793 or 1-304-375-7772
---
Fenton's Weekly eBay Auctions. . .

Here's your opportunity to own
a beautiful one-of-a-kind item through our weekly eBay Auctions! Each one-of-a-kind art glass creation is dated, identified and signed by the award-winning Fenton artist who designed it. Shown here are our latest offerings.
Items featured this week. . .

Standing an impressive 11" tall, this one-of-a-kind vase in a light green color by Robin Spindler is a sight to behold! The lone fisherman stands on an outcropping of rocks and has cast his lure into the perfect spot. He's about to tangle with a trophy trout! Robin's wonderfully detailed hand painted decoration features all the elements of a favorite fishing spot: craggy rocks and trees and all the wonder of the underwater world with a splendid trout that would excite any angler.

Here's a great opportunity to acquire an item made by Fenton Art Glass for a special series sold only on QVC. This 9.75" tall Turquoise Blue pitcher, inscribed with the signature of Bill Fenton and made for the New Century Collection in 1999, has a heart-shaped top and an applied twisted rib handle. The hand painted decoration of butterflies and peonies was designed by Martha Reynolds, and this particular pitcher was hand painted by Fenton decorator Kitty Lupardus, who signed her name on the side of the pitcher. Note the gold accents on the pitcher as well as the New Century Collection backstamp on the underside. The New Century Collection welcomed the new millennium by highlighting the skills of Fenton glassmakers and decorators. You'll also receive a softbound edition of Fenton Glass Especially for QVC, which covers Fenton items sold on QVC from 1988 through 2002.

Satin finished black glass is the perfect canvas for this marvelous, hand painted one-of-a-kind vase from the talented Michelle Kibbe. Her depiction of a young deer that has paused to drink from a creek near woods is remarkable for its depth and intricate detail. The reverse side of the vase features a view of the creek and woods. This one-of-a-kind vase stands 7.75" tall. Be sure to check out the "Buy It Now" items also featured on the Fenton eBay Auctions.
---
Summer Reading Suggestion. . .
For all those who love Fenton glass, this is a must have item!
Our 176-page hardback book (11'' x 11'') contains exquisite color photos of the 100 very best Fenton products from our earliest days to the present. Members of the Fenton family chose the pieces to be included in the book. Definitely a family keepsake! The signatures of nine Fenton family members are in each book.

Among the pieces included in the book are the Banded Drape Pitcher and Tumbler from 1910; a sandcarved Rose Quartz Lady; Chocolate Butterdish; the Seasons in Favrene; Wisteria Lane Lamp; Rubina Verde Covered Box with Martha Reynolds' design of a dragonfly with floral; Mandarin Red Console Set. . . and much more!
FG974 - 100th Anniversary Coffee Table Book, Includes nine Fenton family member signatures! Dustjacket Price: $100.00 - NOW $45.00 + $5 shipping! Buy Now!
Click here to check out the other reference books and materials available!
---
If you have a question about a piece of glass. . .
We no longer have the staff to respond to questions regarding glass identification, values of antique glass, or related matters that come to us through "Ask Fenton" or by telephone. There are two collector clubs devoted to Fenton glass, the Fenton Art Glass Collectors of America (FAGCA) and the National Fenton Glass Society (NFGS), that may be of assistance to you. Reference books on Fenton Art Glass are also available on our web site: http://www.fentonartglass.com/shop/product.asp?c=0&l=books and magazines, however, they do not include current price guides. We suggest you contact your local antiques dealer(s), the local library, or one of the collector clubs: http://www.fentonartglass.com/collectors. There are also fan sites, such as the Fenton Fanatics, on Facebook. You may also find your piece listed on eBay, which may provide current pricing information. The Williamstown Antique Mall may also provide assistance: 304-375-6315. Otherwise, please send email inquiries about glass production to: purchasing@fentonartglass.com
---