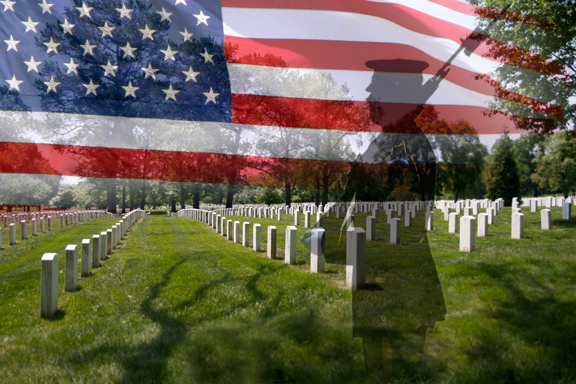 Memorial Day. . .
Three years after the Civil War ended, on May 5, 1868, the head of an organization of Union veterans — the Grand Army of the Republic (GAR) — established Decoration Day as a time for the nation to decorate the graves of the war dead with flowers. Maj. Gen. John A. Logan declared that Decoration Day should be observed on May 30. It is believed that date was chosen because flowers would be in bloom all over the country. The first large observance was held that year at Arlington National Cemetery, across the Potomac River from Washington, D.C. - US Dept. of Veterans Affairs.
"Let every nation know, whether it wishes us well or ill, that we shall pay any price, bear any burden, meet any hardship, support any friend, oppose any foe to assure the survival and the success of liberty." – President John F. Kennedy

"Decoration Day is the most beautiful of our national holidays ... The grim cannon have turned into palm branches, and the shell and shrapnel into peach blossoms." – Thomas Bailey Aldrich

"I don't have to tell you how fragile this precious gift of freedom is. Every time we hear, watch, or read the news, we are reminded that liberty is a rare commodity in this world." – President Ronald Reagan

"A people that values its privileges above its principles soon loses both." – President Dwight D. Eisenhower
"Our debt to the heroic men and valiant women in the service of our country can never be repaid. They have earned our undying gratitude. America will never forget their sacrifices." – President Harry S. Truman

"Patriotism is supporting your country all the time, and your government when it deserves it." – Mark Twain
---
Recall fond memories of special people and occasions with the Heartstrings Collection from Fenton USA Jewelry. Heartstrings jewelry celebrates those who inspire us and bring us joy, whether they be those closest to you (grandmother, mother, daughter, sister, and friend) or a colleague, teacher or caregiver. Perfect gift for graduation, teacher, wedding, Mother's Day, or "just because" for someone special.
These handcrafted art glass beads capture a special moment, person or emotion. Great gift idea for any occasion or "just because"! Shown above are the beautiful handcrafted art glass beads. . . each with a hand applied decoration. The "stacked" bead images show all views of a single bead, so no matter which way you wear it, the bead is beautifully displayed! Each Fenton bead comes with a "story" card and has a sterling silver core embossed Fenton USA. Complete your look with Fenton's line of handcrafted jewelry accessories. Be sure to register for an online shopping account: www.fentonglassjewelry.com.
---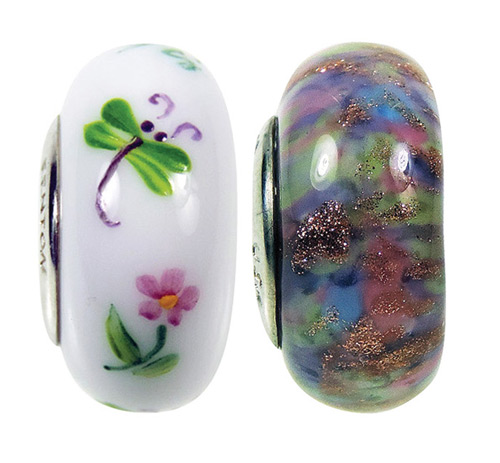 Frequent Buyer Program for Beads. . . Changes Coming June 1!
REMINDER: The current Fenton Frequent Buyer Bead Program will end on May 31st, 2016. A separate email blast with details will be coming soon from Fenton Glass Jewelry. A new loyalty program will begin via the Fenton Glass Jewelry web site on June 1st.

The current Frequent Buyer Program requires that you purchase ten beads from any one authorized Fenton jewelry dealer or website and you'll qualify for a FREE bonus bead! Click here for details! The current offerings are Gracie (decorated) and Mikayla (Vasa Murrhina) shown here. NOTE: If you have purchased ten beads, please let us know. Email: askfenton@fentonartglass.com with "Frequent Buyer Qualifier" in the subject line. After May 31, please direct all inquiries to: Fenton Glass Jewelry.
---
NEW Fenton Gift Shop Limited Editions . . .
Fenton Gift Shop is pleased to offer a new selection of Limited Editions! Each piece features a design by our award-winning Fenton artists, and will be hand painted, signed, numbered, and dated by the artist. Included in this grouping are an 11" Alley Cat in Jadeite glass, as well as a 5.75" Ghost figurine and a pair of 4.25" long Wood Duck figurines in Opal Satin glass, all handcrafted by Mosser. Also included are a 10.5" Feather Vase and 9" Vase, each handcrafted in Opal Satin by Davis-Lynch. These pieces were made exclusively for the Fenton Gift Shop, using a Fenton mould, and returned to our factory where our talented designers created these wonderful Limited Edition designs! You may also request that we add your email address to Fenton Gift Shop's mailing list to receive future limited edition notifications.
Michelle Kibbe has created a pleasant wildlife scene on this Feather Vase featuring the Eastern Chipmunk. The background is done in soft pastels that add to the beauty of this unique vase.
Chipmunks have dark brown stripes that go from its head to its rump. These little mammals are very entertaining to watch as they scurry about looking for berries and nuts, with their tail straight up. Each Eastern Chipmunks Feather Vase is $175.
Jadeite glass provides the perfect canvas for Kim Barley's colorful Spring theme design on this 11" Alley Cat figurine. There's a brown fence covered in pink and white flowers that appear to be enticing to a hovering bumblebee; while a snail slowly makes his way over to the flowers. Kim's hand painted details are marvelous. . . note the heart-shaped nose of the Alley Cat's grinning face! Each Spring Bee Alley Cat Figurine is $235.
Kim Barley's whimsical sense of humor will delight one and all with her "Weed It and Reap" hand painted message for gardeners on this 5.75" Opal Satin Ghost figurine!

This smiling ghost is sporting polka dotted gardening gloves and hat.
A Garden Gnome keeps watch over the flower behind the fence as the sun shines brightly overhead. Perfect for a sunroom or garden window in your home! Each Weed It and Reap Ghost figurine is $120.
Pre-orders for the Eastern Chipmunks Feather Vase, Spring Bee Alley Cat figurine and the Weed It and Reap Ghost figurine will be accepted until midnight (ET) on Monday, May 30th.
This pair of "Wood Duck" figurines are "must haves" for collectors! Each one has been handpainted in a realistic design by Robin Spindler.

Common along creeks and rivers, the Wood Duck is one of the most colorful of all waterfowl. Males are iridescent chestnut and green, with ornate patterns on nearly every feather, while the elegant females have a distinctive profile with a delicate white pattern around the eye. These Wood Duck figurines are available as a set only and are limited to just 10 pairs for $140/pair.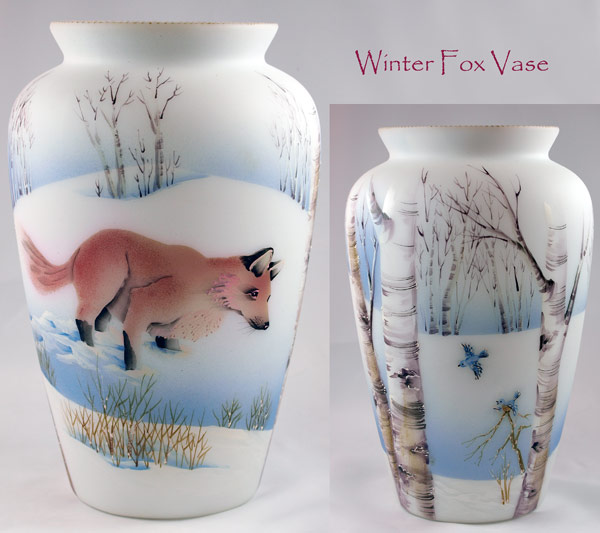 Robin Spindler's wonderful hand painted details on this 9" Opal Satin Vase include white birch trees, a wintry landscape and a red fox, the largest of the true foxes.
This fox has a thick winter coat and a full red tail and is gingerly making its way through the snow drifts. Known as a "brush," the red fox's tail can be used by the fox as a warm cover in cold weather.
Robin's distinctive white birch trees are beautiful and encircle the vase. She added colorful blue birds flying amongst the trees. Each Winter Fox Vase is $210.
Pre-orders for the Wood Duck Pair figurines and Winter Fox Vase will be accepted until midnight (ET) on Wednesday, June 1st.
To pre-order any of these Limited Editions, please call the Fenton Gift Shop: 1-800-319-7793 or 1-304-375-7772, ext. 342 or send an email, listing the item(s) you would like to purchase: purchasing@fentongiftshop.com.
---
Visit Fenton Gift Shop. . .
Stop by and see the latest offerings at Fenton Gift Shop,
420 Caroline Ave., Williamstown, WV 26187.

Fenton Gift Shop has a wonderful selection of NEW one-of-a-kind art glass creations, limited editions, and excellent regular line 'glass from the past" with newly arrived items. . . available "while supplies last" as there may be just one available of each piece! Be sure to check out handcrafted jewelry specials from Designer Sample and one-of-a-kind beads to sterling silver accessories, plus art glass earrings in a rainbow of colors, designs and glass treatments!

Love history? We have catalogs, marketing materials and other unique items related to the Fenton Art Glass Company's 111-year-old history. You never know what you'll find in our "odds and ends" section!

Fenton Gift Shop Hours:
Wednesday-Saturday: 10 a.m.- 3 p.m. (ET).
Closed Sunday-Tuesday.


Please call to confirm hours:

1-800-319-7793 or 1-304-375-7772
---
Fenton's Weekly eBay Auctions. . .
Here's your opportunity to own a beautiful one-of-a-kind item through our weekly eBay Auctions! Each one-of-a-kind art glass creation is dated, identified and signed by the award-winning Fenton artist who designed it. Shown here are our latest offerings. Items featured this week. . .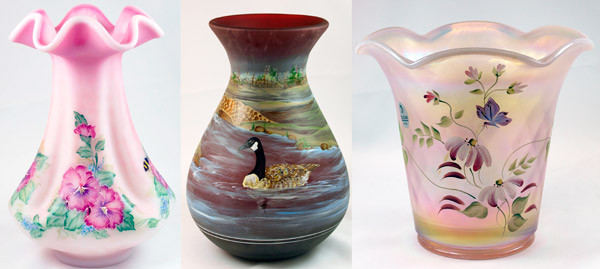 With Rosalene glass as her canvas, Fenton artist Frances Burton designed and hand painted this stately (8.25" tall), one-of-a-kind vase. The inside is shiny and the outside has a satin finish. The highly detailed foliage and floral motif is incredibly lush, and it completely encircles the vase, so you can enjoy it from any angle! Don't overlook the hovering Bumblebee!

Here's a once in a lifetime chance to acquire a one-of-a-kind vase by master glass artisan Dave Fetty that features a wonderful one-of-a-kind outdoor scene hand painted by the talented Michelle Kibbe. Dave made the 7.75" vase "off hand" (without moulds) using ruby glass, and you'll see Dave's distinctive personal stamp on the outside bottom of the vase. During the handcrafting process, Dave completed an interesting glassmaking treatment that created the look of rocks below the surface of the water in the hand painted scene designed and painted by Michelle. Her scenic goes all the way around the vase, and you'll want to imagine yourself in one of those easy chairs, taking it easy and watching the Goose swim by! The satin-finshed ruby glass is the perfect background for Michelle's talents to combine with Dave Fetty's matchless glassmaking skills.

Fenton's Champagne Satin glass, an opalescent color, was introduced in 1996. The decorated version on this was called "Field Flowers on Champagne Satin" and was created by Fenton designer Martha Reynolds. The design entered the line in 1997. This 6" vase features a diamond optic. . . and a wonderful canvas for this floral design, which remained in the line until the close of 1998. The design includes a soft vining floral and a hovering butterfly in lovely shades of mauve and other pastel colors. A "FENTON Handpainted in USA" label is on one side of the vase. This vase is signed "Shelley Fenton" and Handpainted By M. Kibbe 1997." Take a look at these offerings and other "Buy It Now" items available on our Fenton eBay Auctions.
---
Summer Reading. . .
This book catalogs the history of glass produced exclusively for QVC from the first show in spring of 1988 through Bill Fenton's retirement show and the introduction of the 2002 Charleton Collection, through August 2002. More than 1350 items are shown with a value guide included. 176 pages, including 96 in color, softbound, by James Measell.

Originally $36.95, we now offer this title at $17.50 with FREE Shipping via the USPS
. . . While Supplies Last!
FG947 - Especially For QVC (softbound) by Fenton Historian Dr. James Measell $17.50 + FREE Shipping!
Click here to check out the other reference books and materials available!
If you have a question about a piece of glass. . .
We no longer have the staff to respond to questions regarding glass identification, values of antique glass, or related matters that come to us through "Ask Fenton" or by telephone. There are two collector clubs devoted to Fenton glass, the Fenton Art Glass Collectors of America (FAGCA) and the National Fenton Glass Society (NFGS), that may be of assistance to you. Reference books on Fenton Art Glass are also available on our web site: http://www.fentonartglass.com/shop/product.asp?c=0&l=books and magazines, however, they do not include current price guides. We suggest you contact your local antiques dealer(s), the local library, or one of the collector clubs: http://www.fentonartglass.com/collectors. There are also fan sites, such as the Fenton Fanatics, on Facebook. You may also find your piece listed on eBay, which may provide current pricing information. The Williamstown Antique Mall may also provide assistance: 304-375-6315. Otherwise, please send email inquiries about glass production to: purchasing@fentonartglass.com
---