Handcrafted earrings from Fenton Glass Jewelry make the perfect gift for any occasion. . . wedding, birthday, graduation, new job, or just because! During Fenton's 111 years of glassmaking, we have developed amazing glass colors and techniques that are now translated into sparkling, artistic jewelry! Look closely at the details on the hand applied decorations. . . each earring is initialed by the talented artist who completed it! Enjoy the sparkle of our iridescent Carnival glass or the rich blend of mosaic hues. Our glass artists take great pride in the design and quality of each special earring.

Designed by Jena Lane Blair, our Teardrop Earrings feature classic Fenton colors and glass treatments. Truda "TJ" Mendenhall designed the lovely hand applied decorations. Fenton's Teardrops Earrings are made with hypo-allergenic earwires. Several designs are also available in our handcrafted beads so you can create your own expressive fashion style!
In an age of mass production, we remain committed to honoring the tradition of expressive, handmade creations. Each Fenton Glass Jewelry earring bears the signature of handcraftsmanship; those slight variations that convey distinction, character and charm.
Click here to view the Teardrop Earring Collection from Fenton Glass Jewelry. Be sure to register for an online shopping account: www.fentonglassjewelry.com.

Show your team spirit with earrings in your favorite team's colors! These sterling silver "dangle" earrings feature glass accents and officially licensed artwork on a Milk Glass bead. Handcrafted in Williamstown, WV. Shown here are The Ohio State University Earrings. Shop Collegiate Earrings and accessorize with Collegiate Jewelry!
---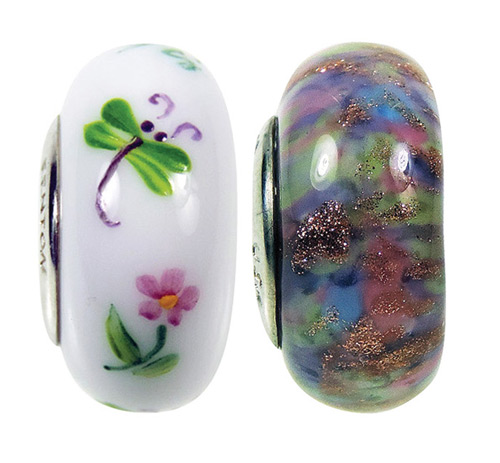 Frequent Buyer Program for Beads. . . Changes Coming June 1!
REMINDER: The current Fenton Frequent Buyer Bead Program will end on May 31st, 2016. A separate email blast will be coming with details from Fenton Glass Jewelry. A new loyalty program will begin via the Fenton Glass Jewelry web site on June 1st.

The current Frequent Buyer Program requires that you purchase ten beads from any one authorized Fenton jewelry dealer or website and you'll qualify for a FREE bonus bead! Click here for details! The current offerings are Gracie (decorated) and Mikayla (Vasa Murrhina) shown here. NOTE: If you have purchased ten beads, please let us know. Email: askfenton@fentonartglass.com with "Frequent Buyer Qualifier" in the subject line.
---
NEW Fenton Gift Shop Limited Editions . . .
Fenton Gift Shop is pleased to offer a new selection of Limited Editions! Each piece features a design by our award-winning Fenton artists, and will be hand painted, signed, numbered, and dated by the artist. Included in this grouping are an 11" Alley Cat in satin finished Rose glass, as well as an 8" satin finished Crown Tuscan Chessie Cat Covered Box, a 9.5" Opal Satin Candy Box, a 3" Ruby Satin Mouse figurine and a 3.5" Opal Satin Lop Eared Bunny figurine, all handcrafted by Mosser Glass. These pieces were made exclusively for the Fenton Gift Shop, using a Fenton mould, and returned to our factory where our talented designers created these wonderful Limited Edition designs! You may also request that we add your email address to Fenton Gift Shop's mailing list to receive future limited edition notifications.
Our 11" Alley Cat with that delightful grin is pretty in pink! A NEW color for our limited editions, this Rose Alley Cat features a wonderful hand painted scene designed by Robin Spindler. Mama cat appears to smile serenely as her white kittens play in the flowers at her feet. One curious kitten appears to meet up with a mouse. . . perhaps to play "cat and mouse!" Note the touch of "bling" on the cat's collar! Each Rosie and Her Kittens Alley Cat figurine is $235.
The back side of our popular Chessie Cat Covered Box has been transformed into a garden of vibrant poppies! A black and white kitten settles down for a "cat nap" on the front. The soft pink hues of Crown Tuscan glass provide the perfect canvas for this design by Frances Burton. Her delicate hand painted poppy flowers are lovely and the details on the kitten make you want to reach out and pet it!
Did you know that the "Chessie" cat was a popular character used as a symbol for the Chesapeake and Ohio Railway. They used this artwork with their slogan that, when traveling on their railway, you would "sleep like a kitten".
Each Poppies Kitten Chessie Cat Covered Box is $195.
Pre-orders for the Rosie and Her Kittens Alley Cat figurine and the Poppies Kitten Chessie Cat Covered Box will be accepted until midnight (ET) on Monday, May 23rd.
Shown below are two "must haves" for figurine collectors. . . an Opal Satin Lop-eared Bunny and a Ruby Satin Mouse! Frances Burton's design for this "Flopsy" Bunny figurine includes a heart-shaped nose and a wide-eyed and smiling face. "Flopsy" holds a flower that matches the one on the headband! Soft pink shading completes the look for this adorable figurine. Each Flopsy Bunny figurine is $75.
One look at Kim Barley's design for this Ruby Satin Mouse figurine and we had the name. . . Jammin'. The glass "batch" to make Ruby is sensitive to heat with interesting color variations. Collectors take great delight in the red-orange effect called "amberina" and it's very evident on the ears and paws of this figurine! Each Jammin' Mouse figurine is $75.
Below: Frances Burton's hand painted details on this Opal Satin Candy Box will brighten up any room in your home! Her vibrant use of color and delicate brushstrokes for the flowers and the basket weaves add to the beauty of this design. Each Basket of Pansies Candy Box is $180.

Pre-orders for the Flopsy Bunny and Jammin' Mouse figurines and the Basket of Pansies Candy Box will be accepted until midnight (ET) on Wednesday, May 25th. To pre-order, please call the Fenton Gift Shop: 1-800-319-7793 or 1-304-375-7772, ext. 342 or send an email, listing the item(s) you would like to purchase: purchasing@fentongiftshop.com.
---
Visit Fenton Gift Shop. . .
Stop by and see the latest offerings

at Fenton Gift Shop, 420 Caroline Ave., Williamstown, WV 26187.

Fenton Gift Shop has a wonderful selection of NEW one-of-a-kind art glass creations, limited editions, and excellent regular line 'glass from the past" with newly arrived items. . . available "while supplies last" as there may be just one available of each piece! Be sure to check out the handcrafted jewelry specials from Designer Sample and one-of-a-kind beads to sterling silver accessories, plus art glass earrings in a rainbow of colors, designs and glass treatments!

Love history? We have catalogs, marketing materials and other unique items related to the Fenton Art Glass Company's 111-year-old history. You never know what you'll find in our "odds and ends" section of remaining factory items!

Fenton Gift Shop Hours: Wednesday-Saturday: 10 a.m.- 3 p.m. (ET).

Closed Sunday-Tuesday.


Please call to confirm hours as they are subject to change.

1-800-319-7793 or 1-304-375-7772
---
Fenton's Weekly eBay Auctions. . .
Here's your opportunity to own a beautiful one-of-a-kind item through our weekly eBay Auctions! Each one-of-a-kind art glass creation is dated, identified and signed by the award-winning Fenton artist who designed it. Shown here are our latest offerings. Items featured this week. . .
A sketch by longtime Fenton mould maker Lynn Russi provided all the inspiration
Frances Burton needed to create this wonderful one-of-a-kind 10" vase! The
satin finished light green glass was made at Fenton in the early 2000s using
an historic Fenton mould that is more than 70 years old, and Lynn's sketch was an interesting depiction of a "Pennsylvania Dutch-style" bird. Frances chose the colors for her hand painting, and the results are a sight to behold.

The Chickens have come home … but they're not about to roost! These colorful birds are hand painted by Michelle Kibbe on this one-of-a-kind pitcher (8.5" tall) in satin finished Lotus Mist Burmese, made by Fenton with a mould acquired from Indiana Glass in 2003 (note the distinctive crimp style!). Michelle's hand painting is remarkably detailed, and the blue band adds to the eye appeal of this wonderful piece. Lotus Mist Burmese is a classic Fenton color, made with pure gold and subjected to special reheating techniques to create the pink blush.

Burmese glass is a classic Fenton color, and the Diamond Optic motif adds much to the appeal of this one-of-a-kind 10" tall basket by Fenton artist Michelle Kibbe. A happy Bluebird greets Spring from its perch, and we can almost hear its song! Fenton's Burmese glass contains pure gold, and careful reheating techniques by skilled glassworkers coax the pink blush to the surface. Special moulds are needed for the Diamond Optic. The base and bowl together measures 5.5" tall. Take a look at these offerings and other "Buy It Now" items available on our Fenton eBay Auctions.
---
Summer Reading. . .
This book catalogs the history of glass produced exclusively for QVC from the first show in spring of 1988 through Bill Fenton's retirement show and the introduction of the 2002 Charleton Collection, through August 2002. More than 1350 items are shown with a value guide included. 176 pages, including 96 in color, softbound, by James Measell.

Originally $36.95, we now offer this title at $17.50 with FREE Shipping via the USPS
. . . While Supplies Last!
FG947 - Especially For QVC (softbound) by Fenton Historian Dr. James Measell
$17.50 + FREE Shipping!
If you have a question about a piece of glass. . .
We no longer have the staff to respond to questions regarding glass identification, values of antique glass, or related matters that come to us through "Ask Fenton" or by telephone. There are two collector clubs devoted to Fenton glass, the Fenton Art Glass Collectors of America (FAGCA) and the National Fenton Glass Society (NFGS), that may be of assistance to you. Reference books on Fenton Art Glass are also available on our web site: http://www.fentonartglass.com/shop/product.asp?c=0&l=books and magazines, however, they do not include current price guides. We suggest you contact your local antiques dealer(s), the local library, or one of the collector clubs: http://www.fentonartglass.com/collectors. There are also fan sites, such as the Fenton Fanatics, on Facebook. You may also find your piece listed on eBay, which may provide current pricing information. The Williamstown Antique Mall may also provide assistance: 304-375-6315. Otherwise, please send email inquiries about glass production to: purchasing@fentonartglass.com
---