Fenton Art Glass Presents . . . Friday the 13th Online Specials!
Friday the 13th is going to be "lucky" for you with these Fenton Art Glass Online Specials!
Retired Beads - Online Weekend Special: Order three "retired" beads from www.fentonartglass.com and receive one FREE bead from the "Lucky 13" selections shown below. This "Lucky 13" Online Weekend Special ends at 8 a.m. (ET) on Monday, May 16th! These beads have been retired to make room for new designs and are available "while supplies last". Simply place your order for a minimum of three "retired" beads on our web site: www.fentonartglass.com and list your FREE bead choice in the memo part of your online order. Please list three beads in case your first or second choice has sold out.
Choose your FREE bead from this group if you order a minimum of three "retired" beads by
8 a.m. on Monday, May 16th!
Shop Now. . .
Fenton International "Anniversary" Glass. . . $25 each + FREE Priority Mail Shipping!
The perfect way to say ''I Love You'' for your Anniversary or to celebrate the love of a special couple.
Designed by talented Fenton Art Glass artist Stacey Williams, each flower is hand cut into the glass. Precious metal lettering is applied and the design is then hand painted and fired to create the brilliantly sparkling image.

Just $25 each with FREE shipping via United States Postal Service Priority Mail. Shown at right is a close-up of the hand cut flower and the Happy Anniversary style for the 7.25" Bell and the 10" Vase. The Fenton International Anniversary collection includes a bell, candy box, candle bowl, a plate, and two styles of vases. Imported. Shop Fenton International Anniversary Now!
---
Fenton Glass Jewelry Presents. . . The 2016 Cornerstone Collection
Make an impressive and beautiful fashion statement with our larger-sized Cornerstone beads. These handcrafted art glass beads average 3/4" in length. Because of the handmade process, bead size may vary. Complete your stylish look by pairing these with our regular-sized beads!

Cornerstone Beads shown l-r: Chickadee... A Busy Little Fellow on Redbud; African Violet... Velvety Petals of Purple and Green; Catch'n a Wave... Fun in the Sun; and Sea Spray... White Sand and Golden Sunkissed Waves. Fenton jewelry designers created this collection with Jena Lane Blair designing the Vasa Murrhina beads and Truda "TJ" Mendenhall creating the hand applied decorations. They teamed up for the "Catch'n a Wave" Cornerstone, which features a three-dimensional design accented with hand applied decorations of whimsical sea creatures. . . a perfect jewelry accessory for summer fun parties! Click here to view the 2016 Cornerstone collection. Be sure to register for an online shopping account: www.fentonglassjewelry.com today!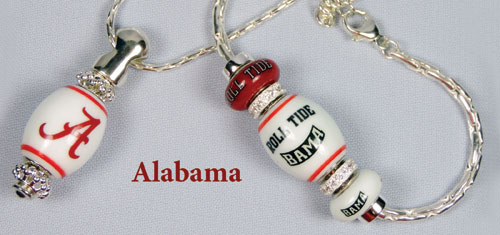 Our Collegiate Jewelry Collection includes Cornerstone beads which complement our regular size beads, all with officially licensed artwork from each school. A great way to show your fan spirit for your favorite school or sports team!
Shown here are the Alabama Cornerstone bead and regular size red and white beads on our sterling silver accessories. More than 45 schools are currently available with more coming soon, so be sure to check back and see what's new! Shop Collegiate Jewelry!
---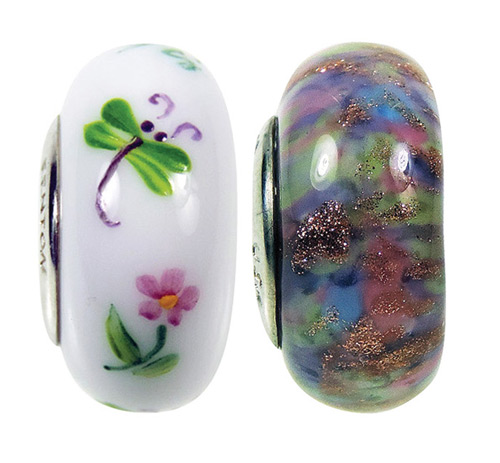 Frequent Buyer Program for Beads. . . Changes Coming!
REMINDER: The current Fenton Frequent Buyer Bead Program will end on May 31st, 2016.
The new Frequent Buyer Program will begin via the Fenton Glass Jewelry web site on June 1st. Details coming soon! The Frequent Buyer Program in place at this time requires that you purchase ten beads from any one authorized Fenton jewelry dealer or website and you'll qualify for a FREE bonus bead! Click here for details! The current offerings are Gracie (decorated) and Mikayla (Vasa Murrhina) shown here. NOTE: If you have purchased ten beads, please let us know. Send an email: askfenton@fentonartglass.com with "Frequent Buyer Qualifier" in the subject line. A new customer loyalty program will take effect on June 1, 2016. . . details coming soon!
---
NEW Fenton Gift Shop Limited Editions . . .
Fenton Gift Shop is pleased to offer a new selection of Limited Editions! Each piece features a design by our award-winning Fenton artists, and will be hand painted, signed, numbered, and dated by the artist. Included in this grouping are an 11" Alley Cat in Ruby Satin as well as an 11" Vase, a 6" Owl, and a 9" Candy Box, all handcrafted in Opal Satin by Mosser Glass. Also included is a 8.5" Opal Satin Vase made by Davis-Lynch Glass. These pieces were made exclusively for the Fenton Gift Shop, using a Fenton mould, and returned to our factory where our talented designers created these wonderful Limited Edition designs! You may also request that we add your email address to Fenton Gift Shop's mailing list to receive future limited edition notifications.
Kim Barley's love of whimsy will bring a smile with her wonderful hand painted "Folk Art Chicks" design on this 11" Ruby Satin Alley Cat. Kim added dotted swiss accents and brightly colored flowers to complete the folk art look to this design. Three black and white chicks with wonderful expressions adorn this figurine! Note that iconic Alley Cat grin! Each Folk Art Chicks Alley Cat is $235.
There's nothing like a mother's love! Our 11" Opal Satin 11" Vase provides the perfect canvas for Robin Spindler's design of a mare with her foal in the tall grasses. A large golden sun shines high in the sky on the reverse side of this vase.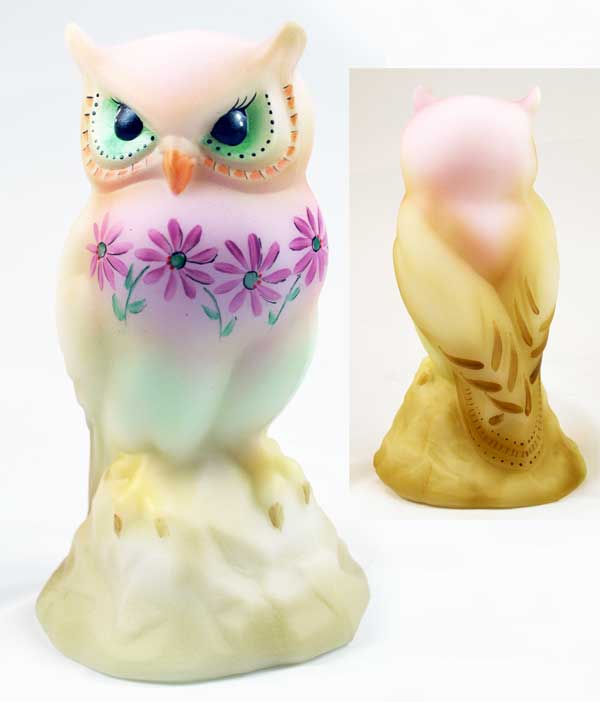 Mares and foals bond very quickly and their communication is almost imperceptible to the human eye. A foal will stick close to the mare during it first few weeks of life and Robin shows this remarkable bond splendidly with her hand painted design. Each A Mother's Love Vase is $215.

Left: Frances Burton has transformed this stately 6" Opal Satin Owl figurine into "Flora, the Owl" with vibrant and beautiful hand painted flowers on the chest and delicate pastel shades of color for the background.
The eyes on this figurine are mesmerizing with the use of black polka dot accents and the orange/black/white outlines around the eyes. Frances also added a soft green color to the background of the eyes. She used natural color tones on the back of this figurine. Each Flora, the Owl figurine is $90.
Pre-orders for the Folk Art Chicks Alley Cat, the
A Mother's Love Vase and for Flora, the Owl Figurine will be accepted until midnight (ET) on Monday, May 16th.
Below: Kim Barley's undersea theme fits well with this Opal Satin Candy Box. With soft blue hues for the background, Kim added fishing nets, small fish, a crab and a lobster to her meticulously hand painted underwater scene. We've photographed all sides to show you all the amazing details on this piece! Note the starfish on the base. Each Sea Scapes Candy Dish is $175.

The hexagonal shape of the Opal Satin Vase shown below provides a wonderful work space for Frances Burton's delicately hand painted "Stylized Black-Eyed Susan" flowers. Frances has hand painted beautiful blooms on each panel and completes the look with soft shades of grassy green encircling the bottom of this vase. Each Stylized Black-Eyed Susan Opal Satin Vase is $175.
Pre-orders for the Sea Scapes Candy Dish and the Stylized Black-Eyed Susan Vase will be accepted until midnight (ET) on Wednesday, May 18th. To pre-order, please call the Fenton Gift Shop: 1-800-319-7793 or
1-304-375-7772, ext. 342 or send an email, listing the item(s) you would like to purchase: purchasing@fentongiftshop.com.
---
Visit Fenton Gift Shop. . . Gifts for Any Occasion!
Fenton Gift Shop Hours:

Wednesday-Saturday: 10 a.m.- 3 p.m. (ET).

Closed Sunday-Tuesday.


Please call to confirm hours as they are subject to change.

1-800-319-7793 or 1-304-375-7772


Stop by and see the latest offerings in glass, jewelry specials and Fenton memorabilia at Fenton Gift Shop, located at 420 Caroline Avenue in Williamstown, WV 26187. Fenton Gift Shop has a nice selection of NEW one-of-a-kind art glass creations and limited editions, as well as excellent regular line glass with newly arrived items. . . all available "while supplies last" as there may be just one available of a particular item! Be sure to check out our specials on handcrafted jewelry from Designer Sample and one-of-a-kind beads

to sterling silver accessories and art glass earrings in a rainbow of colors, designs and glass treatments!

Love history? We have catalogs, marketing materials and other unique items related to the Fenton Art Glass Company's 111-year-old history. You never know what you'll find in our "odds and ends" section of remaining factory items! Fenton Art Glass. . . perfect for gift giving, special occasions or treat yourself!
---
Fenton's Weekly eBay Auctions. . .
Here's your opportunity to own a beautiful one-of-a-kind item through our weekly eBay Auctions! Each one-of-a-kind art glass creation is dated, identified and signed by the award-winning Fenton artist who designed it. Shown here are our latest offerings. Items featured this week. . .
If you know your birds, you'll recognize the two species of Nuthatch on this one-of-a-kind Opal Satin Feather vase (10.25" tall) designed and hand painted by award-winning Fenton artist J. K. "Robin" Spindler. This vase was handcrafted at Davis-Lynch Glass Co. exclusively for the Fenton Gift Shop. The hand painted details are just perfect, from the delicate flowers, berries and foliage to every feather in the happy Nuthatches as they make their way downward on a tree with the distinctive "yank-yank-yank" call to let all know they're in the neighborhood. Note the added sparkling gemstones on the berries!

Burmese glass, which contains pure gold, is a classic Fenton color, and the lush floral motif designed and hand painted by Fenton artist Frances Burton is the perfect complement to the Burmese glass color. Special reheating techniques in the hands of glassworkers are needed to create the distinctive pink blush. The hand painted delicate flowers encircle this 5.5" tall pitcher, and the shading in hand painting is particularly fine.

With Buttercream glass for her canvas, Fenton artist Michelle Kibbe created and hand painted this marvelous design of a Hummingbird in flight amidst an interesting stylized floral motif. The Hummingbird is flitting from flower to flower, gathering nectar. This Buttercream glass bowl is 4.25" tall with a 4.75" diameter opening and was made by our friends at Mosser Glass. Buttercream is vivid glass color, reminiscent of opaque colors that were popularized in the 1920s-1930s. We've paired this one-of-a-kind bowl with a lustrous black base which has the Fenton USA logo on the bottom. The base and bowl together measures 5.5" tall. Take a look at these offerings and other "Buy It Now" items available on our Fenton eBay Auctions.
---
If you have a question about a piece of glass. . .
We no longer have the staff to respond to questions regarding glass identification, values of antique glass, or related matters that come to us through "Ask Fenton" or by telephone. There are two collector clubs devoted to Fenton glass, the Fenton Art Glass Collectors of America (FAGCA) and the National Fenton Glass Society (NFGS), that may be of assistance to you. Reference books on Fenton Art Glass are also available on our web site: http://www.fentonartglass.com/shop/product.asp?c=0&l=books and magazines, however, they do not include current price guides. We suggest you contact your local antiques dealer(s), the local library, or one of the collector clubs: http://www.fentonartglass.com/collectors. There are also fan sites, such as the Fenton Fanatics, on Facebook. You may also find your piece listed on eBay, which may provide current pricing information. The Williamstown Antique Mall may also provide assistance: 304-375-6315. Otherwise, please send email inquiries about glass production to: purchasing@fentonartglass.com
---